Backlink Checker – Monitor Backlinks & Check Indexing Status
Overview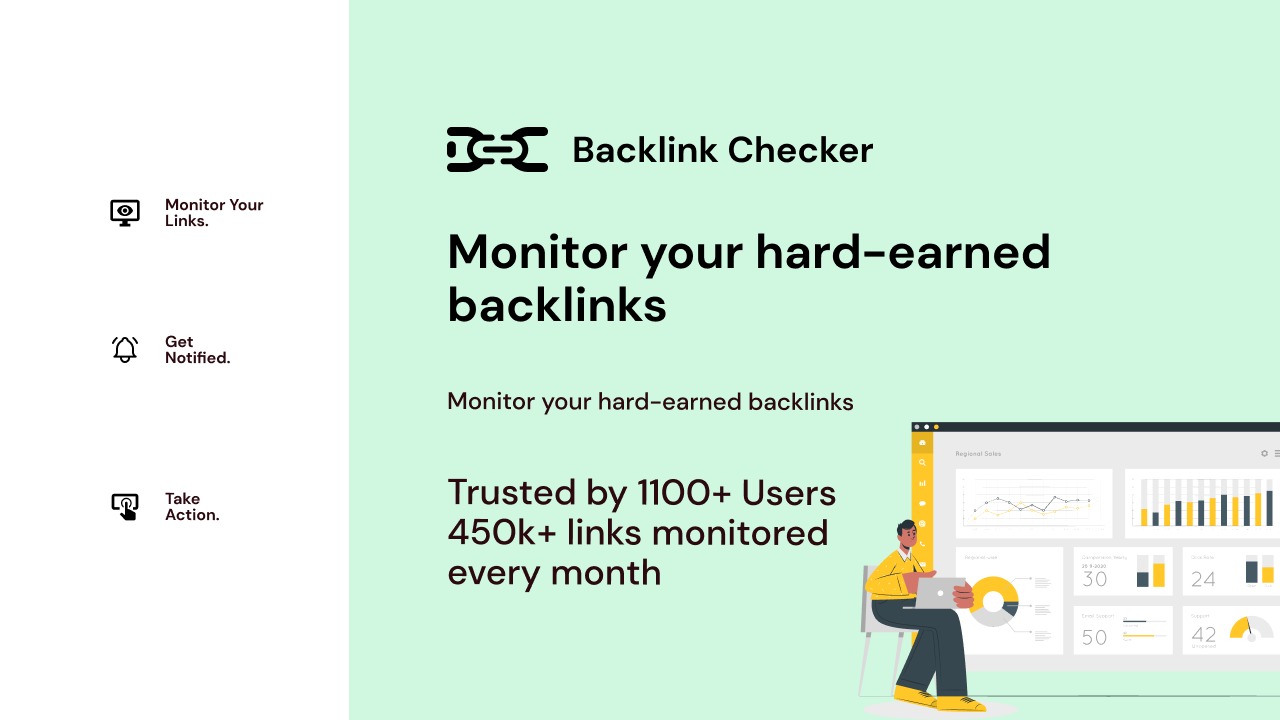 We monitor your backlinks & promptly inform you if link, anchor text or rel tag is not correct.
A simple backlink monitoring tool that checks your backlink, ensure your link, anchor text & rel-tag are correct.
Club links into lists so you can define frequency of crawling, subscribers & public URLs.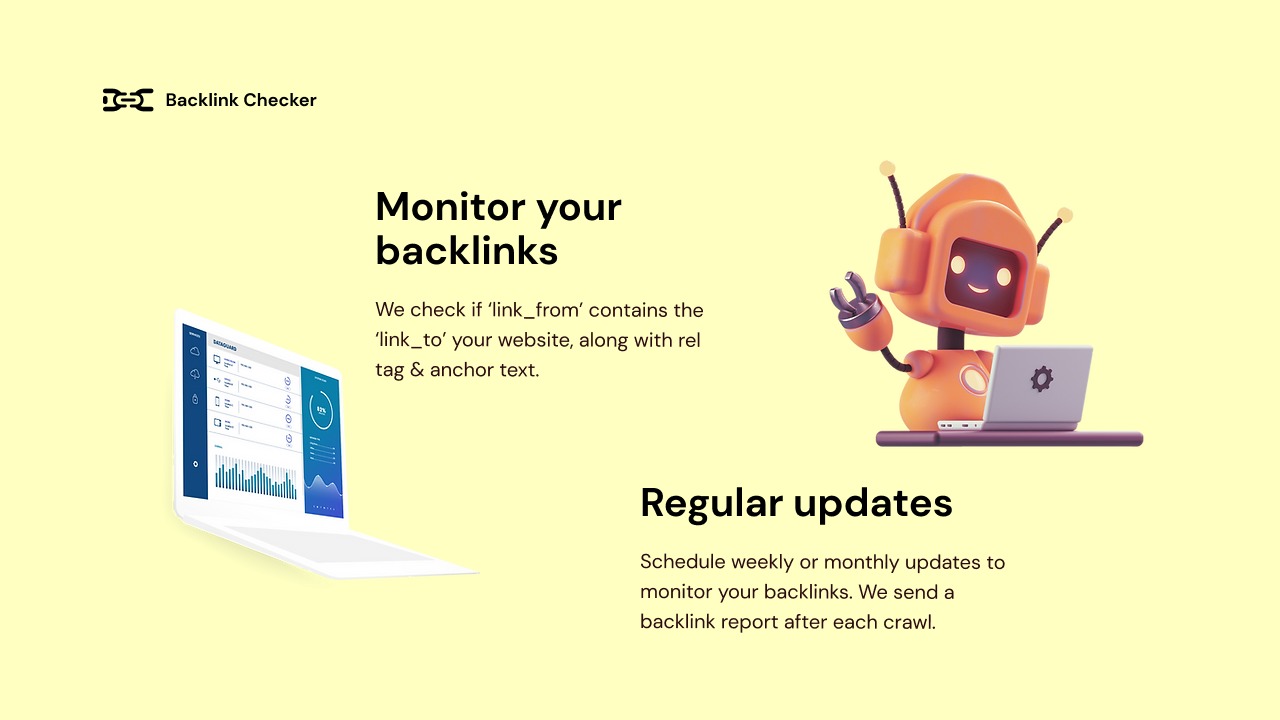 100% automation – Upload links & forget. We do everything possible to make sure you get good ROI on your links.
Monitor your backlinks – Check if 'link_from' contains the 'link_to' of your site & the anchor text & rel-tag match
Regular updates – Schedule weekly or monthly updates to monitor your backlinks. We send a backlink report after each crawl.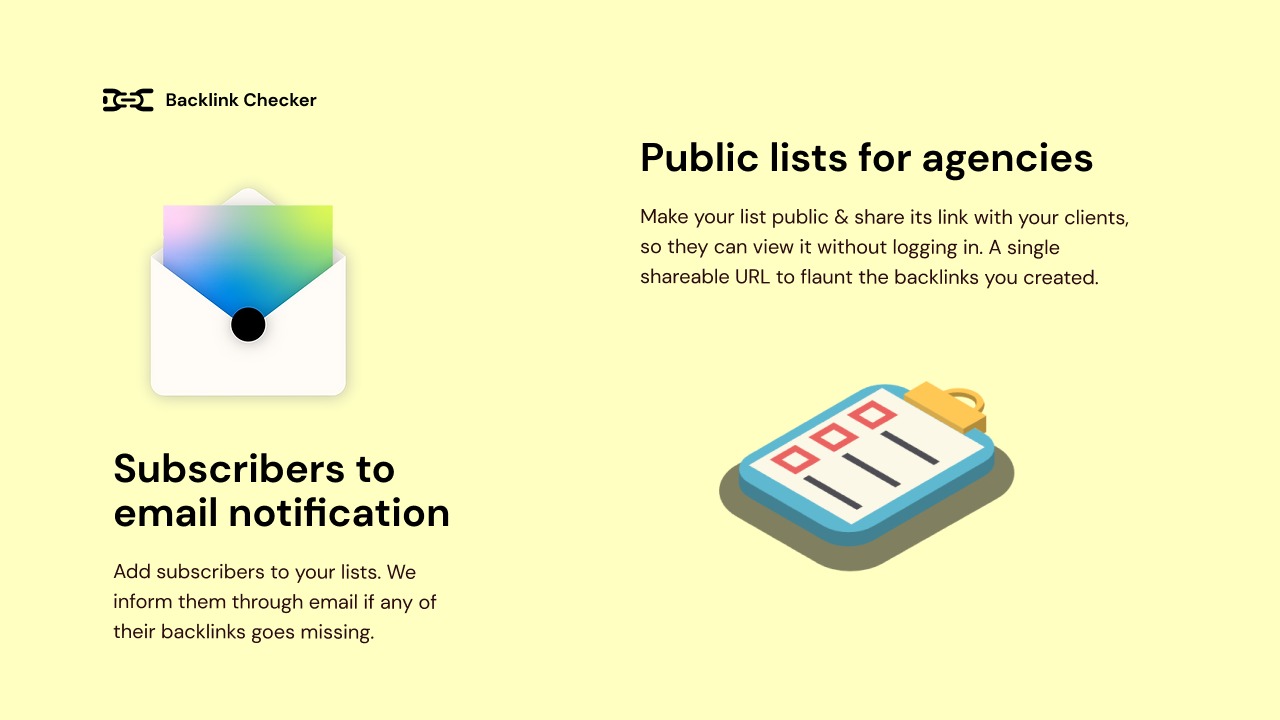 Build trust with your client.
Add subscribers for email notification – Add subscribers to your lists. We inform them through email if any of the backlinks go missing.
Public lists for agencies – Make your list public & share its link with your clients, so they can view it without logging in. A single shareable URL to flaunt the backlinks you created.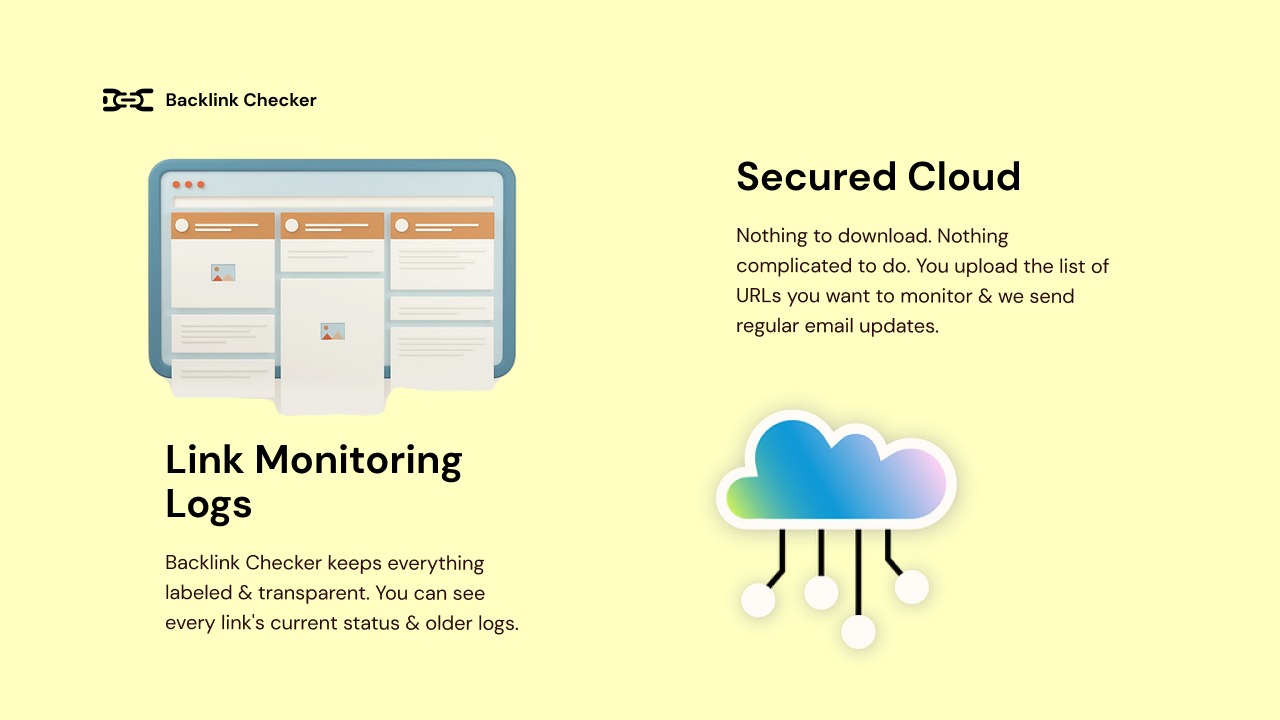 Monitor your backlinks with us, we will inform you if they go missing.
Link Monitoring Logs – See every link's current status & older logs.
Secured Cloud – Nothing to download. Nothing complicated to do. You upload the list of URLs you want to monitor & we send regular email updates.
Automated backlink detection – Discover new backlinks of your domain & cherry pick some for continuous monitoring.
Never fear losing a backlink and get access today!
Plans & features
Deal terms & conditions
Lifetime access to Backlink Checker

You must redeem your code(s) within 60 days of purchase

All future plan updates
60 day money-back guarantee. Try it out for 2 months to make sure it's right for you!
Features included in all plans
Choose your monitoring rate – once, weekly or monthly

Add subscribers to lists to get email notifications with monitoring report

Link monitoring logs to see every link's current status & older logs

Make your list public & send it to your clients or social media

Get email notifications if a backlink goes missing, rel tag or anchor is changed
Specification:
Backlink Checker – Monitor Backlinks & Check Indexing Status
Plan 1

All features above included
Monthly backlinks crawled – 250 links per month
5 Tracked Domains
100% automation – submit your links and forget!
Free lifetime 24/7 customer service & support

Plan 2

All features above included
Monthly backlinks crawled – 2,500 links per month
20 Tracked Domains
100% automation – submit your links and forget!
Free lifetime 24/7 customer service & support

Plan 3

All features above included
Monthly backlinks crawled – 4,000 links per month
35 Tracked Domains
100% automation – submit your links and forget!
Free lifetime 24/7 customer service & support
Google Index Checker
Discover new backlinks

Plan 4

All features above included
Monthly backlinks crawled – 6,500 links per month
60 Tracked Domains
100% automation – submit your links and forget!
Free lifetime 24/7 customer service & support
Google Index Checker
Discover new backlinks

Plan 5

All features above included
Monthly backlinks crawled – 8,000 links per month
90 Tracked Domains
100% automation – submit your links and forget!
Free lifetime 24/7 customer service & support
Google Index Checker
Discover new backlinks

Plan 6

All features above included
Monthly backlinks crawled – 11,000 links per month
130 Tracked Domains
100% automation – submit your links and forget!
Free lifetime 24/7 customer service & support
Google Index Checker
Discover new backlinks

Plan 7

All features above included
Monthly backlinks crawled – 12,500 links per month
160 Tracked Domains
100% automation – submit your links and forget!
Free lifetime 24/7 customer service & support
Google Index Checker
Discover new backlinks

Plan 8

All features above included
Monthly backlinks crawled – 15,000 links per month
200 Tracked Domains
100% automation – submit your links and forget!
Free lifetime 24/7 customer service & support
Google Index Checker
Discover new backlinks

Plan 9

All features above included
Monthly backlinks crawled – 16,500 links per month
250 Tracked Domains
100% automation – submit your links and forget!
Free lifetime 24/7 customer service & support
Google Index Checker
Discover new backlinks

Plan 10

All features above included
Monthly backlinks crawled – 20,000 links per month
500 Tracked Domains
100% automation – submit your links and forget!
Free lifetime 24/7 customer service & support
Google Index Checker
Discover new backlinks

Backlink Checker – Monitor Backlinks & Check Indexing Status