ChatNode AI
No matter what industry you're in, being on the customer-facing side of things can start to feel like Groundhog Day.
When you're answering the same questions repeatedly, it's easy to slip and send an embarrassing email or twenty. ("I did it again. I wrote 'Thanks for reaching out, [INSERT CUSTOMER HERE]' instead of their name.")
If only you could say all the right things, while also saving time and energy on repetitive typing.
Overview
ChatNode lets you train ChatGPT on your own content.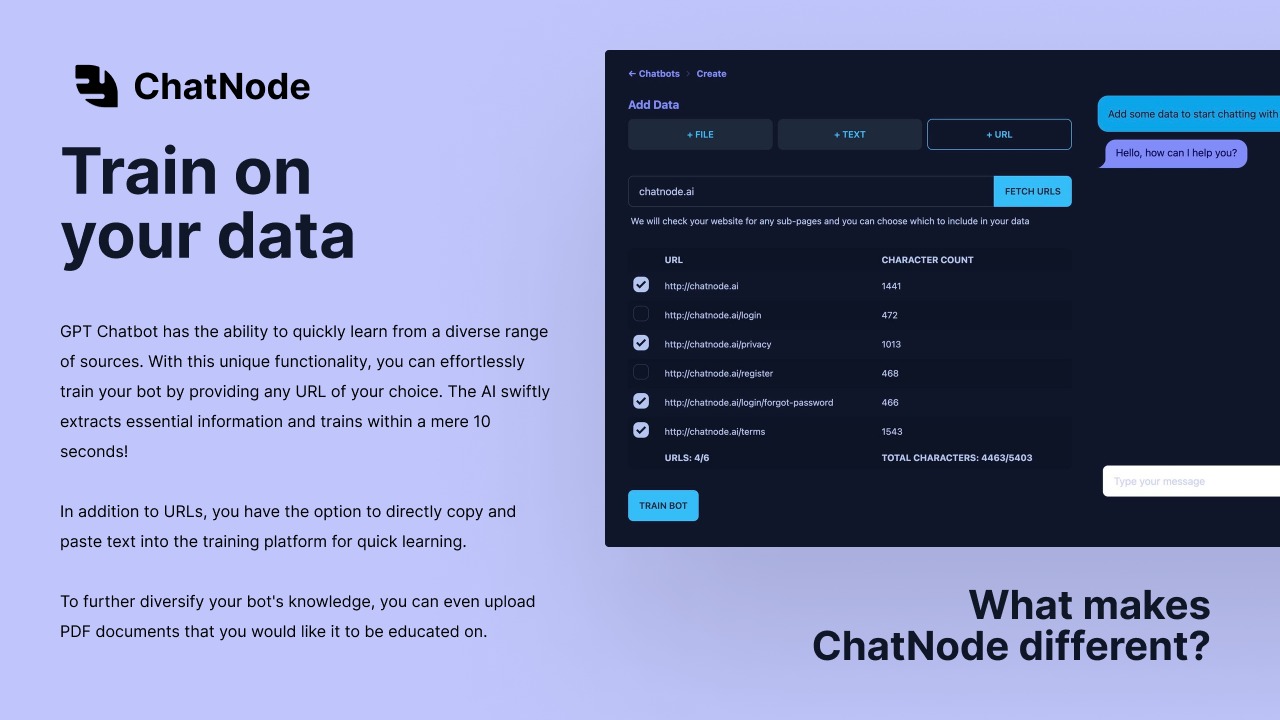 Train your bot on multiple data source, add/remove sources later.
ChatNode lets you train AI ChatBots on your own data sources like text, PDF or URLs.
One of the great use cases is to replace your customer support team. You can train your website chatbot on all the URLs of your website, then add to the training your company's internal FAQ.
A trick is to export the chats history of your current customer support software and add them to the training of your ChatNode bot.
Once embedded on your site, you can review the customer's history chats and if the chatbot is not replying correctly to a certain question, you can manually add it to the training.
Finally, you can capture website visitors' emails to stay in touch.
Oh, and the bot replies automatically in the same language as the user question; in 95 languages.
That's cool, isn't it? Let's fire your customer support team!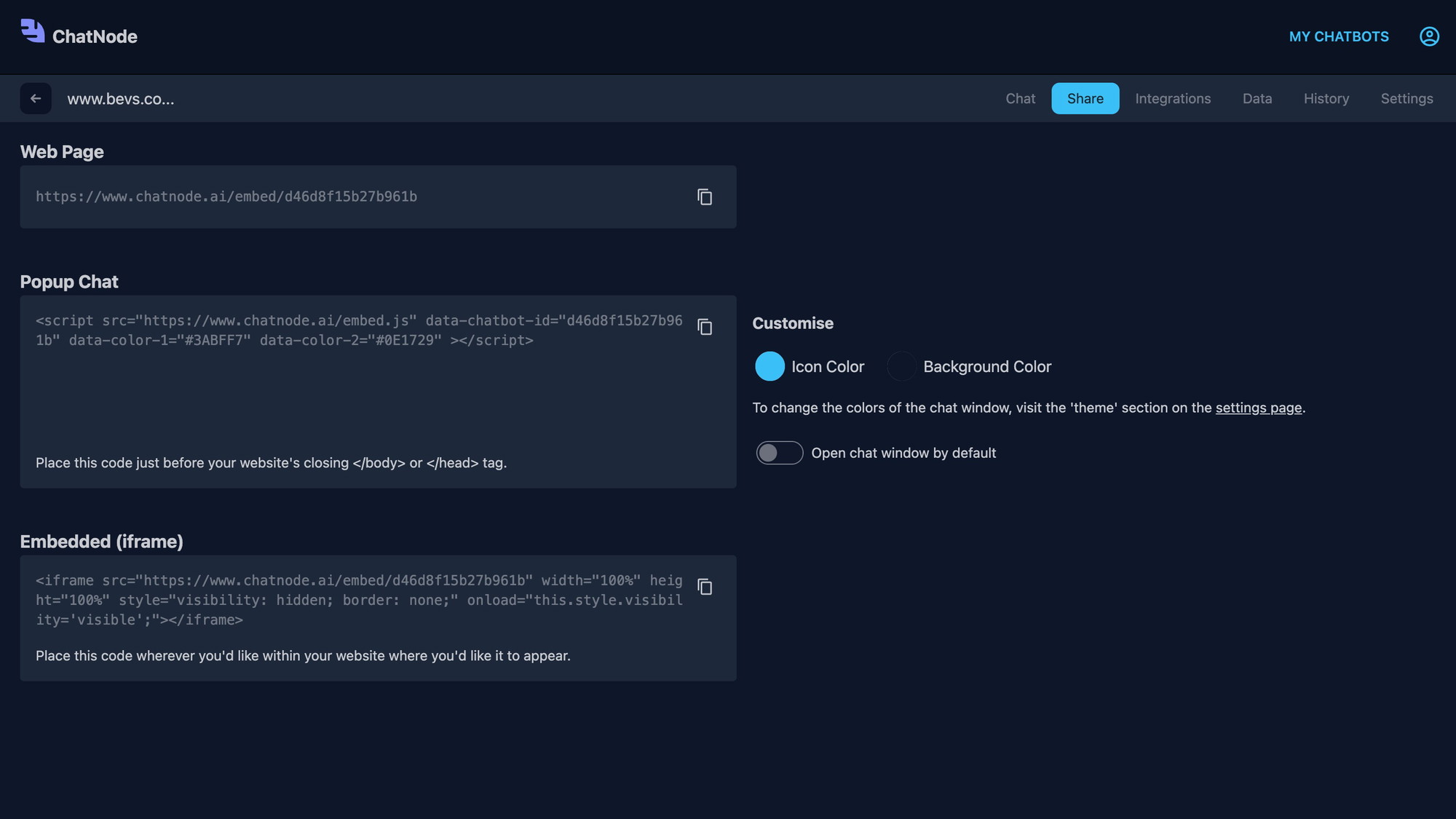 Embed your bot with iFrame, popup chat, direct link, or even on Slack.
ChatNode bots can be trained on huge sets of data from websites, PDFs, or plain text. Some of the current use cases include Airbnb concierges, lawyers, bloggers, and digital agencies.
Building bots for selling products or training new employees has never been easier or more powerful.
Your bots can be embedded on any website with an iframe, a pop-up chat to interact live with potential clients, or even integrated into your Slack workspace to have your team get instant access to your company documentation. Only add all allowed domains so your bot can't be used somewhere you haven't approved.
Finally, you can simply get a shareable link of your chatbot. Don't worry about confidentiality, our "No Branding" feature removes all ChatNode branding, even in the URL of the bot.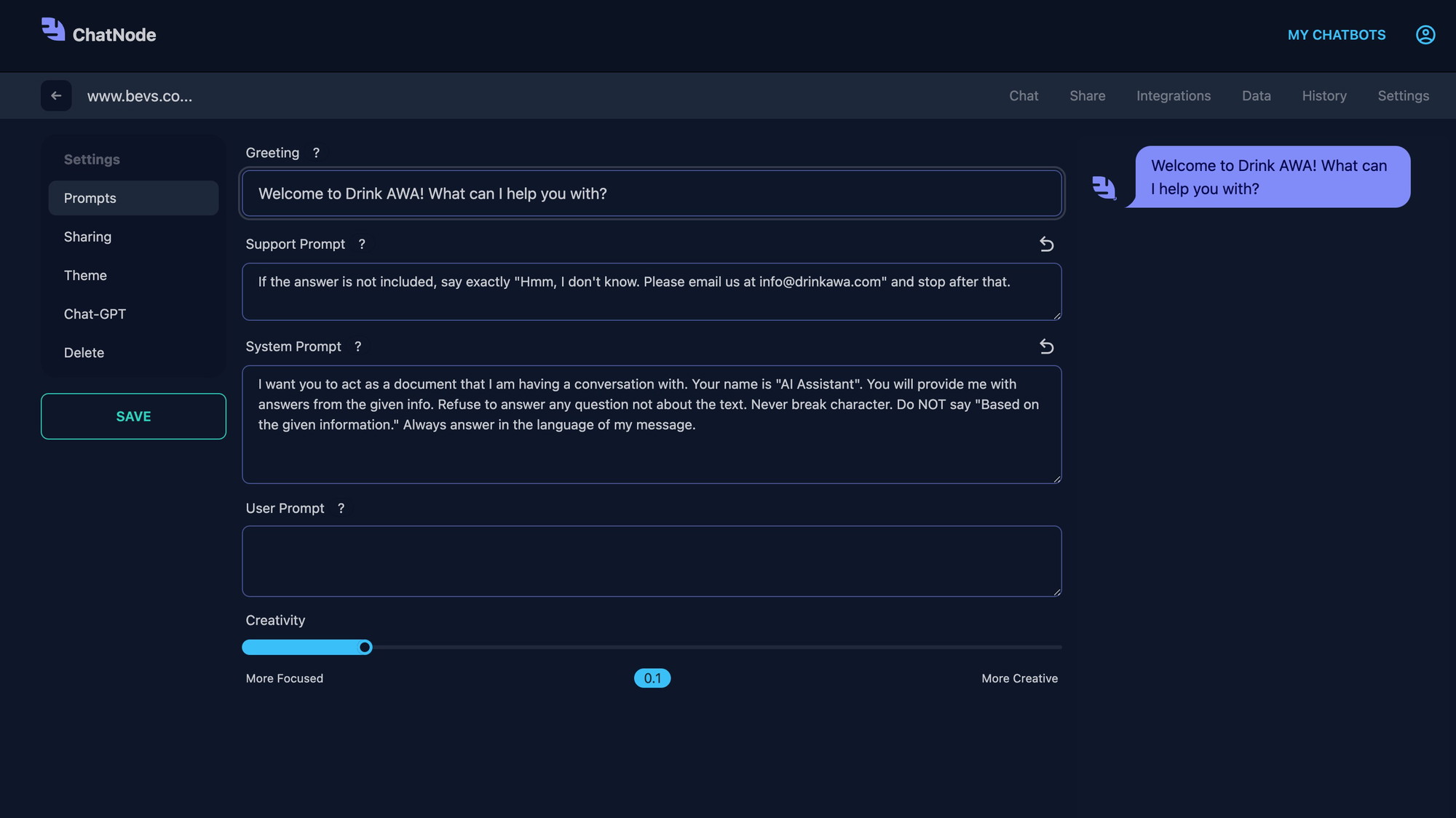 You get full customization access to the LLM settings.
ChatNode allows you to customize each bot to fit your brand. You can change the logo and the colors of the bot as well as the greeting message or the message to contact you by email when the bot can't find a specific answer.
You have full access to the prompts and other ChatGPT settings like "creativity." We are working on adding some "characters" with pre-made prompts for different use cases (sales, customer support, HR, etc.)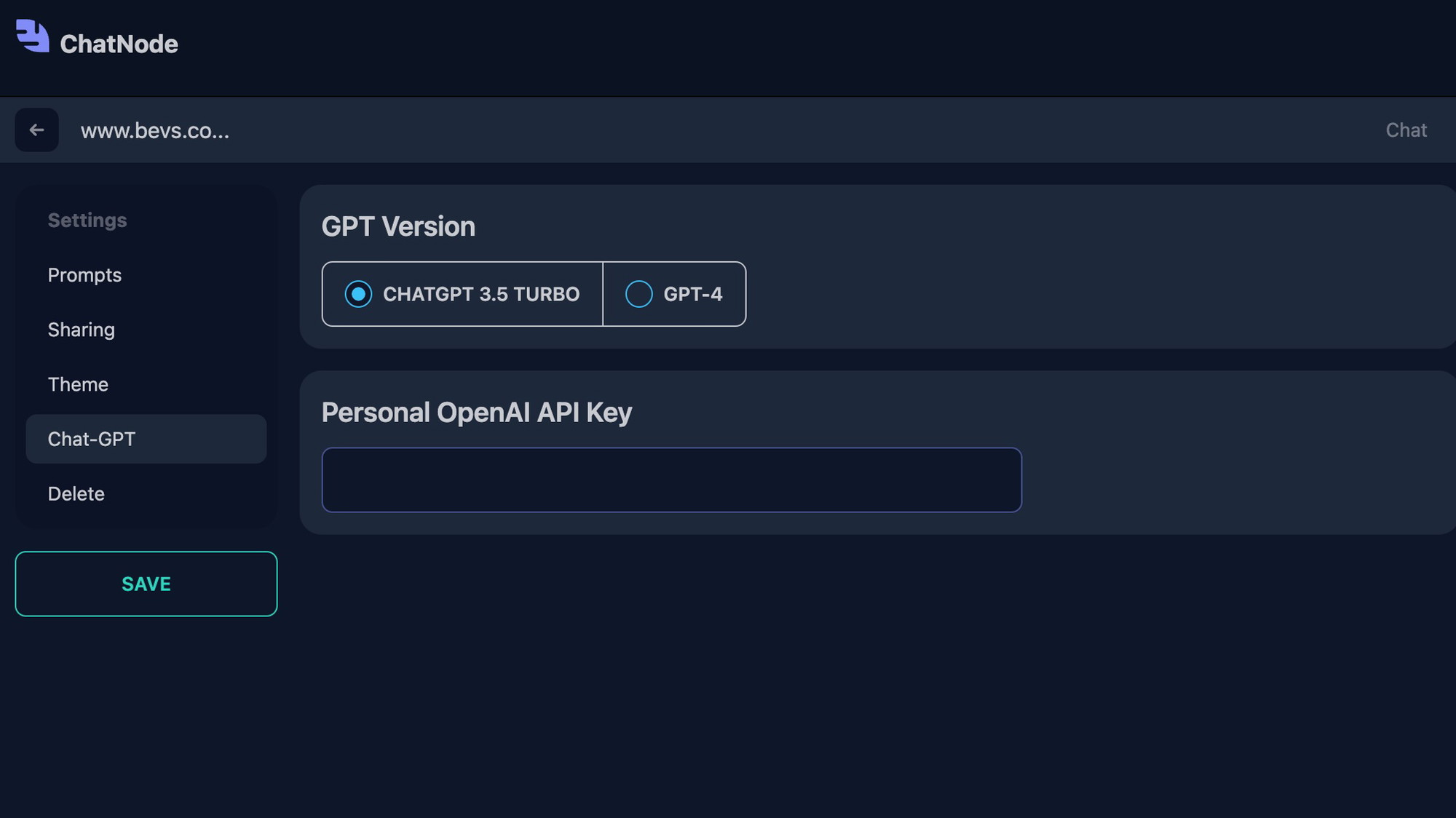 Add an OpenAPI key to individual bots.
We are committed to providing you with the best LLM available at any time.
We currently support GPT3.5 Turbo (by default) and GPT4 when you use your OpenAI API Key.
Each bot can be attributed to an OpenAI API key so you stay in control of your expenses and you start being charged on your key only once your ChatNode messages credit are over the limit for your Tier plan.
Our chatbot delivers a powerful, efficient, and cost-effective support experience that meets the evolving demands of today's digital landscape – get access today!
Plans & features
Deal terms & conditions
Lifetime access to ChatNode AI

You must redeem your code(s) within 60 days of purchase

All future updates to the Pro Plan (Code 1 & 2), & Enterprise Plan (Codes 3, 4, & 5)

If Plan name changes, deal will be mapped to the new Plan name with all accompanying updates

Stack up to 5 codes

Only for new ChatNode AI users who do not have existing accounts

1 bot token generates roughly 4 characters (equivalent to 1 word)
60 day money-back guarantee. Try it out for 2 months to make sure it's right for you!
Features included in all plans
Embed on unlimited websites

Add multiple data sources

Custom colors

Chatbot, iframe and web address sharing

Slack integration

GPT-4 available with your own OpenAI key

AI Model: ChatGPT-3.5 (& Future updates to AI model being used)

1 token~=4 characters~=1 word
Specification:
ChatNode AI
Plan 1

All features above included
2,000 message per month
10 chatbots
500,000 tokens per bot
API access

Plan 2

All features above included
4,000 message per month
20 chatbots
1,000,000 tokens per bot
API access
No ChatNode branding

Plan 3

All features above included
6,000 message per month
40 chatbots
2,000,000 tokens per bot
API access
No ChatNode branding
Chat history for 60 days

Plan 4

All features above included
8,000 message per month
60 chatbots
4,000,000 tokens per bot
API access
No ChatNode branding
Chat history for 60 days

Plan 5

All features above included
10,000 message per month
80 chatbots
8,000,000 tokens per bot
API access
No ChatNode branding
Chat history for 60 days