Checklist.gg
No matter what industry you're in, being on the customer-facing side of things can start to feel like Groundhog Day.
When you're answering the same questions repeatedly, it's easy to slip and send an embarrassing email or twenty. ("I did it again. I wrote 'Thanks for reaching out, [INSERT CUSTOMER HERE]' instead of their name.")
If only you could say all the right things, while also saving time and energy on repetitive typing.
Overview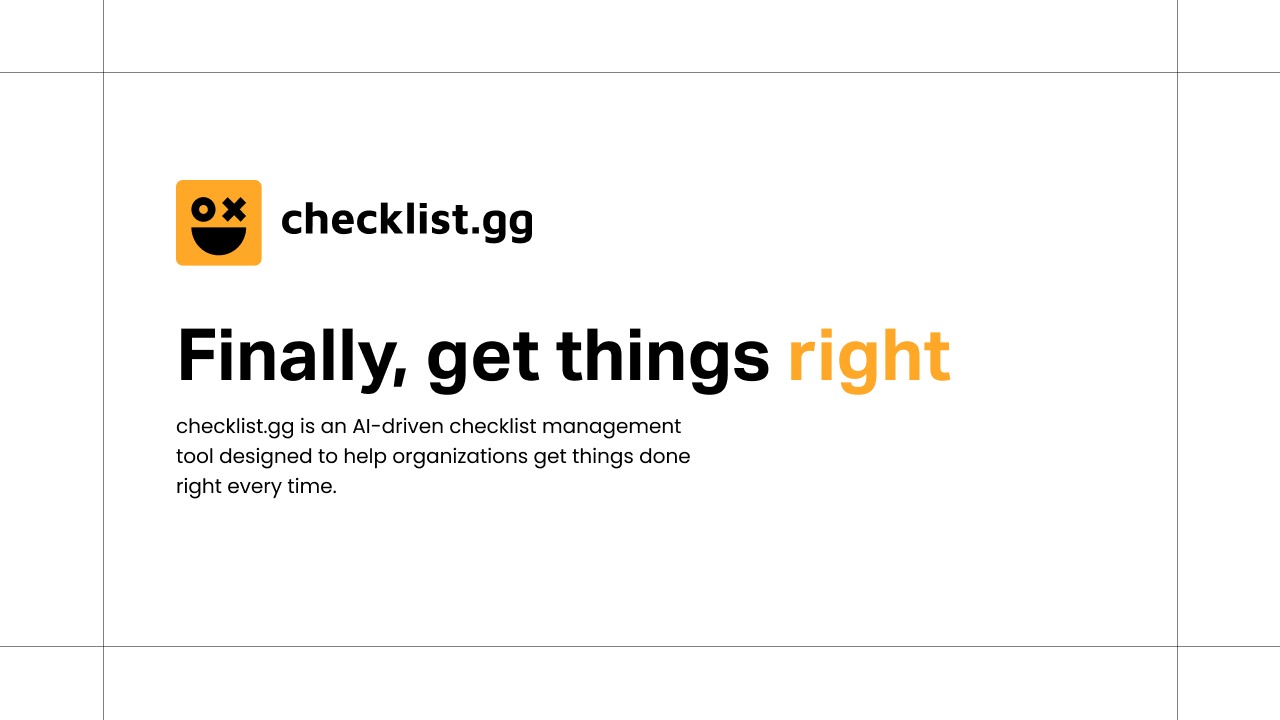 Get things done right the first time.
At the core of precise productivity, Checklist.gg emerges as an AI-driven tool meticulously designed to guide organizations in achieving flawless outcomes consistently.
More than a tool, it's a dependable partner empowering excellence, minimizing errors, and transforming task management for success.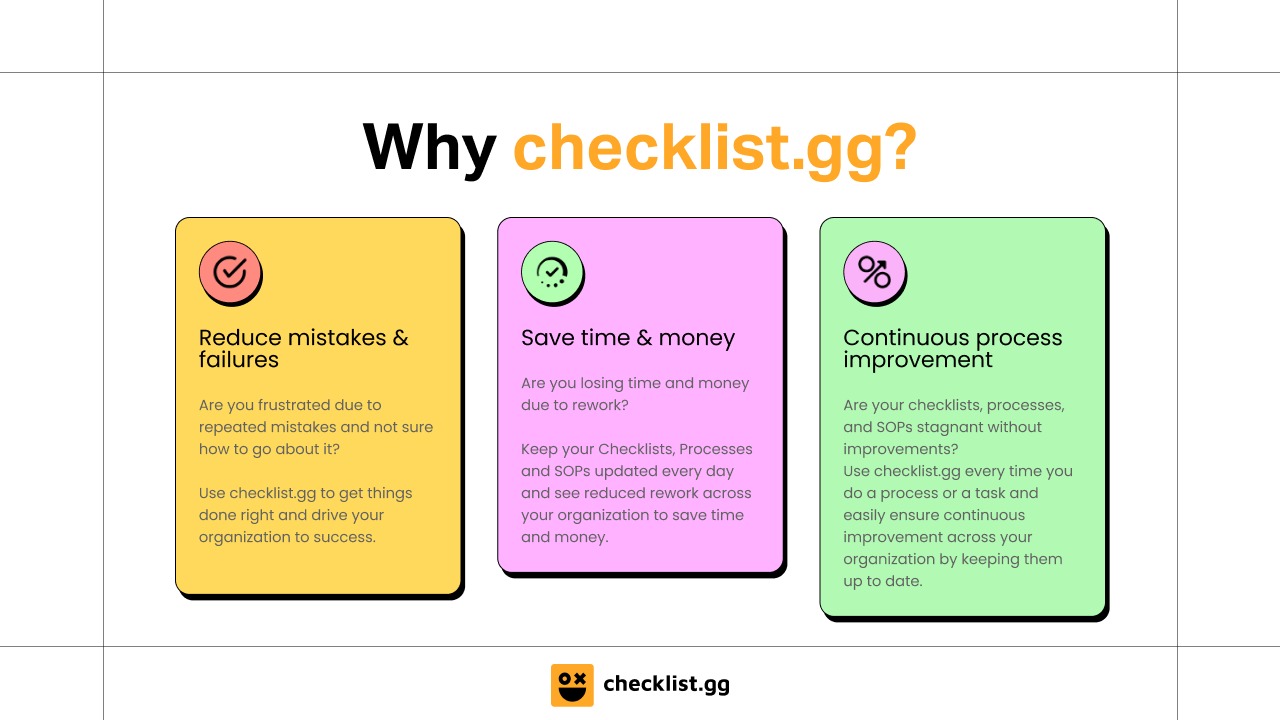 Reduce mistakes, save time and money, and continuously improve processes.
Minimize errors and improve performance
Are persistent errors causing frustration, leaving you uncertain about effective solutions? Embrace the utilization of Checklist.gg to optimize outcomes, guiding your organization towards a trajectory of success.
Efficiency in time and cost
Struggling with instances of time wastage and the incurrence of unnecessary expenses? Engage in the practice of maintaining up-to-date Checklists, Processes, and SOPs through the utilization of Checklist.gg on a daily basis. This proactive approach will undoubtedly result in reduced instances of revision within your organization, consequently leading to tangible time and cost savings.
Sustained process enhancement
Are your established procedures, processes, and SOPs currently plateauing without a sense of progression? Leverage the capabilities of Checklist.gg for every individual task or process, assuring a consistent trajectory of advancement throughout your organization by means of the sustained currency of said processes and protocols.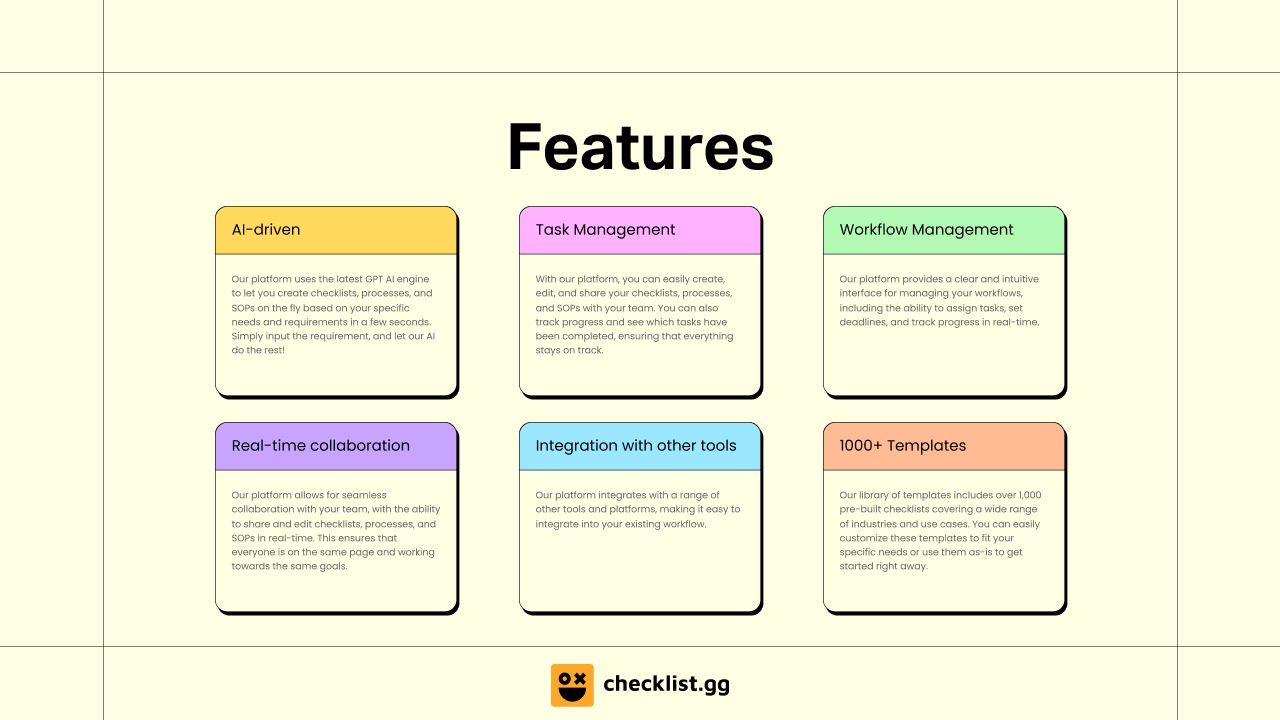 Efficiently tailor checklists, manages tasks, hold real-time collaboration, and utilize templates.
Checklist.gg utilizes advanced GPT AI technology to swiftly produce personalized checklists, processes, and SOPs in response to the user's specific requirements.
By inputting necessary details, the AI takes charge of the creation process.
Checklist.gg simplifies sharing and real-time collaboration, enhancing task and workflow management. Integration with tools boosts workflow, and 1,000+ templates speed up tasks.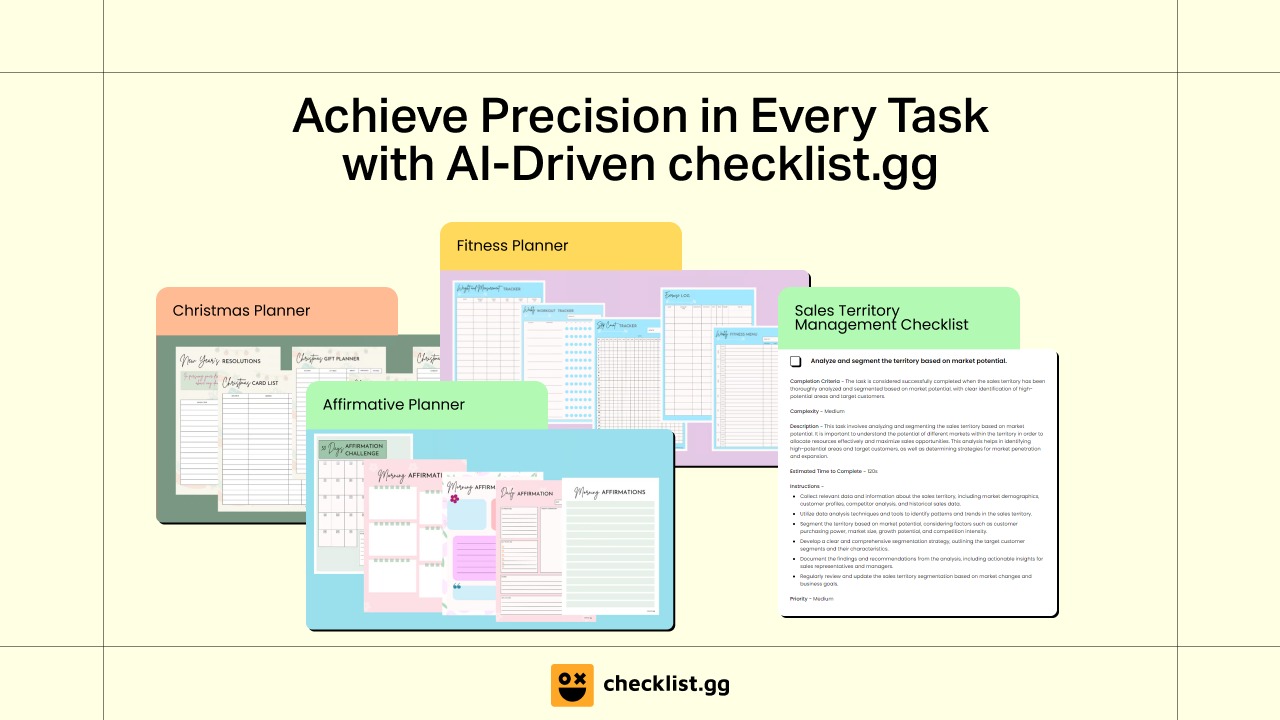 Achieve precision in every task with Checklist.gg.
Elevate your operational prowess with the advantage of our expansive offering: over 1,000 free checklists meticulously curated for a diverse spectrum of disciplines.
Spanning essential domains such as SEO, marketing, sales, operations, HR, development, UI/UX, and more, our comprehensive checklist library equips you with the tools to streamline workflows and achieve unparalleled task completion.
From strategic initiatives to intricate details, harness the power of our versatile resources to amplify your effectiveness across a multitude of fields.
Get access to Checklist.gg today! 🤖📚
Plans & features
Deal terms & conditions
Lifetime access to Checklist.gg

You must redeem your code(s) within 60 days of purchase

All future Pro Plan updates

Stack unlimited codes
60 day money-back guarantee. Try it out for 2 months to make sure it's right for you!
Features included in all plans
Unlimited projects

Unlimited AI-driven checklist creation

Repeatable checklists

Auto-assign checklists
Specification:
Checklist.gg
Plan 1

All features above included
2 users
Advanced analytics and insights
Unlimited checklists

Plan 2

All features above included
5 users
Advanced analytics and insights
Unlimited checklists

Plan 3

All features above included
9 users
Advanced analytics and insights
Unlimited checklists

Plan 4

All features above included
14 users
Advanced analytics and insights
Unlimited checklists

Plan 5

All features above included
19 users
Advanced analytics and insights
Unlimited checklists

Plan 6

All features above included
24 users
Advanced analytics and insights
Unlimited checklists

Plan 7

All features above included
29 users
Advanced analytics and insights
Unlimited checklists

Plan 8

All features above included
34 users
Advanced analytics and insights
Unlimited checklists

Plan 9

All features above included
39 users
Advanced analytics and insights
Unlimited checklists

Plan 10

All features above included
44 users
Advanced analytics and insights
Unlimited checklists