Formaloo
Throwing together random software to collect, organize, and understand your data can feel like you're making stuffing out of fridge leftovers. ("Good news: It's edible. Bad news: It's hideous.")
But adding tons of tools to your process can complicate your workflow, create more opportunities for errors, and strain your budget.
If only there was a tool that let you create forms and apps to collect data, organize it with your team, and collaborate on the data together—all without any code.
Overview
Formaloo is a no-code platform that enables you to quickly build mobile apps, forms, and databases.
Access everything you need to create and manage unlimited forms, surveys, quizzes, and polls right from the Formaloo dashboard.
Get started with the click of a button and choose from over a hundred built-in templates to create a branded, customized form that looks great on any device.
You can share forms with your colleagues and manage their level of access, making collaboration a breeze.
Formaloo also lets you assign forms to team members, so they can handle responses and create specific folders for any team or project.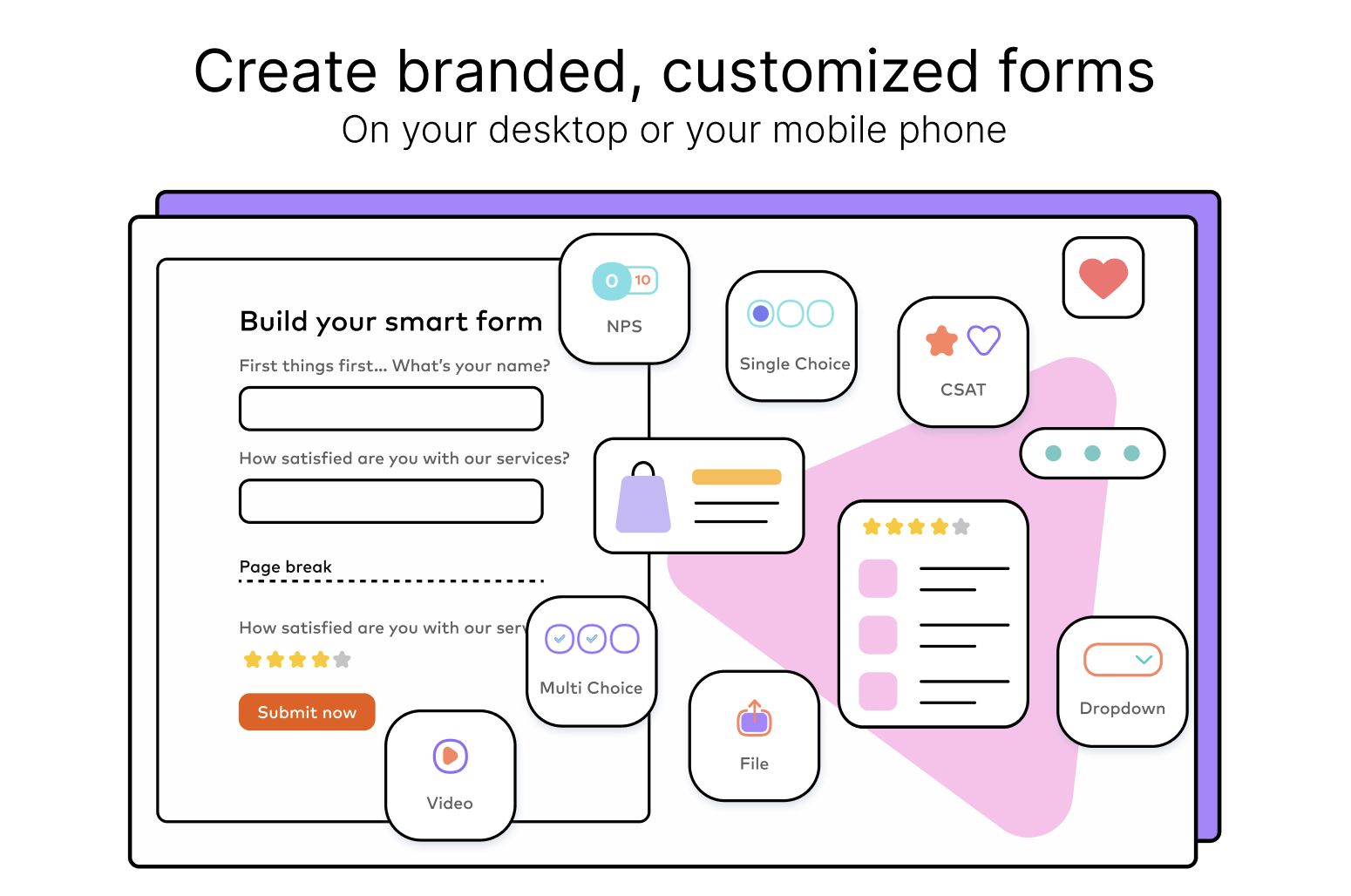 Create forms that you can easily manage with your team right from the Formaloo dashboard.
Building a web app with Formaloo is as easy as drag and drop. Get started with a template or use over 100 prebuilt blocks that stack together like legos.
You'll be able to build any app and embed the app on your website—no coding or design skills needed!
Develop fully native mobile apps with your own branding in minutes, and then publish them on Google Play, Amazon, or your website.
Best of all, this platform lets you push out any updates instantly, so users can always have the latest version.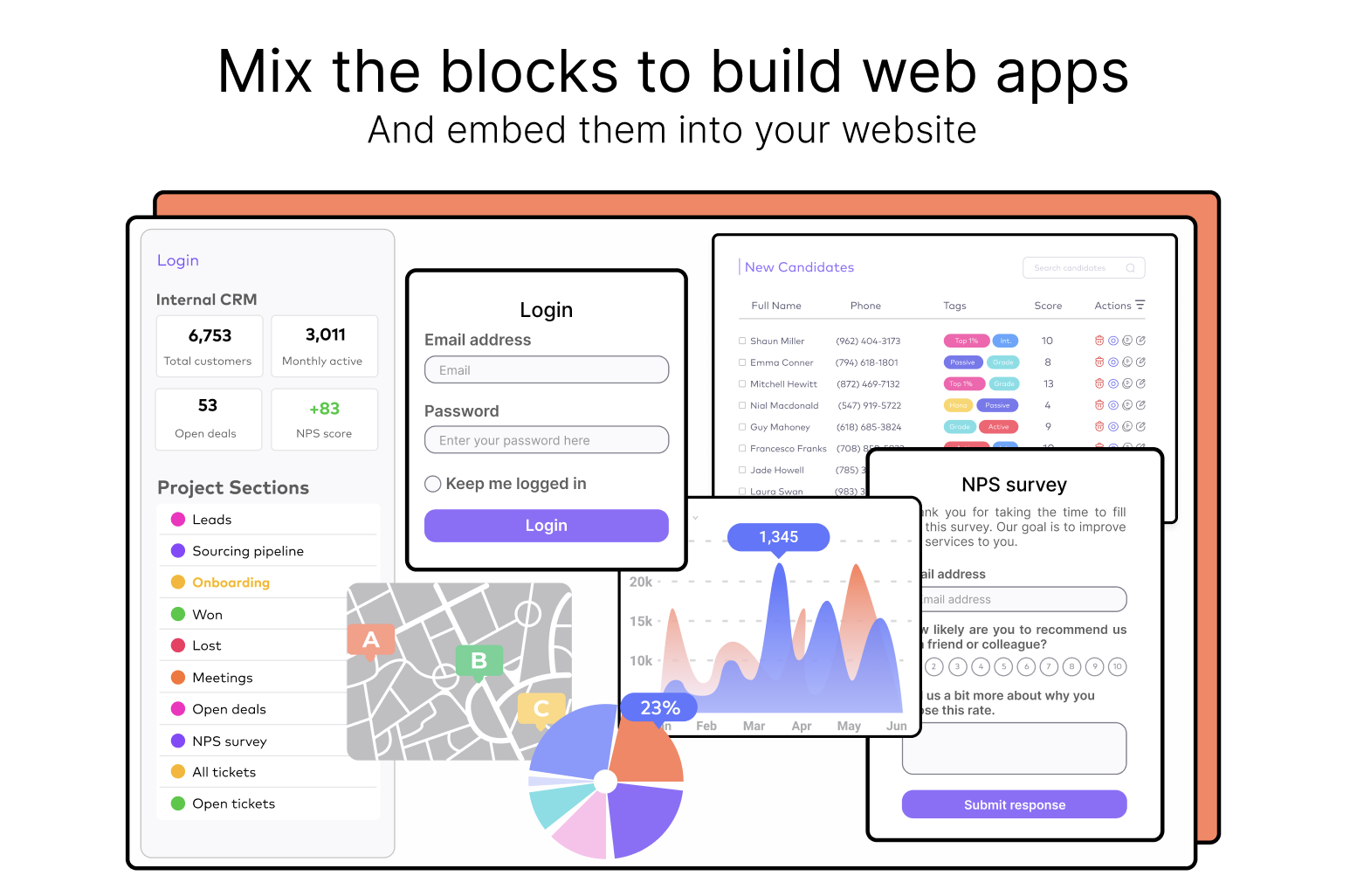 Use 100+ prebuilt blocks to create your dream web app, all without a single line of code.
With Formaloo, you'll be able to customize everything with your own branding, so you can create cohesive user experience.
You can use your own custom domains and emails for your forms, as well as customize the font, style, or colors.
And thanks to advanced access management, you'll have complete control over what data users can access and what actions they can take.
Customize everything in Formaloo to fit your existing branding for a seamless user experience!
Formaloo also lets you leverage powerful conditional logic and workflow automation to help you get the information you need from your audience.
Create super-smart forms with an unlimited number of logic jumps, conditions, workflows, redirects, and branches.
You can also connect your forms together as you create relational forms or forms that function a lot like an app.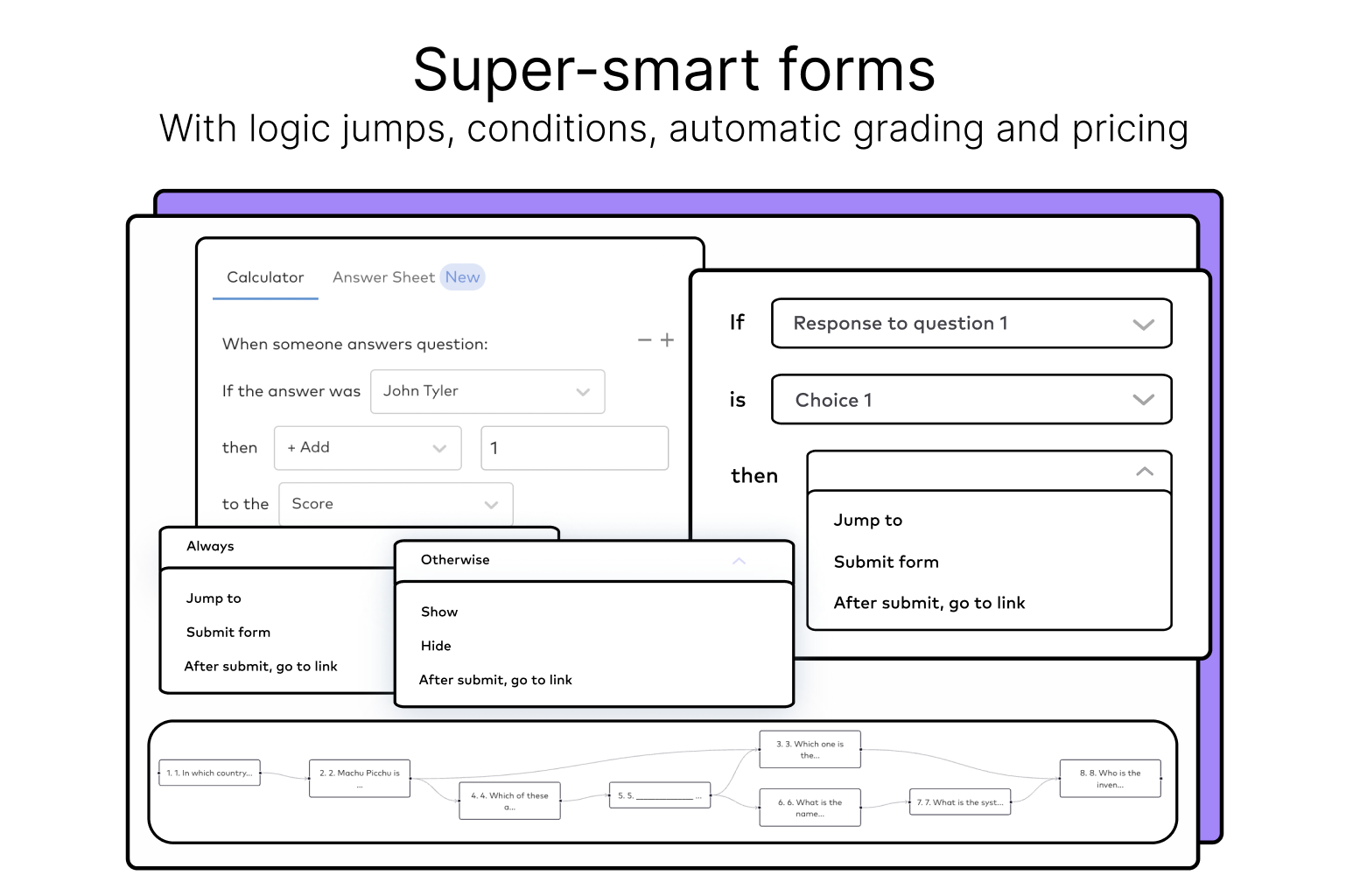 You can create super-smart forms with logic jumps, conditions, branches, and more!
You know that your forms need a total facelift when they're getting less engagement than your Terms & Conditions. ("FYI, someone painstakingly wrote these lovely paragraphs you're scrolling past!")
Luckily, Formaloo lets you create user-friendly forms, apps, databases, quizzes, polls, and surveys with a drag-and-drop builder.
Build forms and apps people actually want to use.
Get lifetime access to Formaloo today!
Plans & features
Deal terms & conditions
Lifetime access to Formaloo

All future Pro Plan updates

No codes, no stacking—just choose the plan that's right for you

You must activate your license within 60 days of purchase

Ability to upgrade or downgrade between 5 license tiers

GDPR compliant

Available for new Formaloo users and returning AppSumo purchasers

Previous AppSumo customers who purchased Formaloo can upgrade their license to increase their feature limits

Previous AppSumo customers will be grandfathered into the new feature limits

Previous AppSumo customers will maintain their unlimited live app limit at Tier 1 (if applicable)
60 day money-back guarantee. Try it out for 2 months to make sure it's right for you!
Features included in all plans
Unlimited databases and forms

Unlimited records, responses, form submits, and blocks

Unlimited pages and fields

Branding removal

Add your own logo

Create a subdomain

Unlimited custom domains with SSL

Daily backup
License Tier 1

All features above included
All Pro Plan Features
10 live apps (at one time)
3 team members
10 GB secure cloud storage per team member

License Tier 2

All features above included
All Pro Plan Features
Unlimited live apps (at one time)
5 team members
10 GB secure cloud storage per team member

License Tier 3

All features above included
All Pro Plan Features
Unlimited live apps (at one time)
15 team members
10 GB secure cloud storage per team member
Smart backup

License Tier 4

All features above included
All Pro Plan Features
Unlimited live apps (at one time)
50 team members
10 GB secure cloud storage per team member
Smart backup
Enterprise-controlled database encryption
SAML with SSO

License Tier 5

All features above included
All Pro Plan Features
Unlimited live apps (at one time)
100 team members
10 GB secure cloud storage per team member
Smart backup
Enterprise-controlled database encryption
SAML with SSO