Overview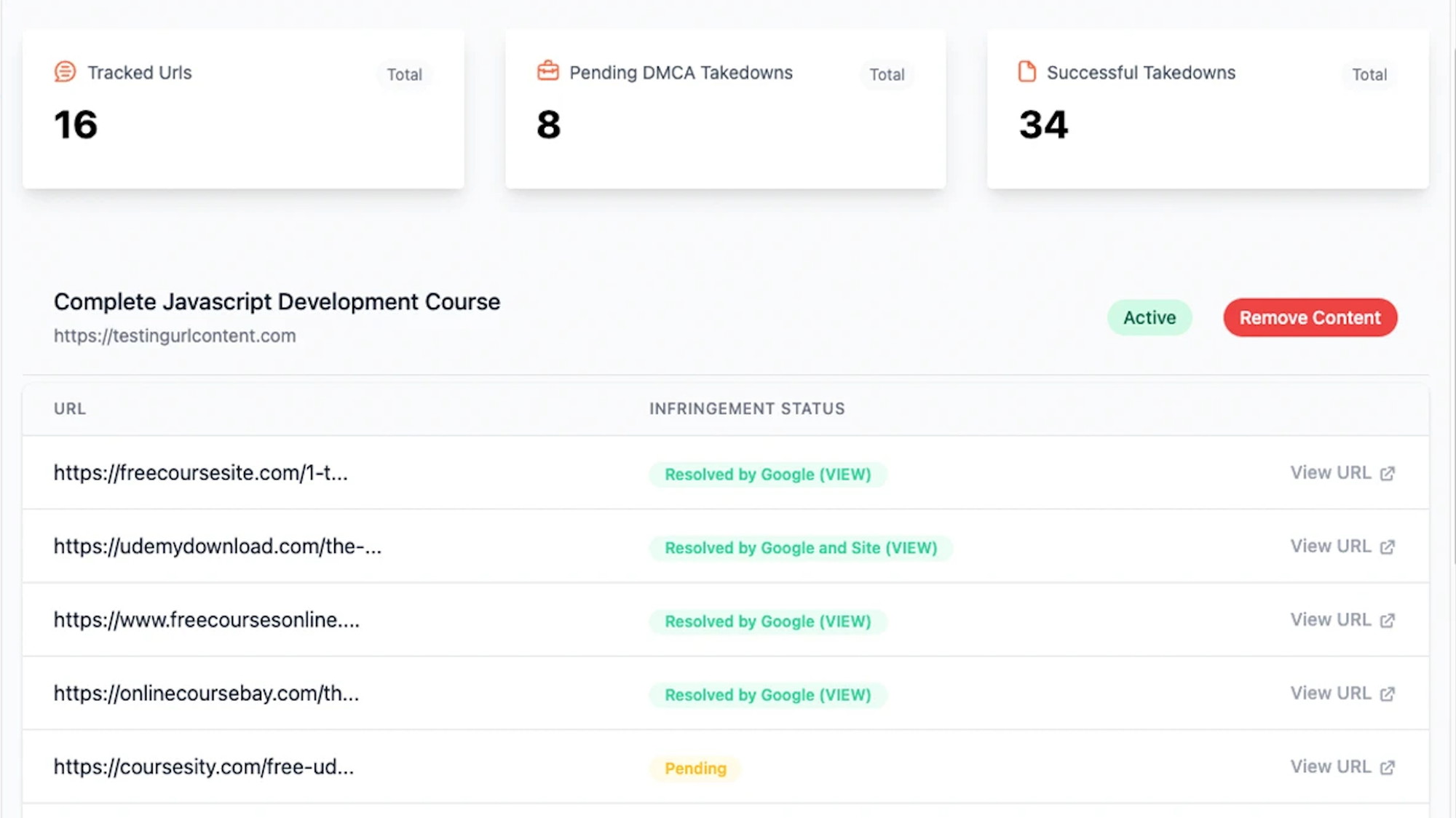 See every reported instance of infringement on Harvel's dashboard, which tracks offending URLs and pending takedowns.
Start by typing in the URL for your original content, and Harvel's state-of-the-art crawler will look for instances of infringement across the web.
You'll be able to view stats on every step of the tracking, reporting, and takedown process on one seamless dashboard.
Whenever any infringement is found, the platform's team of experts verifies each case and sends a DMCA takedown request to the offending site's host to force removal.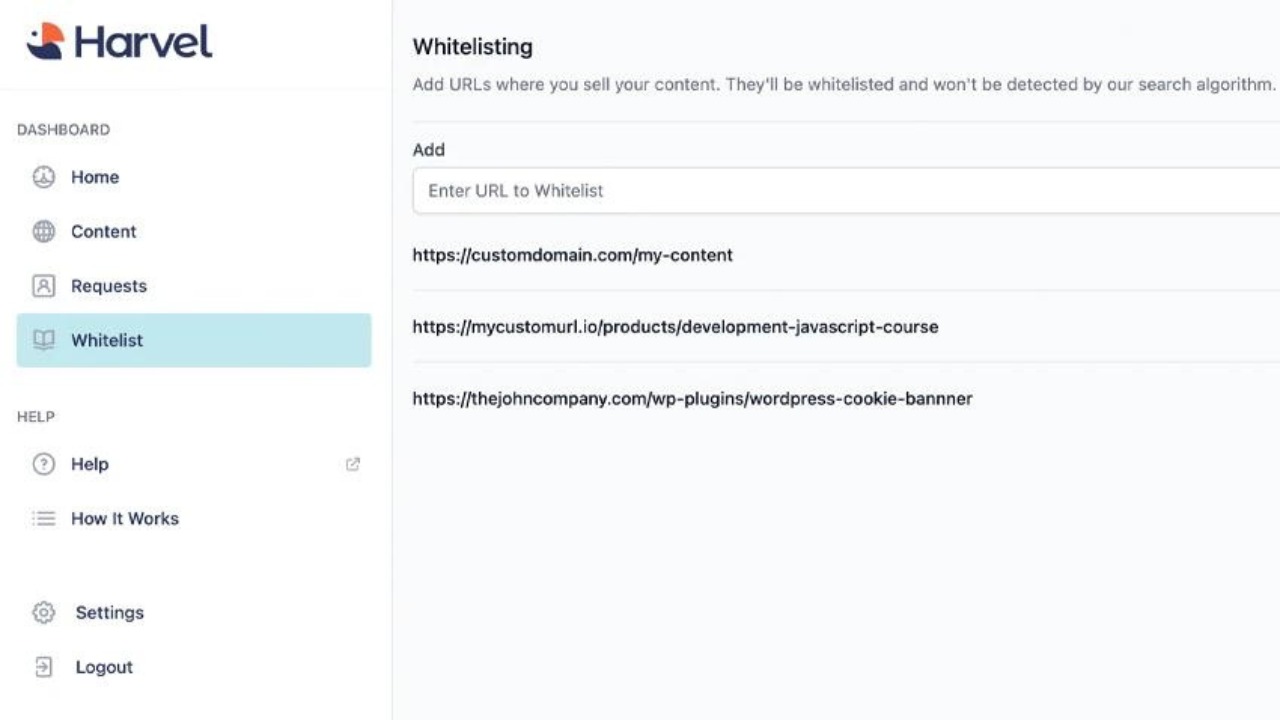 Harvel supports whitelisting to protect authorized custom domains where you do sell content from takedown requests.
Harvel works with Google and other search engines to remove sites with pirated content, ensuring they'll never appear in search results.
Once DMCA takedown and de-indexing are resolved, you'll be able to access the official record of the takedown and see every action Harvel took to protect you.
Plus, Harvel supports a whitelisting function, so you can ensure that custom domains where you do sell your content aren't flagged for infringement.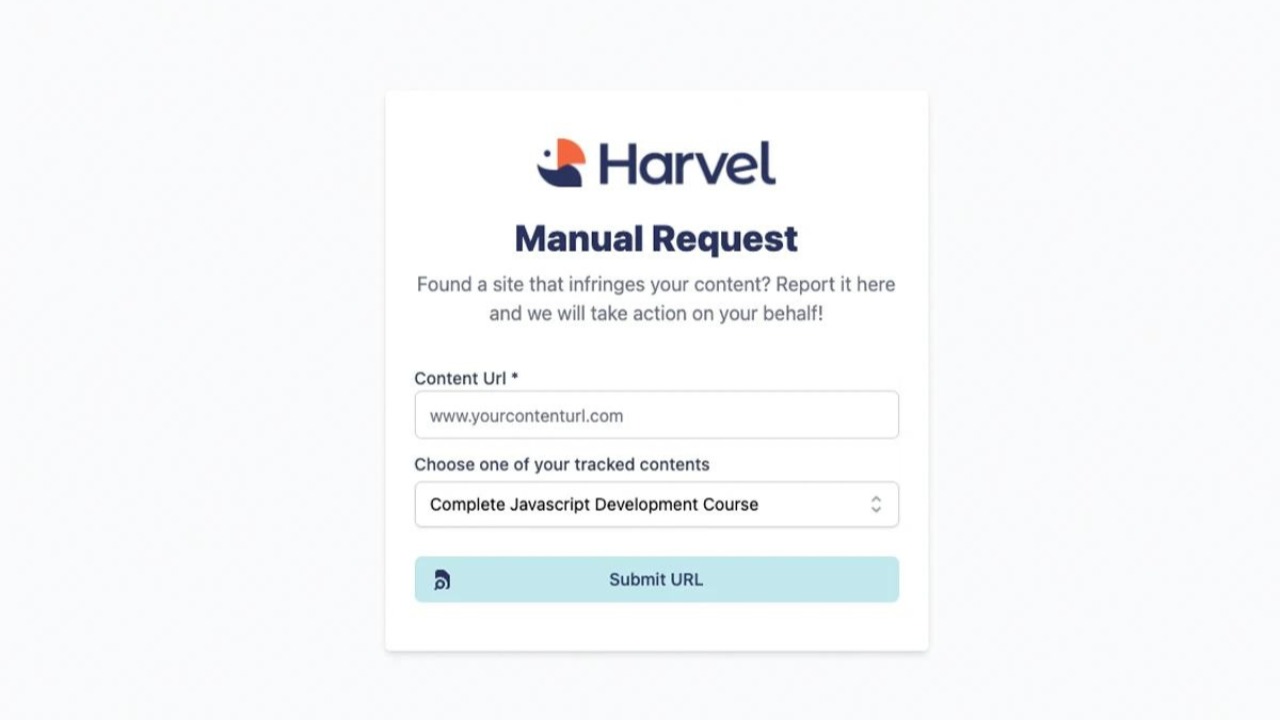 Manually report stolen content when you come across infringing URLs on your own. Harvel's team will come to your rescue!
If you happen to come across an instance of piracy on your own, you can manually submit a takedown request that the team investigate it.
Whether a URL was detected manually or by the automatic web crawl, you'll receive weekly emails with detection updates, takedown progress, and de-indexing status.
With Harvel's consistent updates, you'll know that the tool is engaged 24/7 to protect your creative work.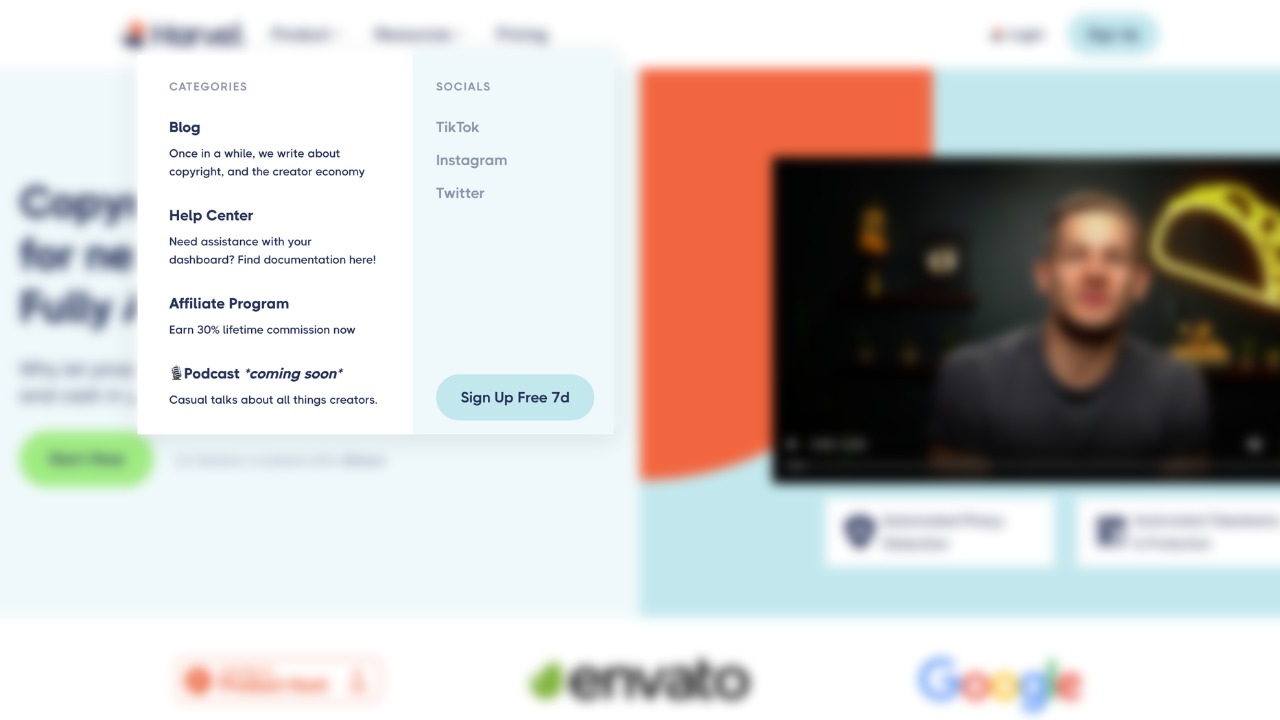 Harvel's Help Center is powered by dozens of blogs, FAQ pages and live chat to help you easily navigate the platform
If you ever have questions about using Harvel, you can find answers in the detailed Help Center library, or even chat directly with a team member for further support.
Creators like course instructors and plug-in developers have boosted sales because customers must purchase directly from them, instead of finding the work for free.
Plus, Harvel offers protection whether you sell directly from your site or use popular platforms like Patreon, Envato, Gumroad, Teachable, and BuyMeACoffee.
It's time for you to become Harvel's next great success story.
Imitation might be a form of flattery, but flattery doesn't pay the bills. (We're still holding out for a landlord who accepts rent in the form of Instagram likes.)
Harvel protects your creative ideas and revenue stream from piracy and copyright infringement, using automatic web crawl detection and official DMCA takedown requests to get the job done.
Break free from the threat of piracy.
Get lifetime access to Harvel today!
Plans & features
Deal terms & conditions
Lifetime access to Harvel

You must redeem your code(s) within 60 days of purchase

All future plan updates

GDPR Compliant (Partner Verified)

Only for new Harvel users who do not have existing accounts
Harvel

2 contents
Unlimited Google takedowns
Manual requests
24/7 support
Stack 1 additional code:
10 contents
Stack 2 additional codes:
Unlimited contents