Nector – Loyalty and Rewards
No matter what industry you're in, being on the customer-facing side of things can start to feel like Groundhog Day.
When you're answering the same questions repeatedly, it's easy to slip and send an embarrassing email or twenty. ("I did it again. I wrote 'Thanks for reaching out, [INSERT CUSTOMER HERE]' instead of their name.")
If only you could say all the right things, while also saving time and energy on repetitive typing.
Overview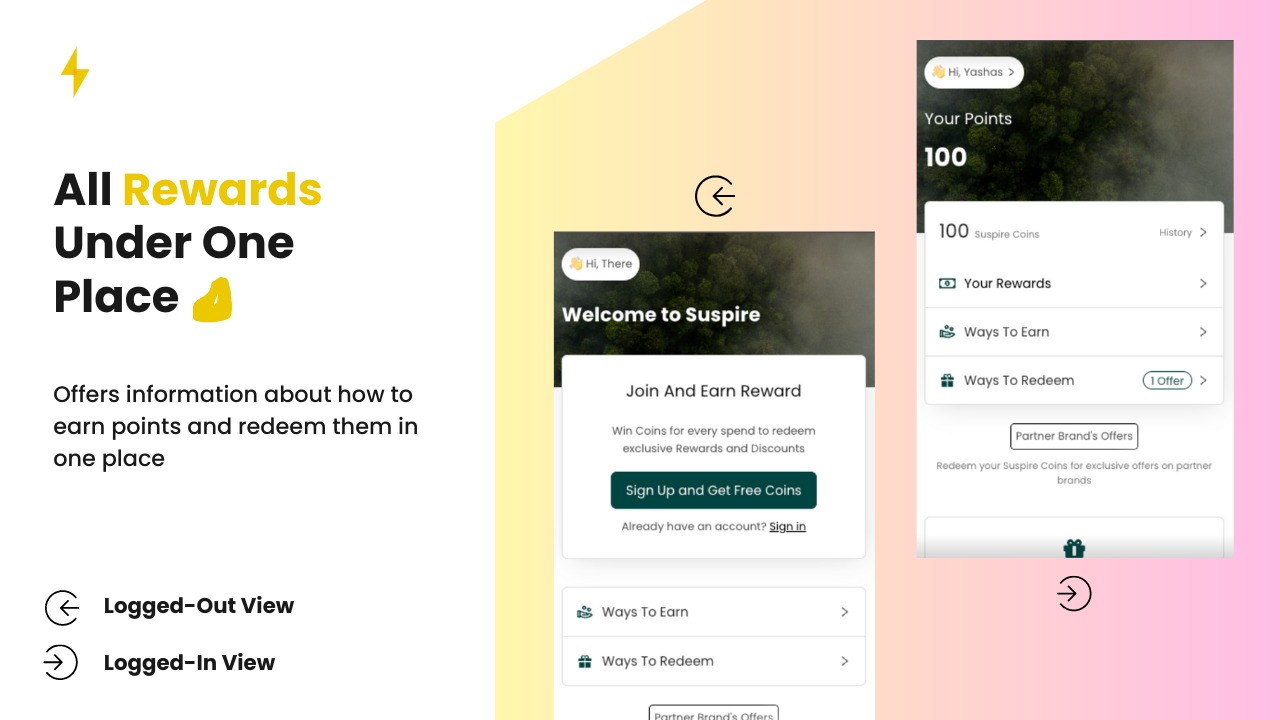 The all-in-one solution to keep your customer engaged – Enter Nector!
Nector is a highly customizable and pluggable loyalty, reward, and review program.
It seamlessly integrates with various eCommerce platforms, including:
Shopify*
WooCommerce
Custom websites
Custom applications
*We are available on the Shopify App Store – You can directly install Nector from here👈🏽
For platforms other than Shopify, complete the onboarding process at merchant.nector.io and schedule a call with us to complete the setup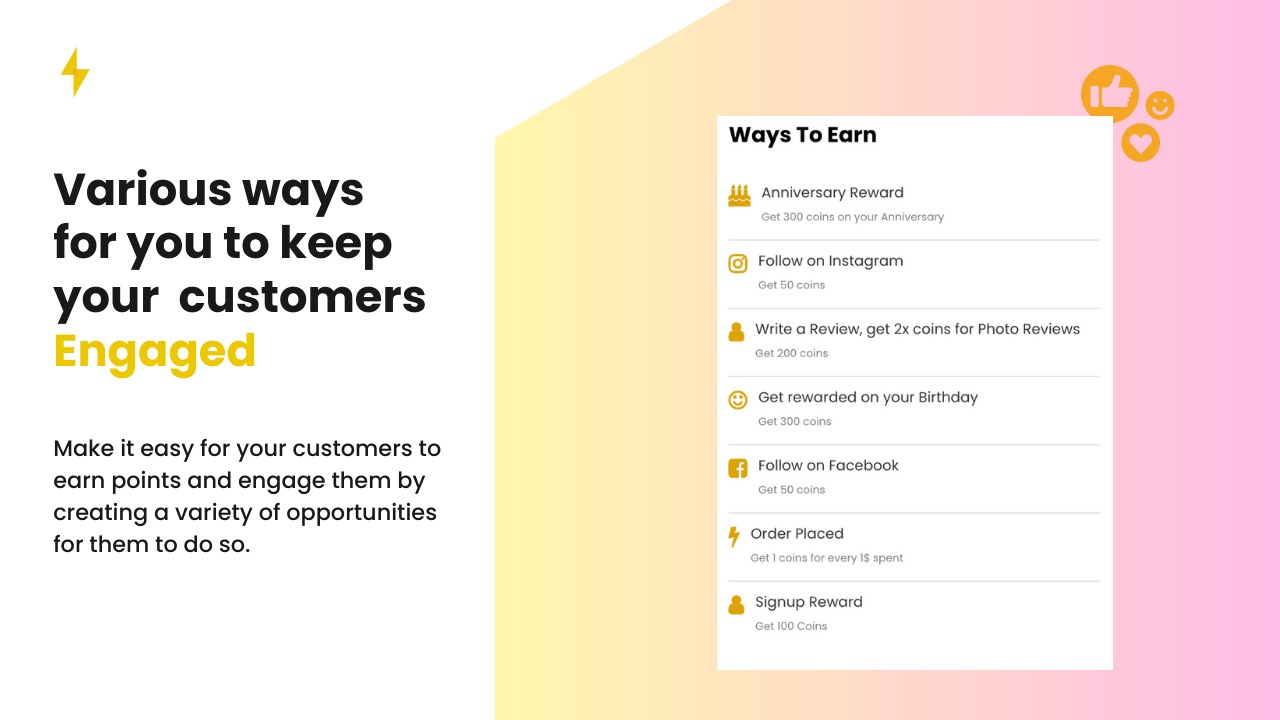 Your program, your rules! Make it easier for users to earn rewards in various ways
With Nector, you can create a loyalty program tailored to your business needs and reward customers for their purchases and engagement.
To name a few:
Placing an order
Signing up on your website
Following your social media accounts
Writing a review
Birthday and anniversaries
Users can then redeem those coins for offers and discounts on your website.
The rules for redeeming coins can be configured as well.
The dashboard is the one place to manage and customize anything about the rewards program.
You can set the rules for earning and redeeming coins, customizing the widget, and enabling other features of Nector there.
One of the most advantageous features of Nector is the ability to measure its impact on your business through the comprehensive metrics available in the dashboard.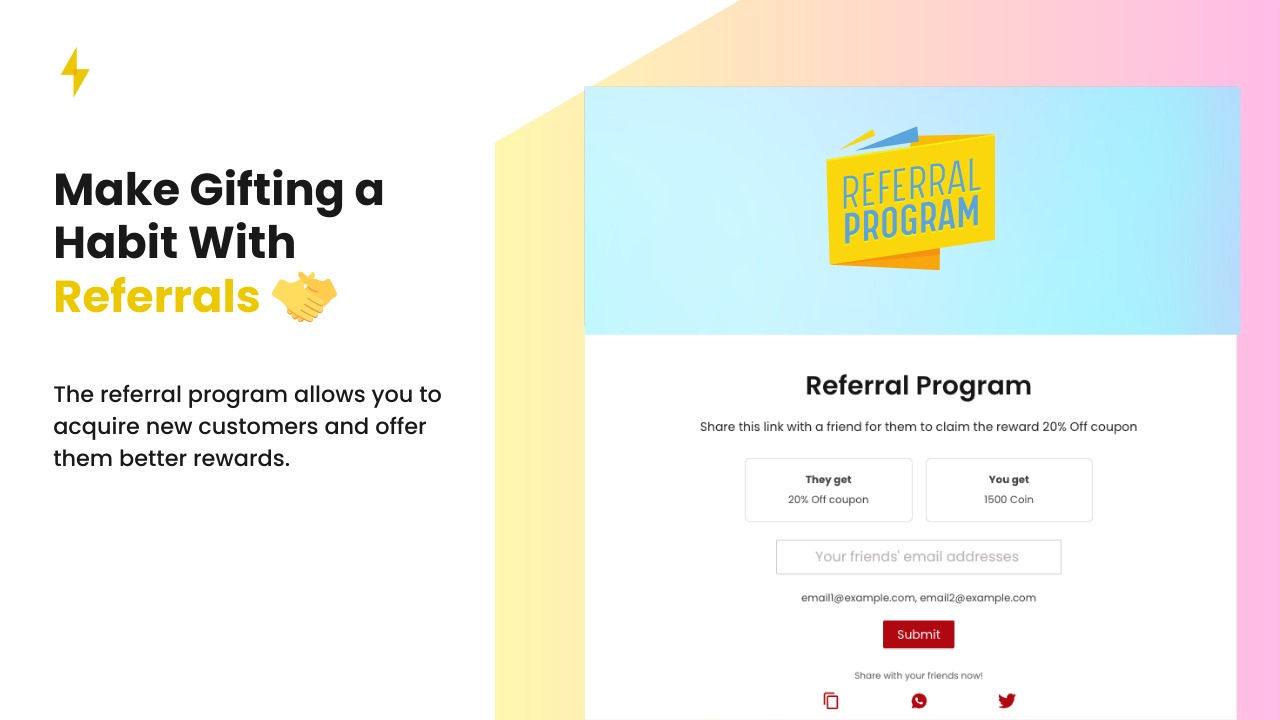 A good referral program keeps your marketing spend low!
You can also set up a referral program for your website with Nector.
Your customers will then be able to view details about the referral program within the widget.
The referral program can help you bring in new customers by incentivizing your existing customers to take part in it.
The referrals can be easily tracked in the dashboard, and the rewards will be credited to your users only when the referee completes their first purchase!
Gotta check 'em all! 😜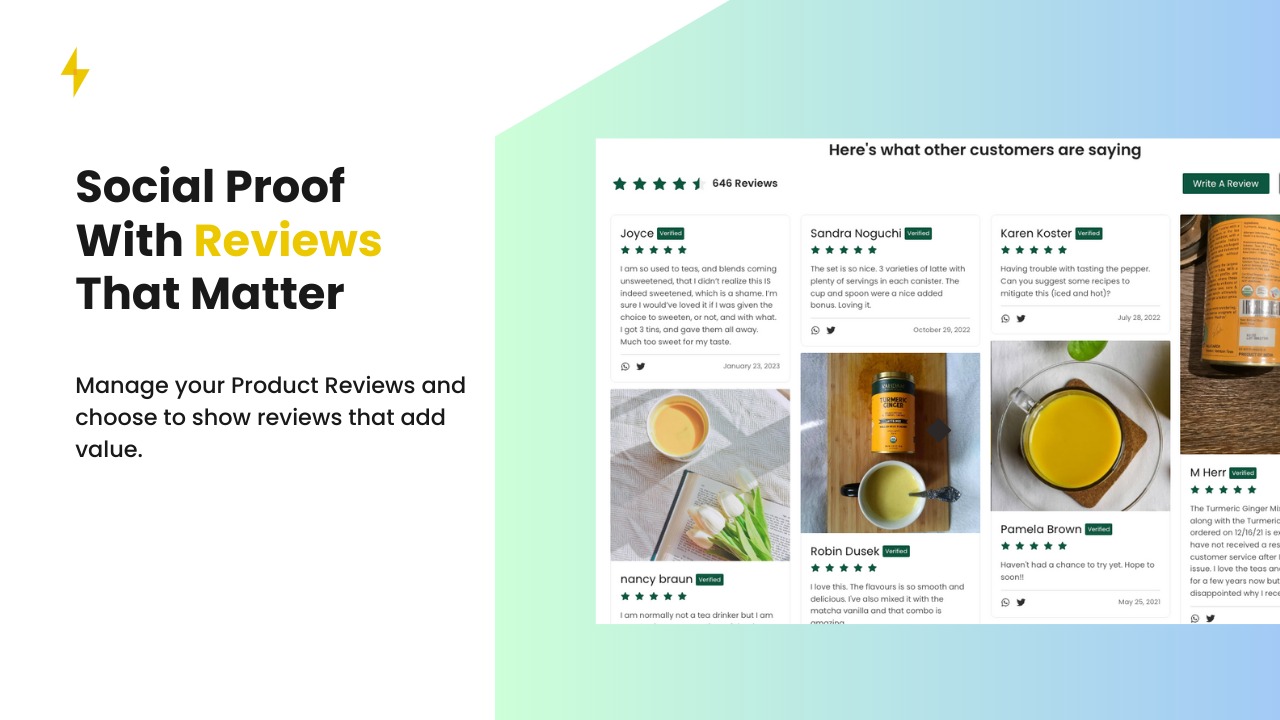 Leverage the power of social proof with Nector Reviews!
Customer feedback is important for any online business, and it can be the deciding factor for many other customers to buy from you.
Our reviews solution offers you a way to collect and respond to reviews in a way that will help your business grow.
Last but not least, you can connect your favorite apps to Nector to use loyalty data in your Email/SMS marketing campaigns:
Email marketing – MailChimp, Klaviyo, OmniSend*
WhatsApp marketing – Zoko, Wati.io, DelightChat*
Reviews – JudgeMe*
*As per our plan offering, You can connect to only one of the above-mentioned apps once you onboard onto Nector.
Let Nector help you create a memorable and rewarding experience for your customers today.
Get access to Nector now!
Plans & features
Deal terms & conditions
Lifetime access to Nector – Loyalty and Rewards

You must redeem your code(s) within 60 days of purchase

All future Starter Plan updates

Stack up to 3 codes
Specification:
Nector – Loyalty and Rewards
Plan 1

All features above included
Up to 1,000 orders/month
Unlimited customers
1 integration
Nector reviews
Access to partner store
Birthday rewards
Referral program
Automated transactional emails (limit is order count * 1.5)
Events to external tools (limit is order count * 1.5)
Webhooks to external tools (limit is order count * 1.5)
Dedicated pages for referrals and reviews

Plan 2

All features above included
Up to 1,750 orders/month
Unlimited customers
1 integration
Nector reviews
Access to partner store
Birthday rewards
Referral program
Automated transactional emails (limit is order count * 1.5)
Events to external tools (limit is order count * 1.5)
Webhooks to external tools (limit is order count * 1.5)
Dedicated pages for referrals and reviews
Remove Nector branding

Plan 3

All features above included
Up to 2,500 orders/month
Unlimited customers
1 integration
Nector reviews
Access to partner store
Birthday rewards
Referral program
Automated transactional emails (limit is order count * 1.5)
Events to external tools (limit is order count * 1.5)
Webhooks to external tools (limit is order count * 1.5)
Dedicated pages for referrals and reviews
Remove Nector branding