Overview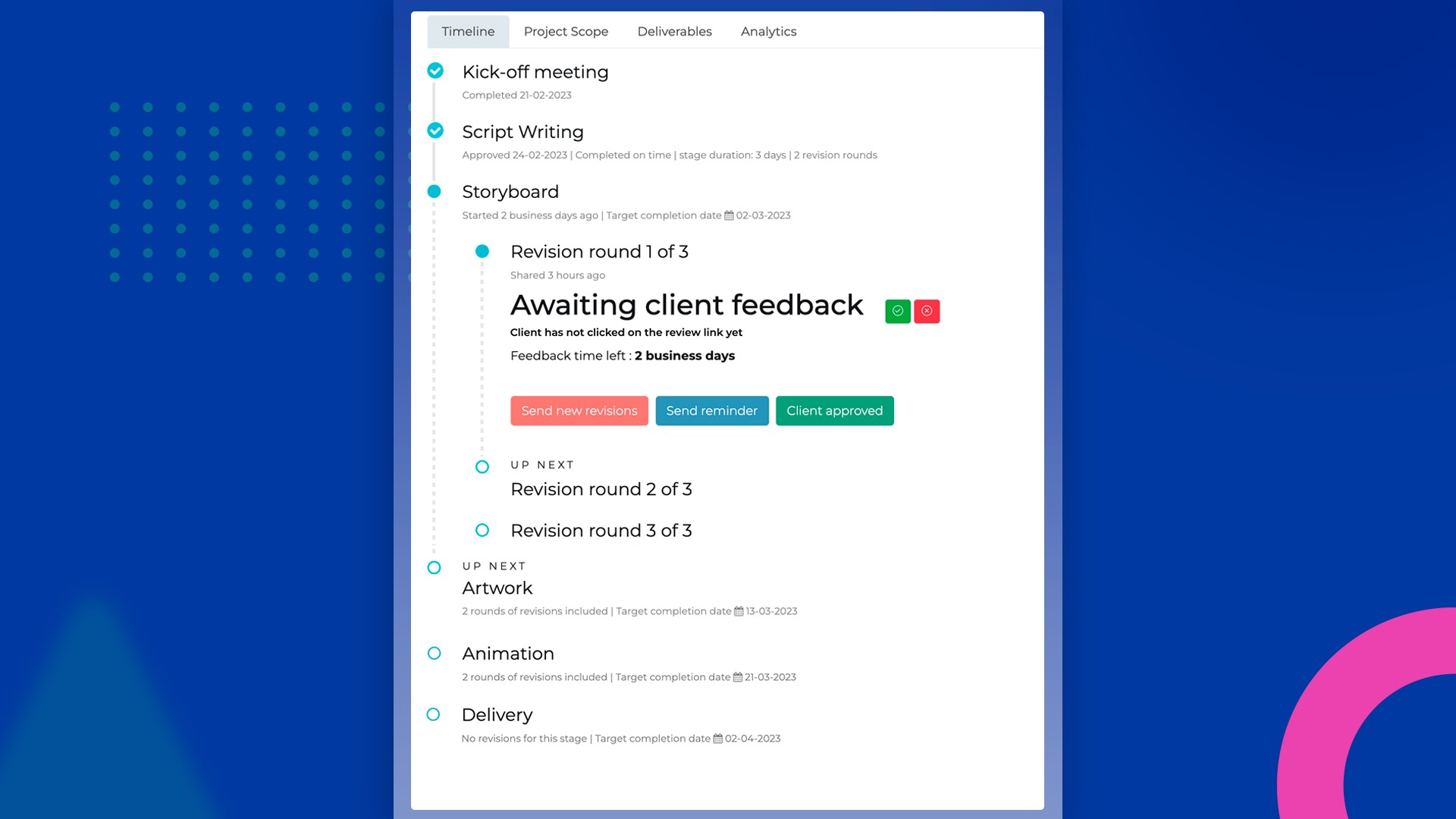 The main timeline view.
Bring your production process to life with our interactive timeline.
Stay on top of everything and never miss a beat by keeping track of the remaining revision rounds, duration of each stage completion, and approvals all in one place.
With our innovative timeline, you'll have a visual representation of your entire production process, making it easier to manage and plan your next move.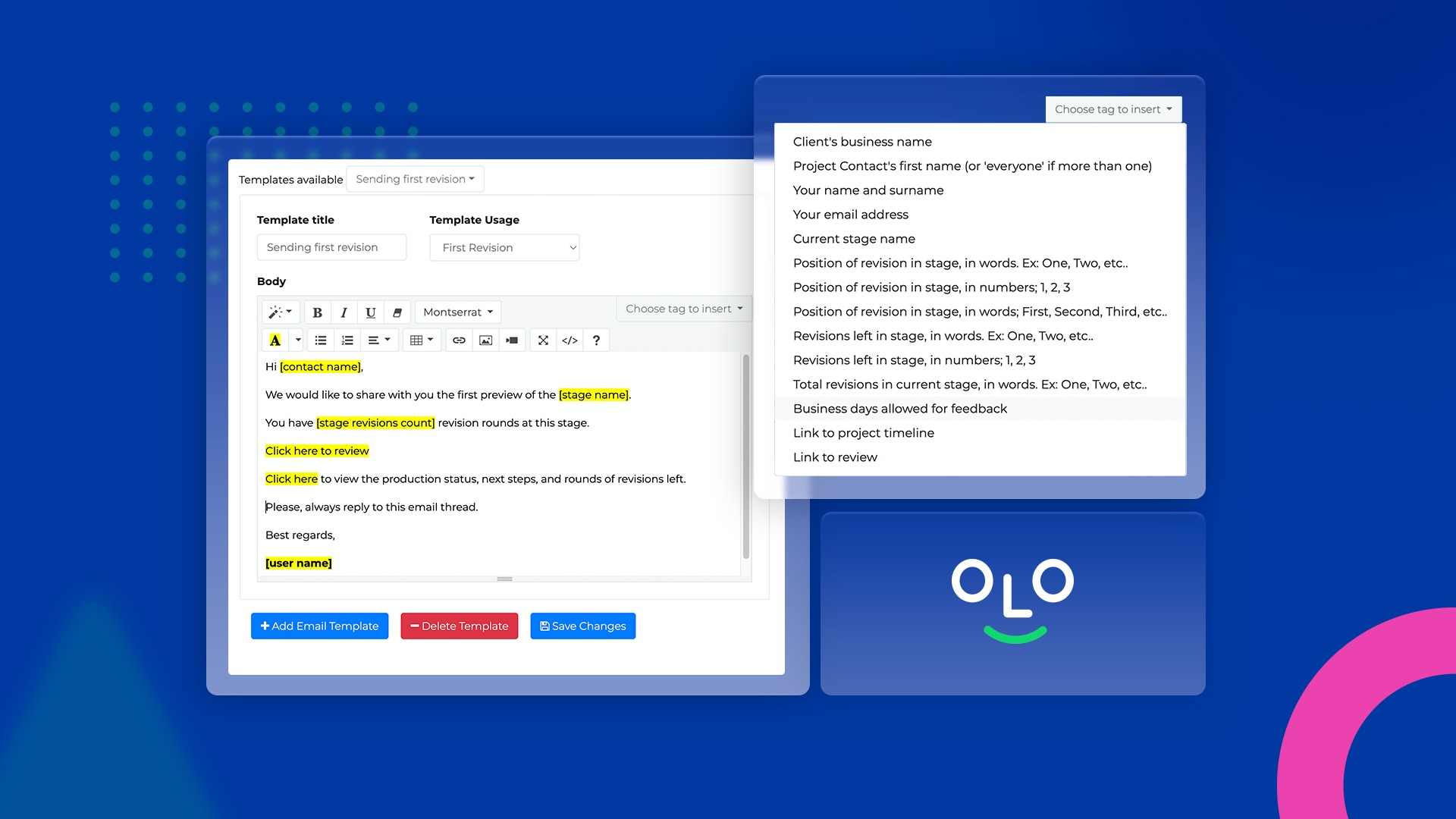 Email templates that will save you hours every week — no more typing the same emails!
Say goodbye to repetitive and time-consuming email writing for your projects.
With email templates, you can standardize your project-related communication, share previews and update with just two clicks.
You can add merge tags that preload essential information such as project status, revision rounds remaining, and allowed time for feedback. Streamline your workflow and save time by eliminating the need to keep re-typing the same emails over and over again.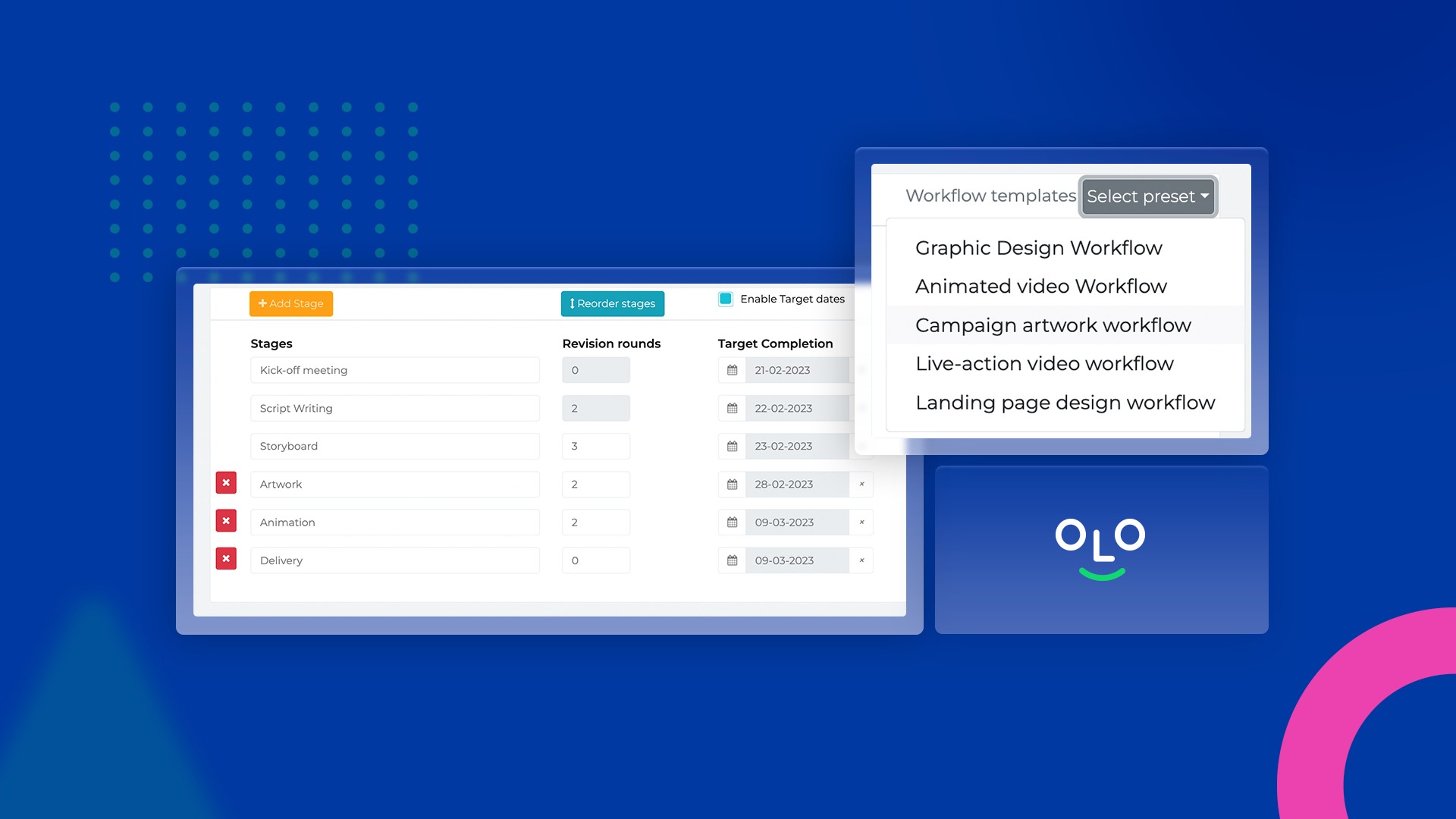 Workflow builder to load your production templates.
Planeolo fits alongside your existing project management tools, offering a fully customizable experience that fits your current workflows and processes.
The workflow builder allows you to build templates for future quick project setups. You can set-up the allowed revision rounds for each stage and organize it by dragging and dropping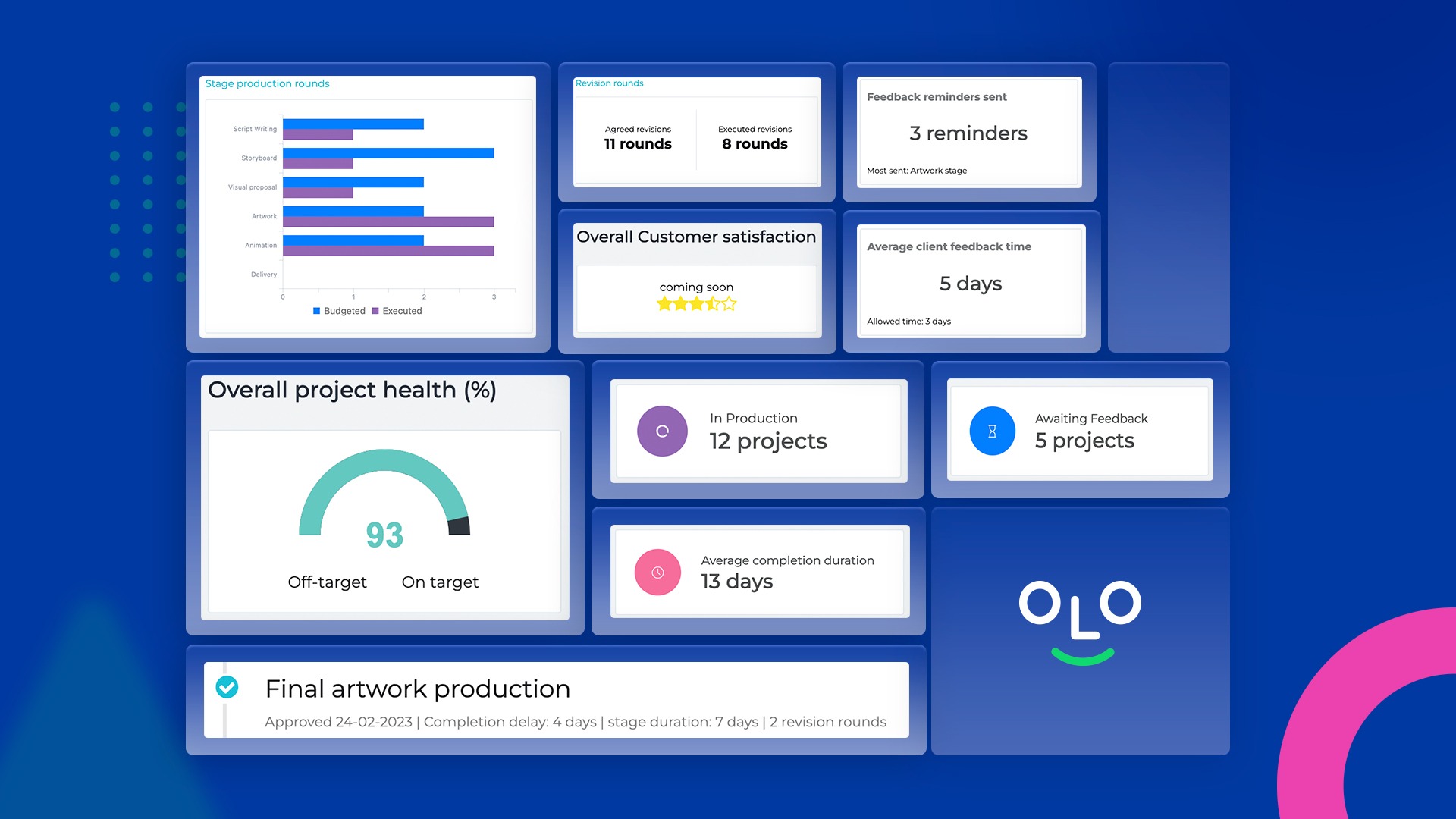 Insightful analytics; project, client and agency level.
Analytics provide valuable insights into how long clients take to provide feedback, the number of revision rounds needed during a project, where projects tend to get stuck, the average production duration, and most importantly, the level of client satisfaction.
This information is critical in identifying areas for improvement, which clients need the most attention, and delivering high-quality results to your clients.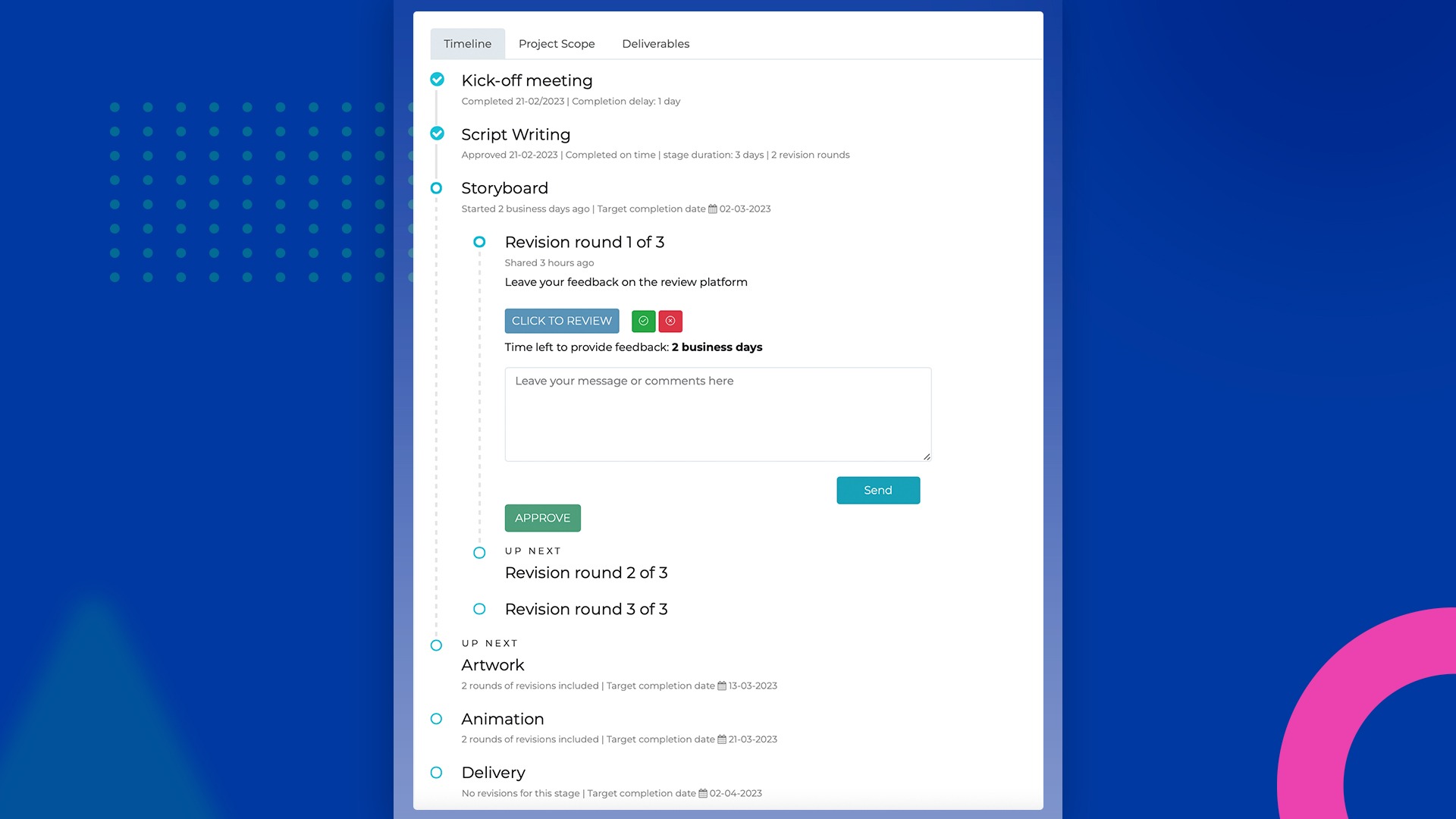 Our intuitive and secure client portal.
Unlock the power of seamless communication and efficient client management using the client portal.
Impress your clients with a client-friendly project timeline that keeps them in the loop of every step taken and what's coming next.
They can quickly approve work, request feedback, communicate with your team, and access all past deliverables.
Ensure a smooth and effortless experience for all – get access today!
Plans & features
Deal terms & conditions
Lifetime access to Planeolo

You must redeem your code(s) within 60 days of purchase

All future plan updates

Stack unlimited codes
60 day money-back guarantee. Try it out for 2 months to make sure it's right for you!
Features included in all plans
Project-level analytics

Agency-level analytics

Custom sub-domain
Plan 1

All features above included
3 team members
Unlimited active projects
Unlimited archived projects
Unlimited workflows
Unlimited email templates
Unlimited clients

Plan 2

All features above included
6 team members
Unlimited active projects
Unlimited archived projects
Unlimited workflows
Unlimited email templates
Unlimited clients

Plan 3

All features above included
9 team members
Unlimited active projects
Unlimited archived projects
Unlimited workflows
Unlimited email templates
Unlimited clients

Plan 4

All features above included
12 team members
Unlimited active projects
Unlimited archived projects
Unlimited workflows
Unlimited email templates
Unlimited clients

Plan 5

All features above included
15 team members
Unlimited active projects
Unlimited archived projects
Unlimited workflows
Unlimited email templates
Unlimited clients

Plan 6

All features above included
18 team members
Unlimited active projects
Unlimited archived projects
Unlimited workflows
Unlimited email templates
Unlimited clients

Plan 7

All features above included
21 team members
Unlimited active projects
Unlimited archived projects
Unlimited workflows
Unlimited email templates
Unlimited clients

Plan 8

All features above included
24 team members
Unlimited active projects
Unlimited archived projects
Unlimited workflows
Unlimited email templates
Unlimited clients

Plan 9

All features above included
27 team members
Unlimited active projects
Unlimited archived projects
Unlimited workflows
Unlimited email templates
Unlimited clients

Plan 10

All features above included
30 team members
Unlimited active projects
Unlimited archived projects
Unlimited workflows
Unlimited email templates
Unlimited clients