WP Reset Team Plan
You wanted to try something new with your WordPress site.
But after a few new features and one experimental widget (we never speak of the glittery blinking cursor again), you're ready to give it another try.
We're hitting reset on a deal that lets you install, uninstall, and recover sections of your WordPress site faster than you can say "Ruh-roh."
Say hello to WP Reset.
Overview
WP Reset is a WordPress plugin that collectively installs themes and plugins, resets defaults, and takes snapshots of your website.
WP Reset lets you restore everything to default values without reinstalling WordPress or doing it all manually.
You can even reset or delete select portions of your site to debug or streamline in record time, including removing all those unused widgets slowing you down.
Get rid of all those pesky theme options and old content for a super fast rebrand.
You'll also be able to completely rebrand the plugin and impress your clients—logo, colors, name, and all—without touching a line of code.
Do a complete reset of your site in seconds, not hours!
Now that your site is all squeaky clean, it's time to dress it up how you've always imagined.
Set up a development environment with Collections, a feature that lets you create a set of plugins and themes to bulk-install and activate from the cloud.
WP developers will love how easy it is to get the design right, every time.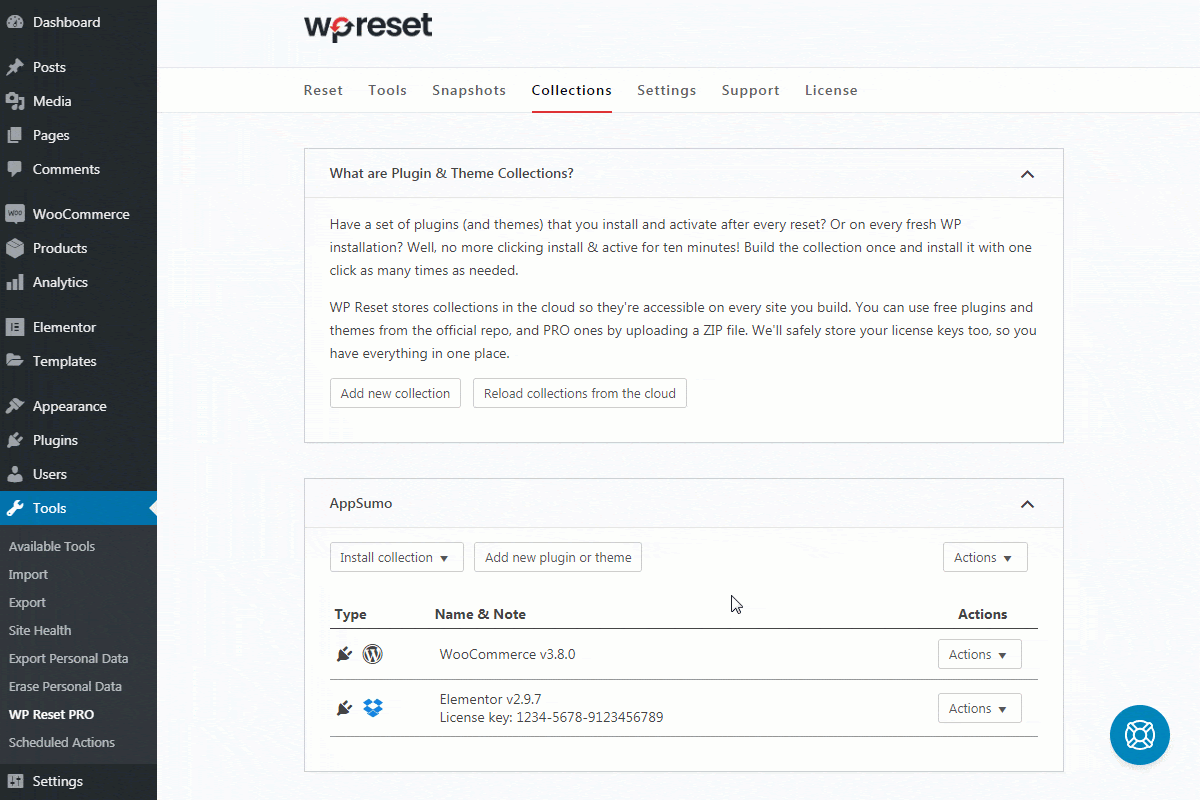 Use Collections to make a set of your favorite plugins and themes for easy installation from the cloud!
WP Reset is also prepared for life's little whoopsie-daisies (or big whoopsie-daisies, depending on who you ask).
Take a Snapshot of the site to store a copy of the current version to easily return to if need be.
You can also automate the process by letting WP Reset automatically take Snapshots depending on certain actions and events.
These Snapshots are stored in WP Reset Cloud, Dropbox, Google Drive, Icedrive, or pCloud, so you'll always have a copy waiting for you.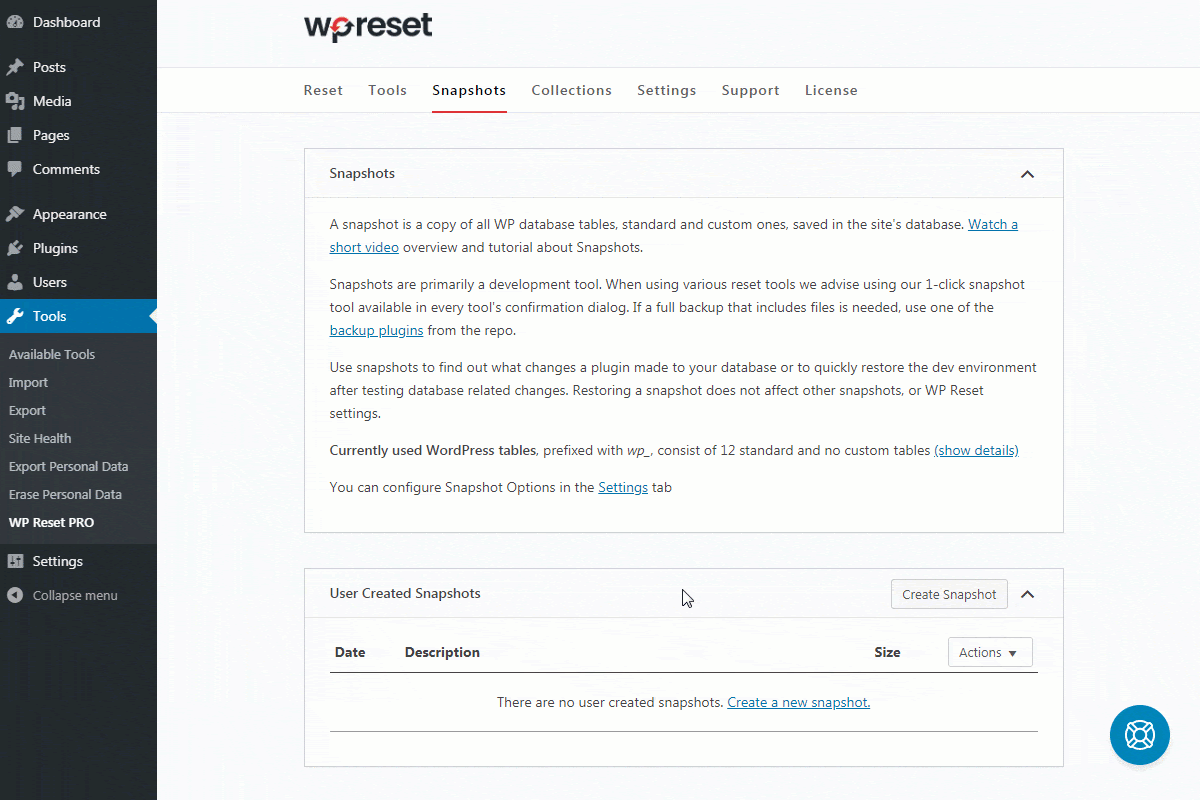 Create a Snapshot to easily return to a previous version of your site, then store copies in the cloud for guaranteed access.
Okay, so your site has been hacked or plagued by the dreaded white screen of death. No need to panic.
Even if you can't access your site admin, you can use WP Reset's Emergency Recovery Script to reclaim your website.
This powerful feature comes with over 12 tools, including support for Snapshots to get your site out of any sticky situation.
Plus, you can recover a client site if you haven't already installed the plugin. (Not all heroes wear capes.)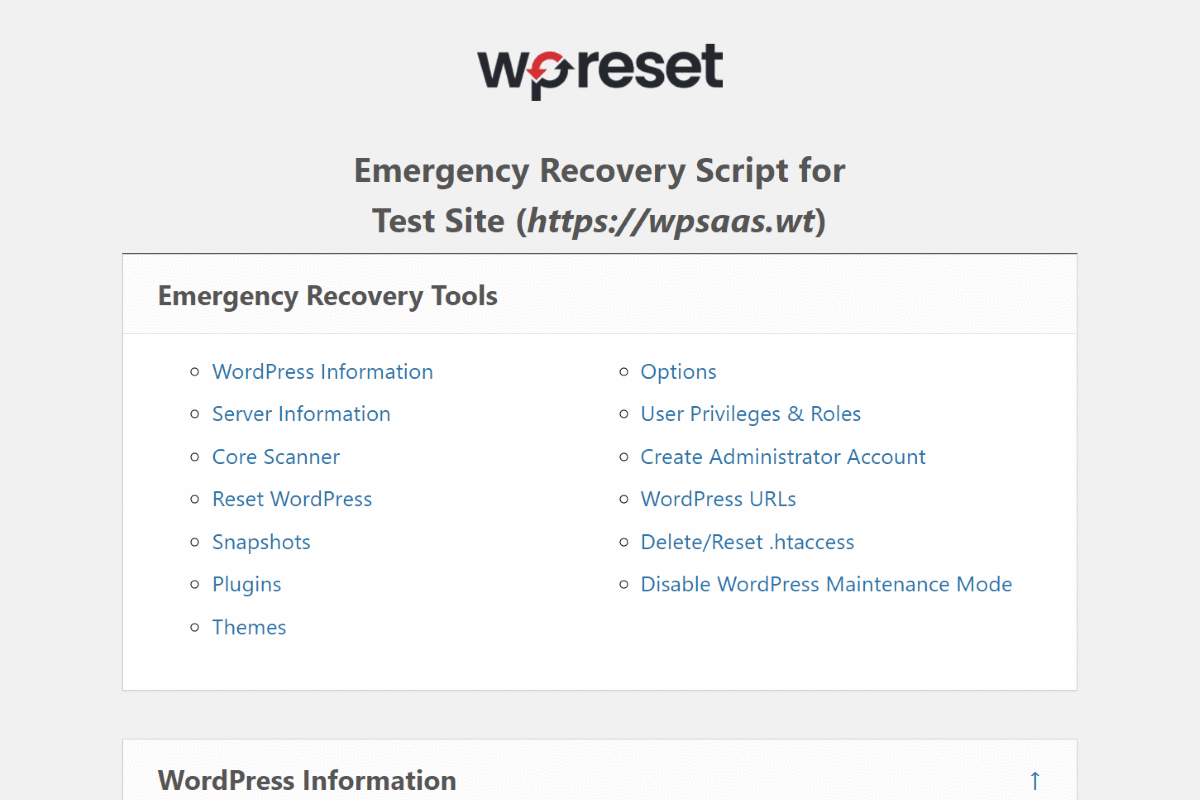 Use the Emergency Recovery Script to completely restore your site, even from the white screen of death!
The Dashboard is the central hub for controlling client licenses, sites, Collections, and Snapshots.
Add a new site, block sites from using the WP Reset plugin, or enable white-labeling for one client but not another.
From the Dashboard, you can also access remote site actions, including remote Snapshot stats, access to the Emergency Recovery Script, and license sync.
Plus, the license key is always hidden in the plugin—even without white-label turned on, so you don't have to worry about prying eyes.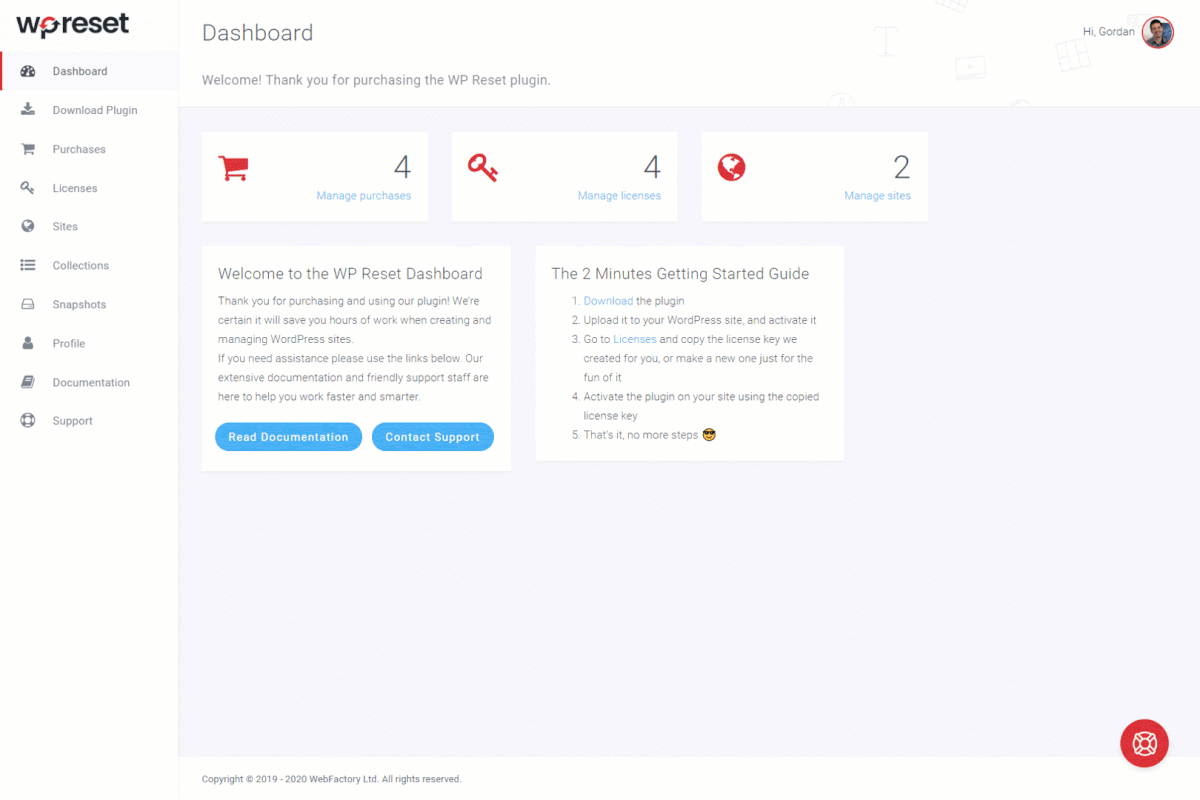 Control your Snapshots, Collections, client licenses, and more right from the Dashboard!
Sometimes instead of fixing something, you just need a do-over (case in point: tattoos of your high school sweetheart's name and the last season of Game of Thrones).
Whether excess plugins are slowing down your WordPress or you just want to repair your website, you need a tool you can depend on.
WP Reset makes it easy to rebuild your site from the ground up, and stores copies in the cloud so you're prepared for the worst.
Get lifetime access to WP Reset today!
Plans & features
Deal terms & conditions
Lifetime access to WP Reset

All future Team Plan updates

No codes, no stacking—just choose the plan that's right for you

You must activate your license within 60 days of purchase

Please note: This deal cannot be enhanced or reduced between license tiers

GDPR compliant
Specification:
WP Reset Team Plan
WP Reset Team Plan License

5 site licenses
5 WPR cloud site licenses
2 GB storage per lifetime Cloud license, 10 GB total
Over 25 tools
Snapshots and auto snapshots
Plugin and themes collections
Emergency recovery script
WP Reset dashboard
License manager
White label