Blogify
No matter what industry you're in, being on the customer-facing side of things can start to feel like Groundhog Day.
When you're answering the same questions repeatedly, it's easy to slip and send an embarrassing email or twenty. ("I did it again. I wrote 'Thanks for reaching out, [INSERT CUSTOMER HERE]' instead of their name.")
If only you could say all the right things, while also saving time and energy on repetitive typing.
Overview
Complete Demo of Blogify.ai v2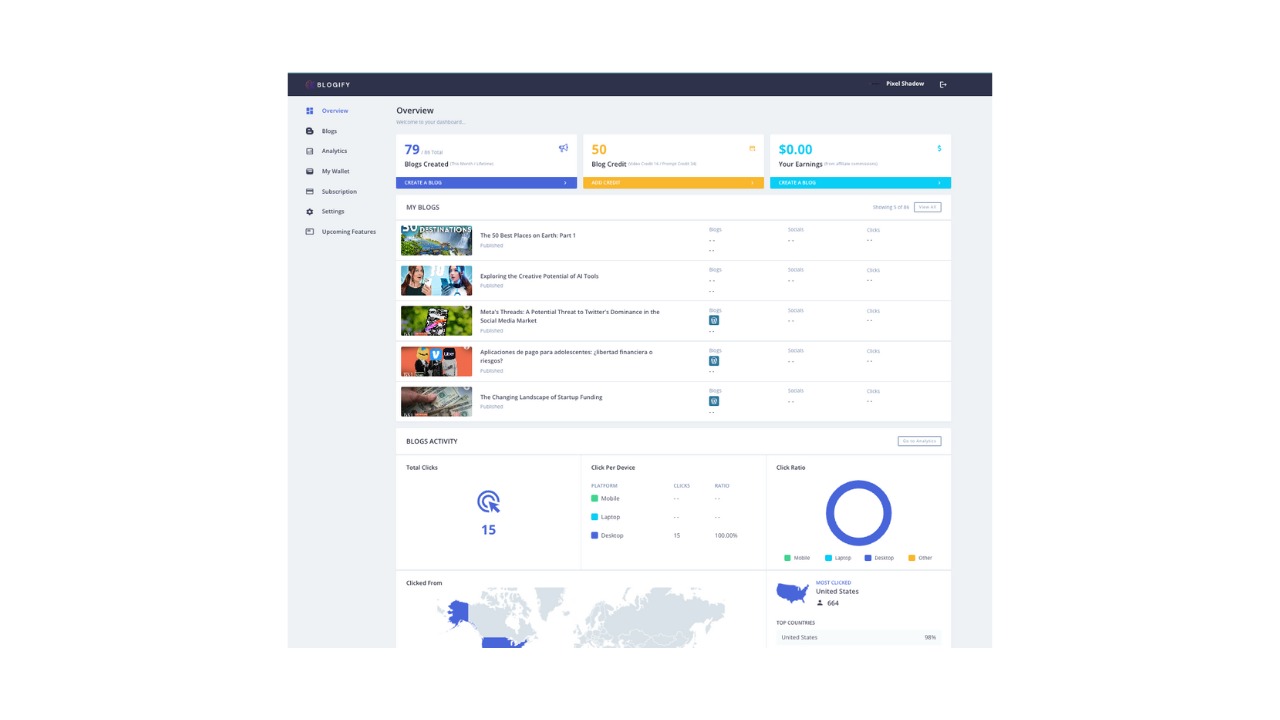 Blog Generation Made Simple with the magic of AI
Video to Blog
Easily transform your YouTube content into SEO-optimized blog posts with just a few clicks!
You can also generate a blog from the title or short description.
Auto-Affiliate Link Generation
Say goodbye to the complexities of affiliate marketing.
Blogify's cutting-edge AI matches the best keywords in your blog post with suitable affiliate links, creating a seamless source of passive income.
Social Media Automation
Automate your social media posting with Blogify.
Sync your platforms and schedule your posts for times when your audience is most active.
Analytics and Insights
Stay ahead of your content strategy with in-depth analytics.
Understand your audience, and their preferences, and optimize your content accordingly.
Scheduled Blogging
Never miss a posting date again
Schedule your blogs and let Blogify publish them for you.
Multi-Language Support
Expand your global reach with Blogify.
Our AI supports over 75+ languages.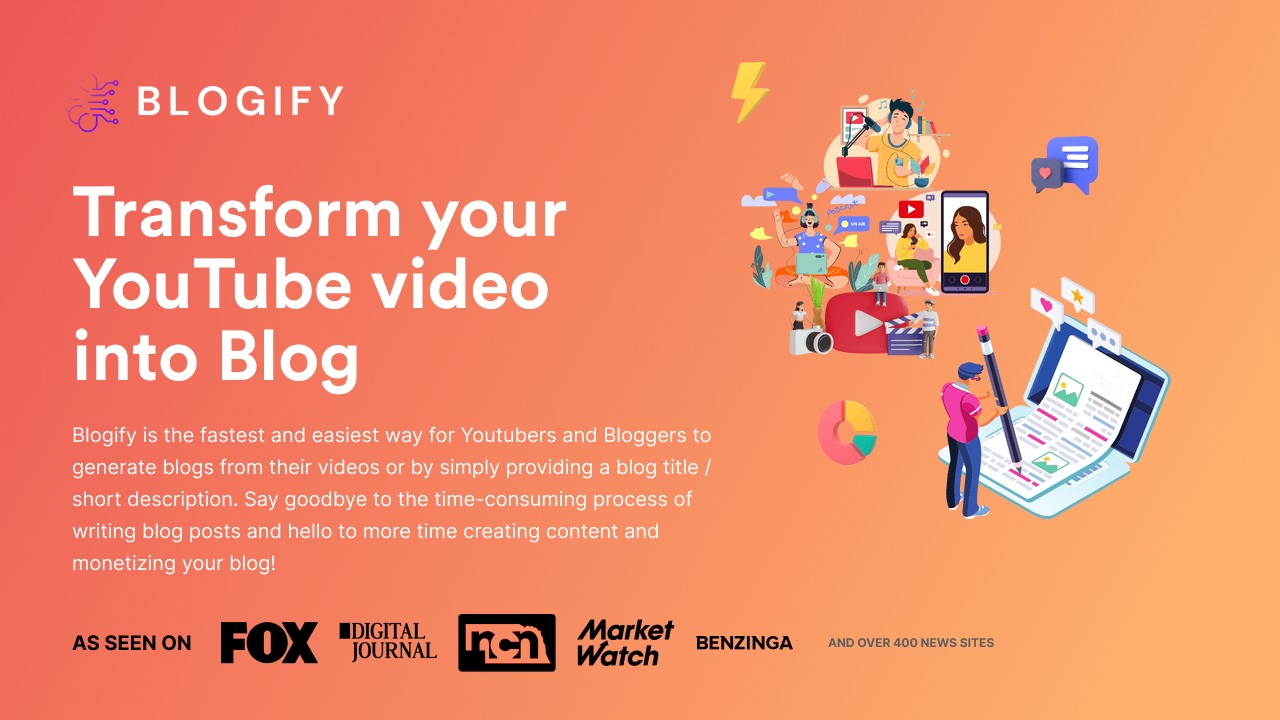 Start saving time and generating more blogs today with Blogify.
Let's delve into these unique features of Blogify:
1. Human-like Blog Generation
The central charm of Blogify lies in its capability to generate human-like blog posts.
It uses sophisticated AI technology that understands the context, applies relevant formatting, and uses a natural writing style to create engaging SEO-optimized blog posts.
2. Content Generation from YouTube and Vimeo
Blogify takes content repurposing to another level.
You simply have to provide a YouTube or Vimeo link and Blogify's AI transforms the video's content into a well-structured, informative blog post.
3. Google Podcast Support
In addition to videos, Blogify can generate blogs from Google Podcasts as well.
You can convert your podcast episodes into comprehensive blog posts effortlessly.
4. Support for 75+ Major Languages
Blogify prides itself on its extensive language support. It can generate blogs in over 75+ languages, making it a truly global platform.
Whether your audience speaks English, Spanish, French, German, Mandarin, Hindi, Bangla, Urdu, Portuguese, or any other major language, Blogify has got you covered.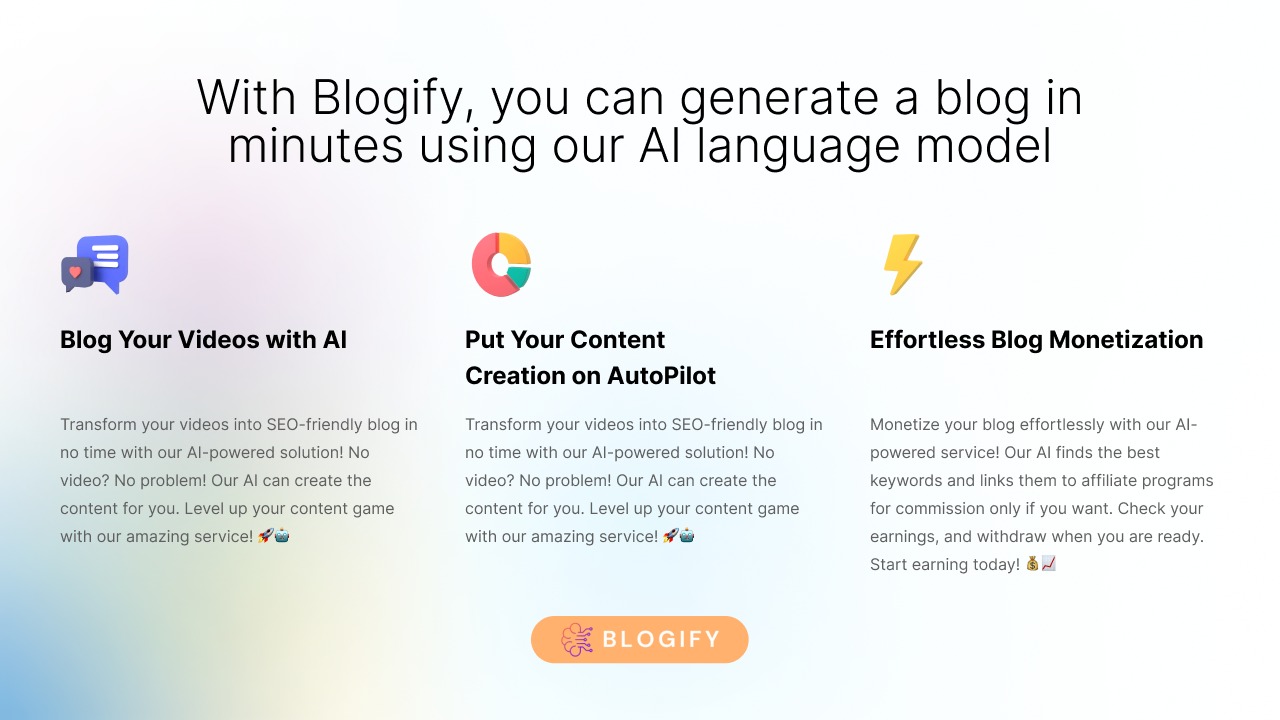 Generate a blog in mere minutes using the power of AI through Blogify.
Blogify Version 3.0 just launched
YouTube channel integration – Generate up to 30 blogs from your channel at a time!!
Upload multiple images for blog content
Upload any audio or video file to generate blogs
Upload any doc, docx, txt, or pdf file to generate blogs
Sign up with Google
More language support
These robust features make Blogify an innovative and forward-thinking platform.
Overall, it is clear that Blogify is so much more than just an AI writing tool.
It's a comprehensive blogging solution designed for everyone.
Get access today!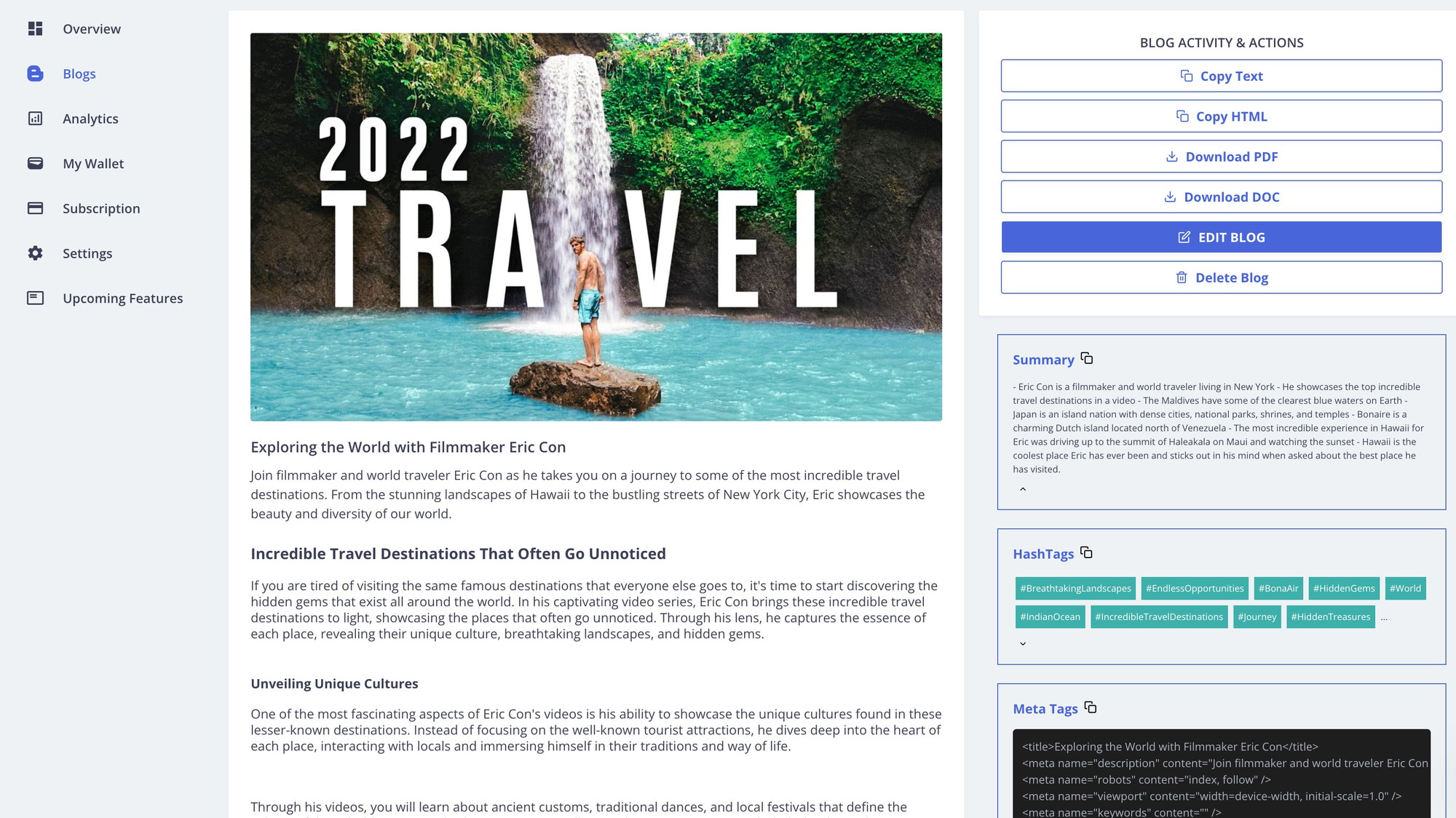 Blogging reaches new heights with ease, Magical!!
Blogify Version 1.0 (Completed)
Transform YouTube Video into a blog
Generate Blog From Text prompt
Analytics
Schedule Blog for later publish
LinkedIn Connect & publish
Twitter Connect & publish
WordPress connect & publish
Blogger.com connect & publish
Affiliate Link Automation
Blogify Version 2.0 (Completed)
Blog generation improvements to generate up to 5,000+ words of blog
SEO optimized post with AI-generated Meta Tags
AI-generated #
Automatic Blog Summary
Blog Tags (Auto publish)
Redesigned User Interface
Review Before Publish
Retry option if Blogify failed to generate a Blog
All 5 star reviews in TrustPilot, ProductHunt and G2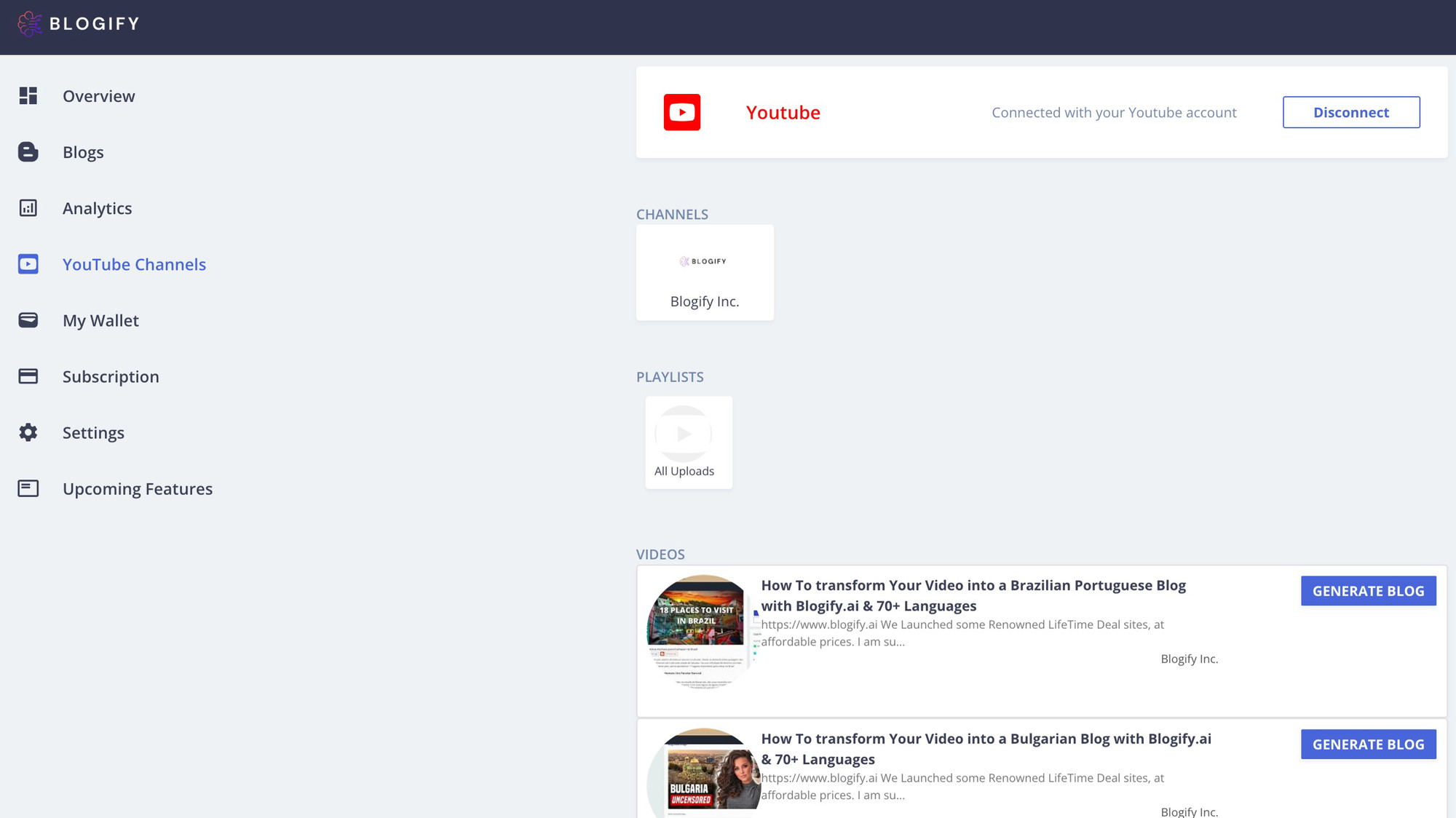 Hey, YouTubers & Bloggers These features are designed specially for you!!
🌟 Exciting Features Alert! 🌟
We're thrilled to introduce FOUR game-changing features to Blogify.ai, starting from September 16th, 2023:
Exclusive YouTube Content Creator Integration: Calling all YouTube content creators! This feature is tailored just for you. For the first month, it's available to everyone. From October 15th, 2023, it will be an exclusive perk for our Business plan users. So, what's the buzz? Connect your YouTube channel, and voilà! You'll gain access to all your playlists and content (check the above screenshot) and at a time you can generate as much content as you want!!!
Upload Any Audio or Video File to Generate Blogs: Imagine having the power to convert any audio or video file, regardless of its format, into beautifully crafted blog posts. It's now possible with Blogify.ai!
Upload Any Doc, Docx, Txt, or PDF File to Generate Blogs: We've taken content creation to the next level. Upload your documents in doc, docx, pdf, or txt format, and let our AI analyze the content and generate insightful blog posts for you.
Plans & features
Deal terms & conditions
Lifetime access to Blogify

You must redeem your code(s) within 60 days of purchase

All future Basic Plan updates

Stack up to 3 codes
60 day money-back guarantee. Try it out for 2 months to make sure it's right for you!
Features included in all plans
Earn commission from automated affiliate link (opt-in)

Automated post schedule in WordPress and Blogger.com

Automate post schedule in Facebook, LinkedIn, and Twitter

Supports podcast-to-blog for Google, YouTube, and Vimeo

24/7 customer support
Basic Plan

All features above included
Transform your video into a blog: 10 blogs/month
Generate blogs from title or short description: 10 posts/month
Generate blogs in 50+ languages

Premium Plan

All features above included
Transform your video into a blog: 25 blogs/month
Generate blogs from title or short description: 25 posts/month
Generate blogs in 50+ languages

Business Plan

All features above included
Transform your video into a blog: 50 blogs/month
Generate blogs from the title or short description: 50 posts/month
Generate blogs in 75+ languages
Connect your YouTube channel and generate 30+ blogs at a time