TruConversion
You've got your marketing strategy locked down to maximize your campaigns… probably.
With all those confusing numbers scattered across analytics, spreadsheets, and dashboards, even Count von Count can't save you. ("2,568 rich media assisted conversions, ah ah…ah?")
You need a simple way to track your sales funnel's performance and optimize it for the best conversions.
Overview
TruConversion is an easy-to-use funnel tracking and optimization tool that offers heatmaps, session recordings, and form analytics to help you craft your best strategies.
Intuitive smart funnels from TruConversion give you the scoop on which strategies are actually converting.
With only a few clicks, you'll be able to track your funnels, set conversion benchmarks, and find out where you need to focus to make a positive impact on your bottom line.
Even better, the smart funnels are constantly monitoring your funnels without you having to dig through dozens of analytics and spreadsheets to find what matters.
Talk about working smarter.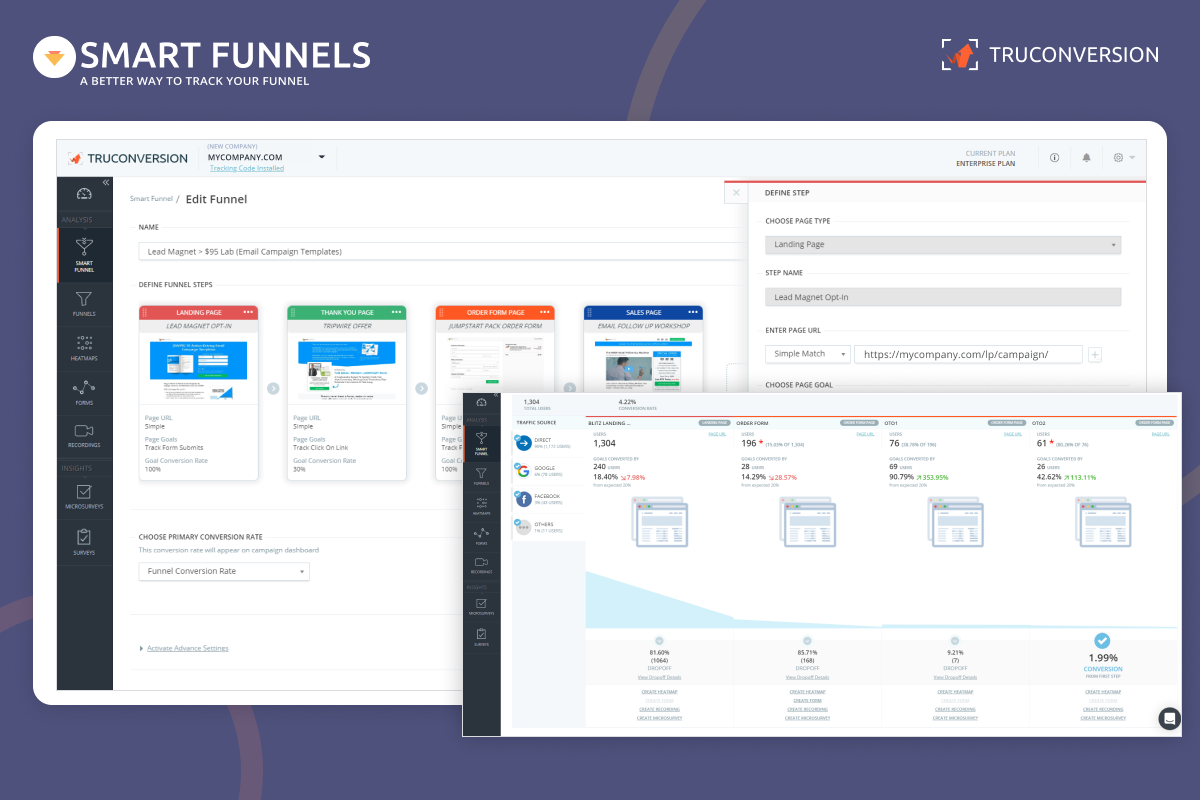 Easily track funnels, set benchmarks, and improve strategies with smart funnels!
No more guessing at where your visitors scroll and click anymore. ("My gut is telling me we need more photos of cats in formalwear.")
Heatmaps show you where your visitors scroll and click the most, so you'll know exactly where to put your most compelling content and calls-to-action.
Even better, you can trigger heatmaps to start collecting data when it matters most by combining them with smart funnels.
You'll get the most meaningful data on the pages that need the most attention.
Heatmaps show you where people are scrolling and clicking to find out what content matters the most.
Need more specific information about customer behavior?
TruConversion lets you watch session recordings of individual browsing journeys to see where they click and what they skip.
You can set recordings to trigger based on page activity, too, cutting down on volume and giving you the most relevant data for analysis.
Now you'll see why people are bouncing just before checkout or if that LoTR reference actually resonated with your audience. ("Give it to us! Give us the precious!")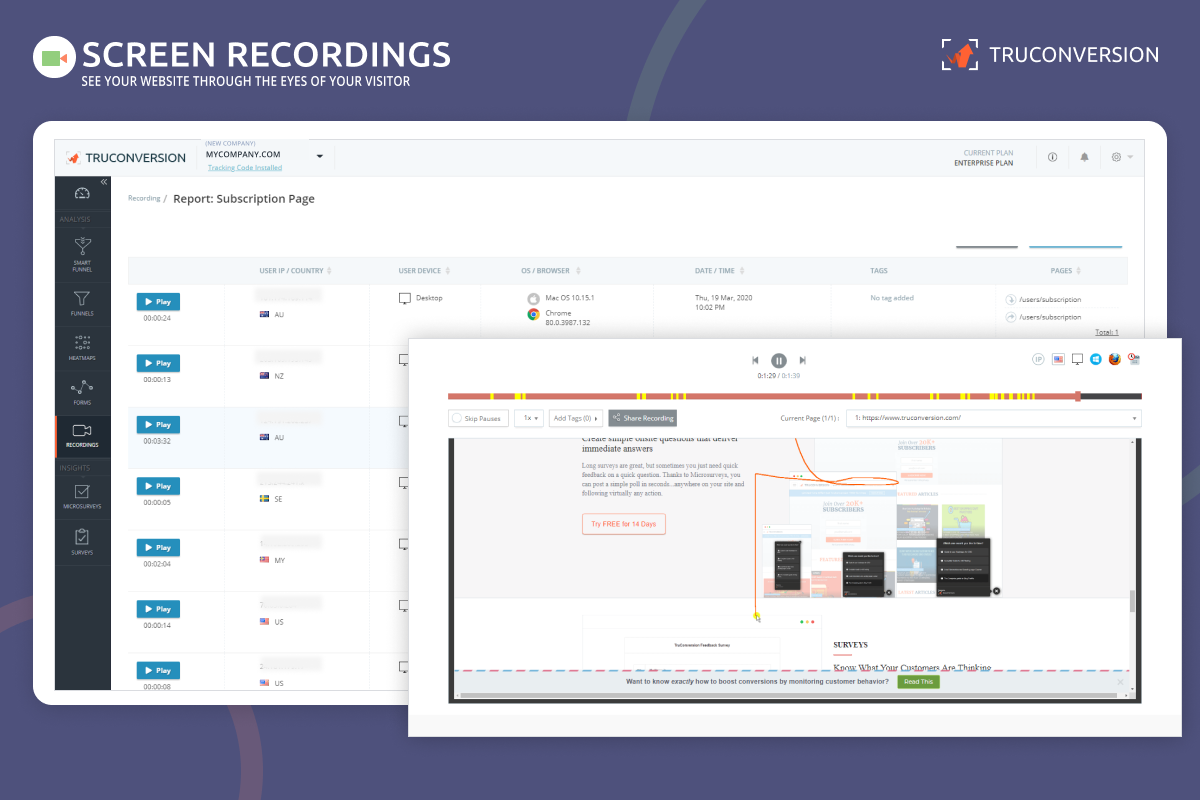 Use session recordings to effectively analyze customer behavior!
Form field reports will shut down all debate on what's working and what's not.
You can quickly see which fields are getting filled and which ones are causing people to bounce, letting you easily iterate on your lead gen and checkout forms.
These reports show you the conversion rate, abandonment rate, time on the form, time spent on each field, blank fields, and refill rate—all arranged in easy-to-read charts.
There's even the option to filter the data to show results by device for more granular insights.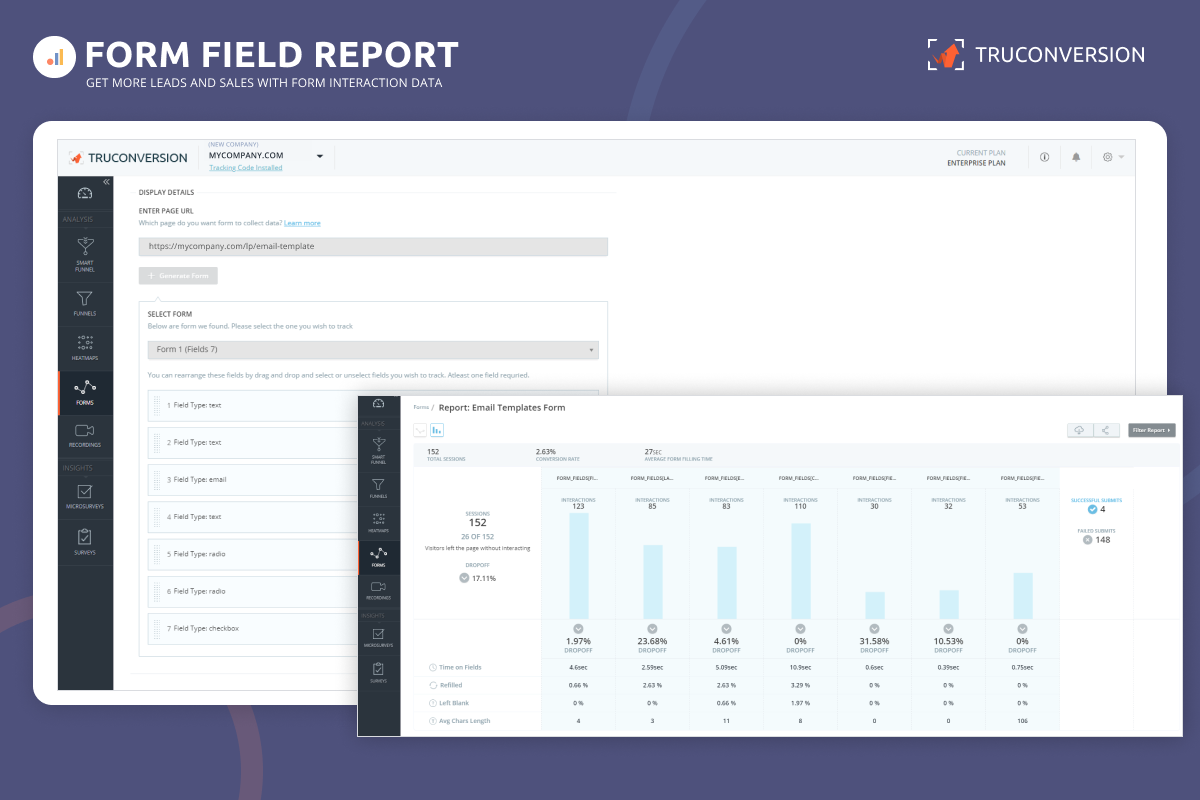 Form field reports tell you conversion rates, abandonment rates, refill rates, and more!
Get direct customer feedback with TruConversion's micro-surveys.
You'll be able to post a poll anywhere on your site, following almost any action.
Use the survey builder to create a detailed evaluation of customer satisfaction, net promoter score (NPS), or whatever else comes to mind (e.g., thoughts on olives).
Both surveys and micro-surveys can be customized to fit your site theme—you can even use micro-surveys to quickly snag opt-ins!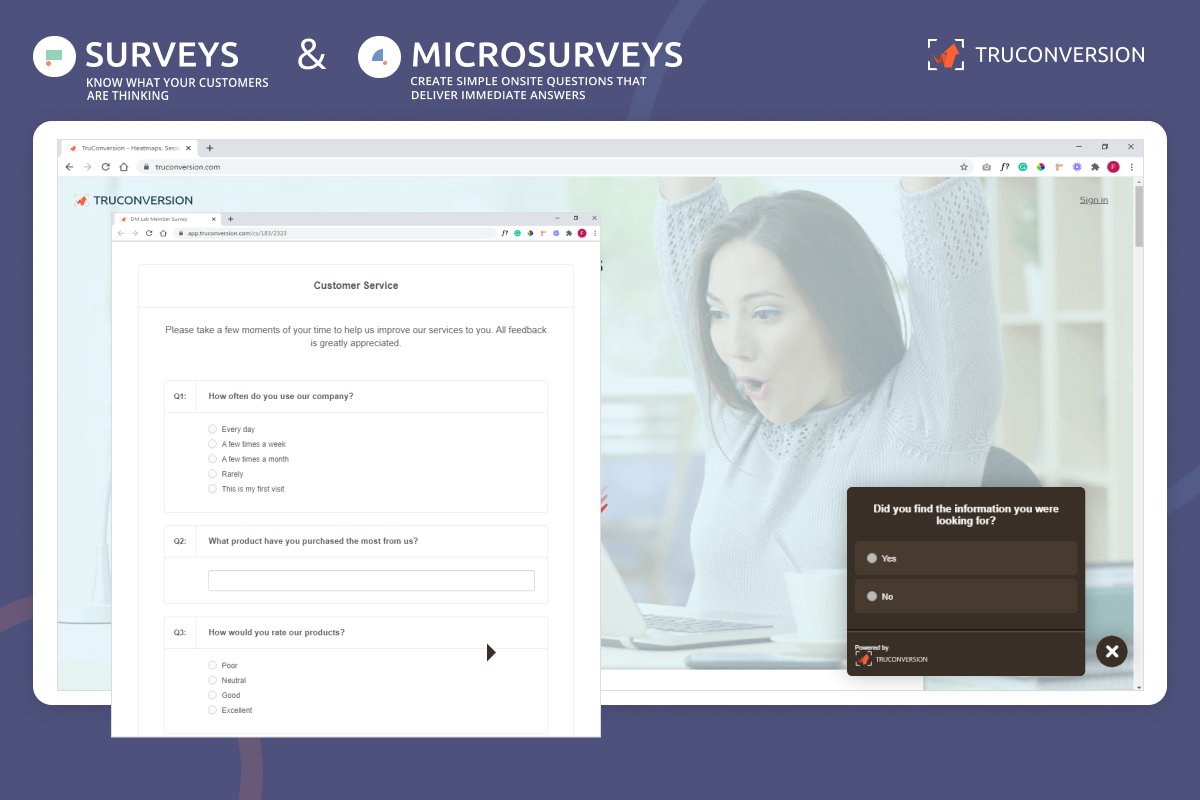 Surveys and micro-surveys give you the data you need straight from customers—plus, they're easy to build!
Much like the perfect supermarket turkey, the marketing data you need is technically there—you just have to dig around for it. (Like, literally dig for it.)
TruConversion lets you easily track your sales funnels and optimize them with heatmaps, session recordings, form field reports, and more.
Learn the truth about your funnel conversions.
Get lifetime access to TruConversions today!
P.S. Learn how to use TruConversion like a pro by catching our training webinar replay here: Webinar Replay!
NEW: No codes, no stacking—just choose the plan that's right for you!
Plans & features
Deal terms & conditions
Lifetime access to TruConversion

All future Basic (T1), Plus (T2), or Pro (T3+) Plan updates

No codes, no stacking—just choose the plan that's right for you

You must activate your license within 60 days of purchase

Ability to upgrade or downgrade between 5 license tiers

Previous AppSumo customers who purchased TruConversion can upgrade their license to increase their feature limits

Unlimited usage is subject to the TruConversion Fair Use Policy

GDPR compliant
60 day money-back guarantee. Try it out for 2 months to make sure it's right for you!
Features included in all plans
Click map, move map, scroll map, and detail map

Share heatmap, download heatmap, and compare heatmap

Date range

Source of visitor

Operating system and browser

Campaign

Country

Visual builder

Advanced page targeting

Advanced filters

Conversion rate recommendations

Multiple pages per step

Individual page statistics

No-code goals

Primary conversion rate selector

One-click share button
Specification:
TruConversion
TruConversion Basic

All features above included
1 user(s)
3 domains
110,000 monthly page views

TruConversion Plus

All features above included
3 user(s)
5 domains
275,000 monthly page views

TruConversion Pro

All features above included
20 user(s)
15 domains
750,000 monthly page views

TruConversion Business

All features above included
Unlimited user(s)
30 domains
1.5M monthly page views

TruConversion Business Unlimited

All features above included
Unlimited user(s)
Unlimited domains
2.5M monthly page views