Overview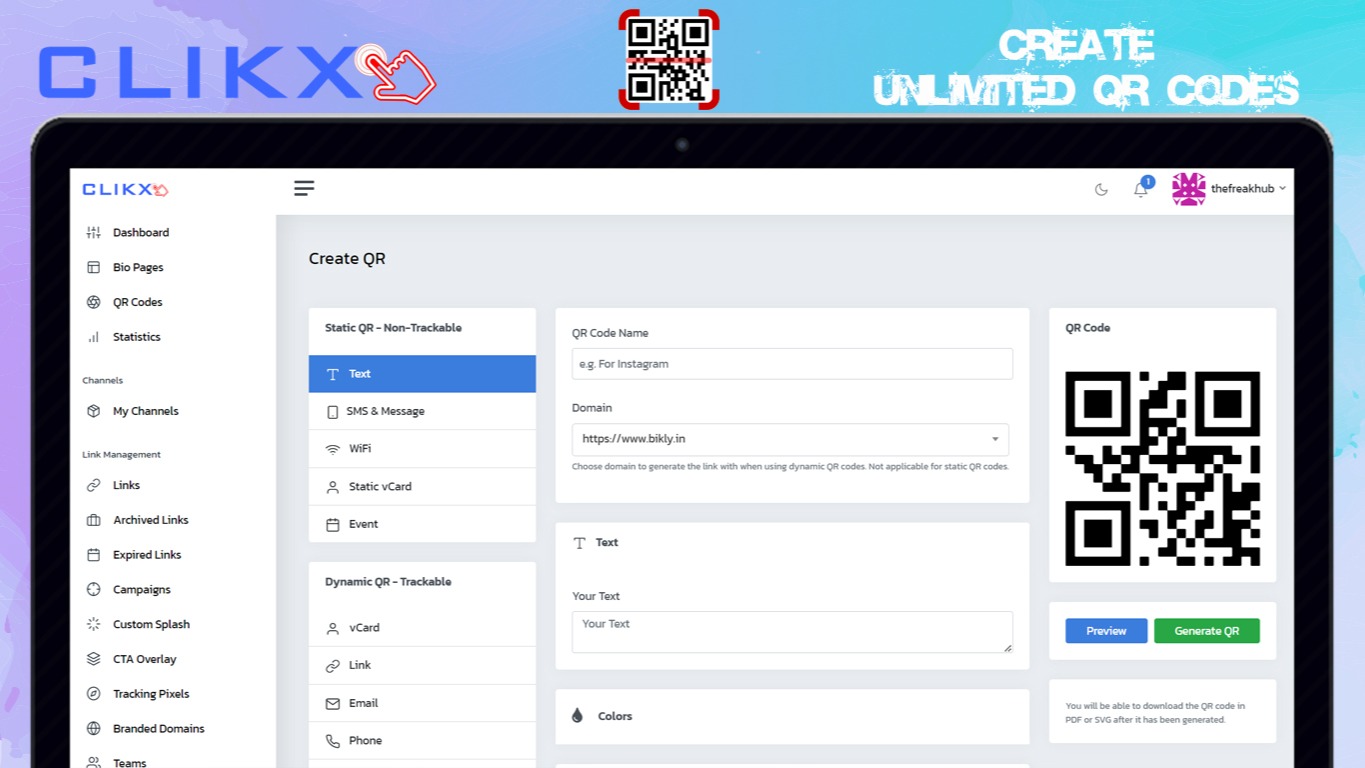 Easy to use, dynamic, custom QR codes for your marketing campaigns let you analyze and optimize your marketing strategy.
Unlimited bio profiles
A bio page allows you to create a trackable and customizable landing page where you can add links to your social network pages.
It represents information regarding a person's identity on a website or in a mobile app.
It may contain personal data, a profile photo, summary, interests, achievements, links, social media profile links, videos, music, PayPal button, and more.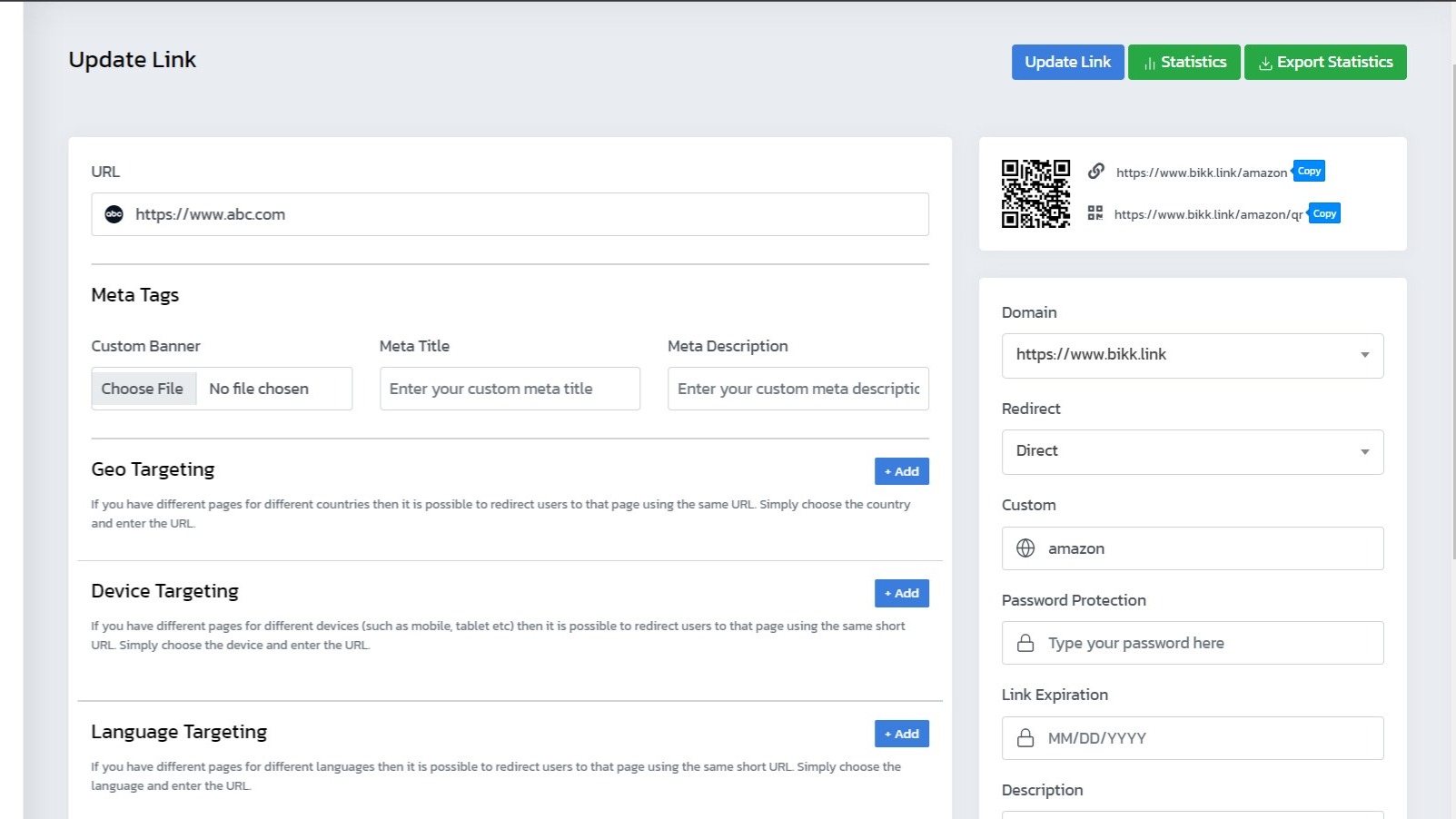 Customize each short link to better target and understand your audience with our powerful customization tools.
URL shortening is used to create shorter aliases for long URLs or bio links.
We call these shortened aliases "short links."
Users are redirected to the original URL when they hit these short links.
Short links save a lot of space when displayed, printed, messaged, or tweeted.
Additionally, users are less likely to mistype shorter URLs.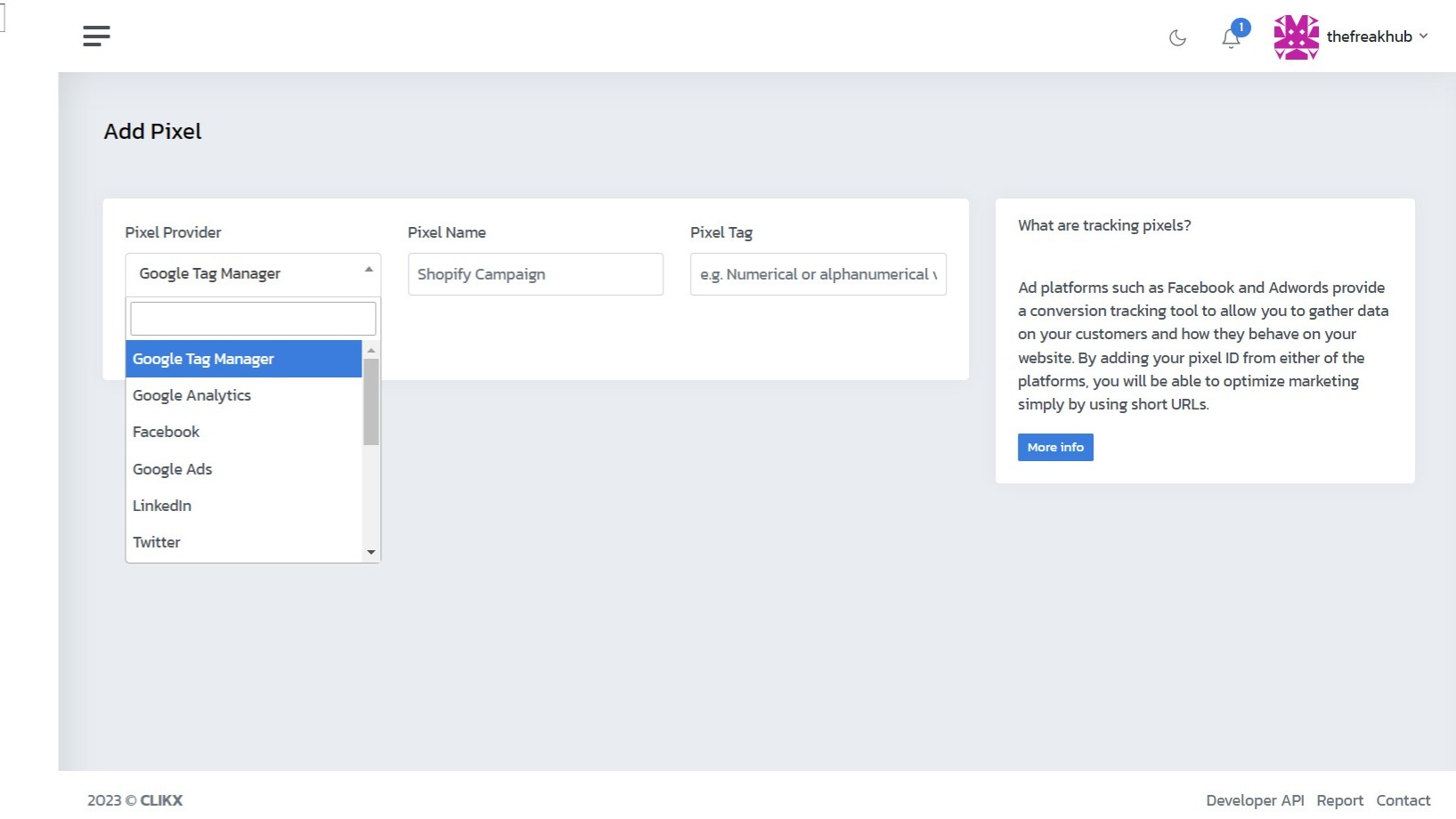 In CLIKX, you can even set a pixel to a short link.
In CLIKX, you can set a pixel to a short link (this feature is dependent on an active subscription plan).
Note that adding a pixel changes the redirect type from 301 redirect to HTML meta refresh redirect.
The redirect from 301 to HTML meta refresh changes automatically so that the pixel can load when redirecting a short link.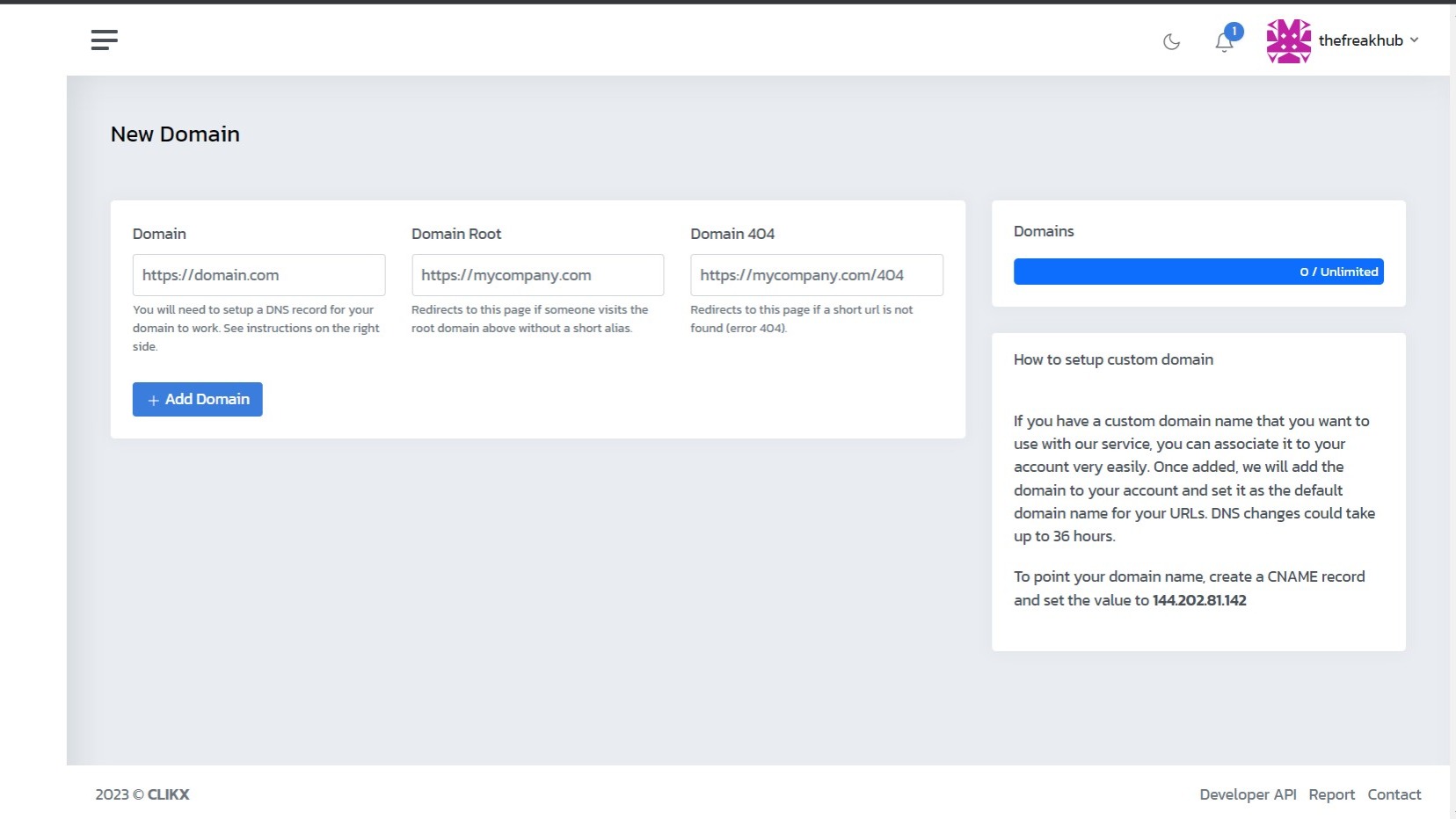 Learn what a branded short URL is and how you can use it to grow your business.
You need to use a branded short URL generator if you intend to use your links for marketing purposes.
Generic URLs contain the name of the URL shortening tool you use, and thus, they dilute your brand image and confuse the reader.
That's why today, we'll take a look at branded URL shorteners and how URL shortening helps brands achieve wider success.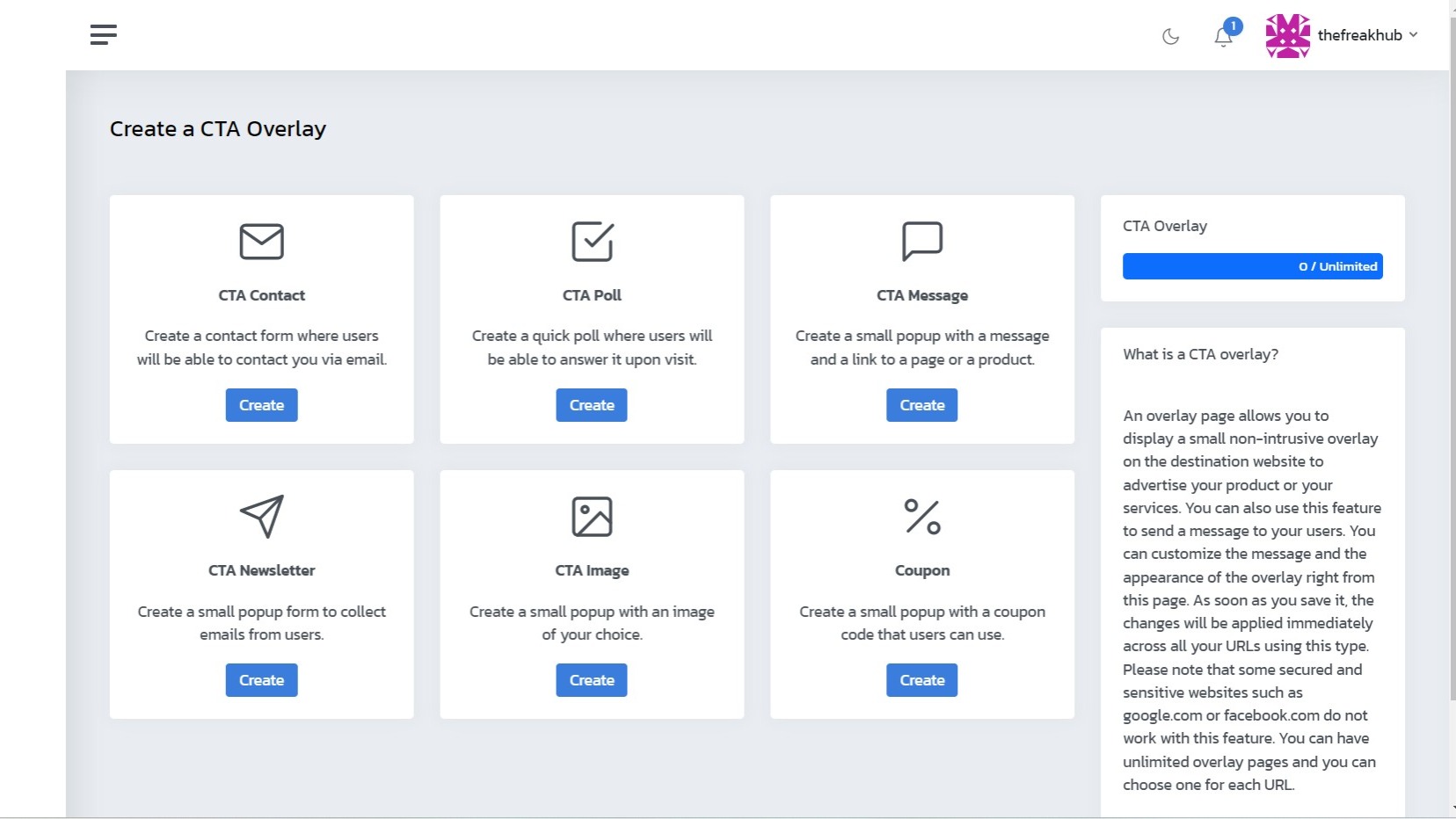 An overlay page allows you to display a small non-intrusive overlay on the destination website to advertise.
You can customize the message and the appearance of the overlay right from this page.
As soon as you save it, the changes will be applied immediately across all your URLs using this type.
Please note that some secured and sensitive websites such as Google or Facebook do not work with this feature.
What are you still waiting for?
Get access to CLIKX now!
Plans & features
Deal terms & conditions
Lifetime access to CLIKX

You must redeem your code(s) within 60 days of purchase

All future Gold Plan updates

Please note: This deal is not stackable
Specification:
CLIKX – URL Shortener
Gold Plan

Unlimited URLs
Unlimited clicks
Unlimited bio profiles
Unlimited QR codes
Unlimited custom splash
Unlimited CTA overlay
Unlimited branded domains
Unlimited event tracking
Unlimited team members
Custom aliases
Forever data retention
Geotargeting & device targeting
Channels
Campaigns & link rotator
Multiple domains
Custom parameters
Export data
Developer API
URL customization