Overview
Directual is a full-stack app development platform that combines the power of traditional coding with a visual no-code approach.
Directual allows you to go beyond the minimum viable product, whether or not you're into traditional coding.
Manage your app and track everything on the main app dashboard, including your frontend, backend, and API layers.
You can also connect your app with site builders, CRMs, email platforms, messengers, social networks, and more.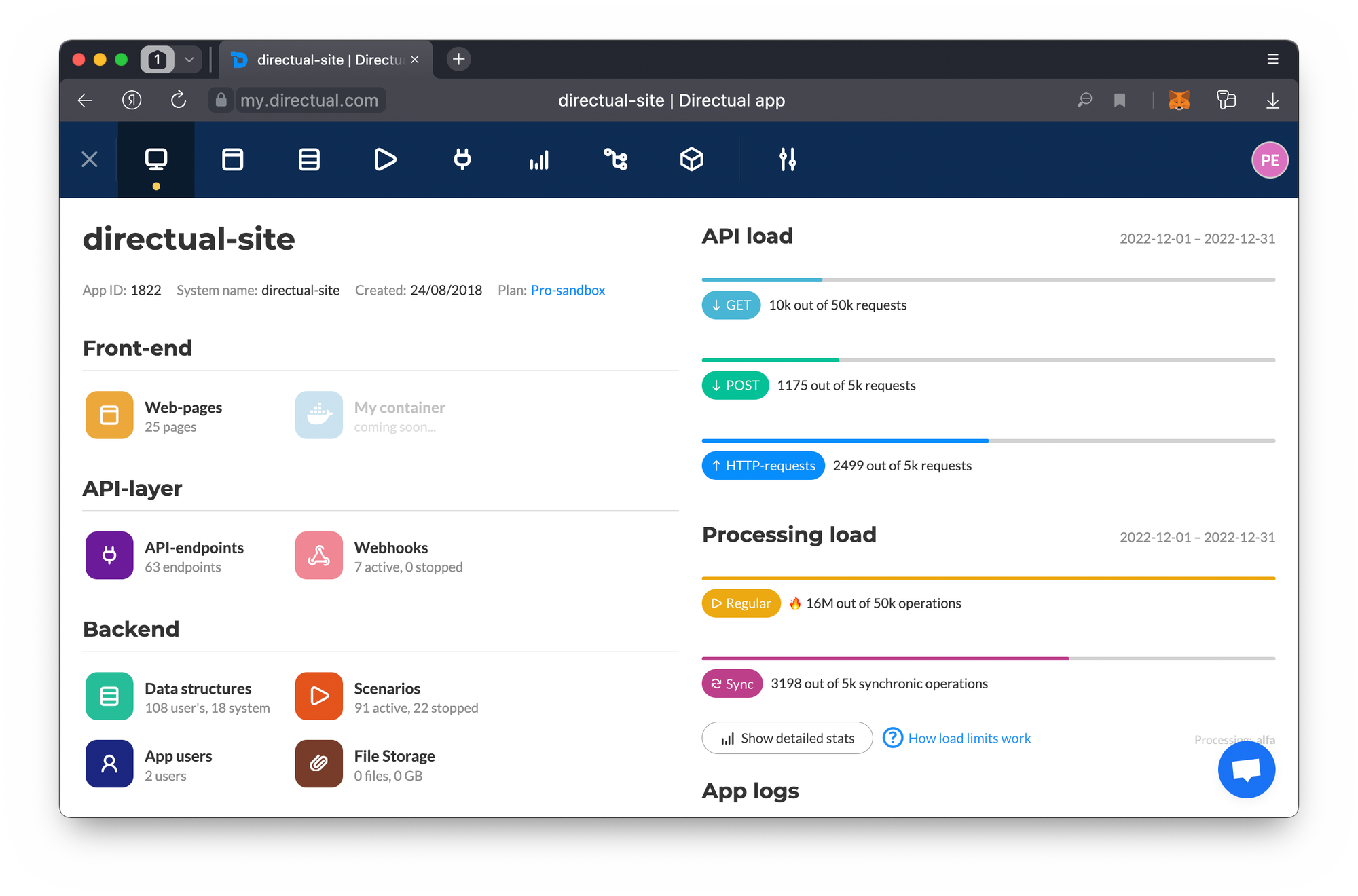 Get stats for API load and processing load on the main app dashboard.
This platform's intuitive tools allow you to configure your database with folders, data structures, object fields, and field groups.
Powered by Amazon's cloud infrastructure, their NoSQL database is built to scale with your app, so it can handle millions of records with no issues.
With the API builder, you can configure user-based access to certain fields with filters, keeping your data secure from unwanted eyes.
Directual also offers a generous affiliate program, which lets you earn up to 50% of client payments after referring others to the platform.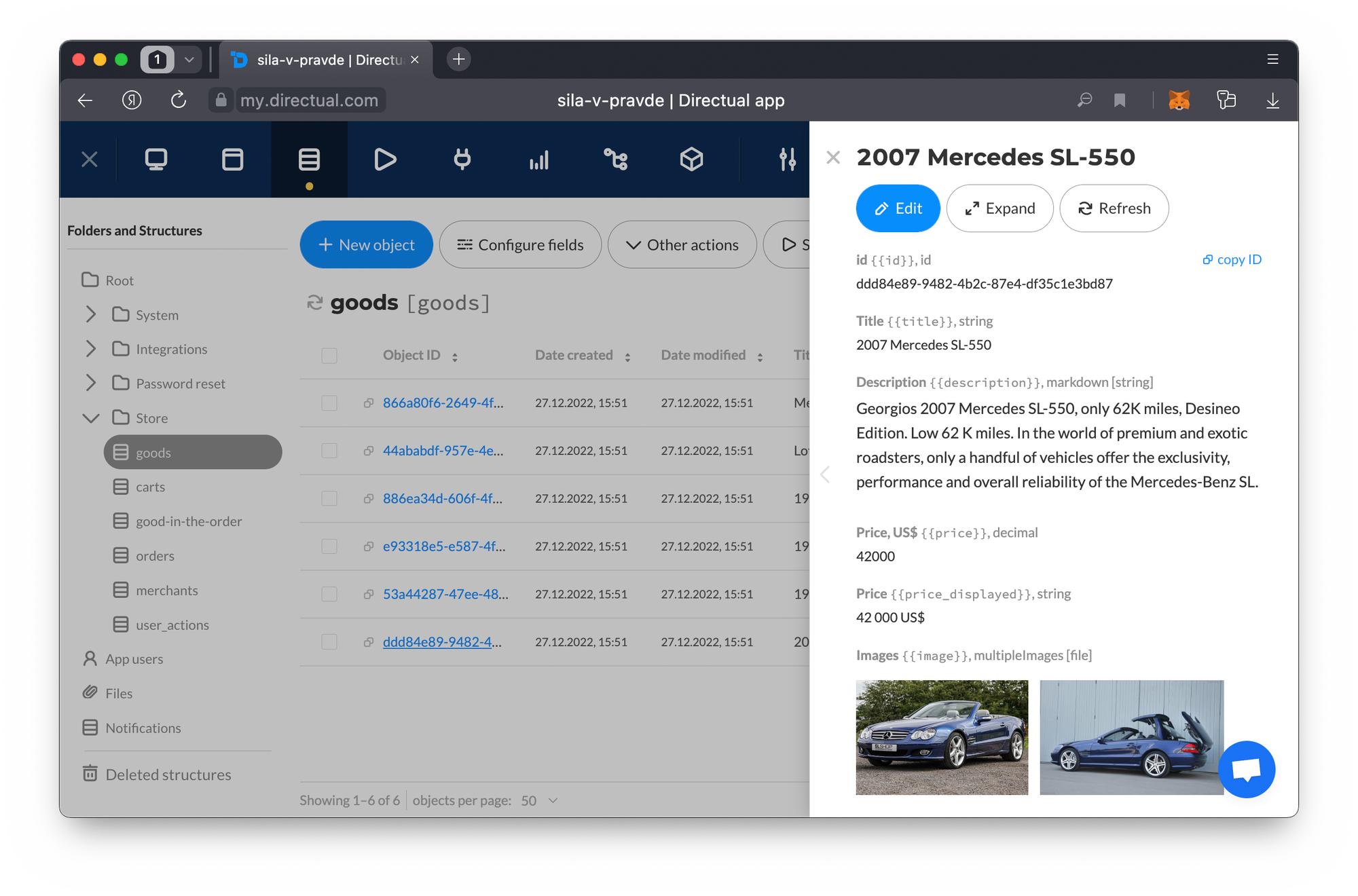 Configure your database easily with Directual's intuitive tools.
Automate any backend app logic by building and interconnecting scenarios to create workflows.
You can set up event-based scenarios for processing objects and run scenarios according to your scheduling needs.
Not only can you run scenarios in real time, but each step will literally be completed in milliseconds.
Plus, you can interconnect multiple scenarios, linking workflows directly or with an event model.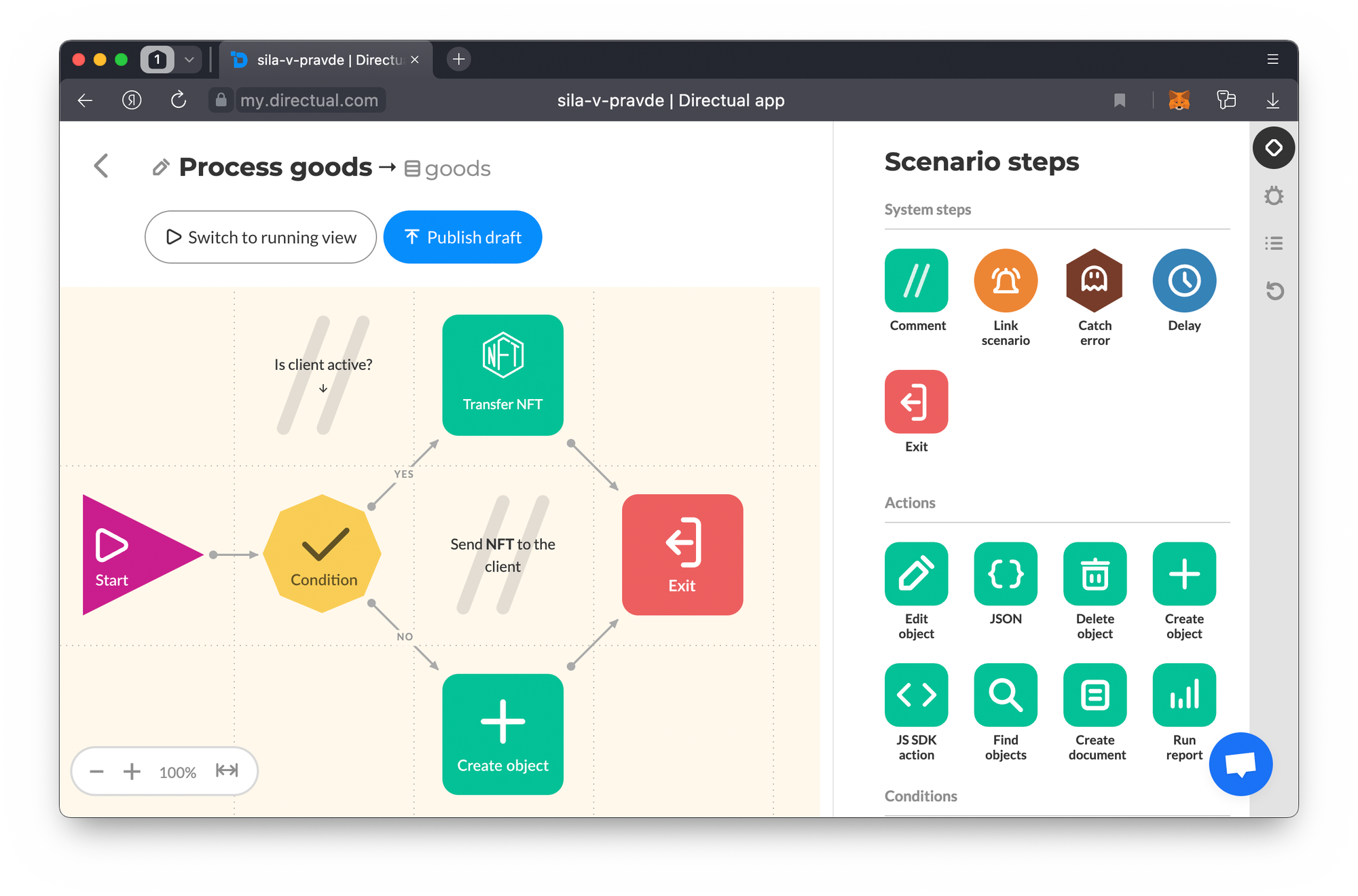 Directual makes it easy to build your app's backend logic using universal scenarios.
Design and create secure API endpoints to write and read your data, so it's easy to go mobile.
You can also connect the API with a user interface and choose from several options for building the frontend of your app.
Apply other no-code platforms, like UI Bakery, Webflow, and Wix. Or apply a traditionally-developed UI for web and mobile.
Connect your app with blockchain and Web3 to integrate with different networks, manage decentralized wallets, and monitor real-time transactions.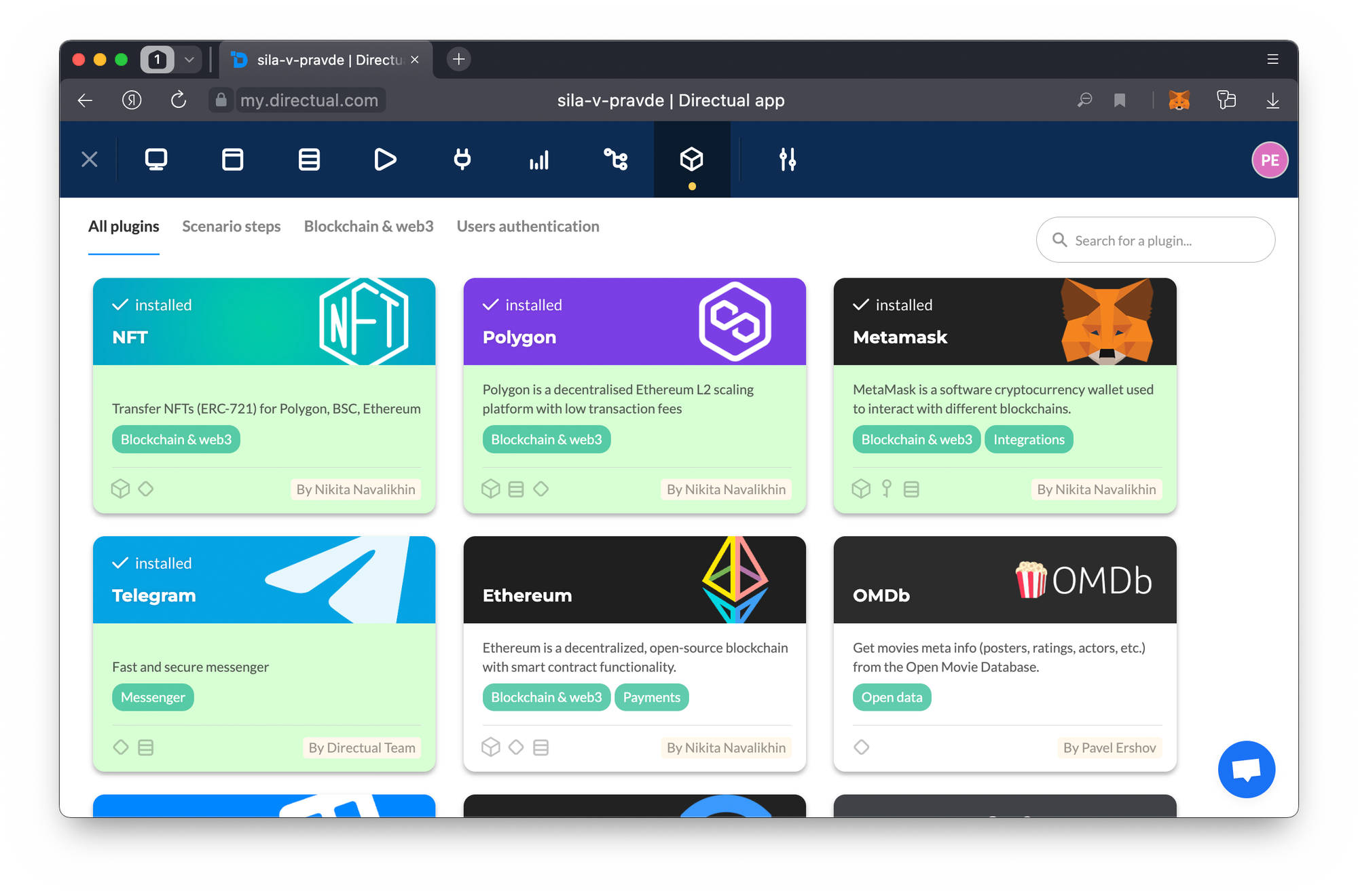 Create secure API endpoints and take advantage of Web3 capabilities.
If you're stuck between building your app on a no-code platform and getting the full potential of traditional coding, we've got an old saying for you: ¿por qué no los dos?
Whether you're a pro developer or someone who just likes to build apps for fun, Directual gives you the flexibility and scalability to create in a no-code format.
Reduce time-to-market.
Get lifetime access to Directual today!
Plans & features
Deal terms & conditions
Lifetime access to Directual

All future Team Plan updates

No codes, no stacking—just choose the plan that's right for you

You must activate your license within 60 days of purchase

Ability to upgrade/downgrade between 4 license tiers

GDPR compliant

Previous AppSumo customers will be grandfathered into the new feature limits

Previous Tier 1 customers will retain their original limits from the previous offering

Previous AppSumo customers who purchased Directual can upgrade their license to increase their feature limits
60 day money-back guarantee. Try it out for 2 months to make sure it's right for you!
Features included in all plans
Plugins (up to 5 per app)

Web3 plugins: NFT, MetaMask, WalletConnect, Ethereum, Near, and Polygon

Regular web 2.0 integrations

Swagger support

Marketplace

Client billing

Unlimited app versions

JSON-step

Reports

Advanced scenario settings and advanced security features

On-demand resources

Synchronic scenarios
License Tier 1

All features above included
1 developer(s)
1 app(s) up at one time
25,000 monthly processing operations per app
2,500 monthly sync processings per app
25,000 monthly get requests per app
2,500 monthly post requests per app
25 GB storage per app
1,000 plugin HTTP requests

License Tier 2

All features above included
5 developer(s)
5 app(s) up at one time
250,000 monthly processing operations per app
25,000 monthly sync processings per app
250,000 monthly get requests per app
25,000 monthly post requests per app
25 GB storage per app
5,000 plugin HTTP requests

License Tier 3

All features above included
10 developer(s)
10 app(s) up at one time
250,000 monthly processing operations per app
25,000 monthly sync processings per app
250,000 monthly get requests per app
25,000 monthly post requests per app
25 GB storage per app
5,000 plugin HTTP requests

License Tier 4

All features above included
25 developer(s)
25 app(s) up at one time
250,000 monthly processing operations per app
25,000 monthly sync processings per app
250,000 monthly get requests per app
25,000 monthly post requests per app
25 GB storage per app
5,000 plugin HTTP requests