DogQ
No matter what industry you're in, being on the customer-facing side of things can start to feel like Groundhog Day.
When you're answering the same questions repeatedly, it's easy to slip and send an embarrassing email or twenty. ("I did it again. I wrote 'Thanks for reaching out, [INSERT CUSTOMER HERE]' instead of their name.")
If only you could say all the right things, while also saving time and energy on repetitive typing.
Overview
DogQ is a simple, no-code automated testing tool that allows app creators of all levels to test for functionality and bugs.
DogQ is a web-based, automated testing tool that can help you test the functionality of web applications by recreating user flows.
All you need to do is to create a project and build your first module. Then you're ready to write scenarios that simulate real-life user interactions.
Whether you're a seasoned developer or a total newbie, you'll be able to build automated test scenarios for UI, end-to-end, regression, and more.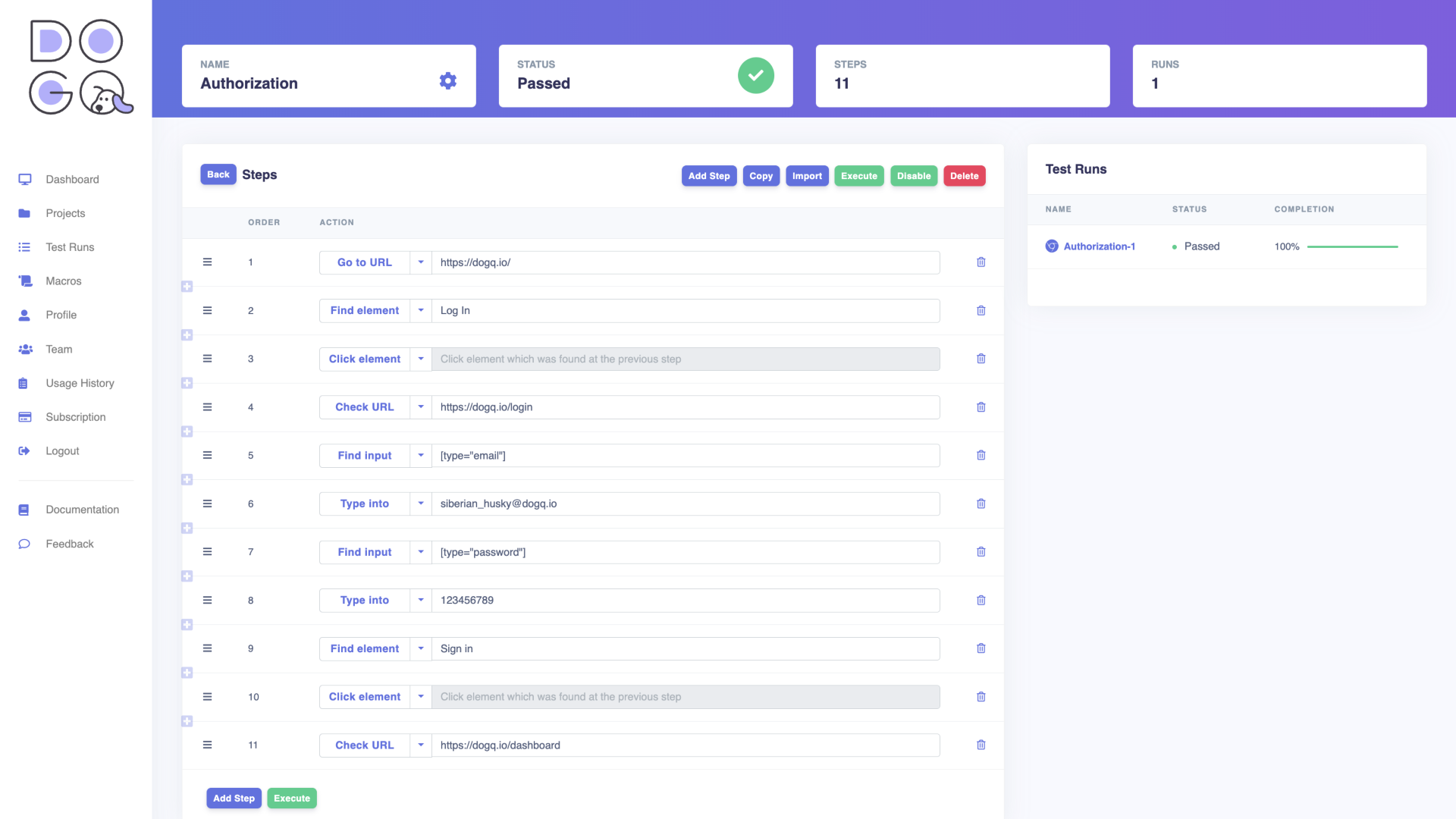 Use a collection of pre-built test steps to simulate real-life user interactions.
DogQ offers unlimited features for testing parallelization and macros, enabling you to test different parts of your web product.
Using macros, you can reuse any set of steps across multiple scenarios to build and run tests quicker than ever.
Just select the number of tests required for your project and determine the frequency for testing notifications—and boom, you're all set!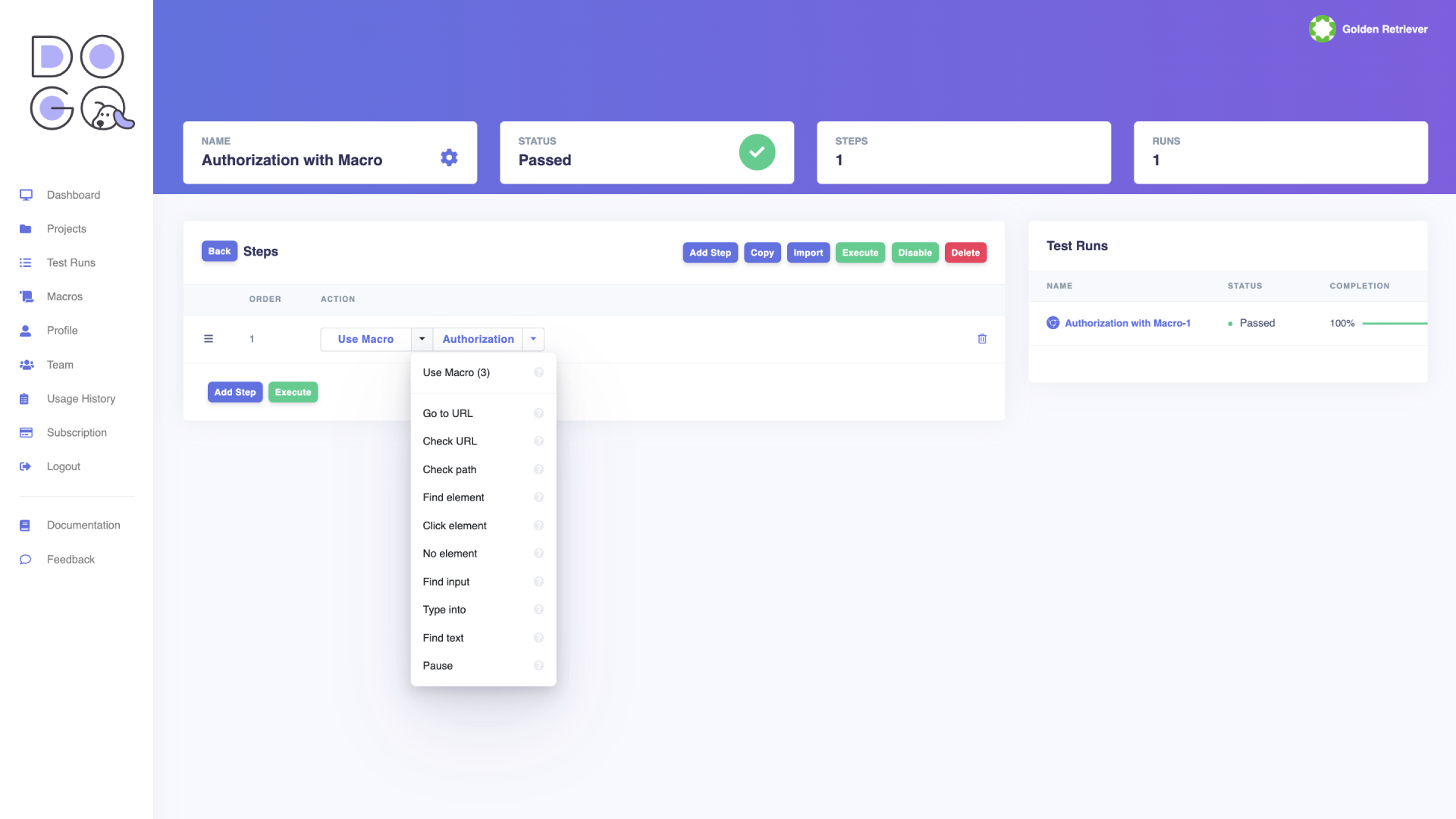 Repurpose an existing test case into a single macro step to use throughout the project.
With DogQ, you can easily set up test schedules based on your specific needs, whether that's testing a new feature or perfecting functionality.
You can run tests at specific time intervals and schedule tests individually, in a module, or as a complete project.
And since your team can completely automate testing to focus on feature-building, you can stop slogging through manual testing processes.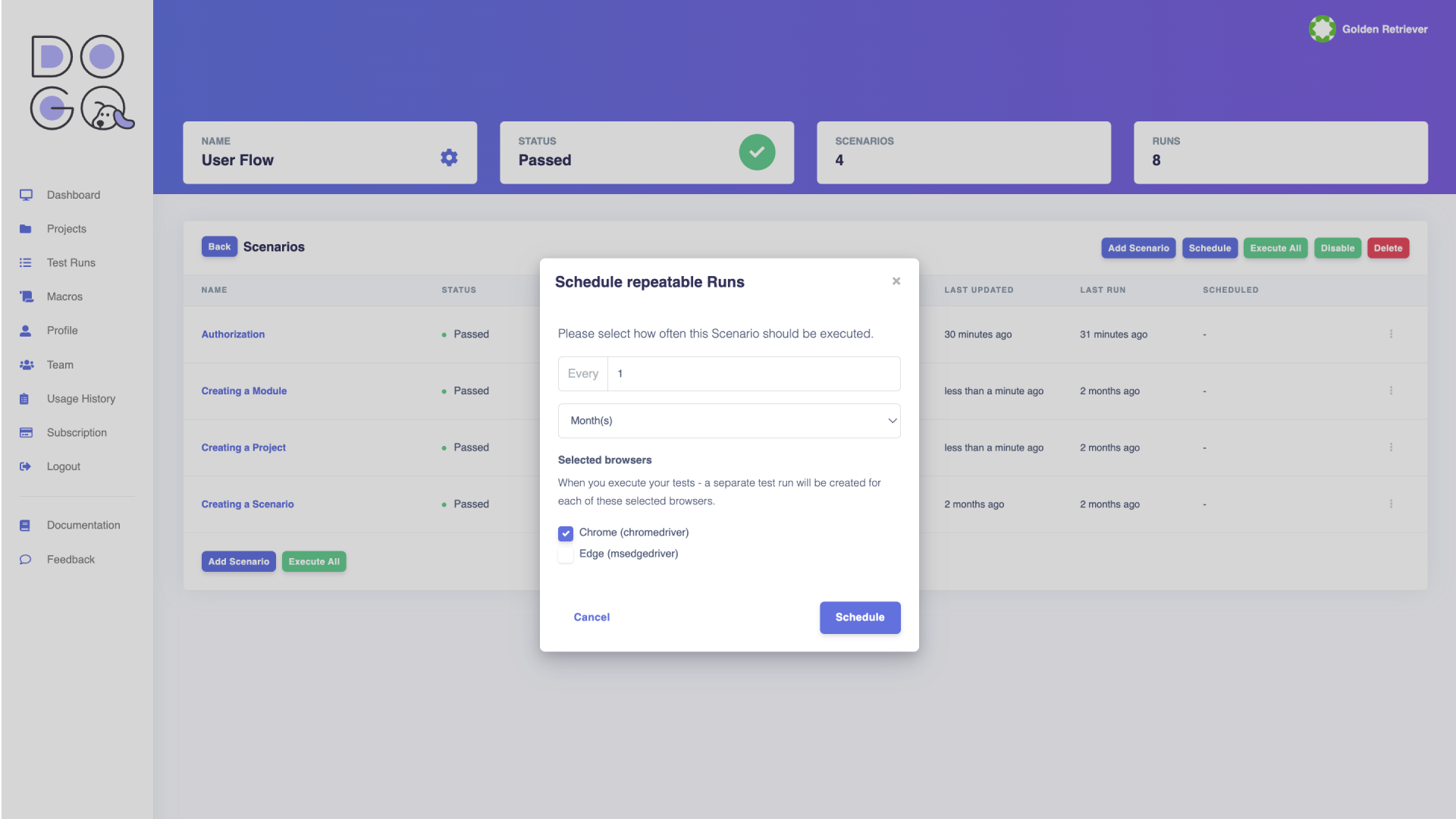 Schedule tests ahead of time, so you can focus on bigger projects.
Need to work closely with your team? This tool lets you invite unlimited collaborators at no additional cost!
Test cases are designed to be readable and understandable so your non-technical team members can also digest the results.
And because you need the hard numbers, DogQ even generates insight-rich reports on all your successful and failed runs.
Invite as many collaborators as needed at no extra cost!
You know exactly what it's like to watch an app crash when you're in the middle of something important. (*internal screaming*)
That's why you need DogQ's automated testing tools to test your web app's functionality and discover new bugs—all without any coding.
Debug your app on autopilot.
Get lifetime access to DogQ today!
Plans & features
Deal terms & conditions
Lifetime access to DogQ

All future Team Plan updates

If Plan name changes, deal will be mapped to the new Plan name with all accompanying updates

No codes, no stacking—just choose the plan that's right for you

You must activate your license within 60 days of purchase

Ability to upgrade or downgrade between 4 license tiers
60 day money-back guarantee. Try it out for 2 months to make sure it's right for you!
Features included in all plans
No-code automation

Scenario steps

Parameter variables

Macros

Reusability

AI-powered computer vision

Test case generation

Multiple test scenarios

Parallel testing

Test scheduling

Change management and test management

Keyword search

UI and end-to-end testing

Functional testing, regression testing, and cross-browser testing

Test coverage (run history)

Reports

Frameworks: Angular, React, Vue, Ember, GitHub, CircleCI, Semaphore CI
License Tier 1

All features above included
Unlimited users
10,000 run steps per month

License Tier 2

All features above included
Unlimited users
25,000 run steps per month

License Tier 3

All features above included
Unlimited users
50,000 run steps per month

License Tier 4

All features above included
Unlimited users
100,000 run steps per month