Equility
No matter what industry you're in, being on the customer-facing side of things can start to feel like Groundhog Day.
When you're answering the same questions repeatedly, it's easy to slip and send an embarrassing email or twenty. ("I did it again. I wrote 'Thanks for reaching out, [INSERT CUSTOMER HERE]' instead of their name.")
If only you could say all the right things, while also saving time and energy on repetitive typing.
Overview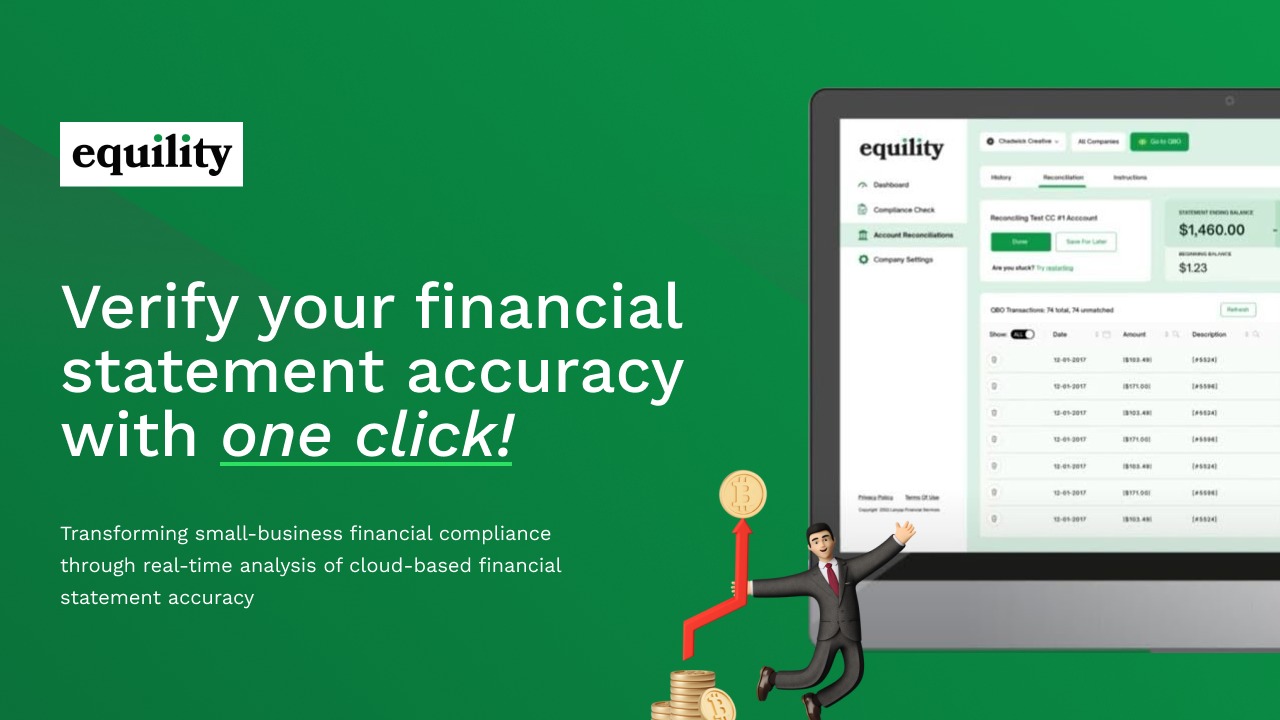 All you need to do is click once and you'll immediately gain peace of mind.
How ready are you for a financial audit?
Regulatory Risks
Whether through ignorance or a lack of resources, being in non-compliance can lead to hefty penalties and interest assessments by the IRS.
Source Data Input Risks
Properly allocated financial transactions is difficult and requires detailed analysis of the source data to verify financial accuracy and data fidelity.
Documentation Risks
Audit costs skyrocket when documents and work papers are not stored properly and easily accessible to auditors.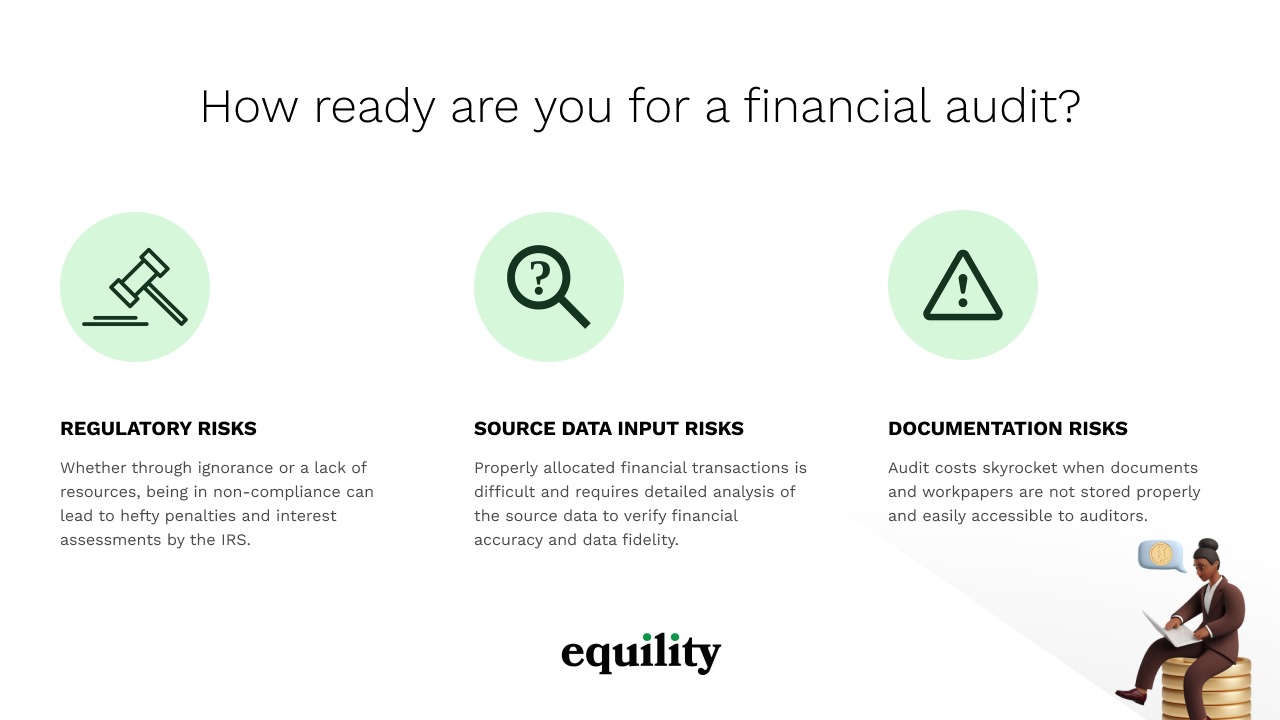 Regulatory, source data input, and documentation risks are addressed head-on through Equility.
How it works with QuickBooks (Compliance Check)
Once Equility is connected to your QuickBooks Online account, we review your financial statements for a wide range of potential issues, including but not limited to:
Bank & Credit Card Reconciliation Status
Depreciation & Amortization Entries
Uncategorized Asset Listings
Undeposited Funds Balance
Entity-based Equity Allocations
S-Corp Payroll Regulations
Clearing Accounts / Uncategorized Transactions
Our platform then provides you with a financial review summary, which can be reviewed in-house or downloaded as a PDF to share with clients or financial professionals.
Automate the financial review process to make your life easier with Equility.
How it works with QuickBooks (Account Reconciliation Wizard)
We use our proprietary algorithm to compare your bank register transactions in QuickBooks Online to those on your bank statement.
We then compare the transactions in QuickBooks Online against those on your bank statement.
Before you know it, Equility will return your results, provide suggested matches, and allow you to add any missing transactions directly into QuickBooks Online.
Check out the demo video here for further insights.
Check out our product roadmap in action.
Who can use Equility to help ensure their financial compliance?
Bookkeepers
Minimize the time spent on your account reconciliations.
Accounting Firms
Streamline your monthly close tasks with our compliance check.
Auditing Firms
Save time gathering audit-related work papers and documents.
No matter your use case, Equility is here for you.
Get access to Equility now!
Plans & features
Deal terms & conditions
Lifetime access to Equility

You must redeem your code(s) within 60 days of purchase

All future Advanced (One Company) Plan updates

Please note: This deal is not stackable
Advanced (One Company) Plan

Compliance check that automatically verifies your financial statement accuracy
Bank reconciliation wizard that automatically identifies missing and errant transactions within QBO
Task automation (account rec- CSV as well as account rec- plaid connect)
Financial review
Shareable reports
Advisory support