Fini AI
No matter what industry you're in, being on the customer-facing side of things can start to feel like Groundhog Day.
When you're answering the same questions repeatedly, it's easy to slip and send an embarrassing email or twenty. ("I did it again. I wrote 'Thanks for reaching out, [INSERT CUSTOMER HERE]' instead of their name.")
If only you could say all the right things, while also saving time and energy on repetitive typing.
Overview
Fini AI lets you turn your knowledge base and customer data into a generative AI chatbot that can respond to customers 24/7.
With Fini AI, you can train your interactive chatbot to respond to any inquiry simply by pasting your knowledge base links—no coding required!
You'll be able to configure your chatbot to reply in a tone that aligns with your brand's vibe, whether that's casual and friendly or super polite.
And because this tool lets you send responses in different languages, including Chinese, Spanish, and Greek, you can connect with customers all over the world.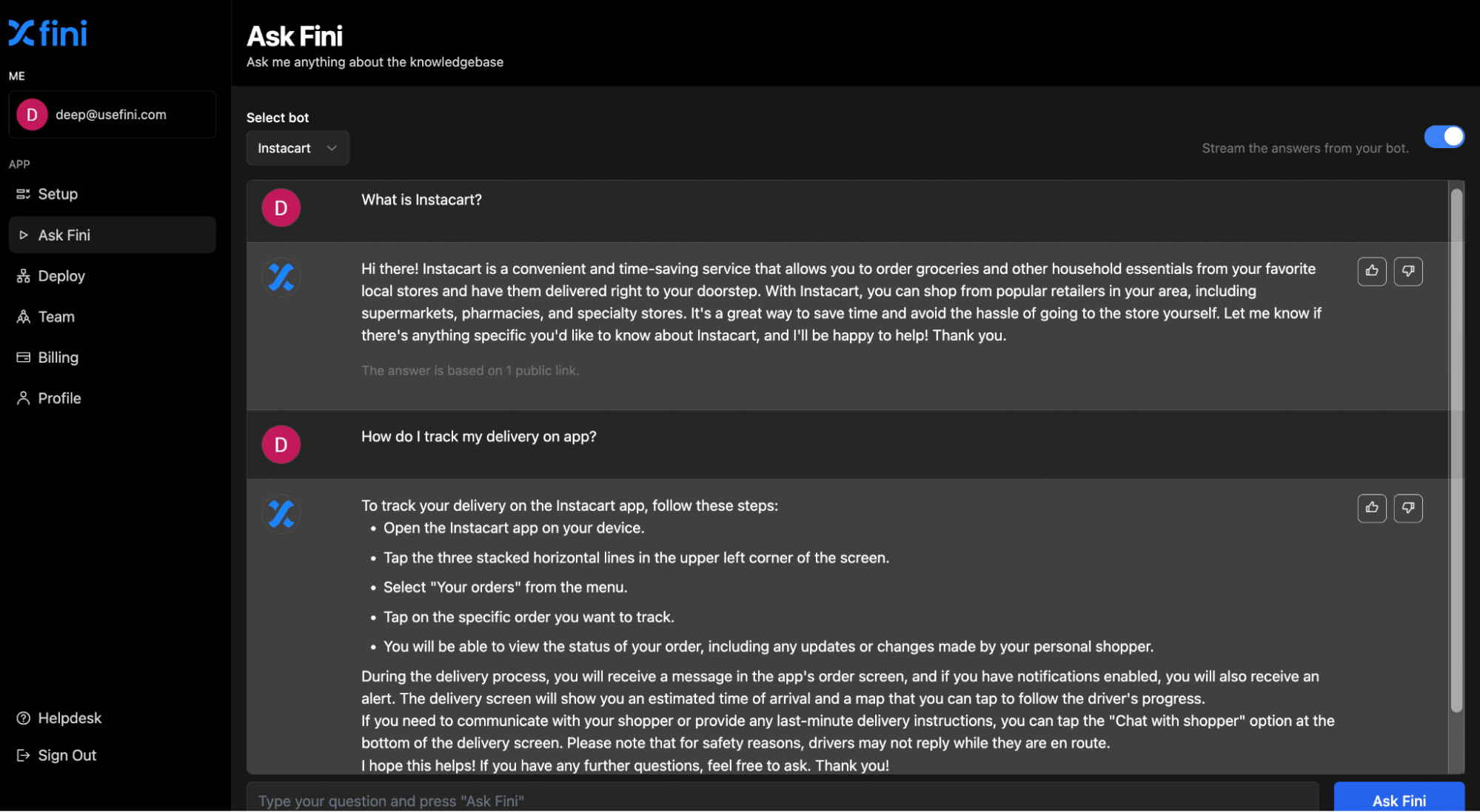 Use knowledge base links to quickly train AI to respond to customer inquiries.
Fini AI also has a powerful API feature that makes it easy to deploy your chatbot across multiple platforms, all without writing any code.
Connect to popular communication platforms like Slack, Discord, Zendesk, Chrome, and even your email.
That means your chatbot can reply to customer inquiries around the clock, giving your customers exactly what they need, when they need it.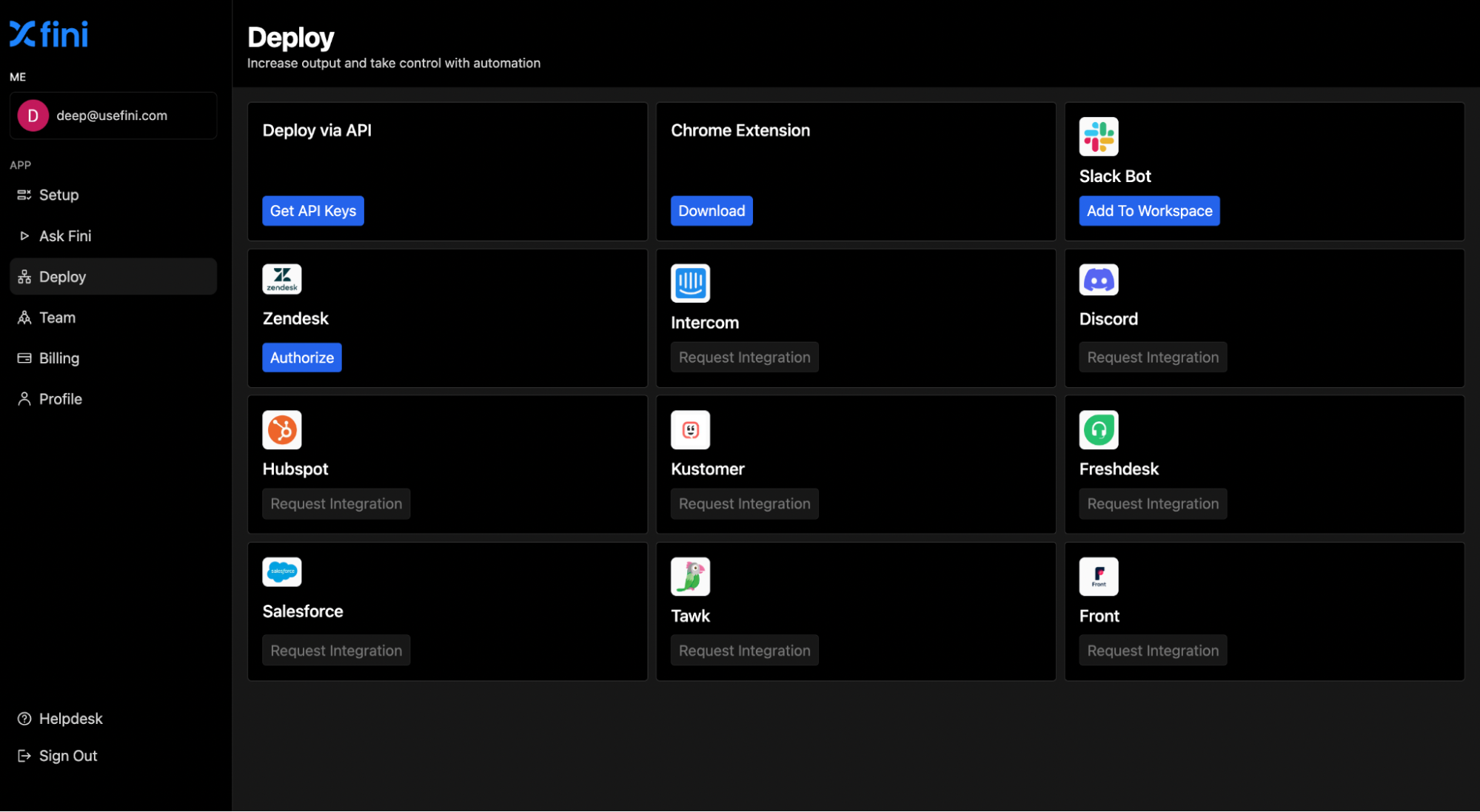 Deploy your Fini AI chatbot on popular apps like Hubspot, Zendesk, Slack, and Discord, without writing any code.
Unlike other chatbot builders, Fini AI leverages multiple large language models, so you can generate accurate, comprehensive responses.
As the AI solves customers' problems, it learns to differentiate between good and bad responses to improve its performance over time.
And if your chatbot can't whip up the right answer, it will route the customer to a human agent to troubleshoot the issue.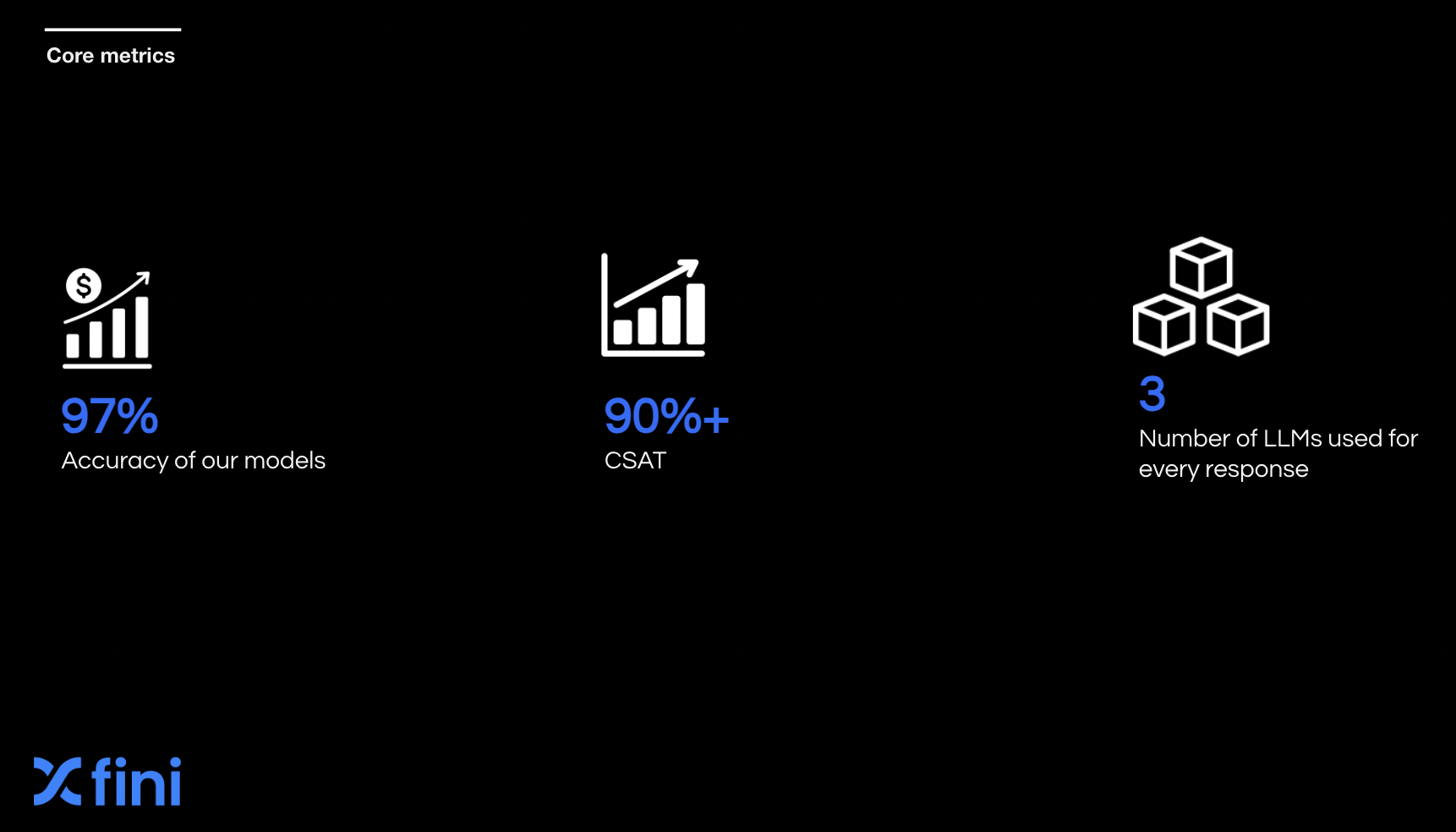 Because Fini AI uses a multimodal language modal approach, your chatbot will whip up accurate replies to customers.
Best of all, Fini AI is ISO, SOC2, and GDPR compliant, so all your training information and customer conversations will be safe and secure.
You can evaluate security details, unlock documents, and access the platform's security documentation right from the Security Portal.
Want to keep confidential information private? Fini AI lets you mask all sensitive data in just a few clicks.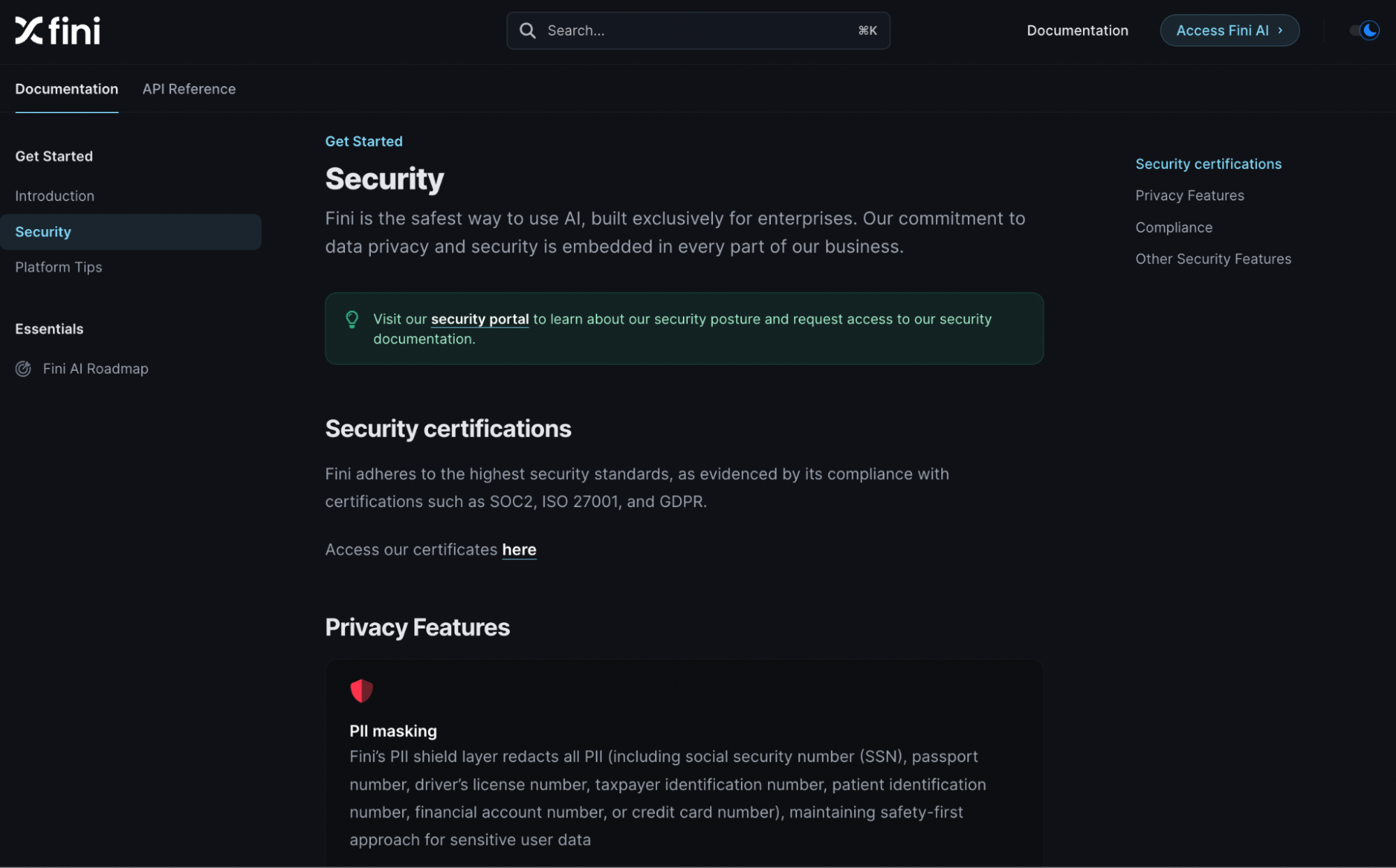 Review Fini AI's commitment to data privacy and compliance in the Security Portal.
Just because your customer base is growing doesn't mean you have to be neck-deep in support conversations. (*singing off-key* "Everyone knows I'm in over my head, over my head!")
That's why Fini Ai gives you a tireless AI chatbot that knows your business inside out and responds to customers around the clock.
Resolve support issues in a snap.
Get lifetime access to Fini AI today!
Plans & features
Deal terms & conditions
Lifetime access to Fini AI

All future Advanced Plan updates

If Plan name changes, deal will be mapped to the new Plan name with all accompanying updates

No codes, no stacking—just choose the plan that's right for you

You must activate your license within 60 days of purchase

Ability to upgrade or downgrade between 2 license tiers

GDPR compliant

Only for new Fini AI users who do not have existing accounts

A Google, Microsoft, or Slack account is required to utilize Fini AI
60 day money-back guarantee. Try it out for 2 months to make sure it's right for you!
Features included in all plans
Unlimited documents

Available over API

Supports 50+ languages (and all future added languages)

AI model: OpenAI ChatGPT 3.5 and GPT4 (access to future updates of AI model being used)

Basic reporting

Q&A interface
License Tier 1

All features above included
1,000 questions per month
Base model (ChatGPT 3.5)
5 bots

License Tier 2

All features above included
5,000 questions per month
Premium Model (GPT4)
Unlimited bots
No Fini AI branding
Native Integrations (Intercom, Zendesk, and Slack)

License Tier 3

All features above included
15,000 questions per month
Premium Model (GPT4)
Unlimited bots
No Fini AI branding
Native Integrations (Intercom, Zendesk, Slack, and Discord)
Stand-alone chat link, iFrame