Happy Scribe
Without accurate transcriptions and subtitles, it can be difficult for viewers to understand your content. ("Wait, did Joey Tribbiani say 'meat sweats' or 'feet sets'?")
But unless you've got superhuman typing powers, you're dealing with a tedious process that takes forever and also leads to errors.
Fortunately, there's an automated solution that gives you all of the audience reach and bonus content, with none of the manual work.
Overview
Happy Scribe uses powerful speech-to-text technology to automatically generate accurate transcripts and subtitles in minutes.
Transcribing interviews, webinars, and panels is an awesome way to repurpose content, and subtitles help you capture a broader audience by making your content more accessible.
Happy Scribe uses innovative voice-recognition technology to turn your audio recordings into transcripts and add subtitles to your videos.
Simply upload your audio or video file, and Happy Scribe takes care of the rest.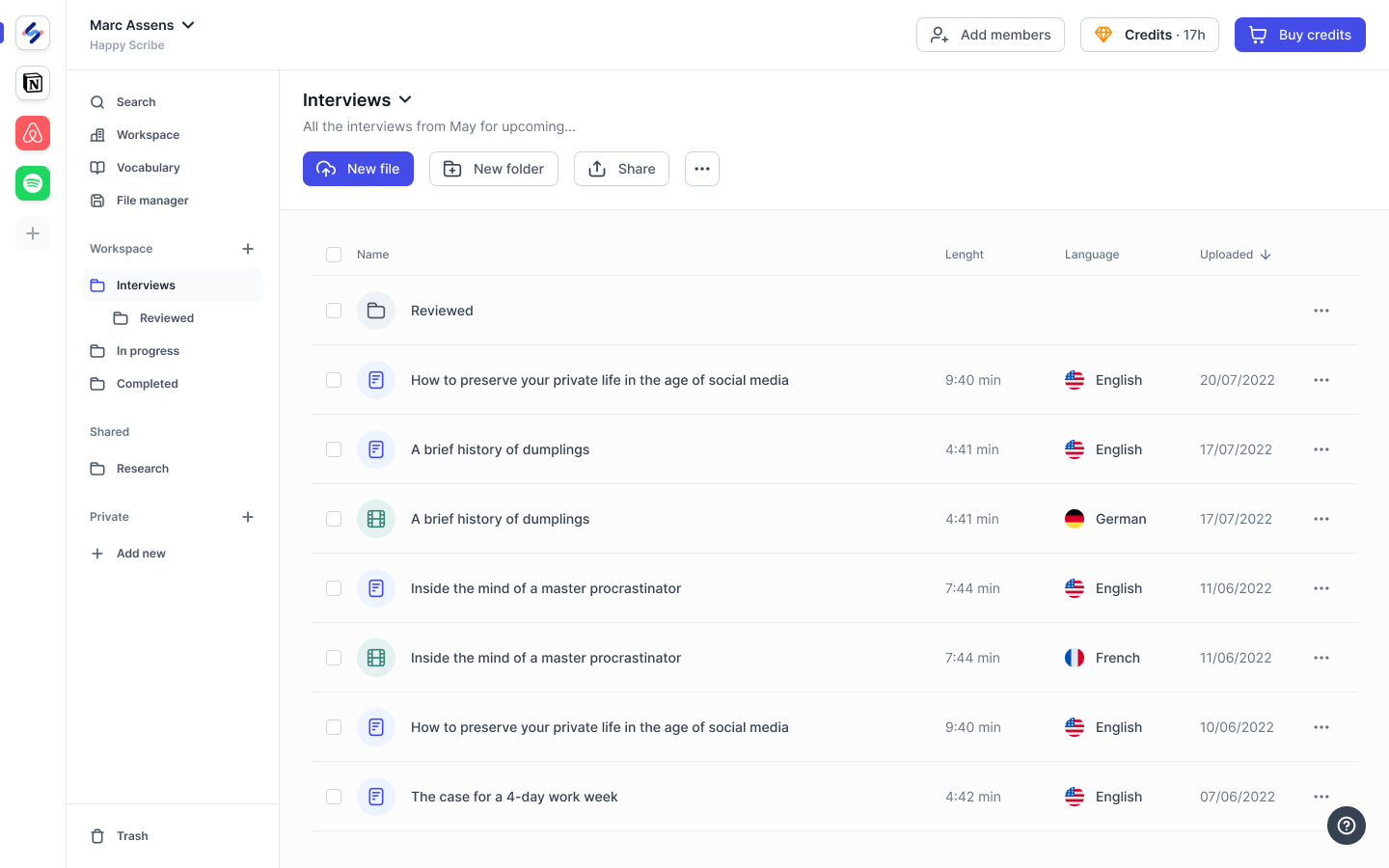 Get a dedicated dashboard to keep track of all your transcripts.
Once your transcript is done, download it in a variety of formats, including as a Word document or PDF file, to add to your website or share with your team.
SEO is essential to getting the word out about your company and climbing the search rankings—but search engines can't recognize your audio (yet!).
Thanks to Happy Scribe's transcripts of your audio and video files, you'll get searchable text that helps improve your rankings.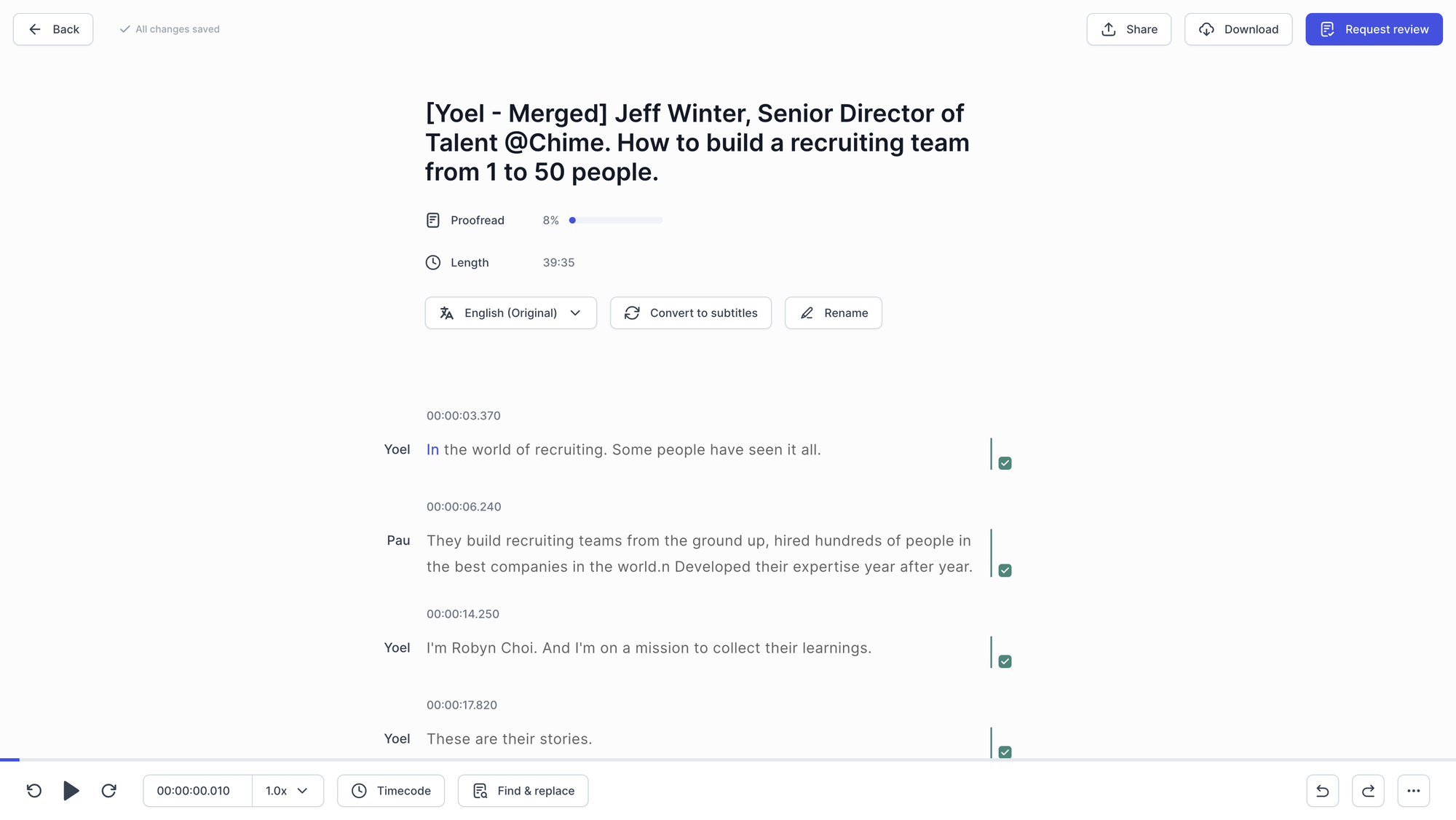 Use the simple, easy-to-use Interactive Editor to review and edit your transcripts.
Happy Scribe helps you take your content even further, from transcripts for your podcast to subtitled product demos for social media.
Quickly search your document to find the content you need to add to your blog posts or white papers and generate quotes from customer testimonials.
Since audiences watch 85% of videos on social media without sound, adding subtitles to all your videos helps increase view time and conversions.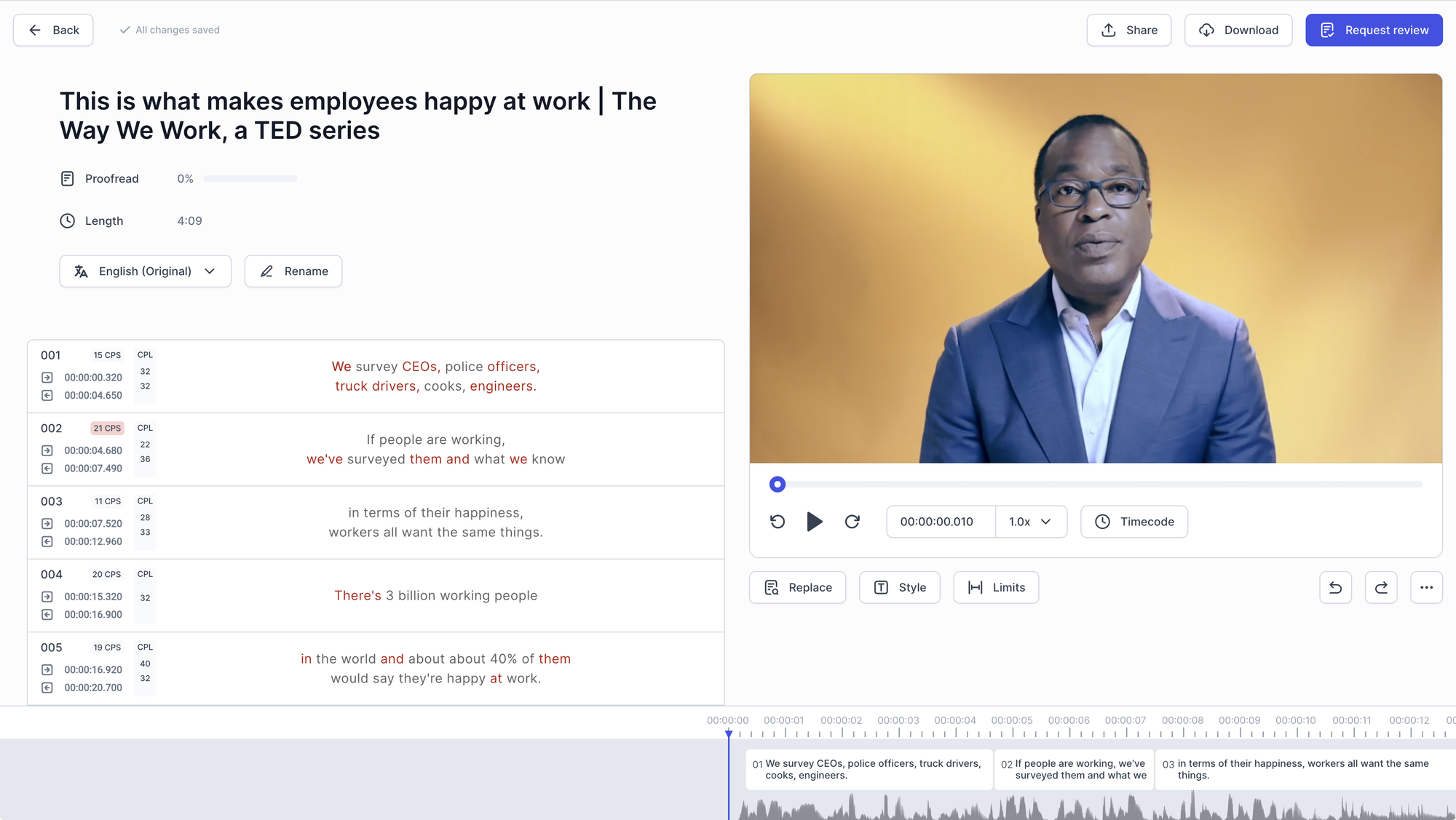 Happy Scribe automatically creates the subtitles—you can review and edit them!
Use Happy Scribe's unique Interactive Editor to review and edit your subtitles before you download and publish your content.
The Natural Subtitle Engine creates subtitles that are accurate and readable, so viewers can hear your videos loud and clear—even with the sound off.
Personalize the color, font, and style of your subtitles, so they match your brand personality and the message of your video.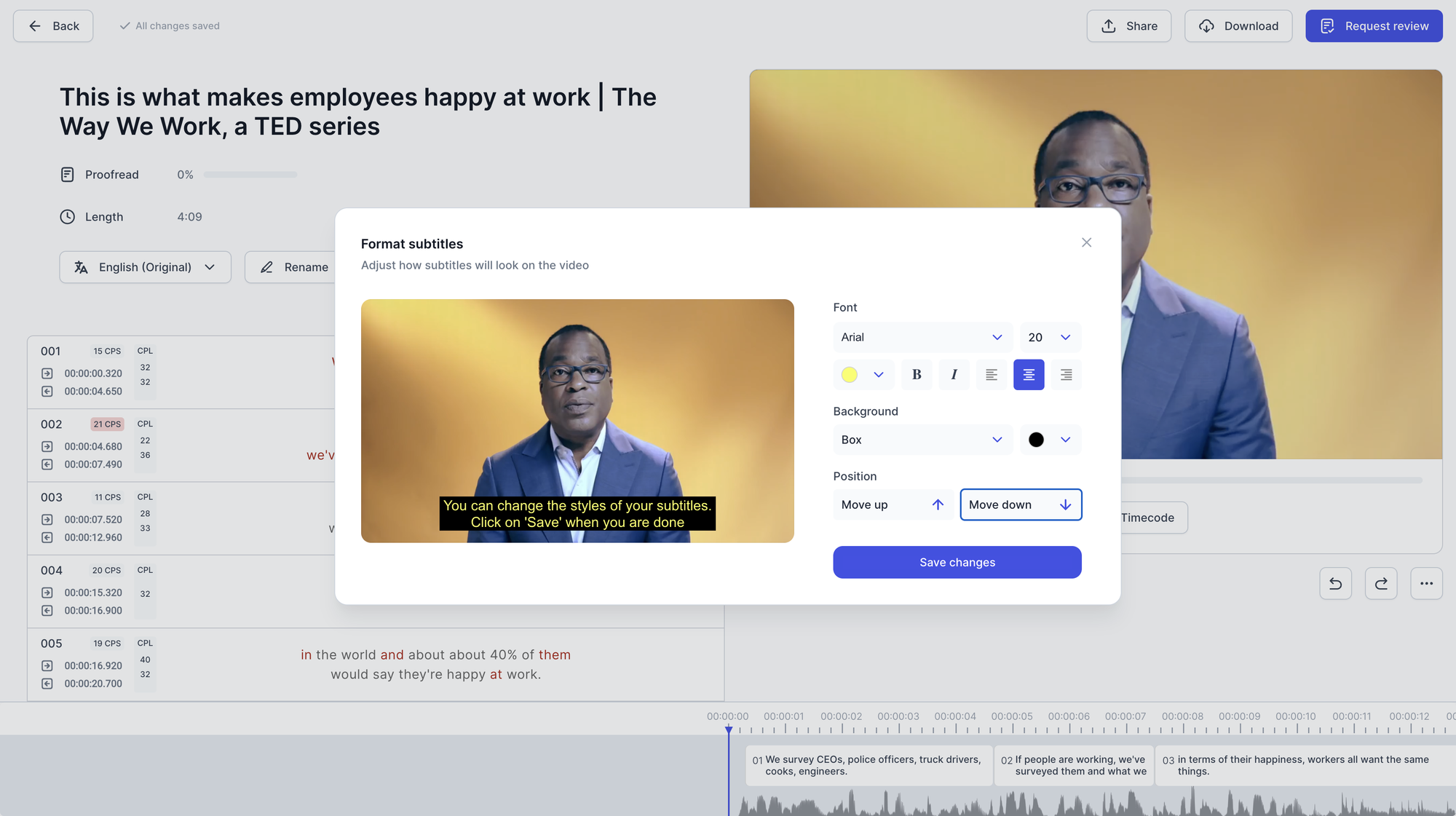 Edit and style the subtitles to fit your project and your brand.
Happy Scribe's trusty voice recognition software is built for our multilingual world.
With support for over 120 languages and accents, it doesn't matter if your content is recorded in French, Spanish, Arabic, or Thai.
Happy Scribe can also accurately transcribe and subtitle accents within the English language, from an Irish brogue to a Texas drawl, y'all.
Download your final product with accurate and clear subtitles.
If you've ever tried to watch Love Island, you'd know the power of subtitles for increasing audience reach.
Transcribing your audio projects and adding subtitles to videos can boost your brand by improving accessibility, supporting SEO ranking, and so much more.
Don't miss out on opportunities to do more with your content and free yourself from the pains of manual transcription.
Get lifetime access to Happy Scribe today!
Plans & features
Deal terms & conditions
Lifetime access to Happy Scribe

All future Happy Scribe updates

You must redeem your code(s) within 60 days of purchase

Stack unlimited codes

Note: Each additional code adds 2 hours per month transcriptions and subtitling

GDPR compliant

Available for new Happy Scribe users and returning AppSumo purchasers

Previous AppSumo customers who purchased Happy Scribe can buy more codes to increase their feature limits

Exclusive deal add-on: 50% off additional automatic transcription credit
60 day money-back guarantee. Try it out for 2 months to make sure it's right for you!
Features included in all plans
Automatic transcription

Advanced punctuation

Speaker identification

Proofreading helper

Highlight and comment

Sharing links

Timecode management

Embed transcript player

Personalized vocabulary

Transcribe 119+ languages

Interactive subtitling editor

Visual timeline and soundwave

Control characters per second

Customize and burn subtitles

Machine translation (9 languages)

Manage caption settings

Integrations and API
Specification:
Happy Scribe
Plan 1

All features above included
2 hours transcription and subtitling per month
Zapier integration

Plan 2

All features above included
4 hours transcription and subtitling per month
Zapier integration

Plan 3

All features above included
6 hours transcription and subtitling per month
Zapier integration

Plan 4

All features above included
8 hours transcription and subtitling per month
Zapier integration

Plan 5

All features above included
10 hours transcription and subtitling per month
Zapier integration

Plan 6

All features above included
12 hours transcription and subtitling per month
Zapier integration

Plan 7

All features above included
14 hours transcription and subtitling per month
Zapier integration

Plan 8

All features above included
16 hours transcription and subtitling per month
Zapier integration

Plan 9

All features above included
18 hours transcription and subtitling per month
Zapier integration

Plan 10

All features above included
20 hours transcription and subtitling per month
Zapier integration