Keyword Discovery by Keyword Spy
No matter what industry you're in, being on the customer-facing side of things can start to feel like Groundhog Day.
When you're answering the same questions repeatedly, it's easy to slip and send an embarrassing email or twenty. ("I did it again. I wrote 'Thanks for reaching out, [INSERT CUSTOMER HERE]' instead of their name.")
If only you could say all the right things, while also saving time and energy on repetitive typing.
Overview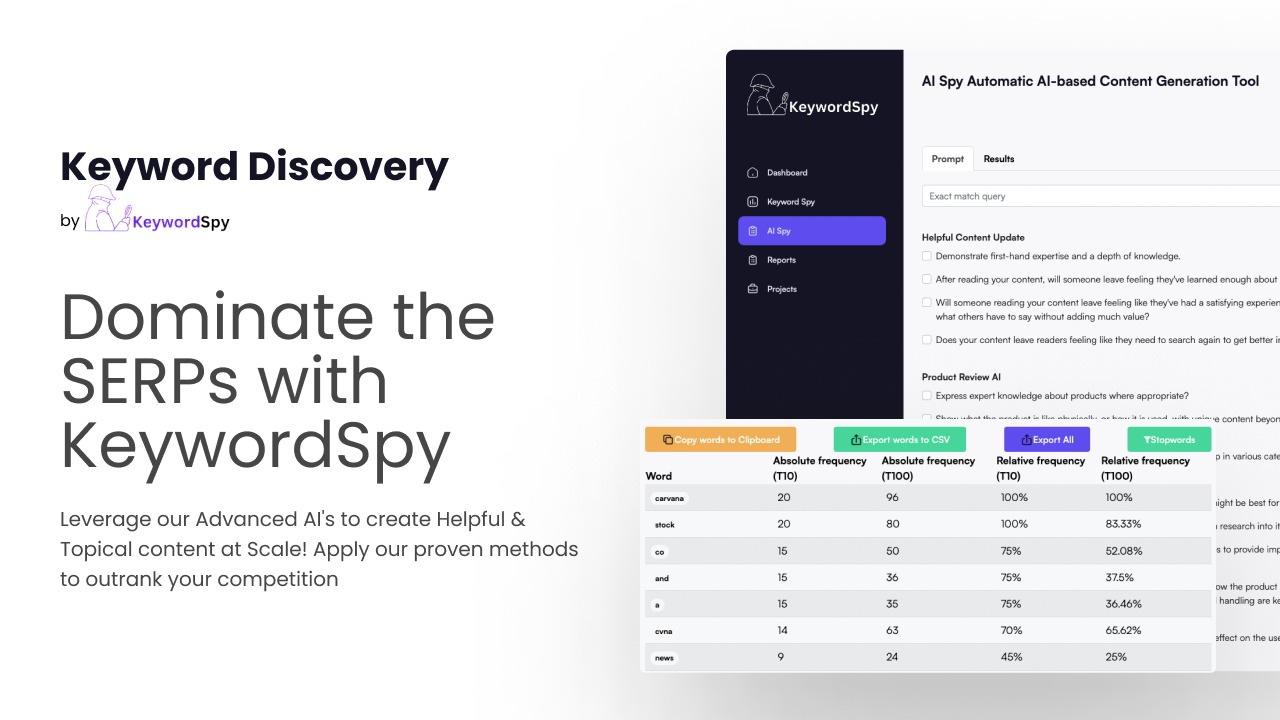 Dominate the SERPs with KeywordSpy and elevate your SEO strategy.
In the world of SEO, keyword research is paramount, and Keyword Discovery takes it to the next level.
Our tool provides a comprehensive keyword difficulty score, analyzing metrics like InTitle, InURL, Page/Site Focus, DA, Backlinks, and more. Say goodbye to guesswork and let Keyword Discovery guide your SEO strategy.
Dominate the SERPs too by harnessing Advanced AI for scalable, topically relevant content creation.
Plus, our Automagically Generated Page with KeywordSpy Optimization simplifies content creation.
Boost your SEO with precision.
Keyword Discovery takes the guesswork out of on-page SEO. Our advanced AI writer ensures your content meets the latest standards, helping you pass any filter.
Receive ranking boosts with optimized keywords, HTML, images, title tags, meta descriptions, and more. Let data-driven intelligence power your SEO strategy with Keyword Discovery.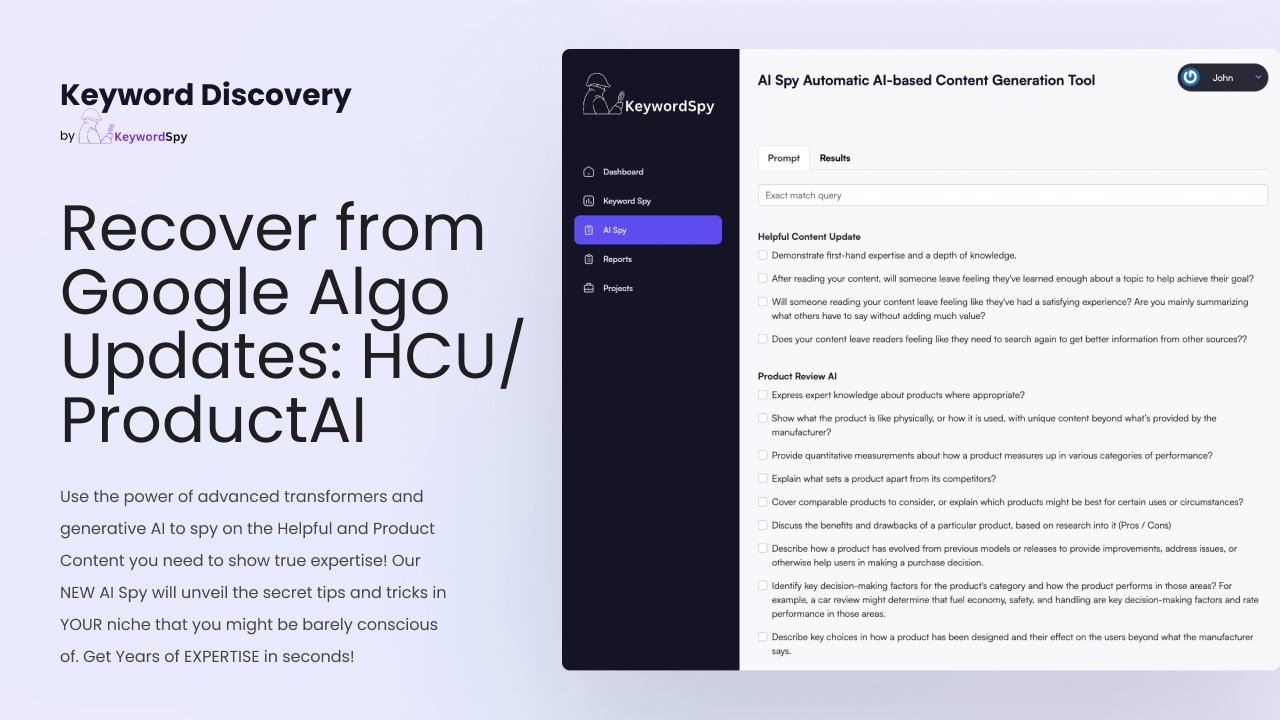 Stay ahead of Google's algorithm updates.
Keyword Discovery's advanced transformers and generative AI keep you one step ahead of Google's algorithm updates.
With our new AI Spy, you can uncover the hidden secrets, helpful content, and product insights specific to your niche.
Gain years of expertise in seconds and adapt your strategy to stay at the forefront of SEO with Keyword Discovery.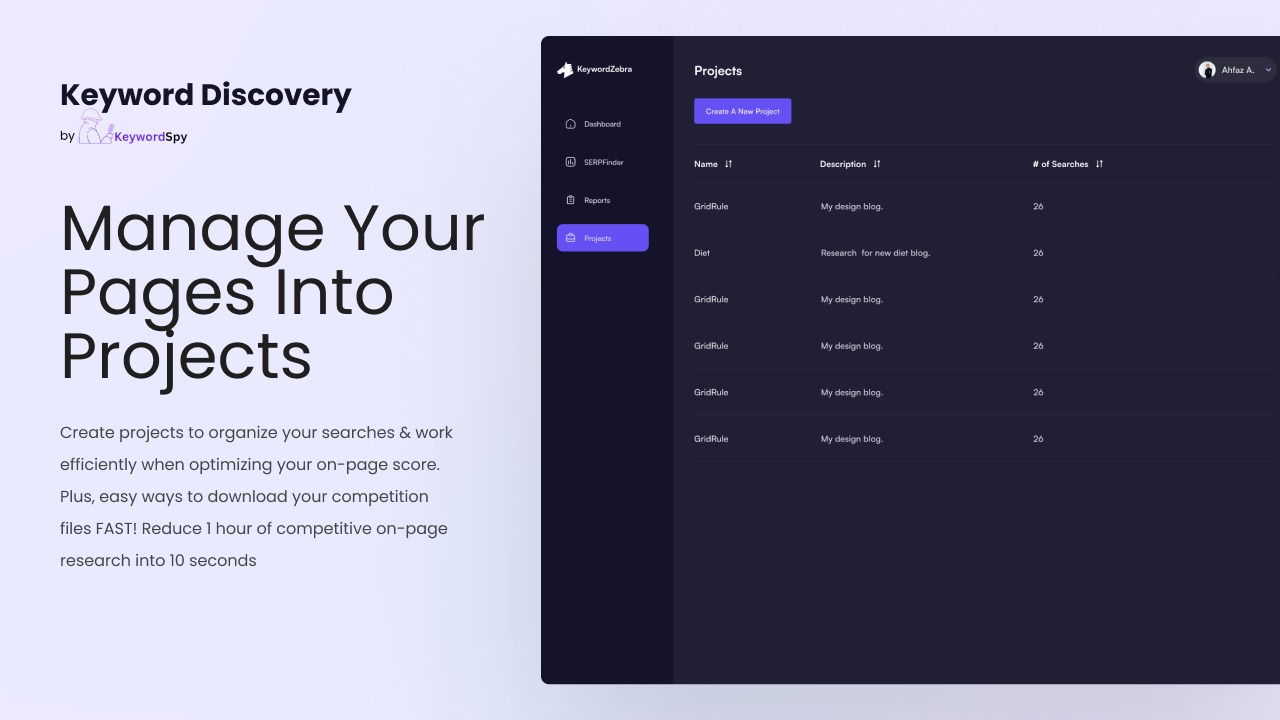 Efficiently organize your SEO efforts.
Keyword Discovery allows you to create projects, streamlining your keyword research and on-page optimization work. Organize your searches and manage your pages with ease.
What's more, our platform provides a quick and efficient way to download your competition's files, reducing hours of competitive on-page research to just seconds. It's never been easier to stay organized and save time with Keyword Discovery.
Uncover the SEO secrets hidden within your niche and supercharge your rankings with Keyword Discovery. Don't miss out on this opportunity to dominate the SERPs. Get started today and boost your SEO strategy like never before!
Plans & features
Deal terms & conditions
Lifetime access to Keyword Discovery by Keyword Spy

You must redeem your code(s) within 60 days of purchase

All future Keyword Discovery Plan updates

Stack up to 3 codes
Specification:
Keyword Discovery by Keyword Spy
Plan 1

All features above included
1 user access
Unlimited keyword idea reports
2,000 keyword difficulty scores

Plan 2

All features above included
1 user access
Unlimited keyword idea reports
5,000 keyword difficulty scores

Plan 3

All features above included
1 user access
Unlimited keyword idea reports
10,000 keyword difficulty scores