Overview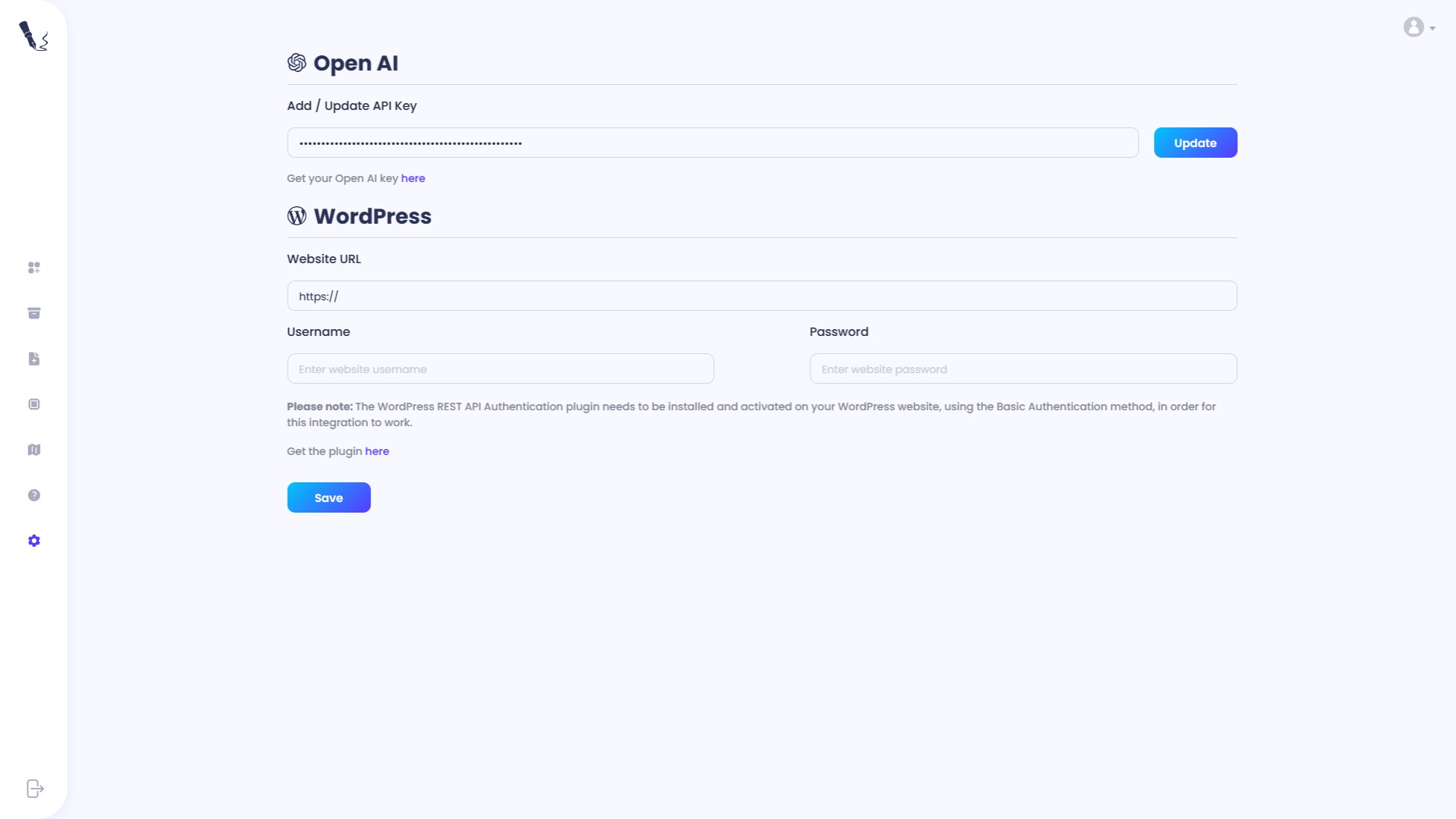 Use your own open AI API key.
Don't like to pay monthly fee for a very limit usage? Kopify allows you to utilize your own OpenAI API key, allowing you to take advantage of the pay-as-you-go subscription model offered by OpenAI.
This means that you can avoid paying a monthly fee for limited usage and only pay for the exact amount of API usage you need. This flexible and cost-effective approach ensures that you can access the powerful capabilities of OpenAI's artificial intelligence technology without breaking the bank.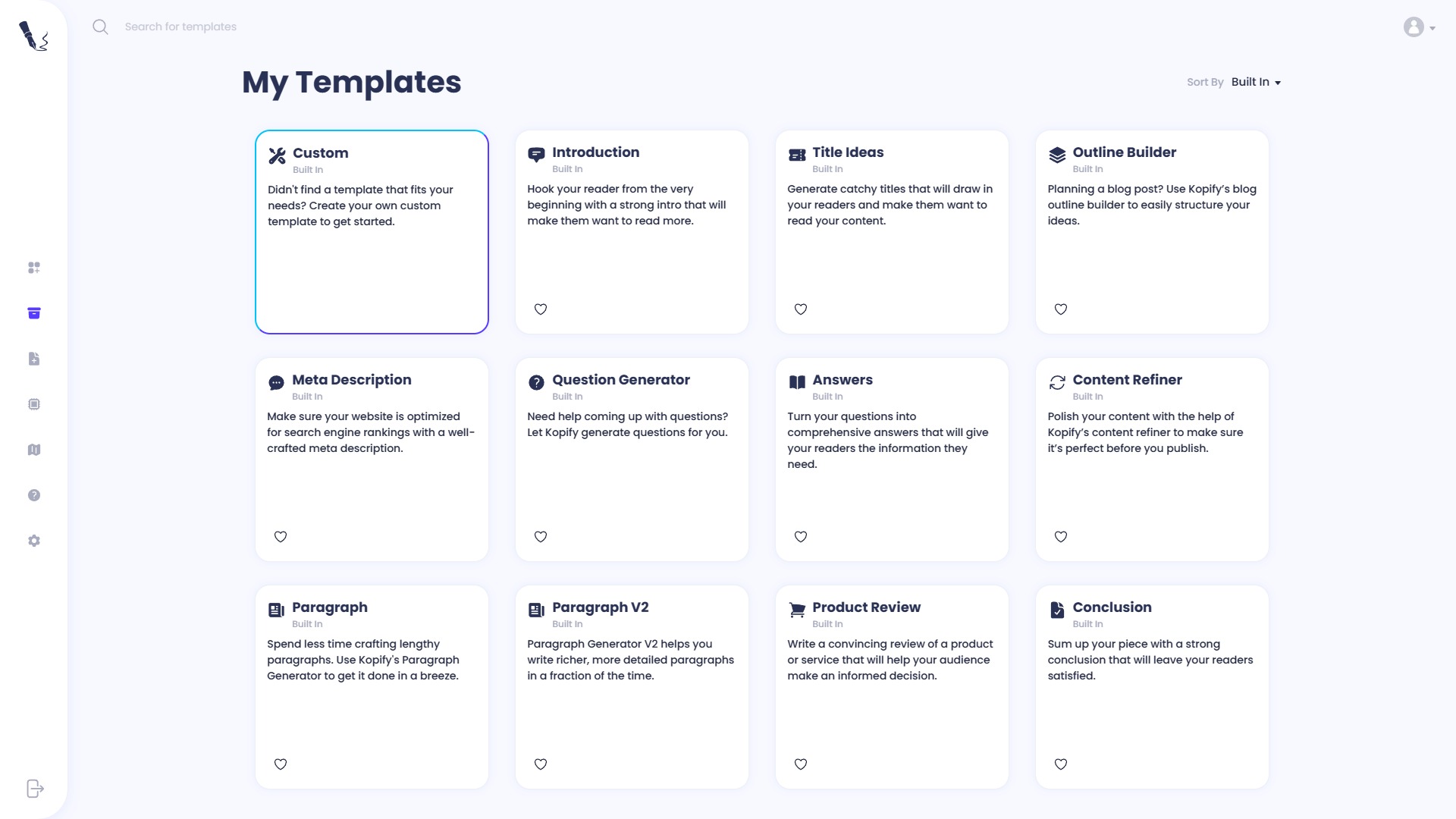 Professionally designed templates.
Do you feel overwhelmed by the hundreds of templates offered by other AI writing tools? Do you ever find yourself wondering which one is the best for creating a helpful and optimized content?
Kopify understand that, as an SEO or blogger, all you really need are a templates that can produce a fully SEO-optimized content that ranks #1 on the search engine results page (SERP).
That's why Kopify offers a curated selection of just 10+ templates – each one carefully crafted to produce high-quality, SEO-optimized content.
While Kopify is specifically designed to create blog posts, it's also possible to generate various other types of content with a few simple clicks.
With the help of custom template builder, you have the power to create your own templates from scratch, ensuring that the content aligns perfectly with your brand, topic, and vision.
This feature gives you complete control over the content creation process, so you can achieve your desired results no matter what your goals may be.
So why waste time sifting through unnecessary options when you can trust Kopify to deliver the perfect content in no time?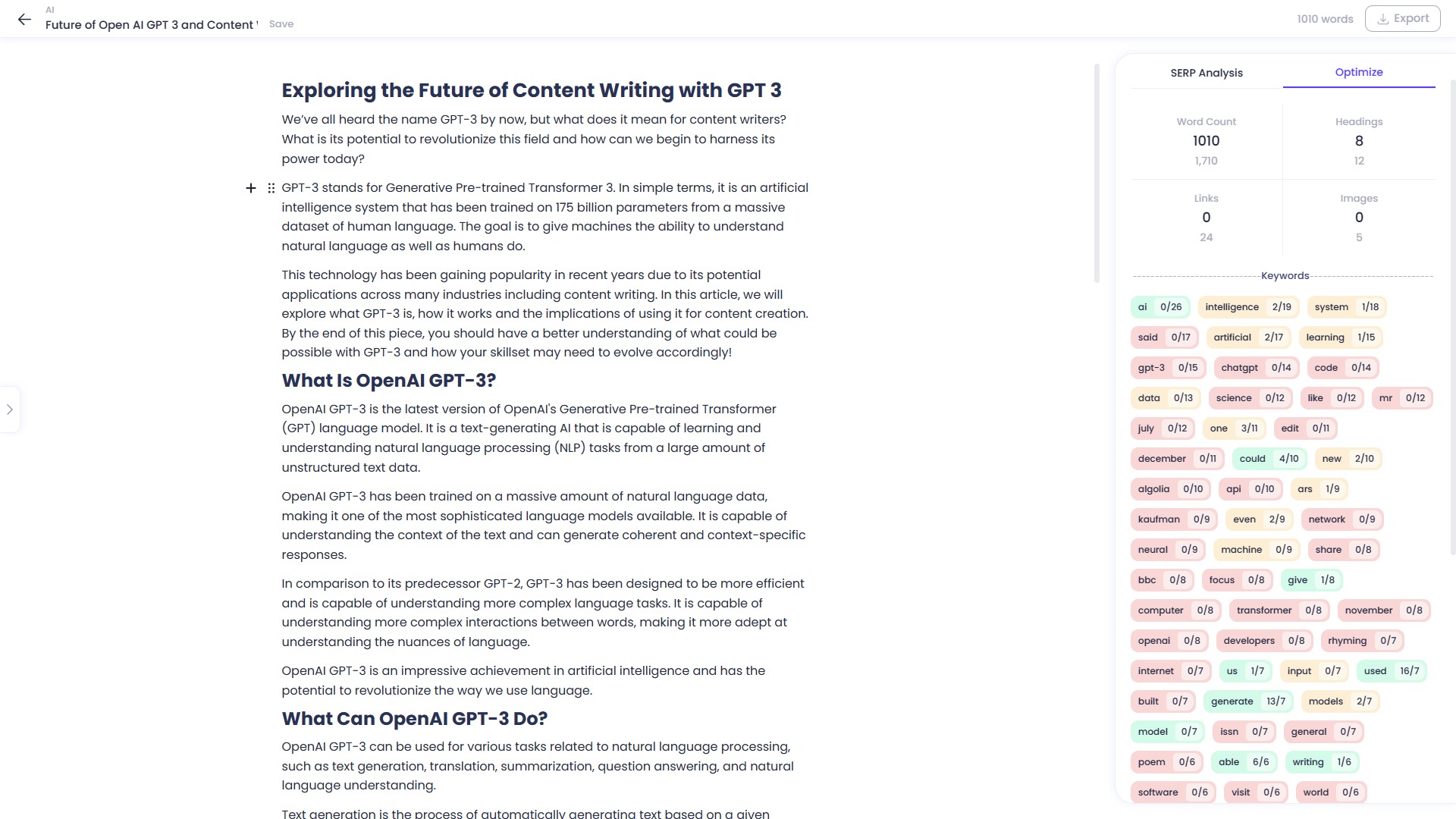 Long form writer and content optimizer.
Kopify's 'Long-Form Writer' feature allows you to create content of any length effortlessly. With this feature, you can control the structure and formatting of your content and let Kopify automatically fill in the blanks with powerful, AI-generated content.
To ensure that your content is optimized for SEO, Kopify also includes 30 monthly content audits so you can quickly analyze your content and optimize it for better search engine rankings.
Once you're done creating your content, Kopify's integration with WordPress makes it easy to publish your content directly to your site with just a few clicks.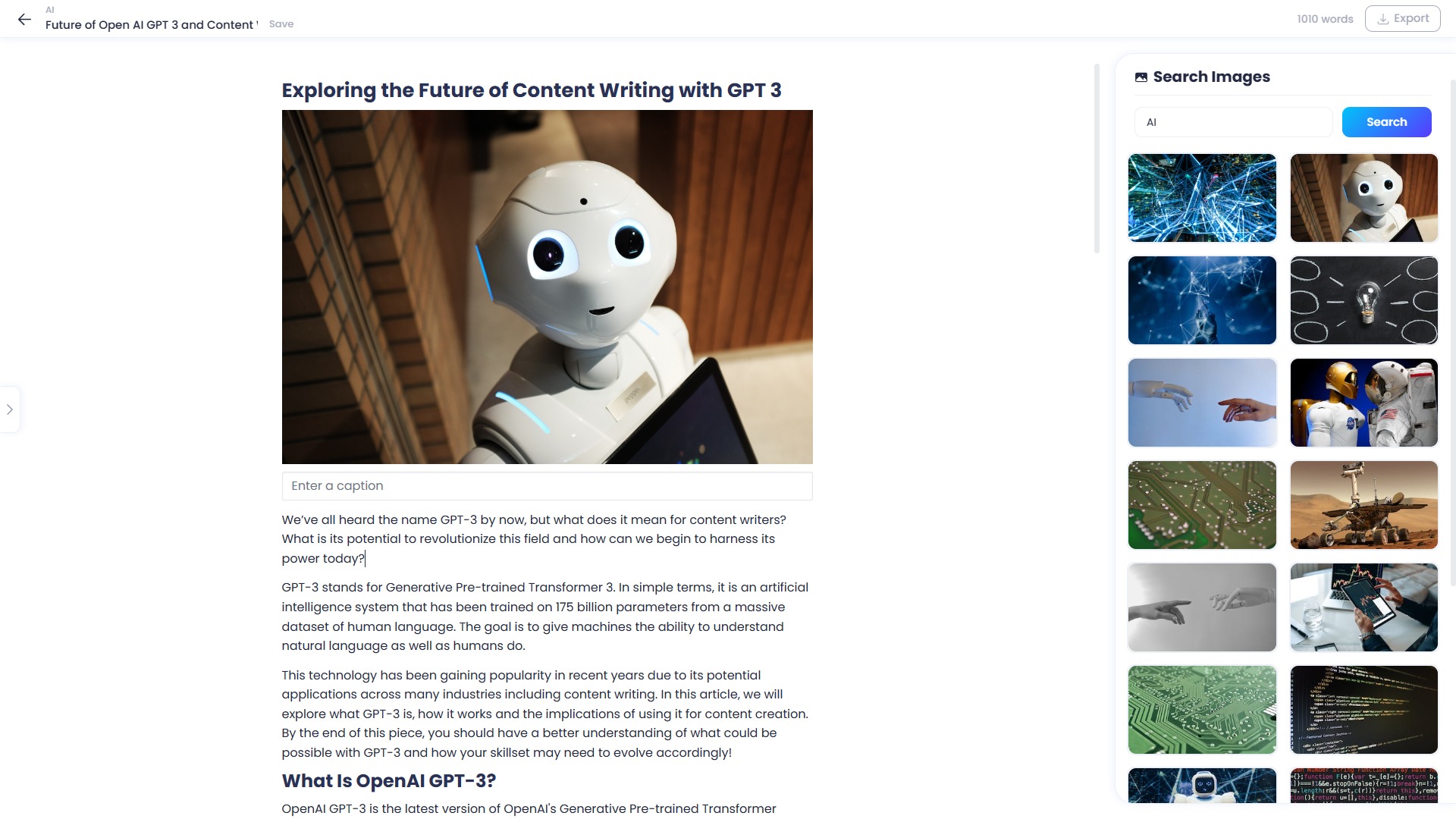 Search 5+ million royalty-free images.
Every good blog post needs great visuals to complement the text and make it more engaging. That's why Kopify comes with an integrated image search feature (Powered by Unsplash) – so you can easily find the perfect images to accompany your content.
This feature allows you to quickly and easily find 5+ million royalty-free images to use in your blog posts, eliminating the hassle of manually searching for and downloading images.
Simply enter a keyword and Kopify will search through millions of high-quality images to find the perfect one for your blog post.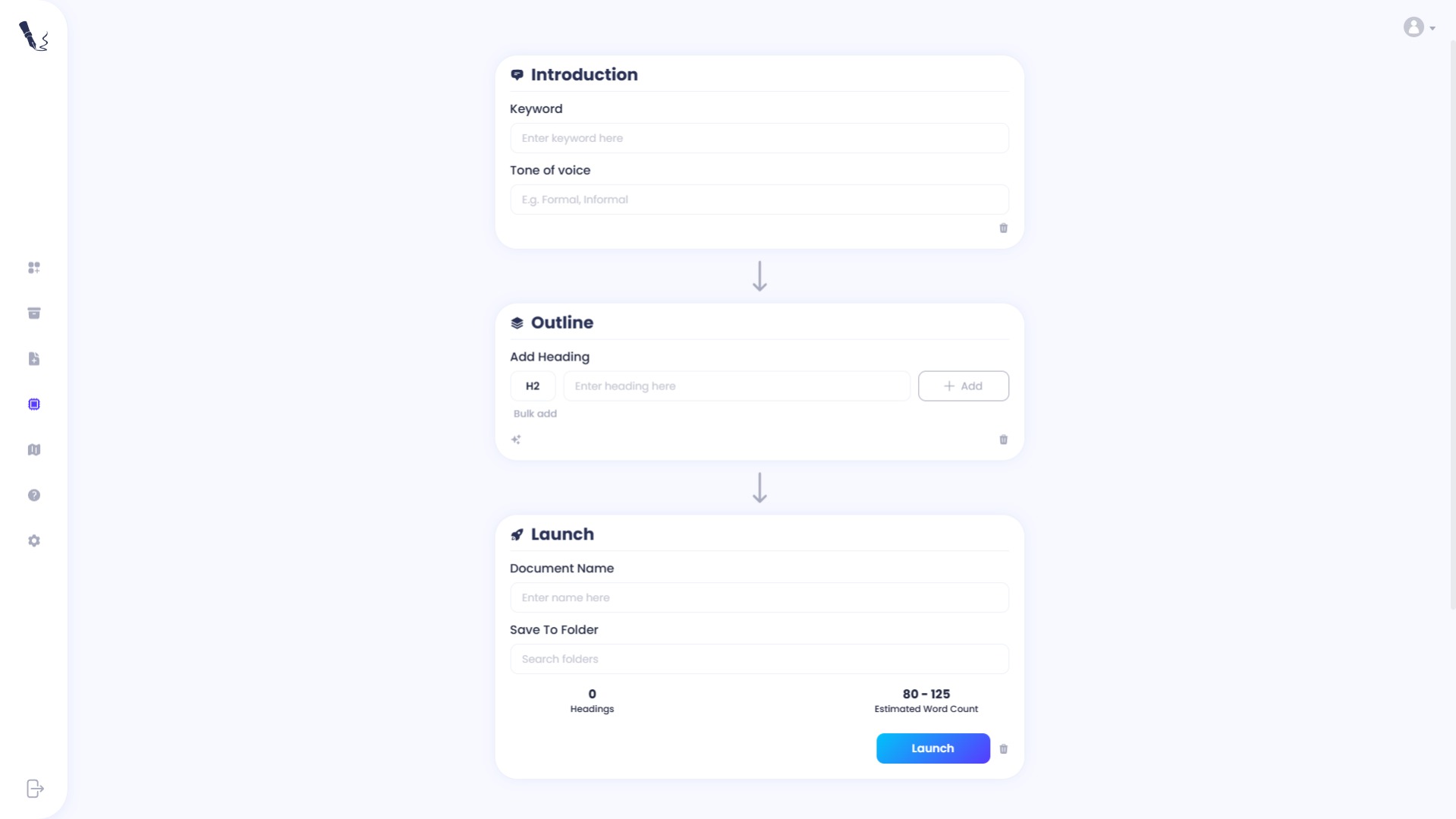 Our Workflow builder.
Kopify's Workflow Builder is a powerful tool that helps you streamline and automate your content creation process.
With two modes available – Outline Mode and Custom Mode – you have the flexibility to create optimized blog posts quickly and easily, or customize your own workflow based on your preferences.
Outline Mode allows you to quickly create a well-structured, optimized blog post by simply entering a keyword and outline.
Custom Mode gives you the flexibility to create a personalized workflow that fits your specific needs, allowing you to customize each step and add or remove templates as needed.
Take control of your content creation today and experience the power of Kopify AI for yourself!
Plans & features
Deal terms & conditions
Lifetime access to Kopify AI

You must redeem your code(s) within 60 days of purchase

All future plan updates

Please note: This deal is not stackable
Kopify AI

150 workflow credits per month
30 content audits per month
10+ powerful built-in templates
Unlimited documents
Custom open AI API key support
Limitless content generation
Custom template builder
Long form writer
Voice commands
Workflow builder (2 modes)
1-click WordPress export
Free upgrade to GPT-4