Laxis
When you conduct multiple customer interviews in a week, it's easy to get your wires crossed. ("I wanna say we asked that question, and I wanna say they loved it.")
The truth is, you're spending a good chunk of time in meetings, but that dedicated time isn't moving the needle fast enough.
What if you had a tool that could automatically record, extract, and share the info your team actually needs to grow?
Overview
Laxis automatically transcribes your meetings and instantly highlights key information for your team.
Laxis helps you create custom meetings templates that can automatically identify key topics during your calls.
You can define your own keywords and phrases within each topic, so it's easier for the tool to extract the right info.
Once your meeting starts, Laxis will automatically capture highlights from the conversation for future reference.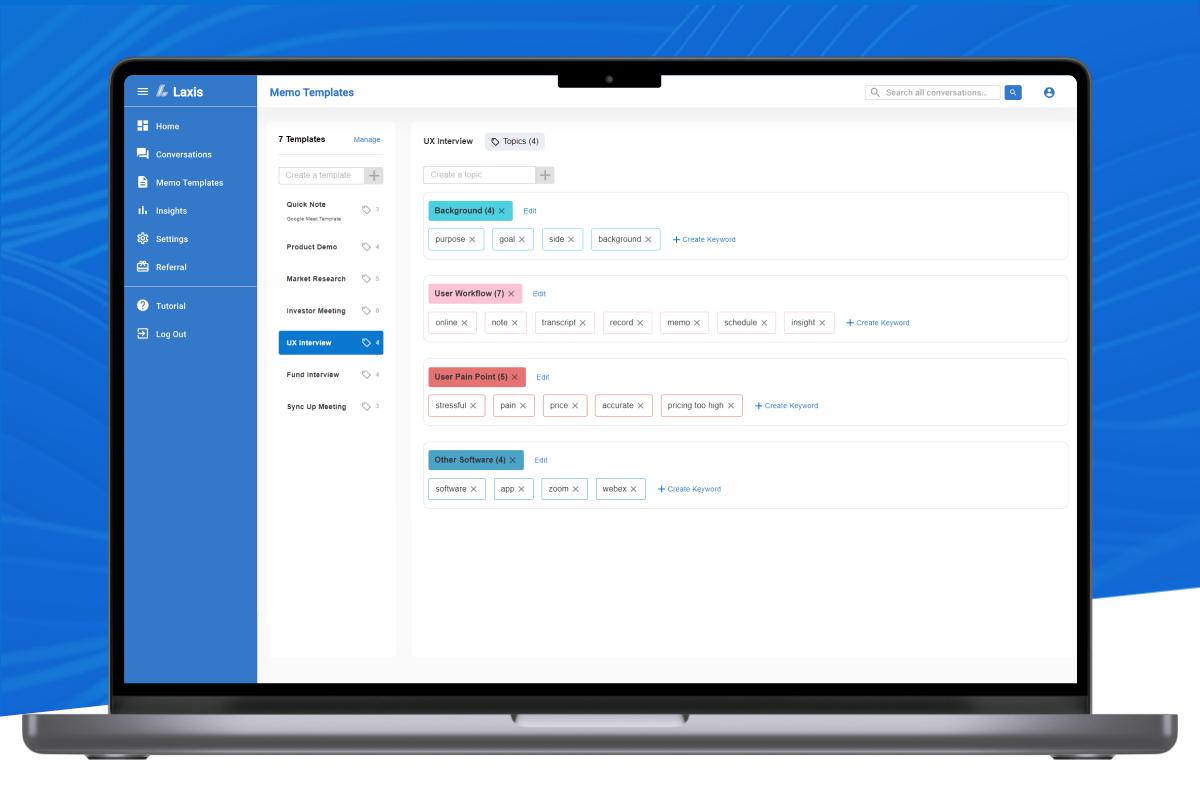 Use custom-made meeting templates to organize key agenda items.
Thanks to the native integrations, you can instantly capture key takeaways in Google Meet, Webex, and Zoom.
And you'll be able to use the mobile app to transcribe and capture key insights during in-person meetings.
You can even transcribe your own audio file and automatically extract insights using the same custom-made templates.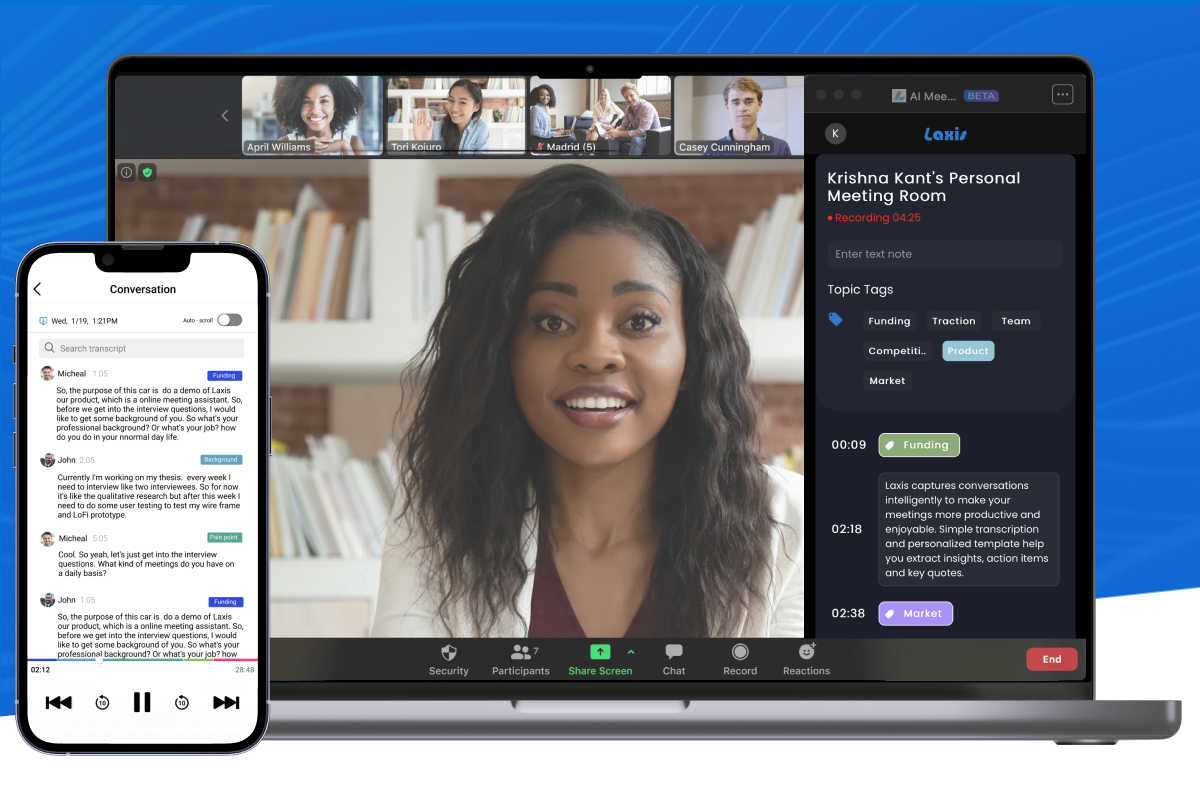 Laxis transcribes in-person meetings and virtual calls on Zoom, Google Meet, and Webex.
With advanced AI technology, you'll be able to generate memos with key insights and takeaways.
You can also modify the transcripts and memos before sending them out to your team with the Laxis Editor.
Best of all, every single recording, memo, and transcript is automatically saved to the Laxis Cloud.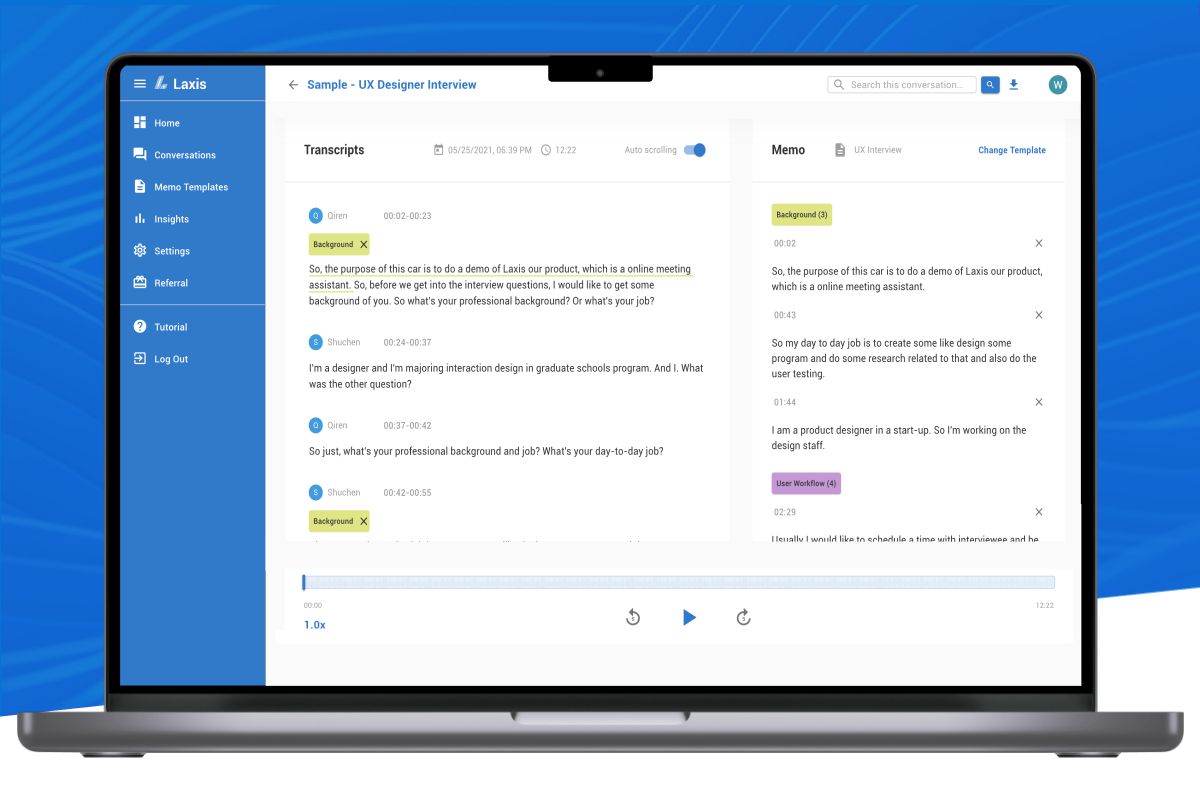 Automatically save meeting recordings, transcripts, and key insights to the Laxis Cloud.
Laxis makes it a breeze to pull key information for customer research, user testing, sales calls, or recruiting interviews.
Simply search, filter, and manage keywords or quotes to instantly find info like user pain points and next steps.
You can even download transcripts and memos to share everything with your sales reps, research teams, or stakeholders.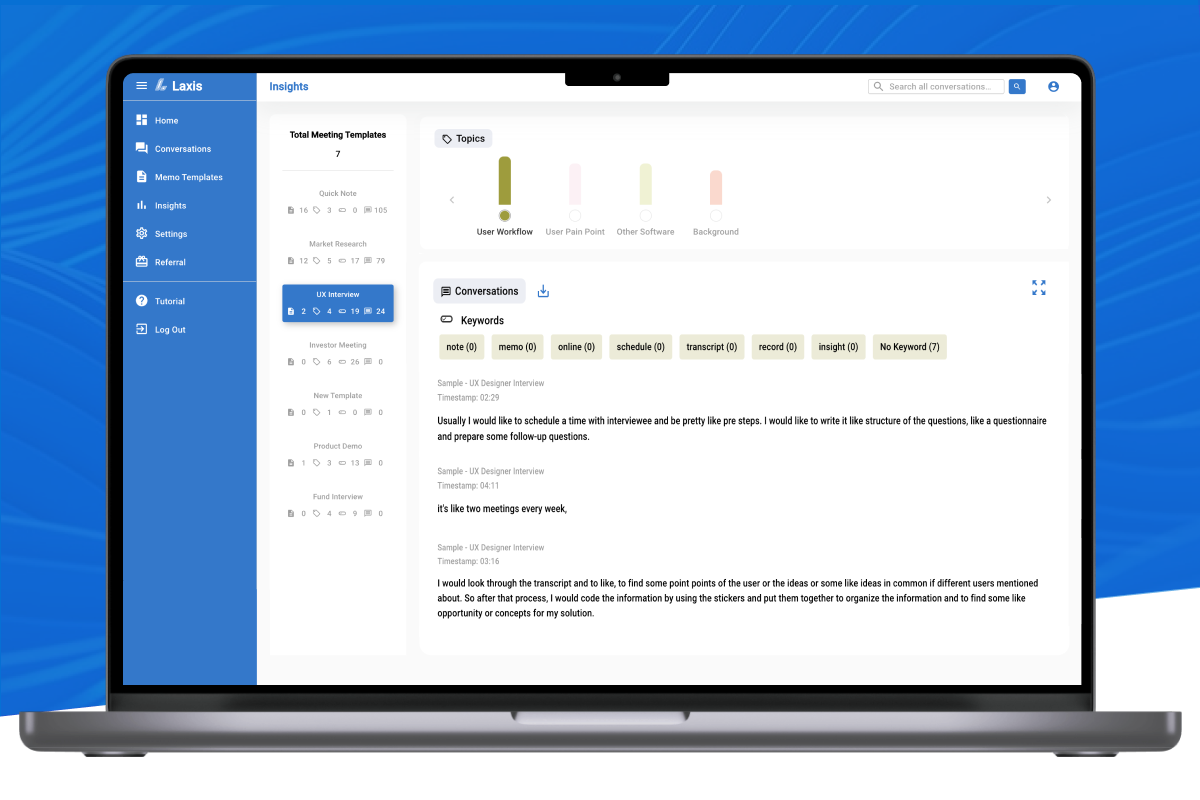 Instantly pull key details from your transcripts within the insights dashboard.
Attending a ton of meetings every week can actually keep employees from getting their work done. (Survey says: duh.)
Luckily, Laxis helps you record your meetings and extract insights, so you can turn any conversation into action.
Make every call count.
Get lifetime access to Laxis today!
Plans & features
Deal terms & conditions
Lifetime access to Laxis

All future Premium Plan updates

No codes, no stacking—just choose the plan that's right for you

You must activate your license within 60 days of purchase

Ability to upgrade or downgrade between 2 license tiers

GDPR compliant

Previous purchasers of Laxis lifetime deals are not eligible for this AppSumo lifetime deal

Purchasers must purchase Tier 1 to receive the features and limits included in this offer
60 day money-back guarantee. Try it out for 2 months to make sure it's right for you!
Features included in all plans
Unlimited online meetings on Zoom, Google Meet, Webex, and any future platforms

In-person meetings supported via mobile app

Transcription from audio file upload or microphone recording

Personalized meeting templates

AI-augmented memos

World-class editor

Download and share

Insight management
License Tier 1

All features above included
Unlimited online meeting transcription (Zoom, Webex, and Google Meet)
4,800 offline audio transcription minutes per month (desktop and mobile microphone recordings)
5 team members

License Tier 2

All features above included
Unlimited online meeting transcription (Zoom, Webex, and Google Meet)
10,000 offline audio transcription minutes per month (desktop and mobile microphone recordings)
15 team members