Synthesys
You want professional voiceover talent to represent your business, but you can only afford to use your team members. ("I'm just saying, Al Roker would never mispronounce anything.")
Between paying for talent, studio space, and equipment, you're better off using AI voiceover software—except all your other options sound creepy and computerized.
What if there was a multilingual platform packed with hundreds of real, human voices that let you create any kind of video and voiceover content?
Overview
Synthesys is a virtual media platform that lets you create AI-generated videos and voiceovers using human voices and avatars.
Synthesys is an AI-powered virtual media platform that allows you to easily create multilingual videos and voiceover content with real actors and voices.
Choose from over 300 voices in multiple languages, accents, and moods to find the perfect spokesperson for your projects—or upload your own custom voice.
You can even add pauses, alter speed, and confirm pronunciation to control the avatar's cadence.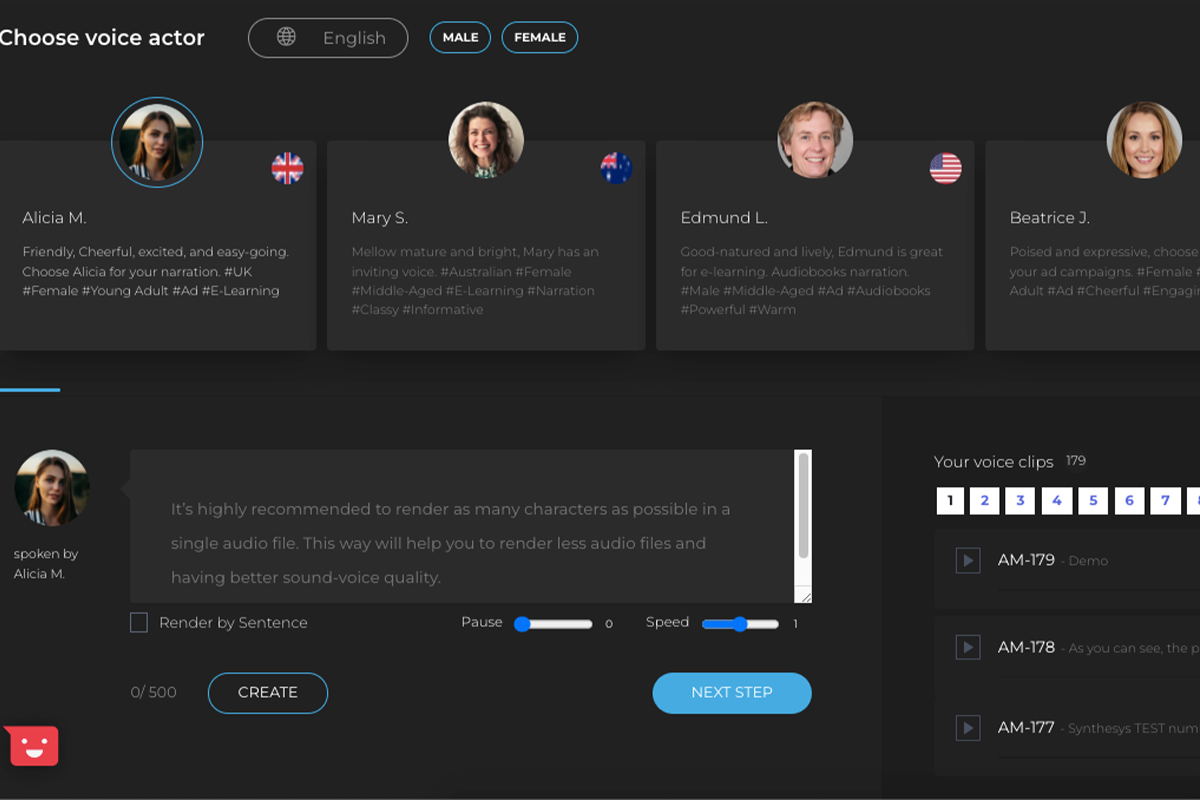 Synthesys offers over 300 voices in various languages, accents, and even moods, so you can find the ideal match for your brand.
You can choose from 60 hyper-realistic human avatars across various languages, ethnicities, and ages for text-to-video content.
Synthesys lets you create a scene between multiple presenters with the ability to merge them into one video without any technical know-how.
Adjust the on-screen placement of your avatar to fit any project, like an online course, product tour, or training video.
You'll also be able to add backgrounds and prerecorded soundtracks to any video, making your content more engaging for viewers.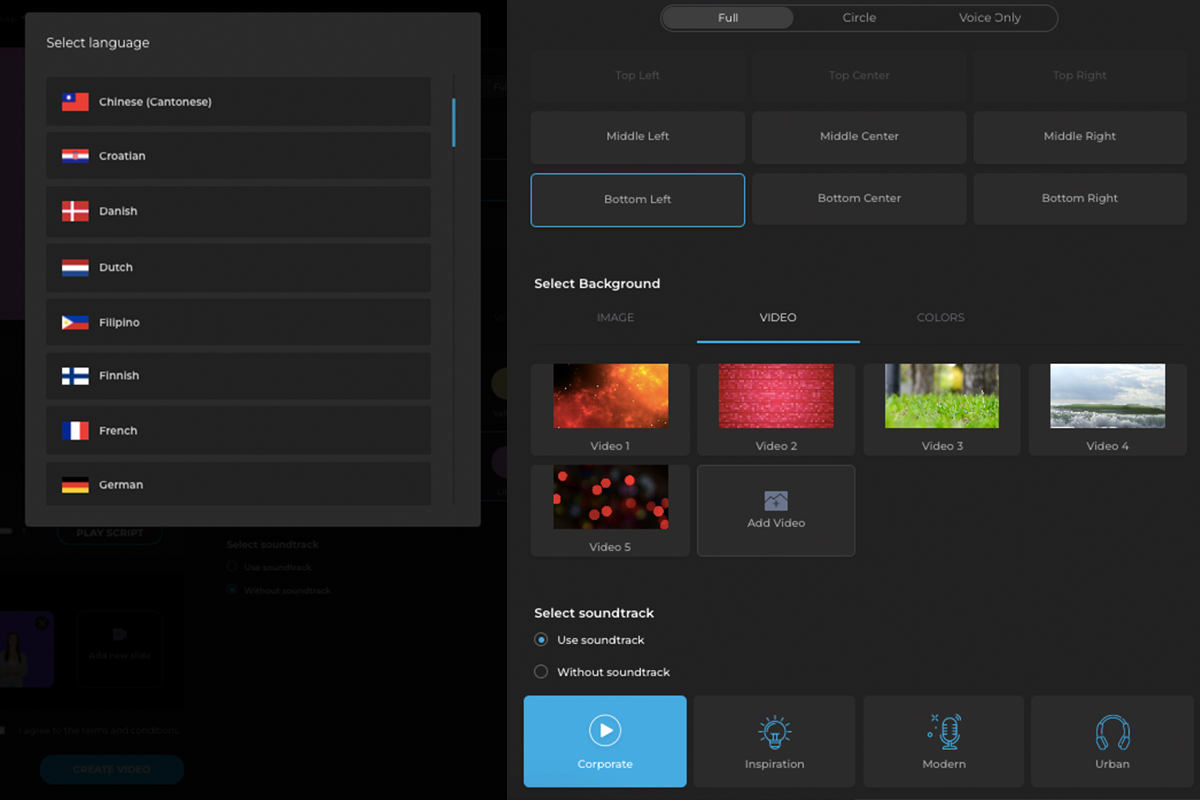 Create videos for different audiences with options for multiple languages, backgrounds, and soundtracks.
The easy-to-use interface allows you to convert your PDFs, blogs, and PowerPoint slides into engaging and hyper-personalized content.
You can even upload your own images or videos to the Synthesys editor and produce multi-slide videos up to 12 minutes long.
This cloud-based application makes it super convenient to create and edit voiceover content from anywhere.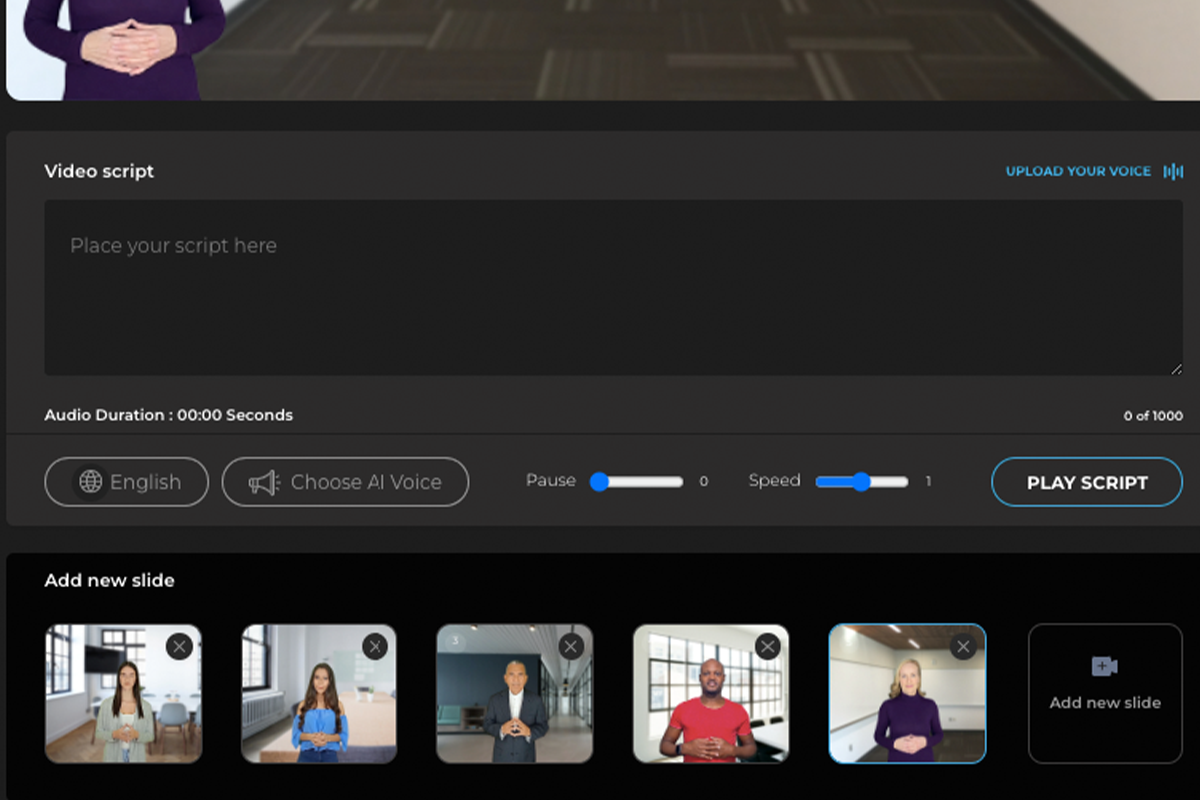 You can add multiple slides to create custom video content that's up to 12 minutes in length.
Synthesys allows you to translate your videos and scripts into multiple languages, so you can expand your business reach to global markets.
This makes it a cinch to produce cross-market promotional content or put together onboarding videos for clients and employees around the world.
And you can always edit your content on the go to address current events or new product promotions.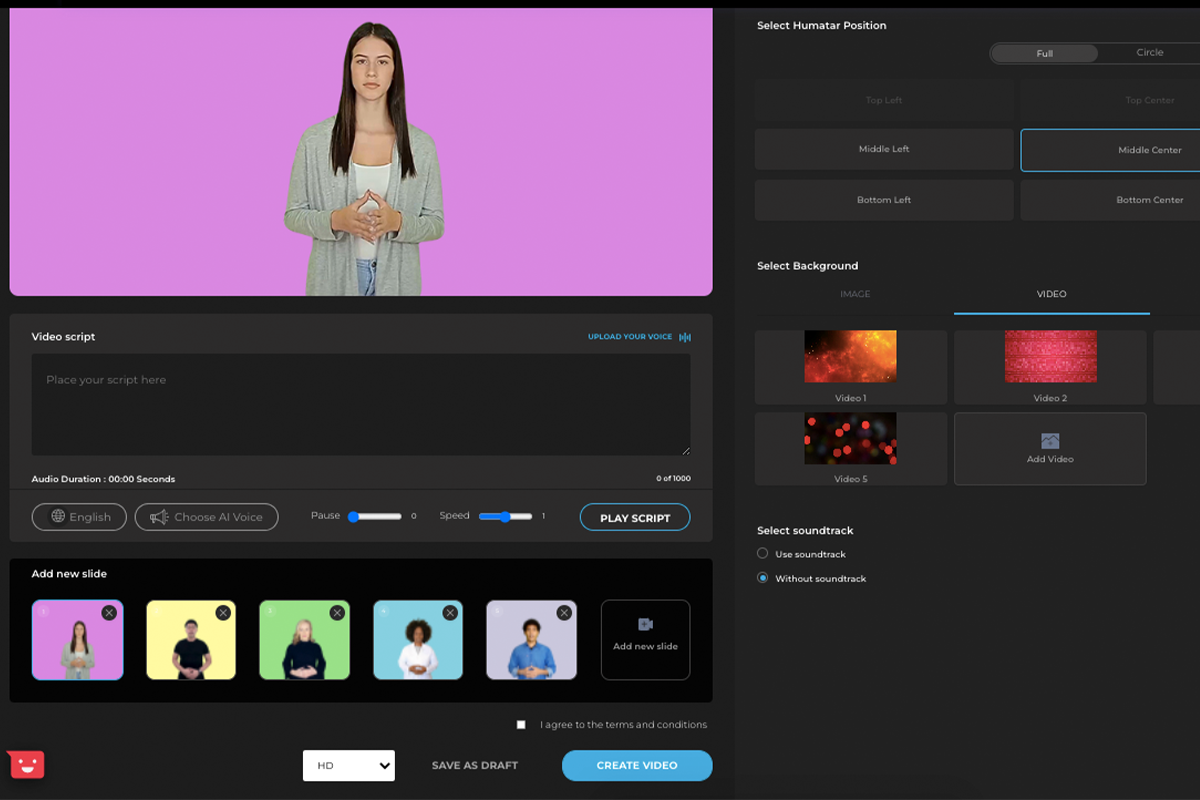 Direct every aspect of your video to create any kind of content, including training videos, onboarding videos, or promotional materials.
Choosing the wrong AI voiceover software can leave your content sounding like something straight out of the uncanny valley. ("Ew, this product tour giving me the heebie-jeebies.")
Luckily, Synthesys is loaded with tons of human voices, avatars, and languages, so you can create high-quality video or voiceover content right from your computer.
Make realistic audiovisual content for any project.
Get lifetime access to Synthesys today!
Plans & features
Deal terms & conditions
Lifetime access to Synthesys

All future Audio and Human Studio Synthesys Plan updates

No codes, no stacking—just choose the plan that's right for you

You must activate your license within 60 days of purchase

Ability to upgrade or downgrade between 2 license tiers

GDPR compliant

Available for new Synthesys users and returning AppSumo purchasers

Previous AppSumo customers who purchased Synthesys can upgrade their license to increase their feature limits

Human Synthesys videos follows Synthesys' fair use policy, limiting a max of 20 videos generated per day
60 day money-back guarantee. Try it out for 2 months to make sure it's right for you!
Features included in all plans
Access to 73 humatars (extra outfits included)

Access to 66 languages and 254 general voices (and all-new languages and general voices to come)

Upload your own voice

Full video customization

Fully web-based

Access to 30 real human voices
License Tier 1

All features above included
30 videos per month
100 voice-over downloads per month

License Tier 2

All features above included
Unlimited videos per month
Unlimited voice-over downloads per month