Overview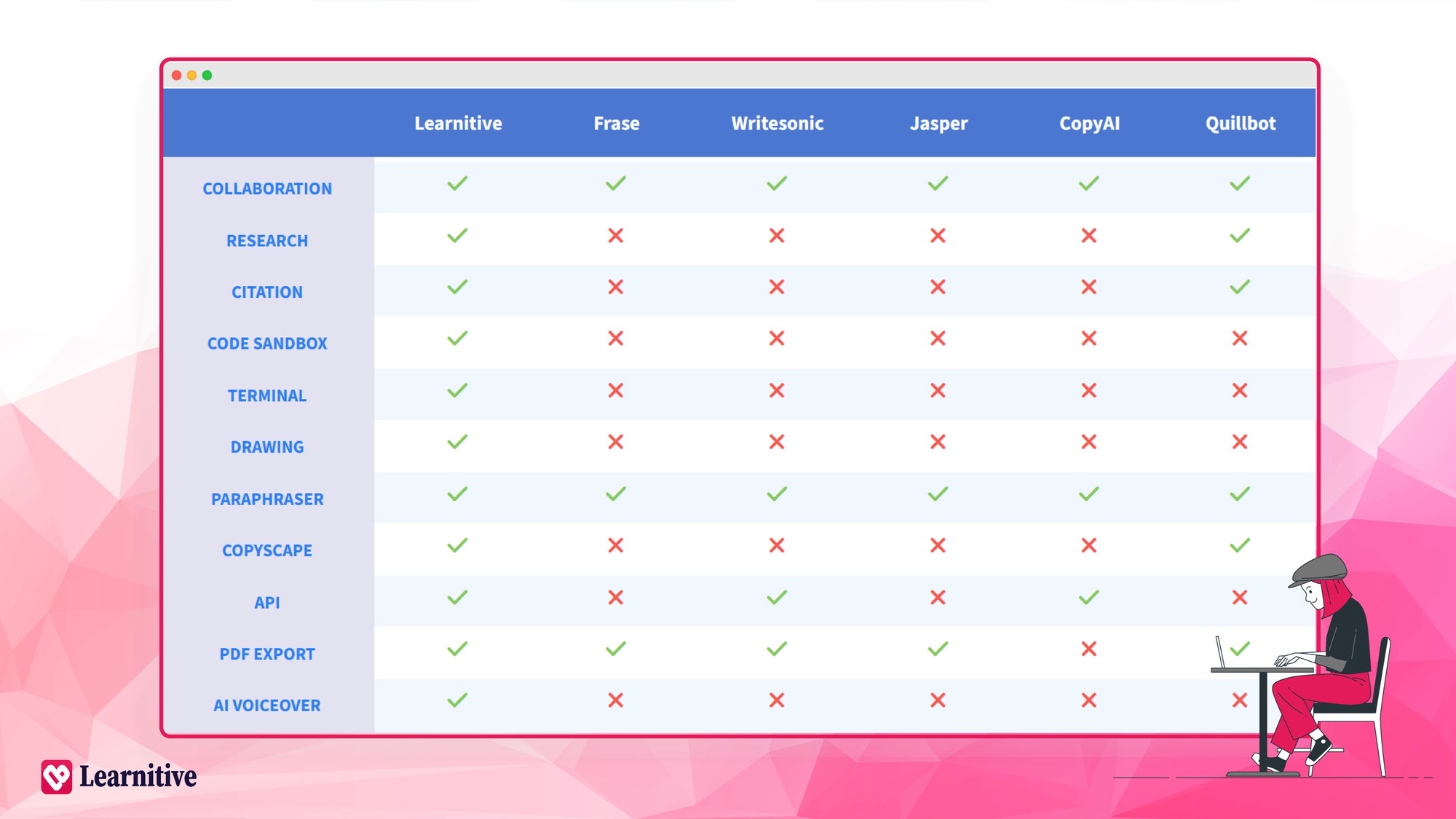 A subtle comparison of Learnitive against the popular AI content creation platforms.
At Learnitive, writers can easily collaborate on posts, share knowledge, and receive feedback to increase their growth factor and success.
The Learnitive AI is available for free to everyone with limited AI words, but don't forget to get this AppSumo deal to increase the AI word limits and get some additional perks like API access and custom domains.
What makes Learnitive different?
The fact of the matter is, most of the AI writers are similar in terms of technology; they provide a textpad and allow one to grab content from OpenAI or similar AI GPTs, and that's it.
Interactivity, curation of knowledge, and learning opportunities are limited in those tools – e.g., no sandbox & no research or fact-checking options, just to name a few limitations.
In contrast, Learnitive not only allows you to create with AI, but also enables you to Copyscape each and every paragraph (use your own Copyscape API key) and create and execute codes and OS commands right inside the AI writer!
Users can create and insert vector illustrations, search for unlimited Pexels images and embed, research references in journals and Wikipedia, and do awesome AI voiceovers.
Learnitive educational tools: Copyscape, drawing, voiceover, reseach, fact-check and citations – just to name a few.
Learnitive AI Writer (based on the awesome Editor.js) has several learning widgets to help, research, and create fantastic content with AI.
By integrating Grammarly, AI creation, Diagrams, Neural voices, and Code Playgrounds, we've transformed it into a useful teaching and learning tool.
It contains widgets to generate long-form AI content and executable codes, review spelling, grammar, punctuation, clarity, and engagement, and produce neural text to speech.
With the Copyscape API, it helps detect plagiarism, and using Grammarly, it can suggest replacements for the identified errors.
Learnitive AI Expand can autocomplete sentences and even write an entire new paragraph. It can also improve the quality of a writing with automatic AI passage paraphrasing and rewriting.
Craft awesome figures on the fly and export outputs as PDF or do private share.
Furthermore, developers can practice OS terminal commands and code scripts in 50+ languages right inside the browser instead of fiddling with VMs and IDEs; it's all set up with Docker on the cloud.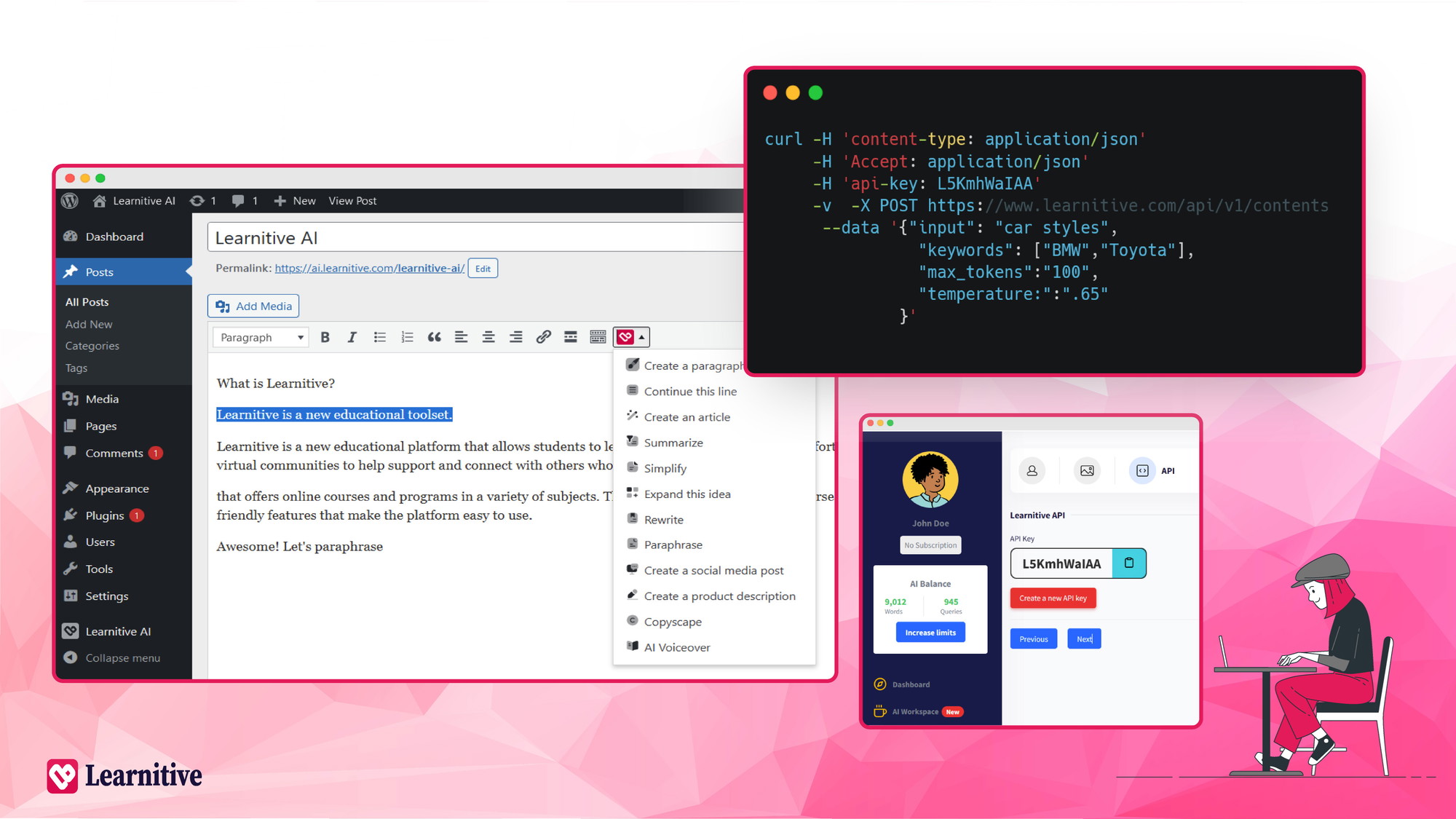 The Learnitive API and WordPress go hand-in-hand.
"I don't want your armor. I want my armor." —Boba Fett, The Mandalorian.
Education agencies can easily connect their platforms with Learnitive via API for smooth and fast content creations – no need to worry about costs per token, etc.
At each API call, we'll simply deduct the number of words used (input and output) from word balance, and that's it. Each call that equates to one query will also be deducted from the balance.
Learnitive's WordPress plugin is available for both the WP Classic and Gutenberg editors.
The plugin also supports Copyscape and AI voices. It uses the Learnitive API endpoints.
Creators may use these endpoints to bring life to their own AI tool and create ebooks, blogs, social media posts, and emails on the fly right from their own website!
Get a Learnitive API key from the Learnitive.com – Dashboard – Settings – API and start creating awesome content with the Learnitive AI + WordPress/API.
Try the demo Learnitive WP-plugin.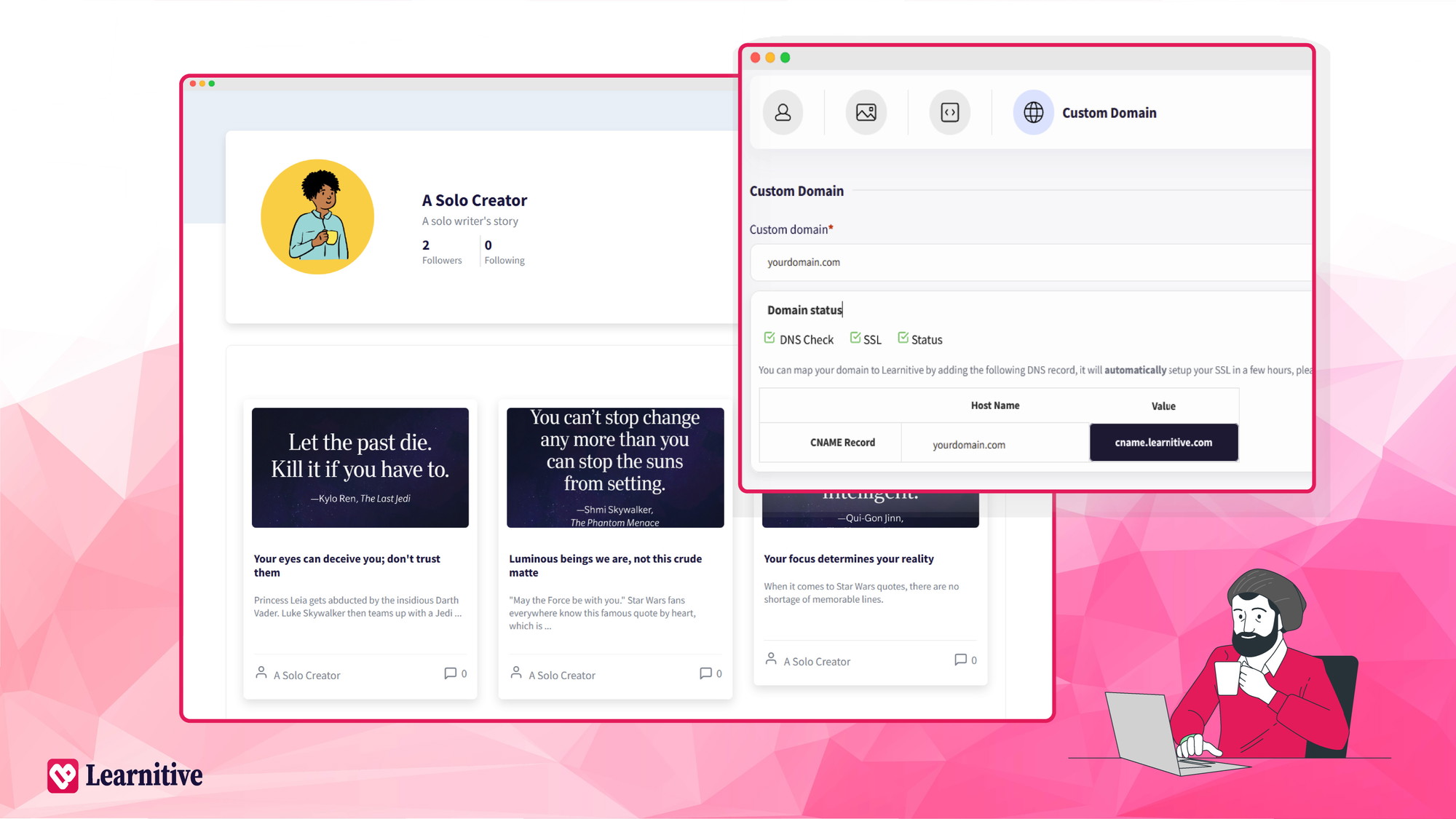 Take your custom domain and blogging games to new heights with Learnitive.
Educational agencies can attach a custom domain to their Learnitive workspace and white-label it easily.
Once connected, teams can login through their own custom domain or subdomain and create and publish private or public blog posts.
Members can share their AI word balance, collaborate, get constructive suggestions in the form of comment, content, or code, and verify results with the built-in research tools (fact check), and finally, use Copyscape to verify the originality of their work.
Ask questions about specific subjects, get help, and solve any complex writing job in the shortest possible time! Creators are given precise answers.
As a matter of fact, one needs to replace every third word in a sentence to get past the Turnitin checks. It will be impossible to pass an assignment or get a higher SEO rank with any AI writer alone unless the creators are willing to learn, research, and educate themselves.
Therefore, with Learnitive, academics are safe and SEO is maintained!
See a custom domain blog example.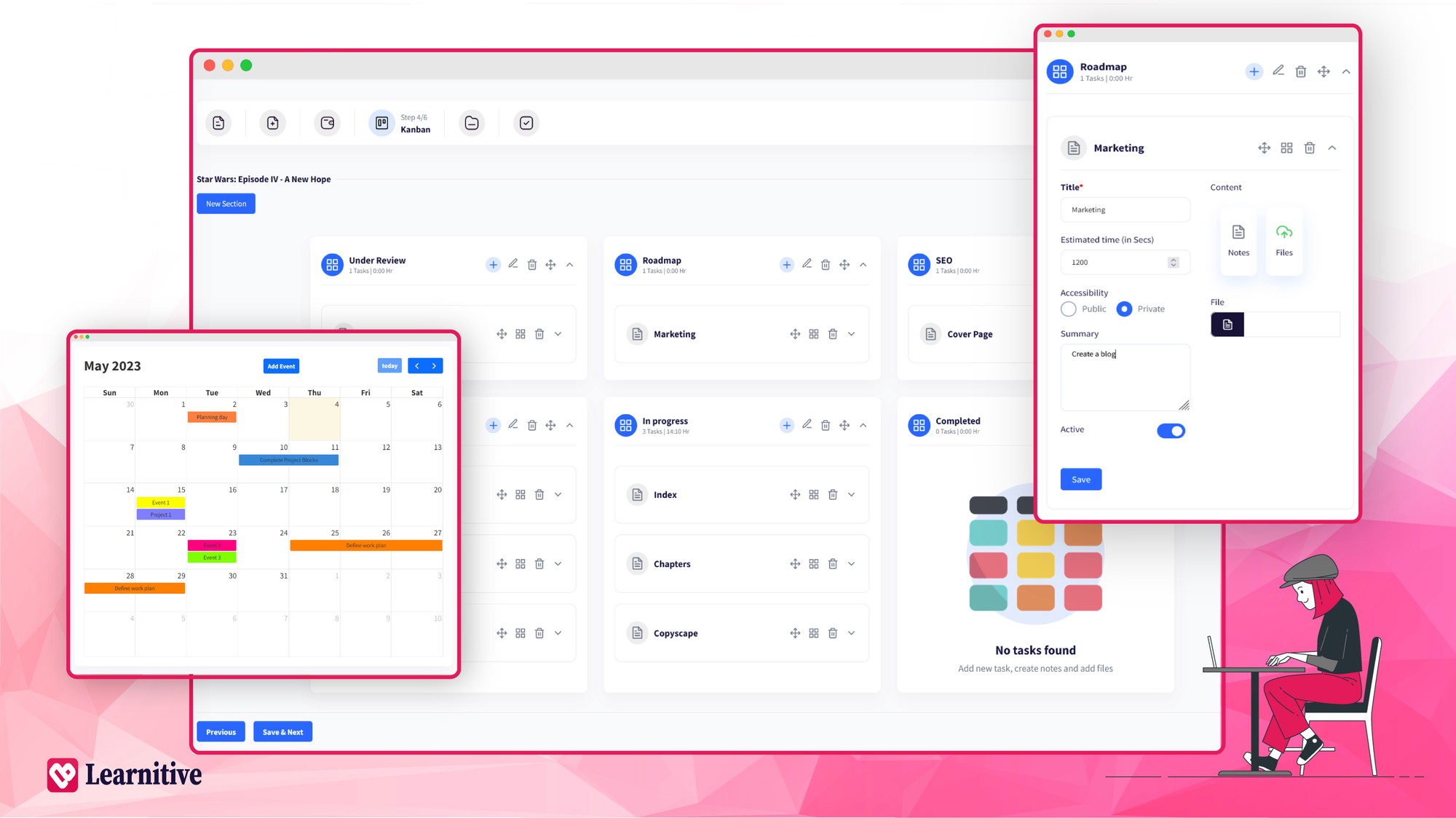 Create unlimited project spaces with Kanban boards, calendars, todos, and notes specially designed for educational uses.
At Leanitive, creators manage their tasks with the built-in Kanban boards, calendar, notes, todos, and tools that are specifically designed for the power users.
There are no complex features to confuse or overwhelm. Simply plan, organize, and create!
Learnitive is built upon a robust and scalable infrastructure provided by DigitalOcean and AWS. The AI writer is tuned to provide specific, accurate, and the most intuitive responses. It also allows creators to use multiple AI models.
Note that English is the only supported language (to feature Copyscape) and violence, hate speech, or adult content cannot be generated.
It is designed to be used for education, research, and SEO marketing purposes only. Voiceover jobs may consume up to 5-10X words per call.
There are a few more useful features not highlighted here such as unlimited Pexels embed, Dictionary and SEO analytics, and more to come – e.g. Chrome browser extensions and so on.
Create engaging content that's accurate & Copyscaped – and hence can improve engagement, growth, and success.
Get lifetime access to Learnitive today!
Plans & features
Deal terms & conditions
Lifetime access to Learnitive

You must redeem your code(s) within 60 days of purchase

All future plan updates

Stack up to 3 codes
60 day money-back guarantee. Try it out for 2 months to make sure it's right for you!
Features included in all plans
Unlimited workspaces with Kanbans, todos, calendar, and notes

Unlimited code playgrounds

Unlimited vector drawing

Unlimited Pexels images search and embed

100+ AI prompts

File storage – 1 GB

Copyscape feature

Premium AI writer with learning assistant

Private share

PDF exports

Premium WordPress plugin

Browser integrations
Specification:
Learnitive
License Tier 1

All features above included
Unlimited research and citations
1 user
AI text and voiceovers – 15,000 words/mo

License Tier 2

All features above included
Unlimited research, collaboration, and citations
5 users
AI text and voiceovers – 30,000 words/mo

License Tier 3

All features above included
Unlimited research, collaboration, and citations
20 users
AI text and voiceovers – 50,000 words/mo
White-label and custom domain blogs
API content creation
API training and documentation