Overview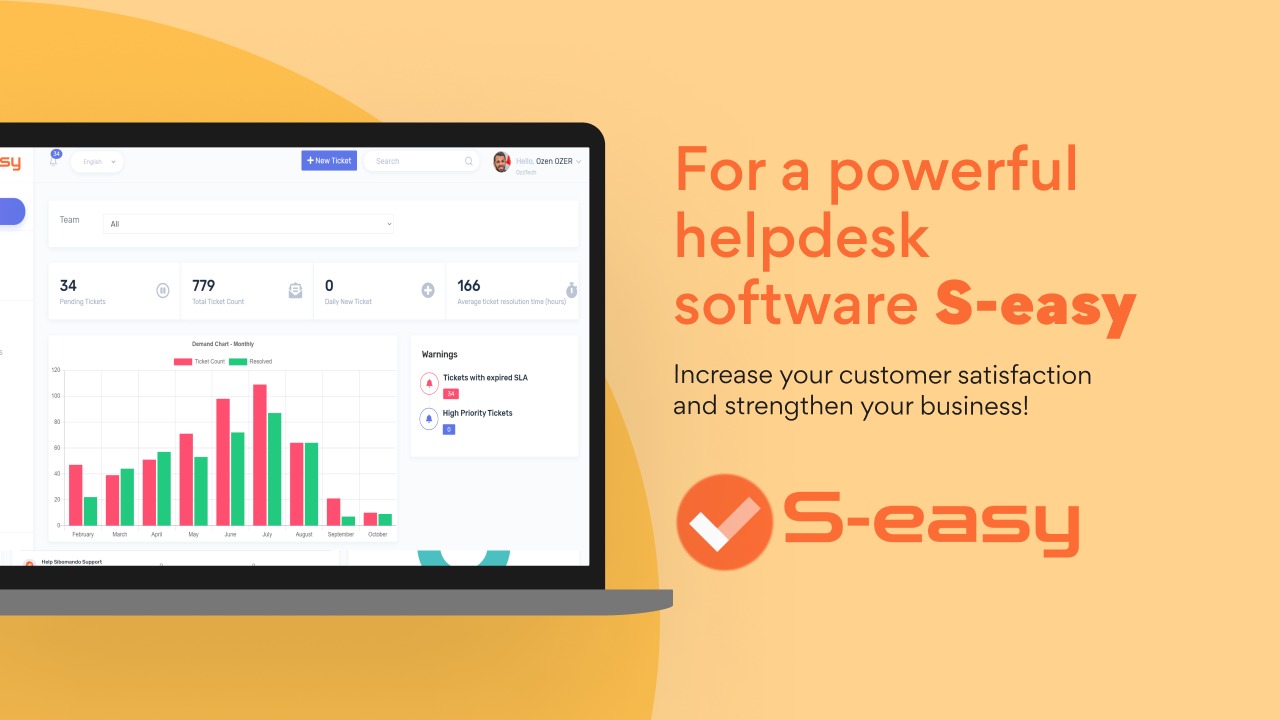 Increase customer satisfaction and strengthen your business.
Scheduled Tickets & Reports
Scheduled tasks are very helpful to remind you when you have some periodic jobs to do. They allow you to set a task to create a ticket for a feature — like for a specific day, daily, weekly, or monthly.
Team Definition
Define your teams and team members (agents and 1 team leader) to be able to divide responsibilities. You can set specific categories and products (or select all categories and all products) for the team to make the ticket visible for the team members automatically in the ticket list page.
Ticket History
Your every action is stored on the ticket, plus you can check the ticket history whenever you need.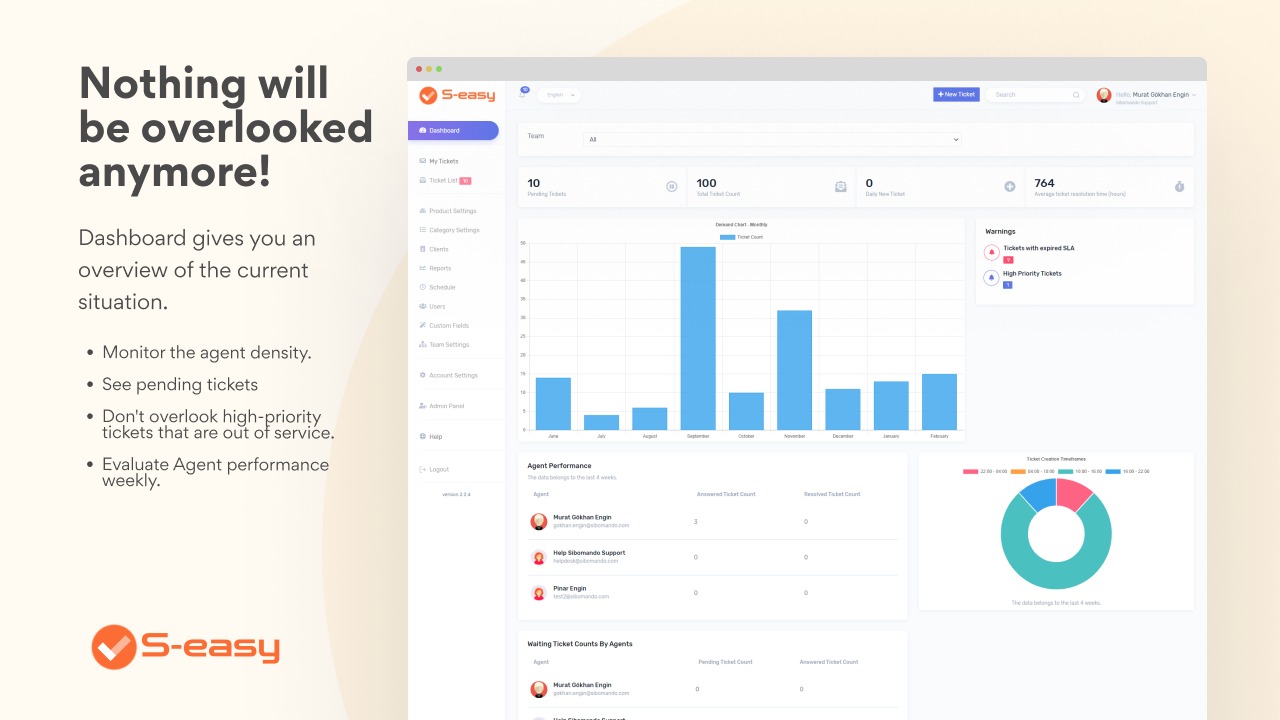 It's easy to overlook the details sometimes, but not with S-easy.
Notification Emails
Be informed for any action. You can define which action needs to trigger an email notification to your customer or your agents.
Satisfaction Survey
Measure your customer happiness when the ticket closed.
On-Premise Option
You can choose one of our on-premise packet options for some legal obligations. All you need a Windows server — we will set S-easy up into that server then for you.
You can choose one of the following databases to store your data:
Check our on-premise packets here.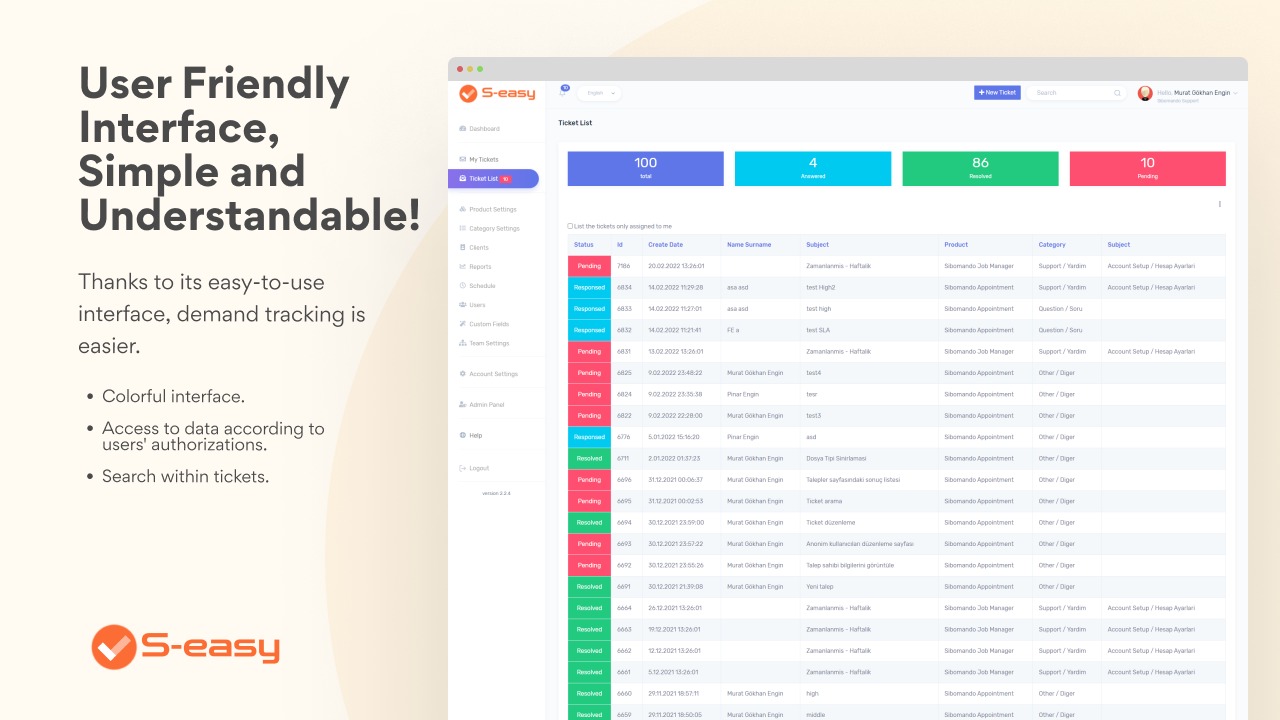 We pride ourselves on our user-friendly interface.
Assign to an Agent or Team
The tickets need to be displayed in the ticket list for responsible agents or teams.
All team members will be able to see the same ticket when you assign it to the team. You can also assign the ticket to the related person directly.
Custom Fields
Every company has specific needs when it comes to ticket definition, so you can customize your ticket form as you wish. Add dropdown lists or free text areas to be able to keep more specific data for your workflow.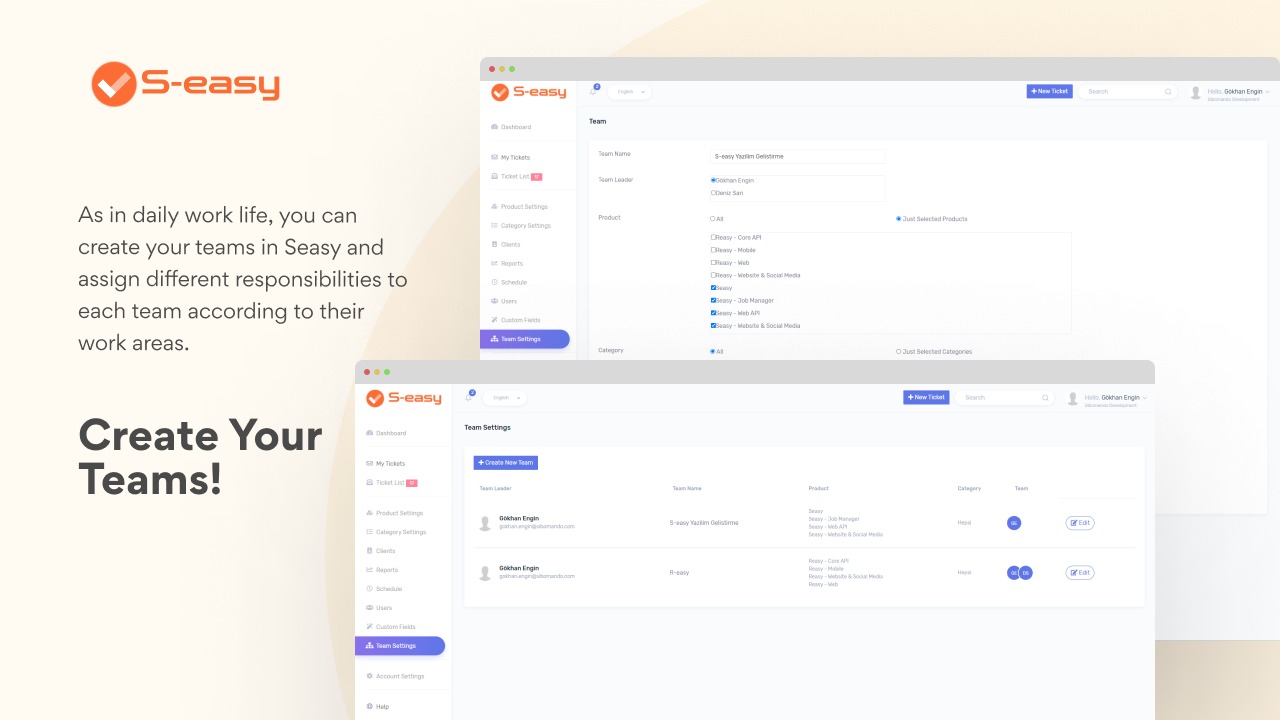 Create your teams with ease using S-easy.
Client Definition
Client definition is a very useful feature when you work B2B. You can define more than one domain name for each client.
It makes things easier when you need a ticket report because S-easy can detect the domain name from the incoming emails when it creates the ticket automatically. You can then easily filter the specific client's ticket in the report page.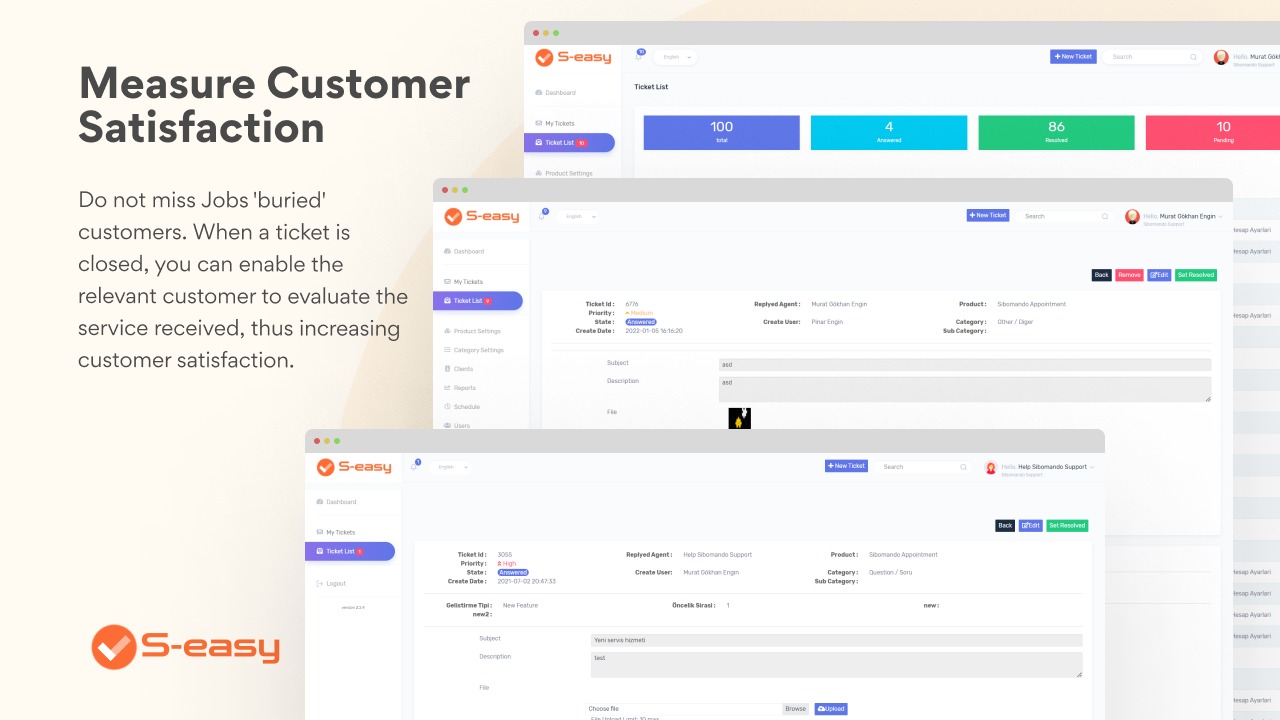 Customer satisfaction is key — let S-easy help with that!
Get access to S-easy today!
Plans & features
Deal terms & conditions
Lifetime access to S-easy

You must redeem your code(s) within 60 days of purchase

All future plan updates
60 day money-back guarantee. Try it out for 2 months to make sure it's right for you!
S-easy

3 agents
5 clients
8 basic users
100 MB file storage
100 MB database storage
Manager & team leader overviews on the dashboard
Email notifications, file upload, and team settings
Ticket categories, available product list definition, work logs, and comments
Create ticket manually from the application even for your customer
Customize ticket fields (can be edited during the trial for 60 days)
Scheduled reports (during the trial for 60 days)
Detailed report exporting into Excel and PDF
Detailed dynamic reports
Stack 1 additional code:
5 agents
Unlimited clients and basic users
Auto ticket creation from incoming emails
Scheduled tickets
Web API integrations
Satisfaction survey after ticket is resolved