SociaBot
No matter what industry you're in, being on the customer-facing side of things can start to feel like Groundhog Day.
When you're answering the same questions repeatedly, it's easy to slip and send an embarrassing email or twenty. ("I did it again. I wrote 'Thanks for reaching out, [INSERT CUSTOMER HERE]' instead of their name.")
If only you could say all the right things, while also saving time and energy on repetitive typing.
Overview
Boost your social media game with SociaBot's AI-powered efficiency.
Say goodbye to spending hours crafting the perfect tweet or response.
Our AI replies generator empowers you with a wide range of tools, allowing you to create anything from quick tweets to in-depth, engaging replies in just a few seconds.
Get ready to work smarter, not harder!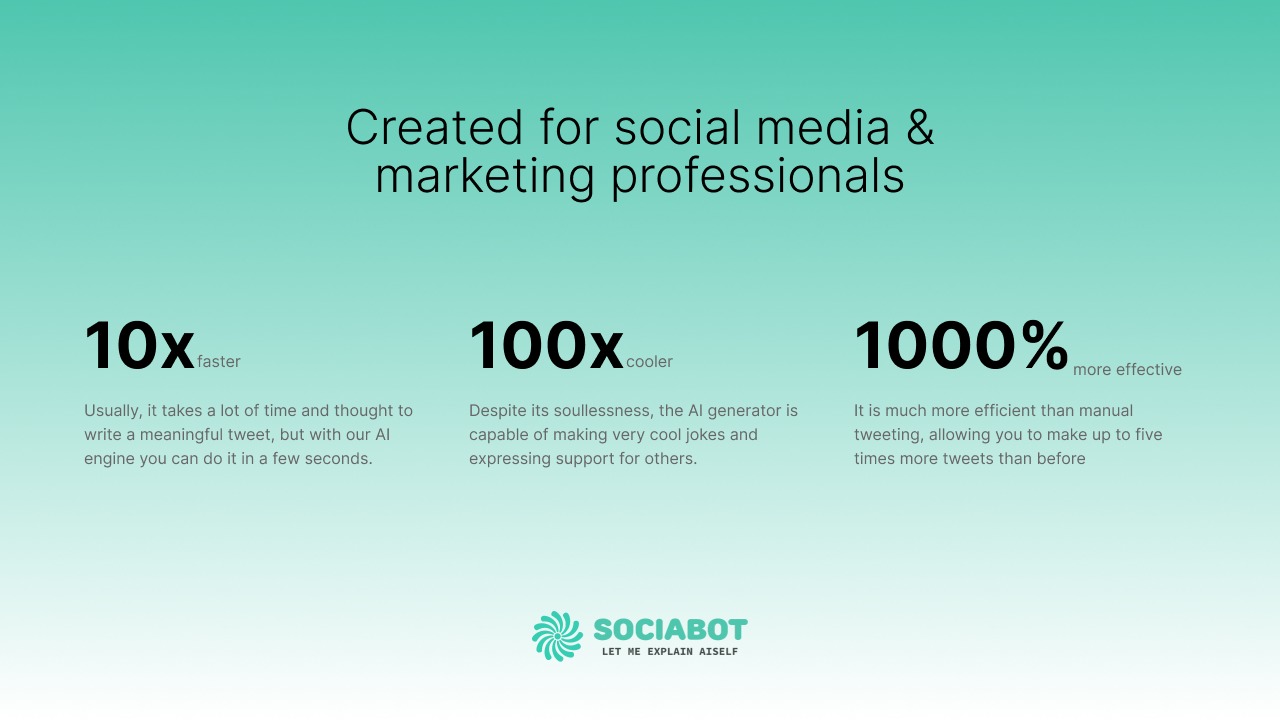 SociaBot's AI-driven magic takes your social media presence to a whole new level.
The power of SociaBot goes beyond just one platform. It works seamlessly with Twitter, Facebook, and Instagram, making it the all-in-one tool for supercharging your social media presence and achieving massive growth.
Who says AI can't be cool?
SociaBot is here to prove them wrong! Our AI generator is not just smart; it's witty and capable of making hilarious jokes and showing genuine support for others.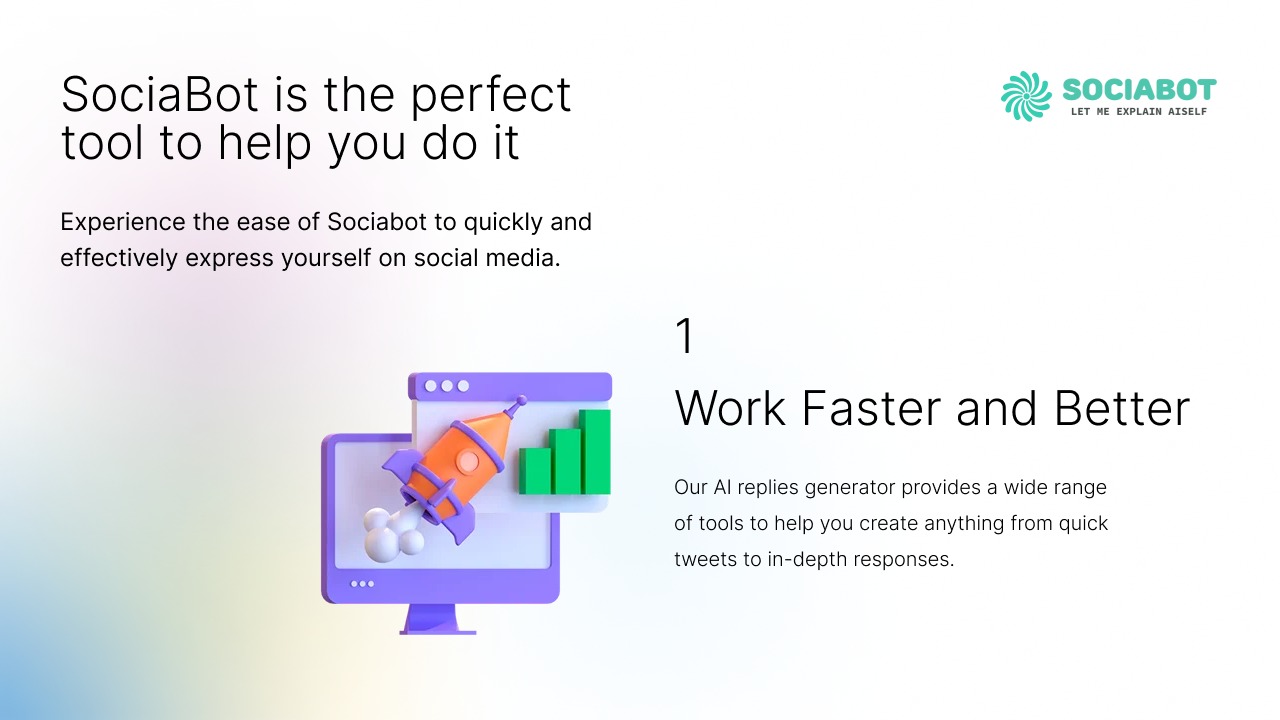 SociaBot makes social media management a breeze with its AI-powered tools.
Building a thriving online community is crucial, and SociaBot has your back. With our AI-powered tools, you can effortlessly support your community, increase visibility, and add value to your social media presence.
Social media should be enjoyable, not a chore. SociaBot encourages you to ask questions, bring in fresh ideas, and use our generator to boost interaction with your community.
With SociaBot, expressing yourself on social media becomes a breeze, and you'll find yourself having fun while doing it.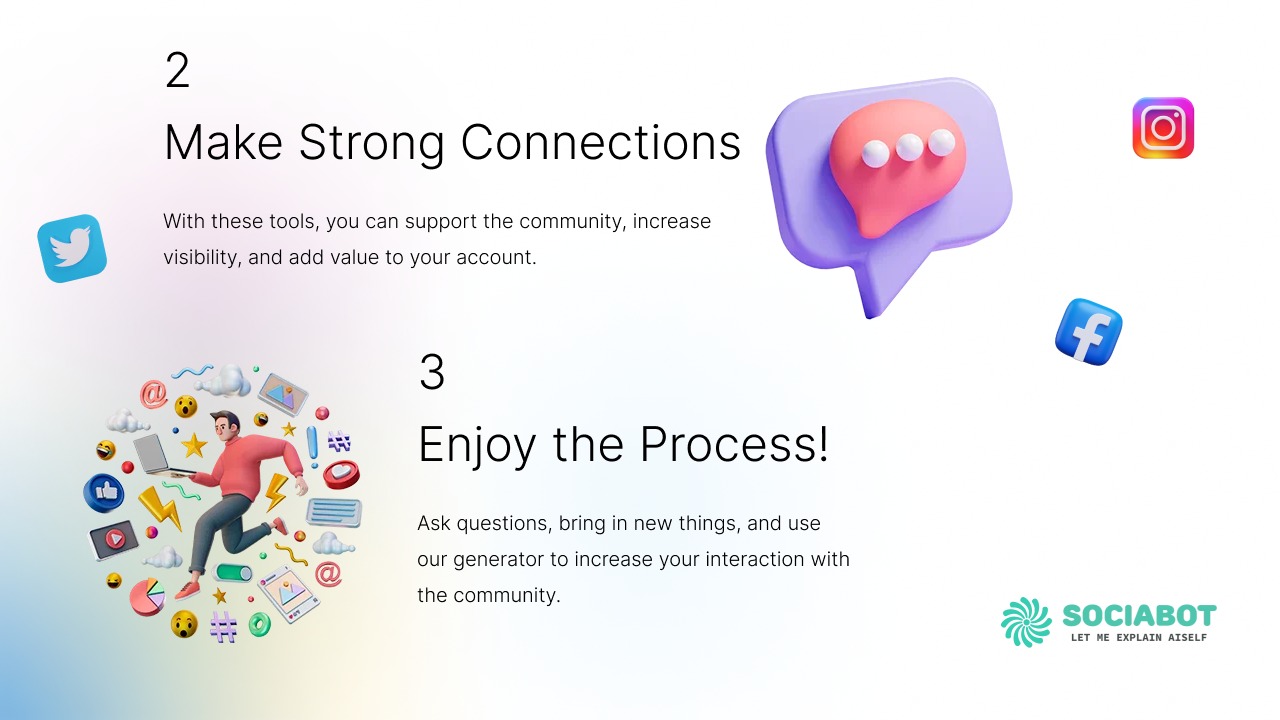 Make strong connections & enjoy the process.
Experience the ease of SociaBot and witness your social media presence skyrocket. Don't let writer's block or content woes hold you back; SociaBot will help you craft thoughtful replies and engaging content effortlessly.
Ready to conquer the social media landscape with SociaBot by your side? Say hello to a world of rapid growth, strong connections, and delightful interactions.
Get SociaBot now and unlock the full potential of your online presence!
Plans & features
Deal terms & conditions
Lifetime access to SociaBot

You must redeem your code(s) within 60 days of purchase

All future Basic Plan updates

Stack up to 2 codes
Plan 1

All features above included
150 responses per month
7 per day
AI-generated responses

Plan 2

All features above included
600 responses per month
30 per day
AI-generated responses