Added to wishlist
Removed from wishlist
0
Overview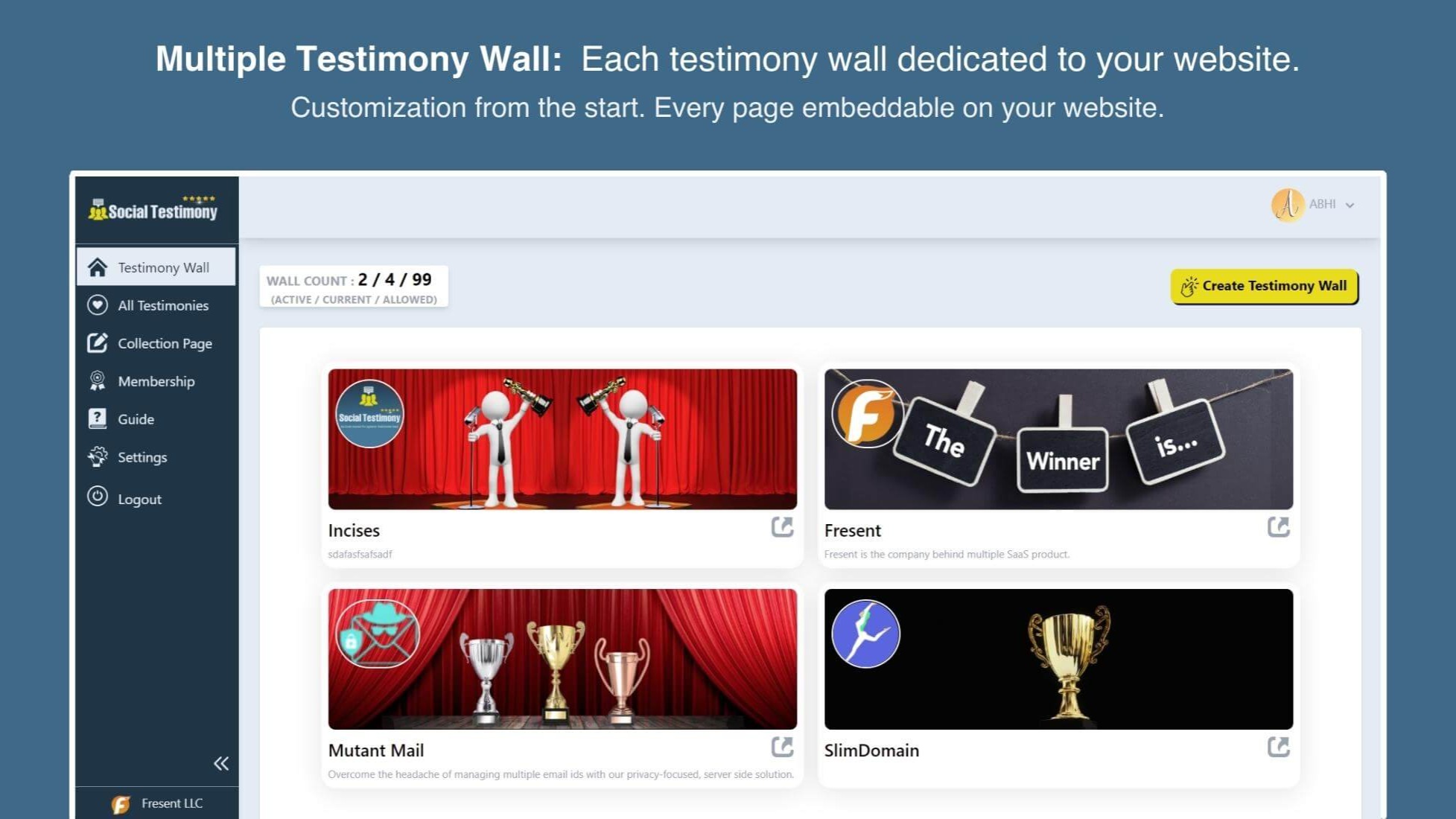 Testimony from your existing customers is the #1 proven, time-tested way of boosting your sales and Social Testimony is here to help you do that.
Problem:
Collecting, updating, & modifying testimonies on a production website in a nice, responsive format is a pain. Ever messed up a production website? When was the last time you updated Testimony on your website?
Answer:
With nocode solutions like Social Testimony, you can update, modify and display testimonies on any website (WordPress, Shopify, Wix, or any other) in under two minutes.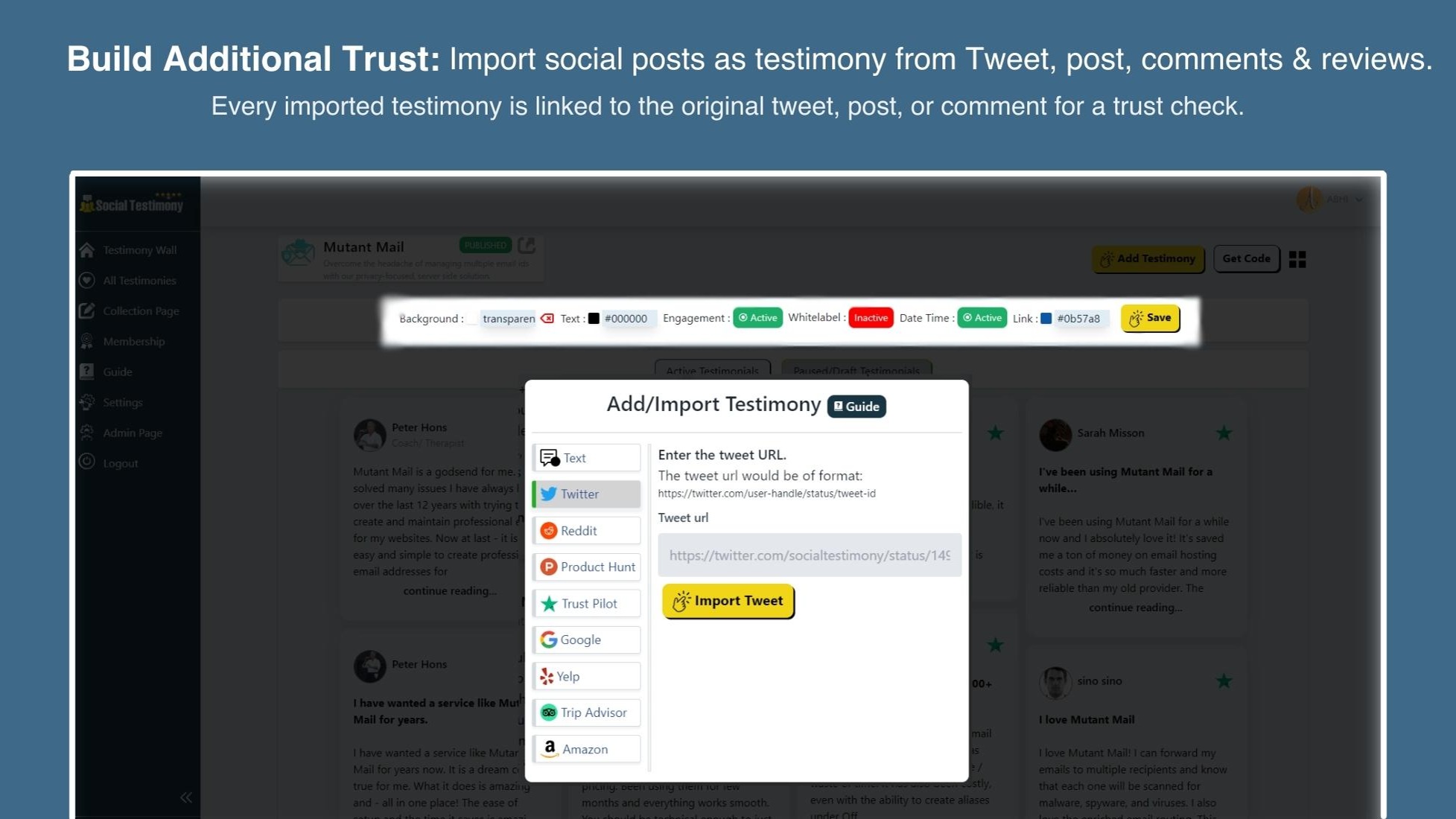 Build additional trust by importing Tweets, posts, comments, or reviews from multiple platforms (Google, Yelp, Trip Advisor, Amazon, Twitter, Reddit, Product Hunt, Playstore, Applestore or TrustPilot) as beautiful testimony, with links to the original for genuine validation.
Complete customization for the testimony and collection page, to ensure they blend seamlessly into your website.
Auto redirection configuration after testimony submission, in case you want to redirect a customer to a link, ensuring no opportunity is lost.
Auto adjustable layout for testimony display, which loads the initial number of testimony on your website depending on the device it's opened on. Check out our how to video.
Unique Feature : Keep your account safe. We do not use or link your GMB or any other account to fetch reviews.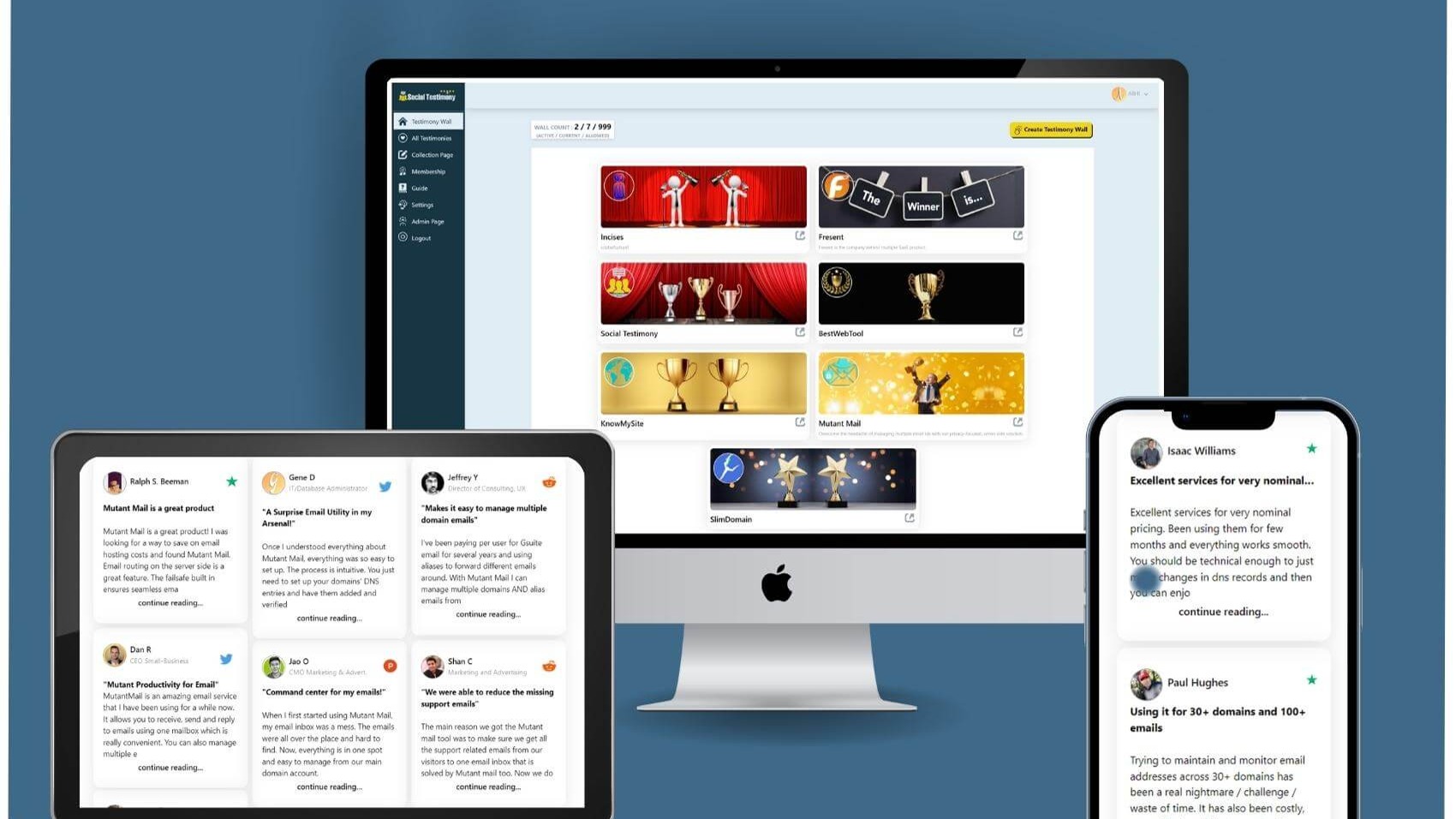 Smart Initial loading of Testimonies.
We automatically adjust the number of initial Testimony to be loaded based on the device user is on.
Yup that means, less number of initial Testimonies for mobile phone users and more for Laptop users.
And did we tell you, our javascript file transfer is less than 100kb?
That means almost zero impact on your website's speed, vs almost 980kb file size of some of our competitor.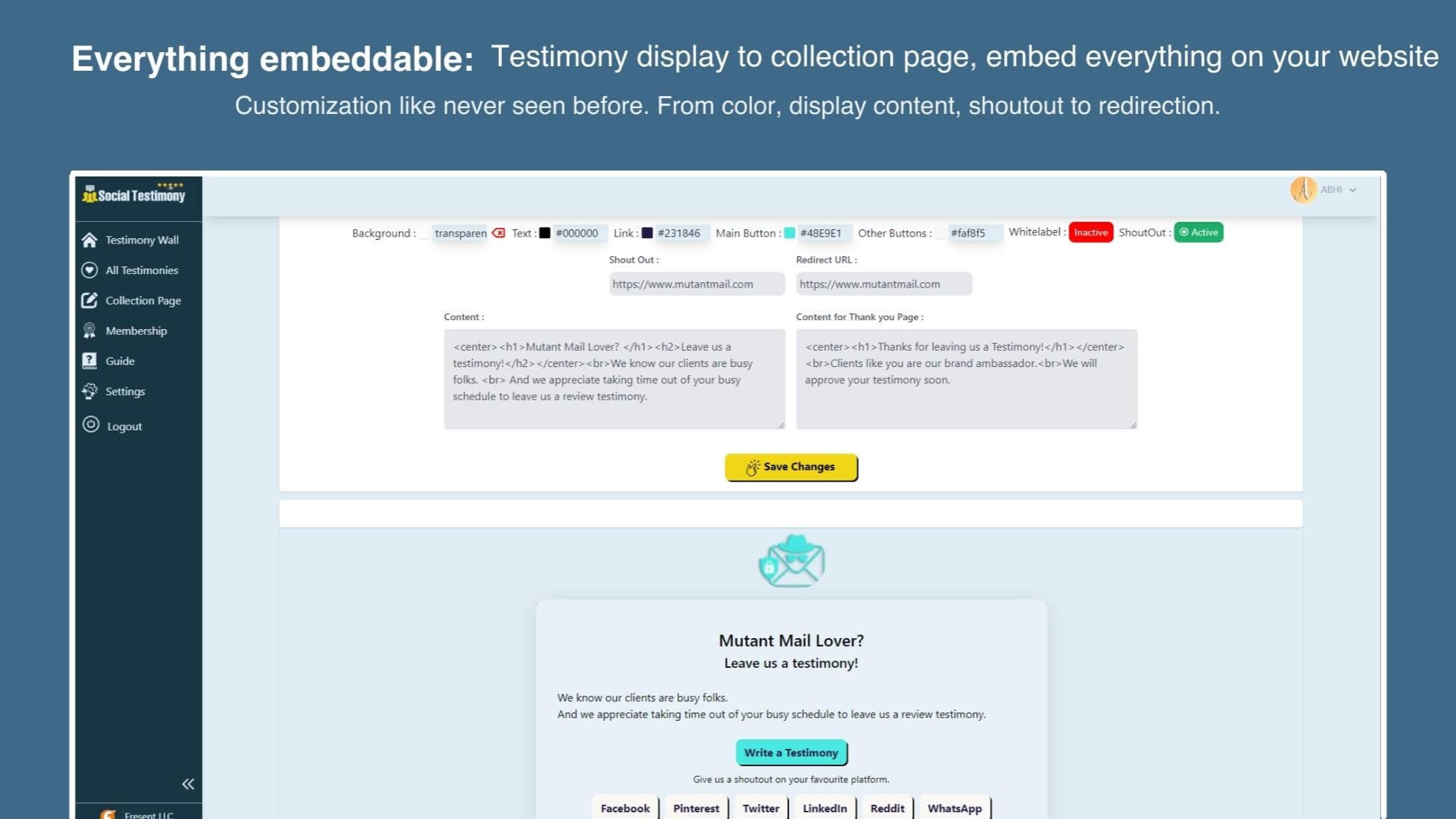 Want to display a thank you message after the Testimony collection?
Sure.
Want to redirect the user to a URL of your choice after submission?
Absolutely.
Want to customize the text on the Collection page?
Why not.
Oh and you can enable the shout-out banner for excited customers of yours.
That means, they can give you a shoutout on social media with a single click.
Oh, and it comes with a Free tier as well. No credit card or commitment is needed.
Get the lifetime deal today!
Plans & features
Deal terms & conditions
Lifetime access to Social Testimony Silver Plan

You must redeem your code(s) within 60 days of purchase

All future Social Testimony Silver Plan updates

This deal is stackable
Specification:
Social Testimony
Single

4 Testimony Wall / Space
20 Testimony per Wall
150 Draft Testimony per Wall
4 Testimony Collection Page
Amazing customization options
Selective Social Import
Stack 2 Codes: 7 Testimony Wall / Space
125 Testimony per Wall
250 Draft Testimony per Wall
7 Testimony Collection Page
Amazing customization options
Social Import
Stack 3 Codes: 10 Testimony Wall / Space
150 Testimony per Wall
300 Draft Testimony per Wall
10 Testimony Collection Page
Amazing customization options
Social Import
Stack 4 Codes: 14 Testimony Wall / Space
200 Testimony per Wall
400 Draft Testimony per Wall
14 Testimony Wall / Space
Amazing customization options
Social Import
Stack 5 Codes: 20 Testimony Wall / Space
250 Testimony per Wall
500 Draft Testimony per Wall
20 Testimony Wall / Space
Amazing customization options
Social Import