Overview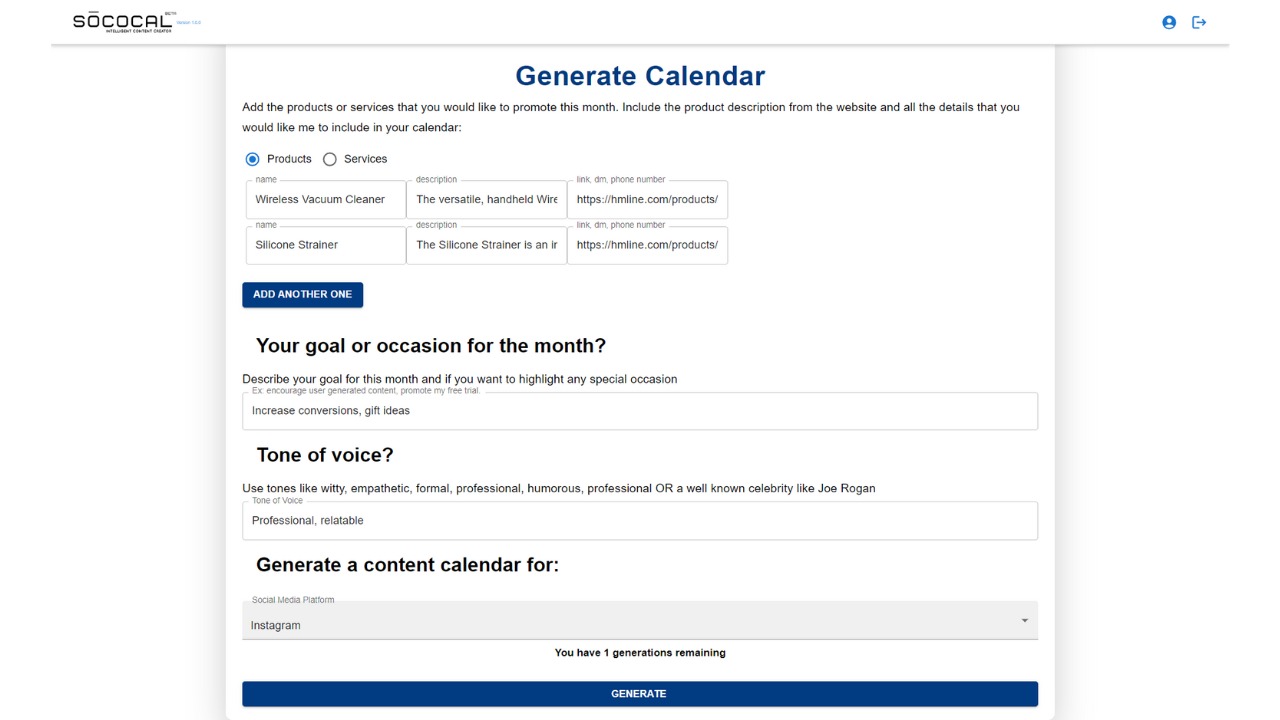 Set your monthly goal, choose products/services, define tone, pick a platform… Sococal creates your perfect calendar!
Take a look at Sococal.ai's intuitive generator interface, where users simply provide four crucial inputs: products or services to promote, specific goals for the month, desired tone of voice for captions, and the platform for content generation (Instagram, Facebook, Twitter, or LinkedIn).
With this information, Sococal.ai smartly crafts a tailored 30-day social media content calendar that helps you achieve your objectives while maximizing efficiency.
Beyond content creation, Sococal.ai also sparks your creativity with visual ideas and direction.
Whether you're starting from scratch or revamping existing social posts, Sococal.ai's suggestions will help you craft eye-catching and distinctive content.
Preview the power of Sococal.ai: a custom 30-day calendar with targeted visuals & captions to engage your audience.
Experience the convenience of a complete 30-day social media content calendar — generated using advanced AI algorithms to fine-tune your posts for maximum engagement and follower growth.
Save time and effort and post confidently every day with compelling visual ideas and, ready to post, captions, and hashtags.
Take the hassle out of remembering and planning for holidays!
Sococal.ai automatically includes holiday-themed content within the calendar period, ensuring your posts stay timely and relevant to your audience.
Experience the magic of Sococal.ai with the preview in the image above that displays a few days from a 30-day social media content calendar.
Our tool crafts a complete month of captivating visual ideas and compelling captions that are all designed to resonate with your ideal customer.
By considering your brand's unique characteristics and audience preferences, Sococal.ai unlocks the full potential of your social media presence while saving you countless hours of planning.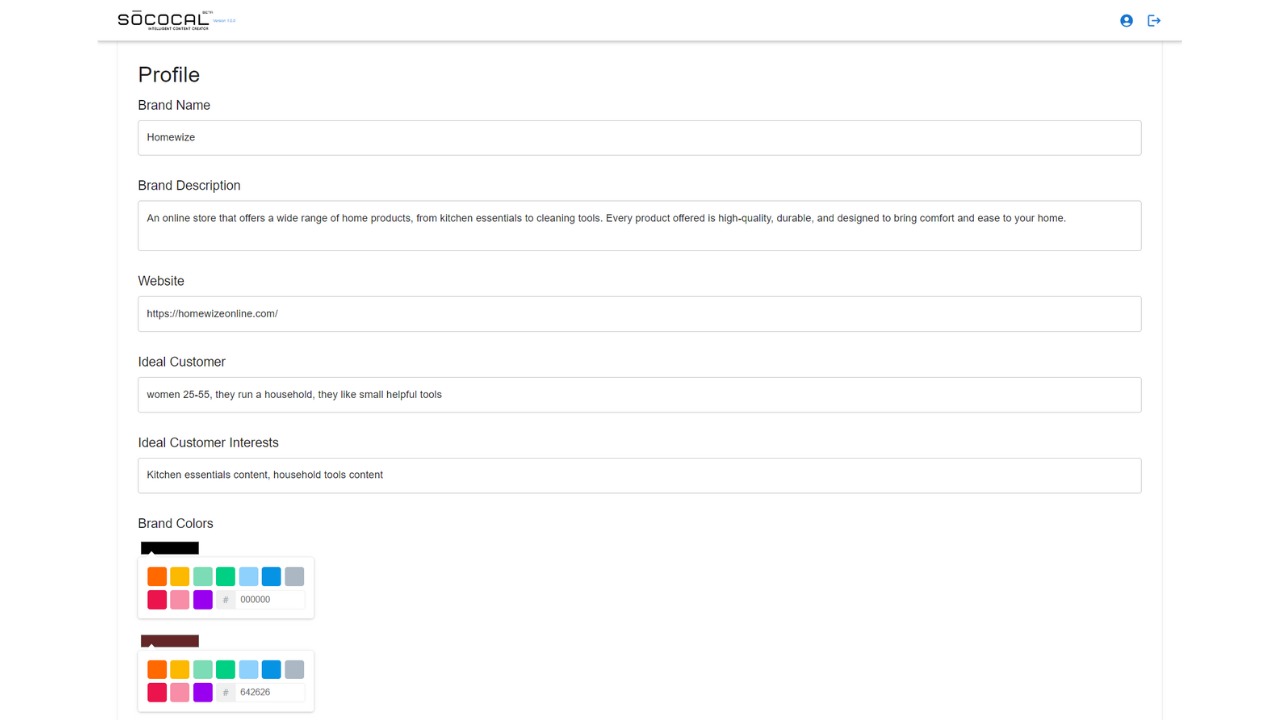 Stay on brand by customizing your experience with a tailored profile — brand info, customer preferences, and colors.
The user profile screenshot showcases how Sococal.ai personalizes your experience by collecting essential information during the signup process.
Your brand name, brand description, website, ideal customer, their interests, and your branding colors are all taken into account to create a content calendar that perfectly aligns with your brand identity and audience preferences.
With Sococal.ai, you get a truly tailored approach to social media content creation, ensuring your posts resonate with your target audience.
Embrace the future of stress-free, high-impact social media.
Get access to Sococal.ai today!
Plans & features
Deal terms & conditions
Lifetime access to Sococal.ai

You must redeem your code(s) within 60 days of purchase

All future Lite Plan updates

Stack up to 2 codes
Specification:
Sococal.ai
License Tier 1

All features above included
Complete 30-day AI social media calendar
Visual ideas & direction
Captions
Hashtags
Generates for Instagram, LinkedIn, Facebook, or Twitter
Account profile
Generation history
4 credits every month

License Tier 2

All features above included
Complete 30-day AI social media calendar
Visual ideas & direction
Captions
Hashtags
Generates for Instagram, LinkedIn, Facebook, or Twitter
Account profile
Generation history
8 credits every month
Regenerate individual posts