accurants
No matter what industry you're in, being on the customer-facing side of things can start to feel like Groundhog Day.
When you're answering the same questions repeatedly, it's easy to slip and send an embarrassing email or twenty. ("I did it again. I wrote 'Thanks for reaching out, [INSERT CUSTOMER HERE]' instead of their name.")
If only you could say all the right things, while also saving time and energy on repetitive typing.
Overview
Accurants is the business management suite built for SMBs that helps you manage everything from time tracking to payroll and more.
With accurants, you get access to over 15 modules to run your entire SMB, including time tracking, project management, expense tracking, and payroll.
You can synchronize your data across modules, so you can say goodbye to manually re-entering the same data over and over again.
Plus, you can ditch that Mailchimp subscription—this tool lets you keep in touch with customers using the CRM and email marketing modules.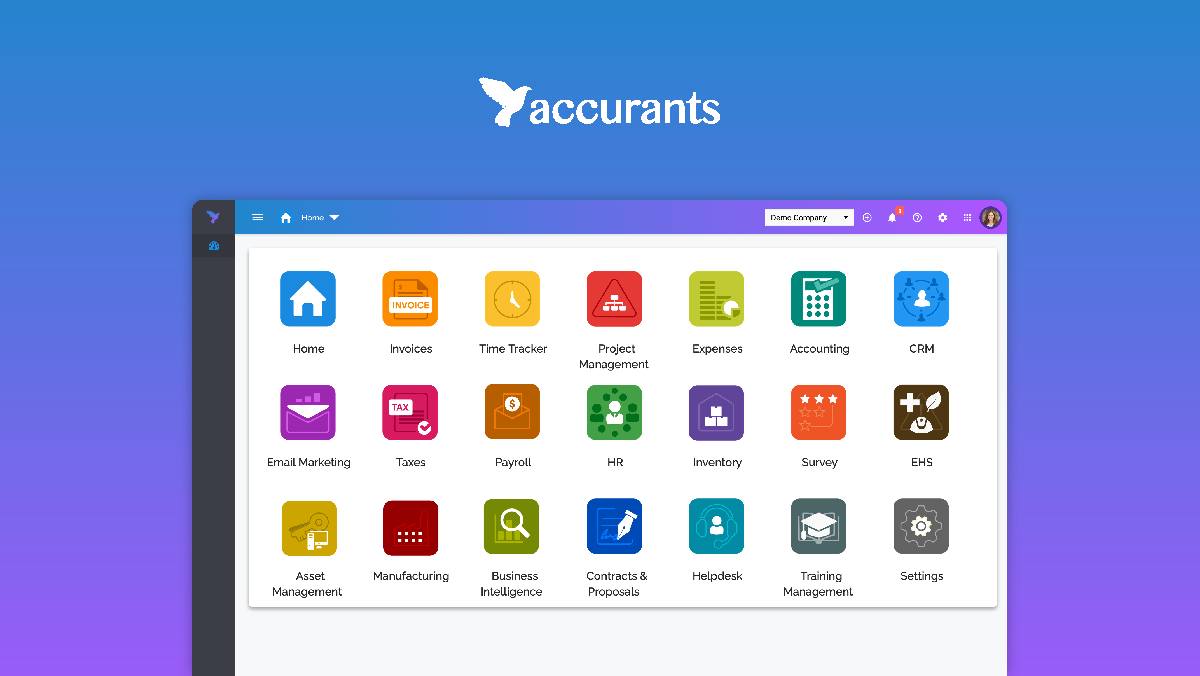 Access more than 15 modules to manage your business, including time tracking and payroll.
With accurants, you can create and track invoices from a single dashboard, so you always know what's been paid and what's still due.
You'll be able to generate recurring weekly, monthly, or annual invoices for customers—perfect for subscription offerings!
This platform can even send invoices via email so you don't have to manually reach out every time a payment is due.
And you can integrate with Stripe and PayPal to let your customers pay with the link sent straight to their inbox.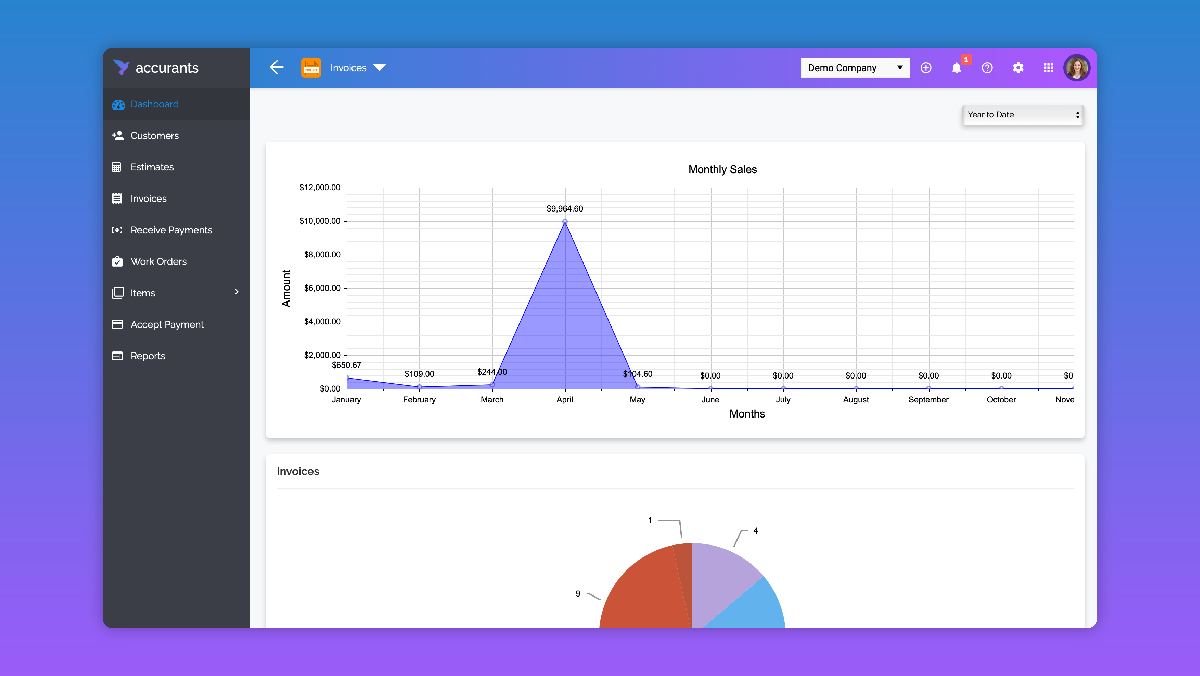 Track all your paid and unpaid invoices from the same dashboard.
Plus, accurants lets you track sales from brick-and-mortar stores using the POS app, available on iOS and Android devices.
The POS module integrates with the Inventory module, making it easy to keep track of physical products in one fell swoop.
Even better, you'll be able to collect card payments with Stripe and give your customers the flexibility to pay with credit or debit cards.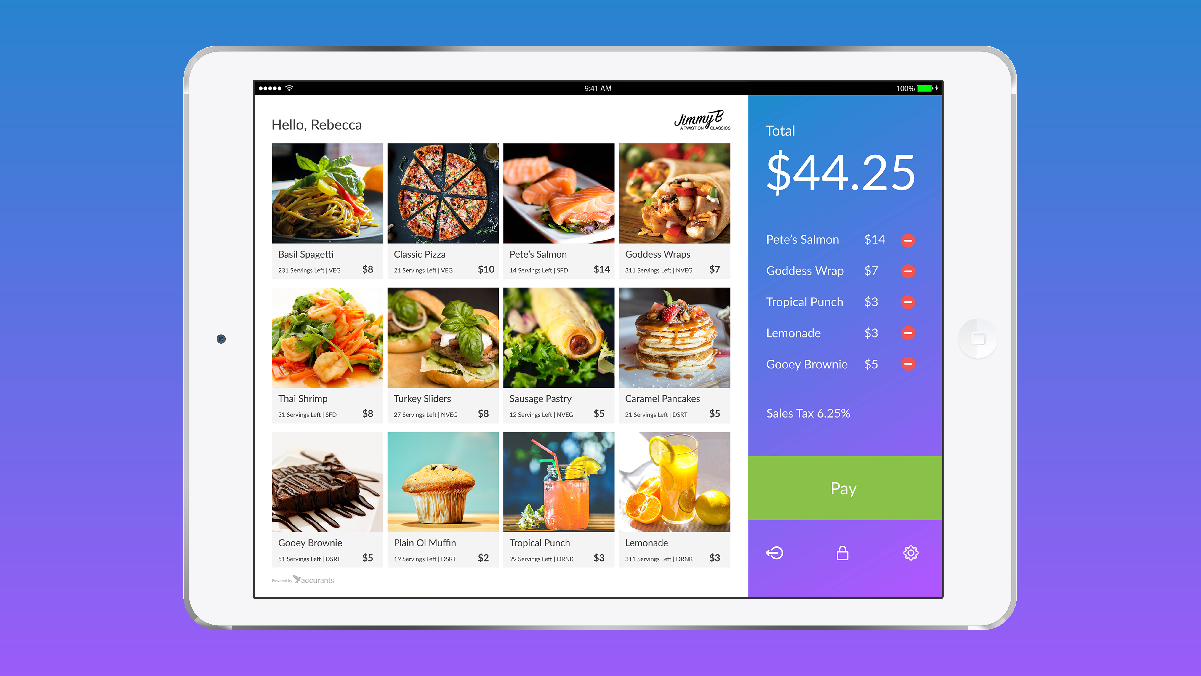 Collect cash or card payments for your brick-and-mortar using the POS module.
Thanks to the accurants Helpdesk module, you can receive customer support tickets without relying on another monthly subscription.
You'll be able to set up email notifications for support tickets that help your team stay on top of customer issues and reduce churn.
These support tickets can also be exported as Excel, Word, or PDF files for internal review within your support and dev teams.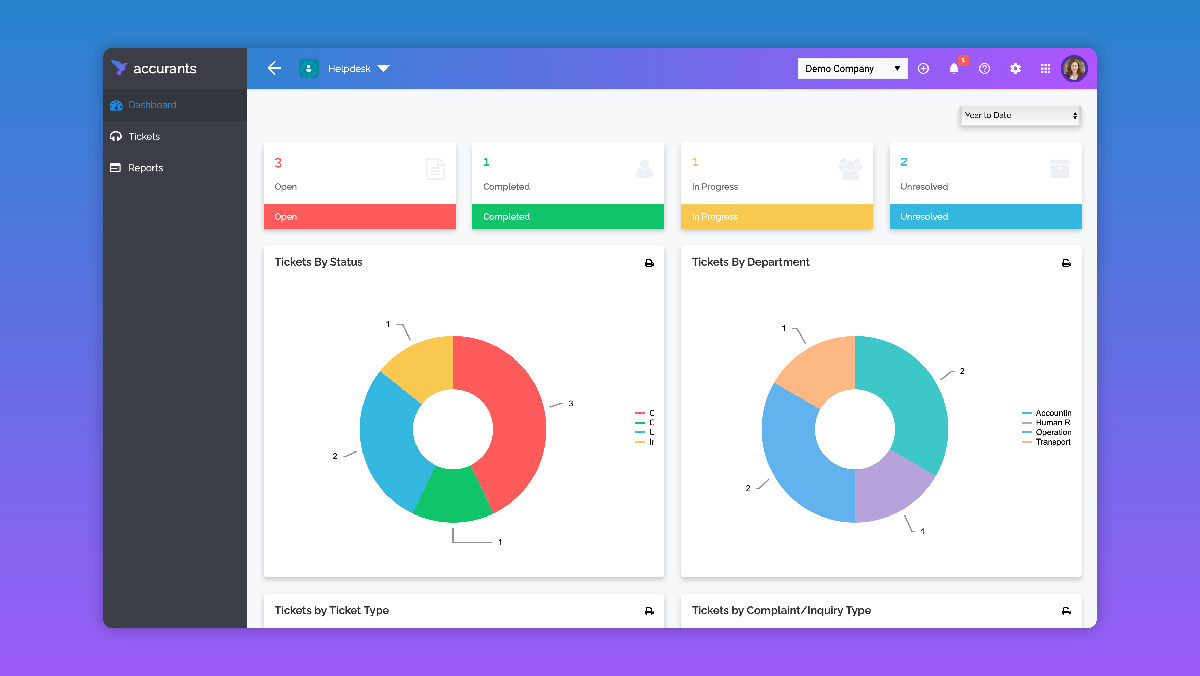 Keep track of customer support tickets from your dashboard and with email notifications.
Shutting down all the apps and tabs you're using to run your business is such a liberating feeling. ("Wow, and my laptop stopped overheating too!")
That's why accurants is packed with all the tools you'll ever need for invoicing, inventory management, customer support, and so much more.
Run your SMB like a boss.
Get lifetime access to accurants today!
Plans & features
Deal terms & conditions
Lifetime access to accurants

All future Small Business (Tier 1) or Enterprise (Tier 2-4) Plan updates

If Plan name changes, deal will be mapped to the new Plan name with all accompanying updates

No codes, no stacking—just choose the plan that's right for you

You must activate your license within 60 days of purchase

Ability to upgrade or downgrade between 4 license tiers

A valid phone number is required in order to activate your accurants license
60 day money-back guarantee. Try it out for 2 months to make sure it's right for you!
Features included in all plans
Invoice

Time tracker

Project management

Expenses

Accounting

CRM

Business intelligence
License Tier 1

All features above included
1 company license(s)
1 user(s)

License Tier 2

All features above included
Enterprise Features
2 company license(s)
5 user(s)
Email marketing
Taxes
Bring payroll data
HR
Ecommerce
Inventory
Helpdesk
Manufacturing
EHS
Survey

License Tier 3

All features above included
Enterprise Features
3 company license(s)
15 user(s)
Email marketing
Taxes
Bring payroll data
HR
Ecommerce
Inventory
Helpdesk
Manufacturing
EHS
Survey

License Tier 4

All features above included
Enterprise Features
4 company license(s)
40 user(s)
Email marketing
Taxes
Bring payroll data
HR
Ecommerce
Inventory
Helpdesk
Manufacturing
EHS
Survey