Adease
No matter what industry you're in, being on the customer-facing side of things can start to feel like Groundhog Day.
When you're answering the same questions repeatedly, it's easy to slip and send an embarrassing email or twenty. ("I did it again. I wrote 'Thanks for reaching out, [INSERT CUSTOMER HERE]' instead of their name.")
If only you could say all the right things, while also saving time and energy on repetitive typing.
Overview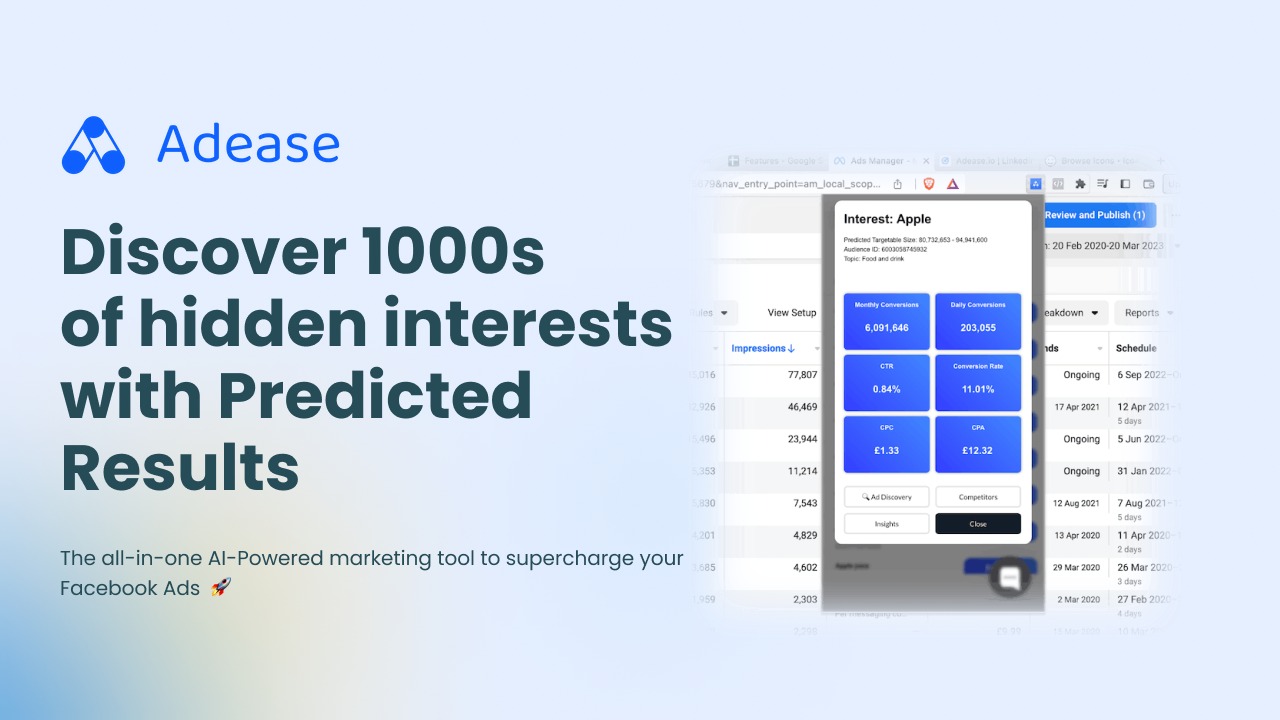 Supercharge your Facebook ads like never before with Adease.
With Adease, you'll never have to launch a campaign blindly again.
Our cutting-edge technology predicts your results before you even hit the "launch" button, giving you the confidence to create and execute winning ad campaigns every time.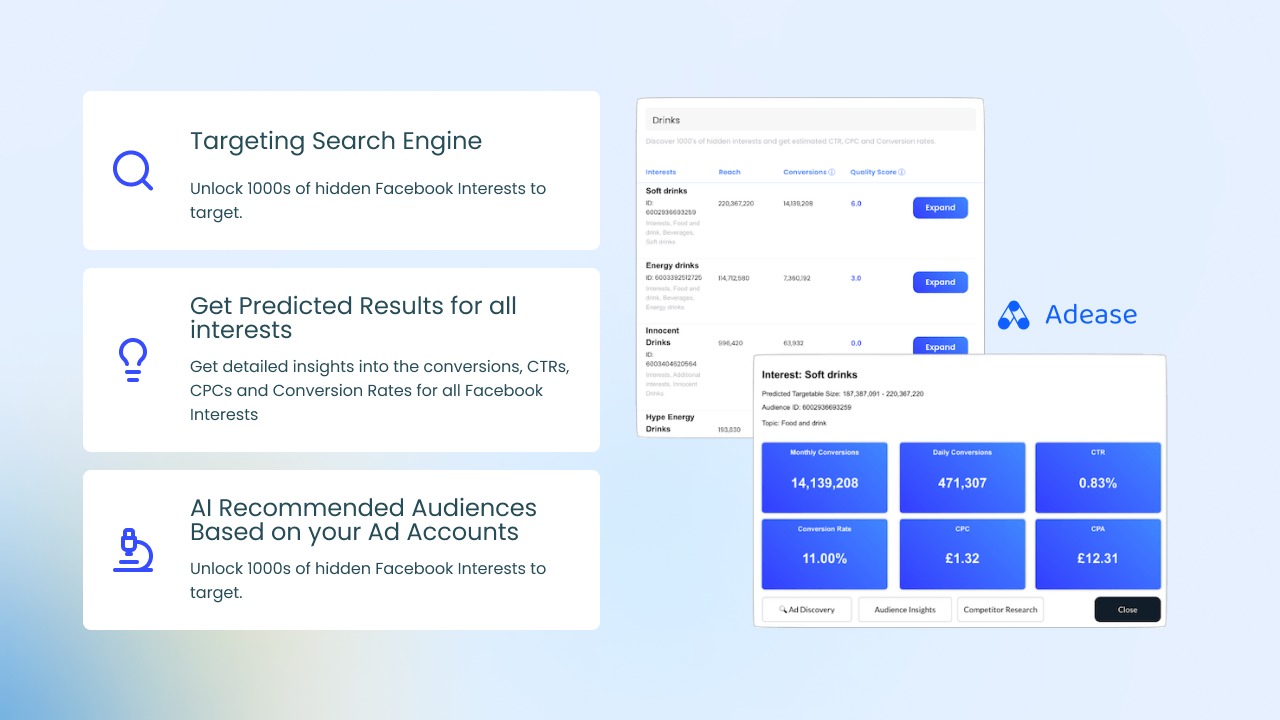 Adease will help you unlock and access all sorts of new Facebook interests to target moving forward.
Targeting search engine
Unlock 1000s of hidden Facebook interests to target.
Get predicted results for all interests
Get detailed insights into the conversions, CTRs, CPCs, and conversion rates for all Facebook interests.
AI-recommended audiences based on your ad accounts
Let AI do the heavy lifting with personalized audience recommendations for the best results.
AI can also now power your marketing strategies and take them to new heights.
Let AI power your marketing strategies, ad copy, and video ideas across all your Facebook ad accounts.
Get predicted metrics for all audiences before you start a campaign
Find audiences that convert with the Adease targeting search engine and get predicted CPCs, CTRs, CPM, conversion rates, and daily conversions. 🔮
Plans & features
Deal terms & conditions
Lifetime access to Adease

You must redeem your code(s) within 60 days of purchase

All future Premium Plan updates

Stack up to 5 codes
60 day money-back guarantee. Try it out for 2 months to make sure it's right for you!
Plan 1

All features above included
Combined reporting
All automations
Unlimited searchable interests
Unlimited suggested interests
Unlimited access to MarketingGPT
10 ad accounts
250 monthly AI credits

Plan 2

All features above included
Combined reporting
All automations
Unlimited searchable interests
Unlimited suggested interests
Unlimited access to MarketingGPT
Unlimited ad accounts
500 monthly AI credits

Plan 3

All features above included
Combined reporting
All automations
Unlimited searchable interests
Unlimited suggested interests
Unlimited access to MarketingGPT
Unlimited ad accounts
750 monthly AI credits

Plan 4

All features above included
Combined reporting
All automations
Unlimited searchable interests
Unlimited suggested interests
Unlimited access to MarketingGPT
Unlimited ad accounts
1,000 monthly AI credits

Plan 5

All features above included
Combined reporting
All automations
Unlimited searchable interests
Unlimited suggested interests
Unlimited access to MarketingGPT
Unlimited ad accounts
1,250 monthly AI credits