Overview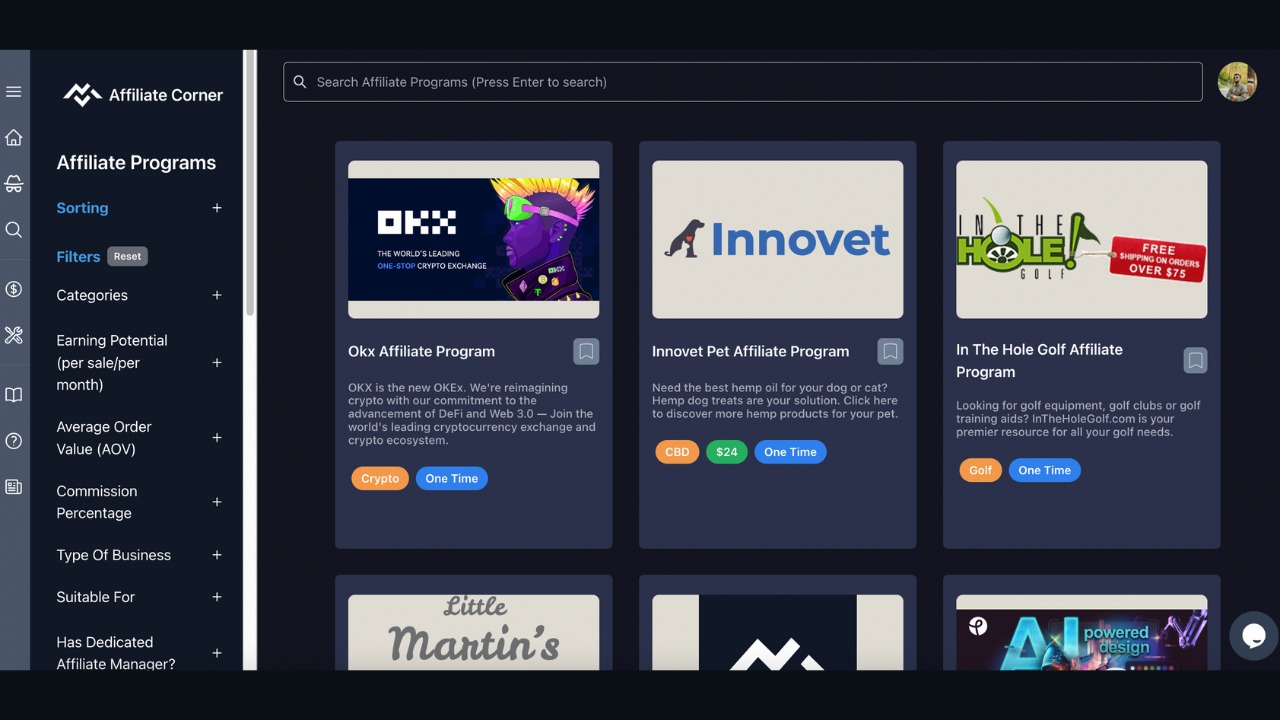 Find the best affiliate programs & get affiliate niche insights quickly while saving time & money on affiliate research.
Affiliate Corner will help you find the best affiliate programs across hundreds of affiliate niches and thousands of affiliate programs.
As of Feb 2023, we have 3000+ affiliate programs and 119+ affiliate niches (including all insights).
Note: We add new data almost every 3-4 days.
You can easily filter across 20+ data points with important filters such as:
Approximate earning potential per sale/per month
Average order value (AOV)
Commission percentage
Suitable for (filter as per your profession)
Commission per lead (CPL)
Commission per action (CPA)
Cookie life
& more such data points.
Along with that, you also get some differentiating factors, such as why a particular affiliate program stands out. (Example: If it provides a lifetime cookie or tiered commission, or if it provides a dedicated affiliate manager or not.)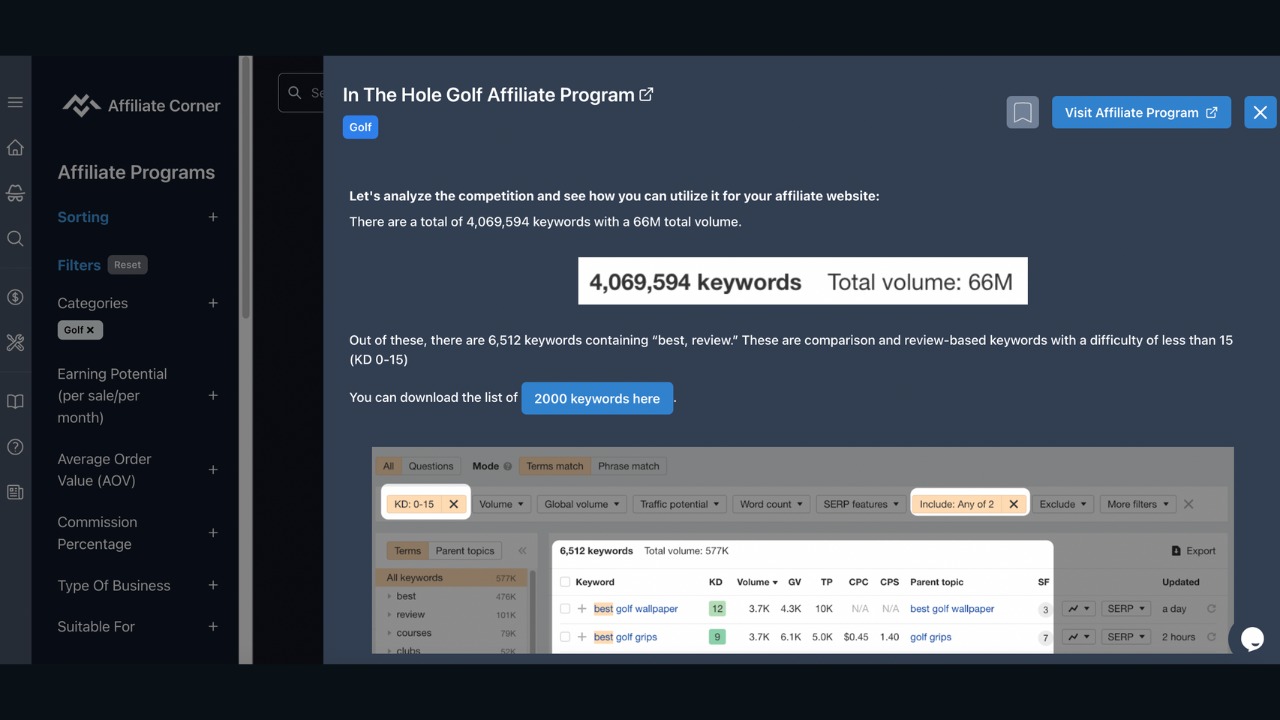 Download SEO & audience Insights of every affiliate niche & make data-driven decisions.
Not only that, we also provide a ton of data-driven insights of every affiliate niche.
Some of the insights we provide are:
Google trend and commission insights (with this you can judge the overall trend and commissions within the niche)
Industry trends (what's new within the industry)
SEO & audience Insights (we share a list of low-competition keywords of the specific niches, along with some audience insights to help you save time and money)
These insights are manually hand-picked, reviewed, and ready to work on.
Rest assured, we update these insights every 4-5 months so that it's always up to date and recent.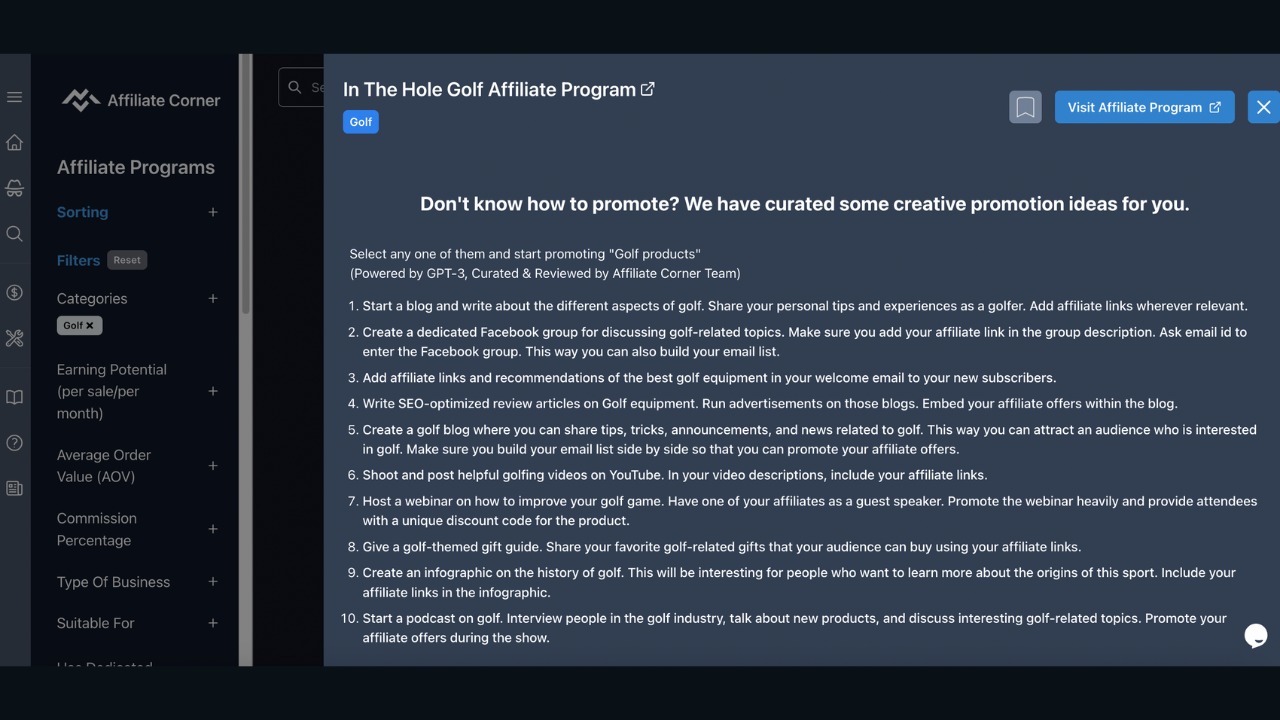 Never run out of promotion ideas — unlock creative promotion ideas for every affiliate niche and get more sales.
We know that affiliate marketing is hard. It needs a diversified approach. Some people like SEO, some social media marketing.
Promoting a product and making a commission/income can be done in many ways.
With Affiliate Corner, you can get 10-15+ creative, unique promotion ideas for every affiliate niche.
This way, you can be sure that you will never run out of ideas to promote.
Note: These ideas are not product specific but niche specific.
Let your creative juices flow and start making more sales with these promotion ideas.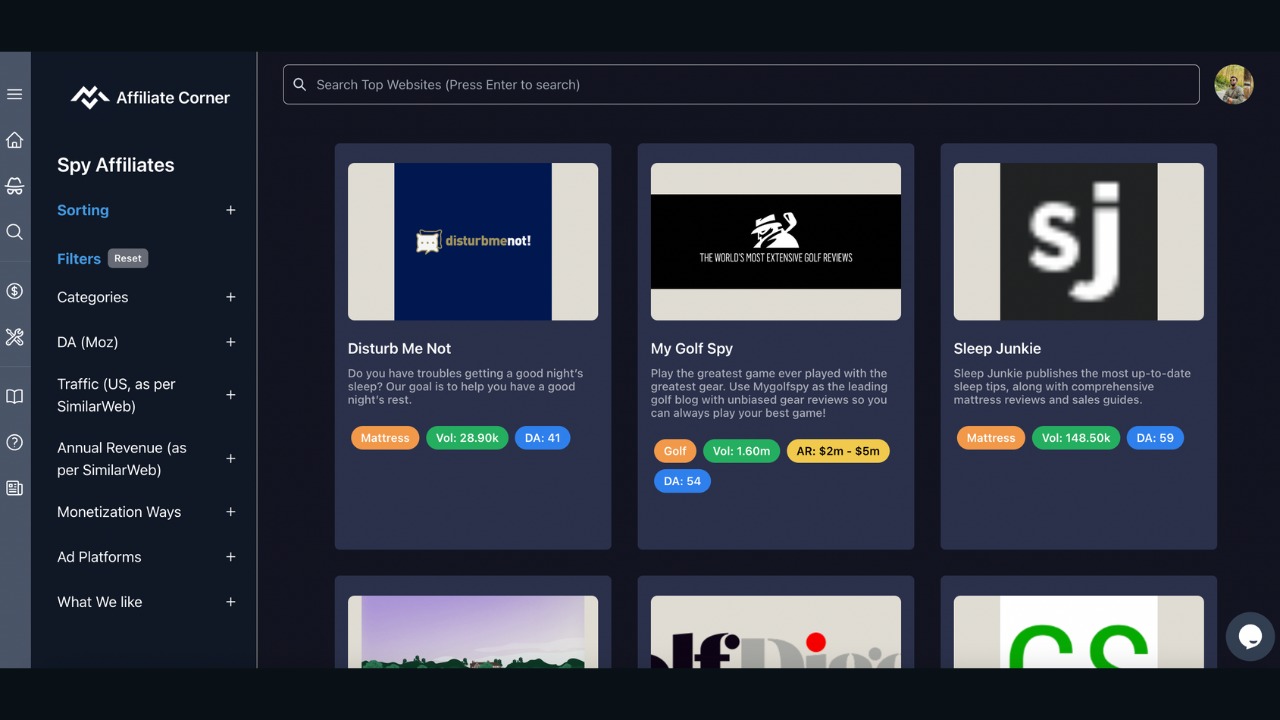 Get smart affiliate strategies from top performing affiliates within the niche with our "Spy Affiliates" feature.
What if you can get inspiration from the top affiliate sites within every niche?
If it's really working for them, you can replicate some of their smart affiliate strategies and make more money.
That's where Affiliate Corner can help you.
With our "Spy Affiliates" feature, we will showcase some of the top affiliate sites within the niche and share some interesting insights/strategies they use to make more money.
Whether it's a tool they use or any smart CRO technique they utilize, we make sure that we share that with you.
This will help you become a smart affiliate marketer.
Our goal with this product is to help you make smart decisions with our affiliate marketing research.
Don't miss this feature; it's on the left-hand side on the dashboard visible after you hover.
Note: We constantly try to add new sites every week to make this even more valuable.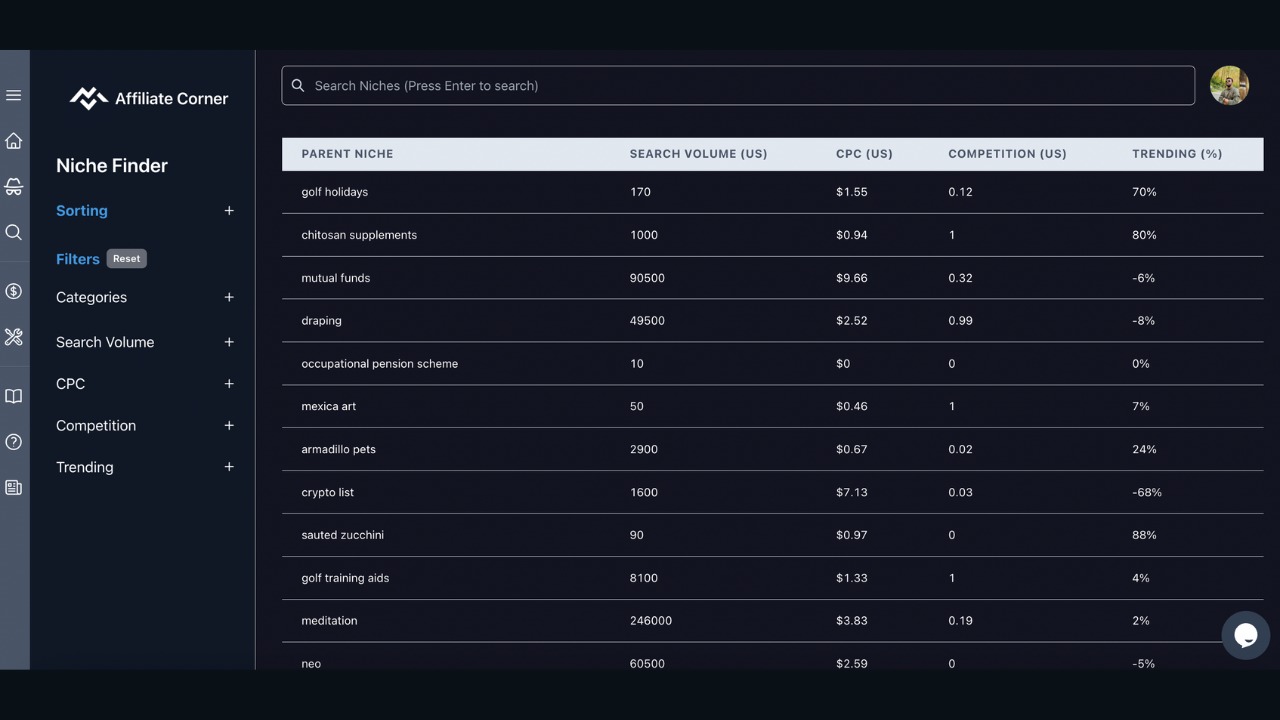 Find niches for your niche or affiliate website with our free tool: Niche Finder.
With Niche Finder, you can basically find niches as well as sub-niches (sub-topics within your main niche) for your website.
How to use:
You can filter as per CPC, search volume, and trending topics.
High CPC doesn't directly mean you will get good sales; it correlates with high search advertising competition, denoting high commercial interest.
If you are into display ads monetization, this tool can be a huge benefit to diversify your topics.
Even for affiliate sites, you can get a lot of inspiration to delve into sub-niches and grow your website.
Note: We constantly add new niches weekly to Niche Finder. It is available for every Sumo-ling.
Save time and money on your affiliate marketing research with our ever-growing done-for-you research solution.
Eliminate all confusion with data-driven insights for every niche and affiliate program.
Stop worrying and start affiliate marketing the right away.
Get access to Affiliate Corner today!
Plans & features
Deal terms & conditions
Lifetime access to Affiliate Corner

You must redeem your code(s) within 60 days of purchase

All future Lifetime Plan updates

Please note: This deal is not stackable
Specification:
Affiliate Corner
Lifetime Plan

Access thousands of affiliate programs and hundreds of niches
Search the best affiliate programs across 20+ filters
Unlock creative promotion ideas for every affiliate niche
Download niche specific low-competition keywords for SEO traffic
Spy affiliates within the niche and replicate their affiliate strategies
Save affiliate programs you like for later
Lifetime access to Niche Finder (ever-growing)
Access our Facebook community to discuss niche sites and affiliate marketing