Overview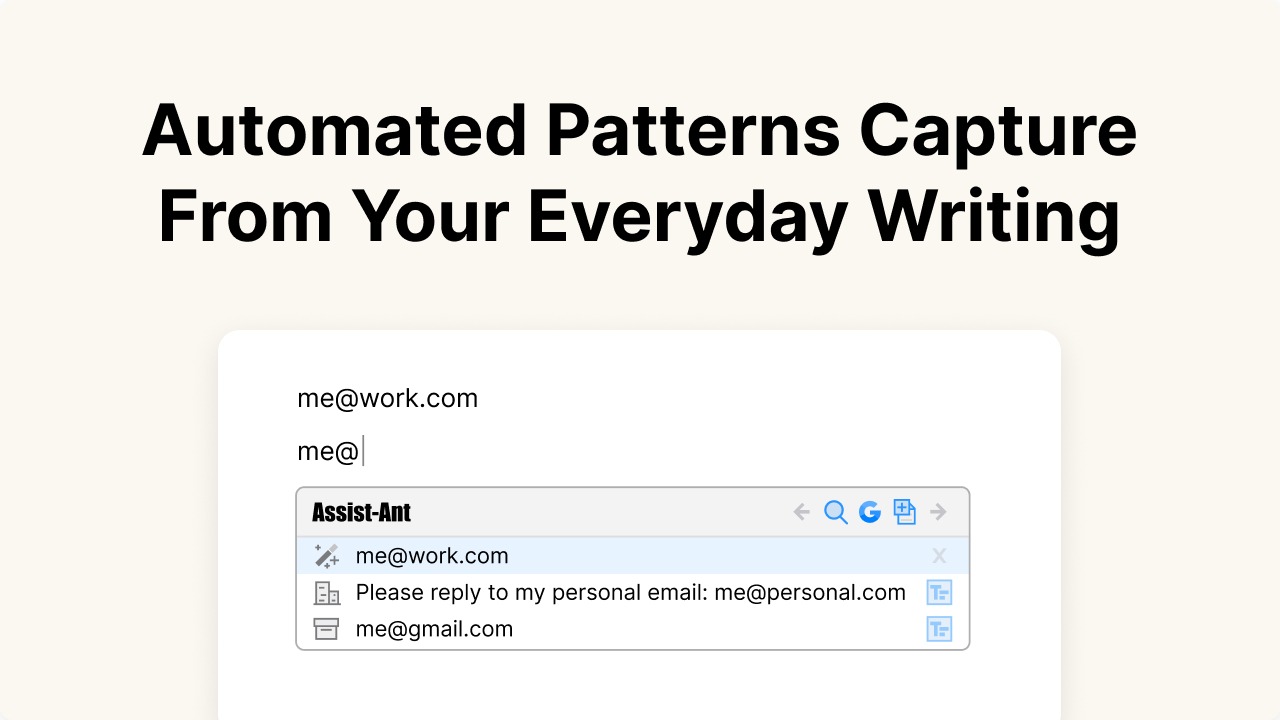 Save time and effort by automating the capture of frequently used words and phrases.
Automate your workflow and boost your productivity with Assist-Ant's automated capture feature.
Say goodbye to repetitive tasks and hello to reusable templates.
Take control of your templates and streamline your workflow today.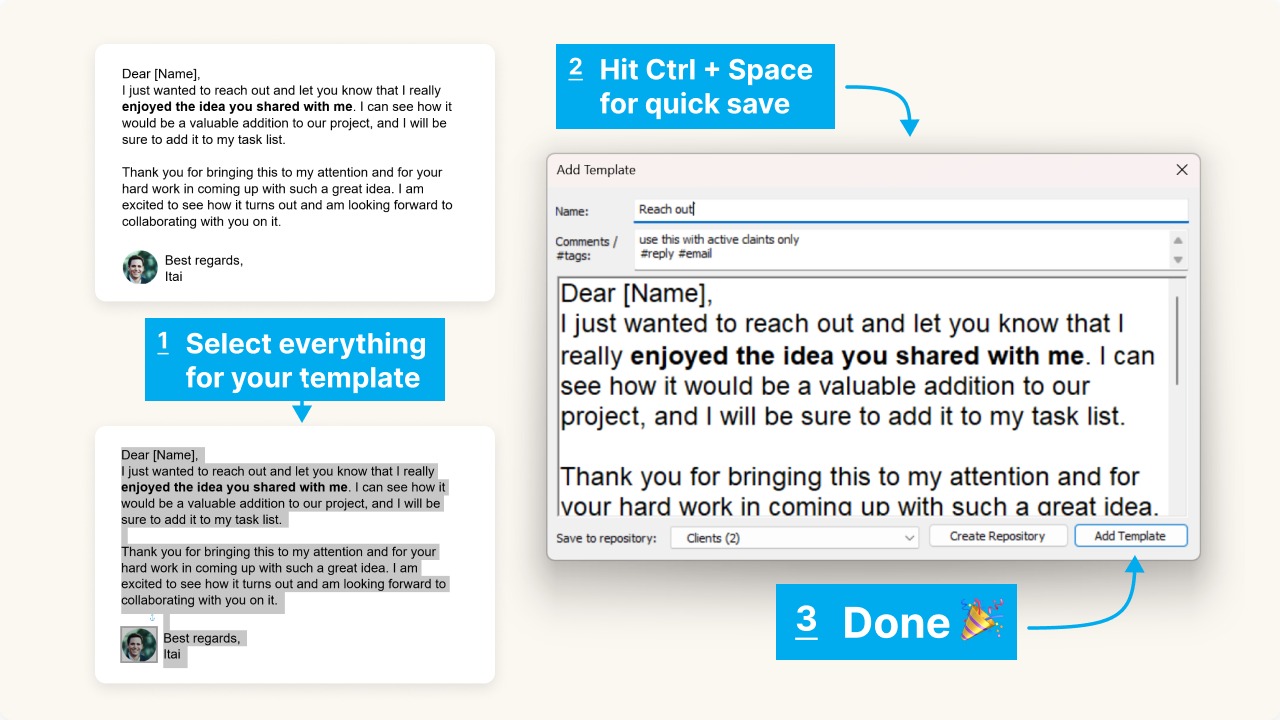 Ctrl + Space is adaptive command key – It understands what the required action is.
To save a new template in Assist-Ant, simply highlight the text and hit control space.
Assist-Ant will automatically open the save template window, where you can:
Add comments
Hashtags
And select a private or shared repository to save the template in
It's easy, quick, and helps you stay organized.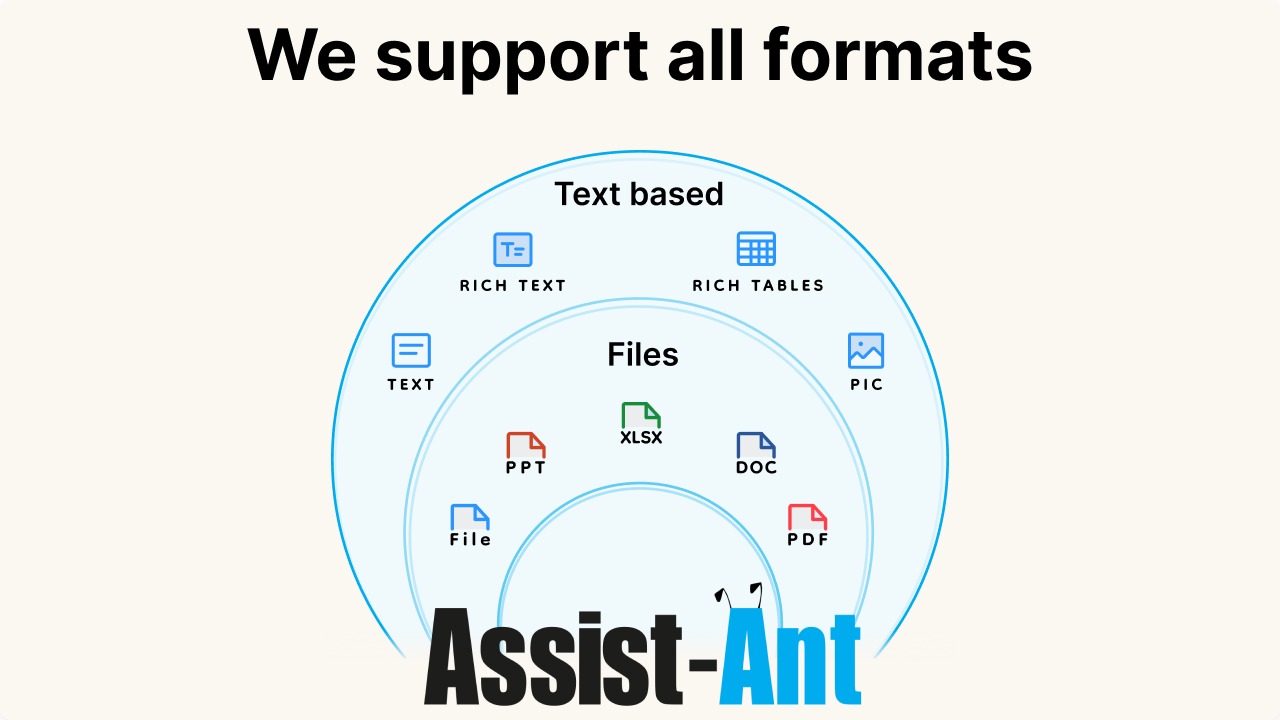 Save all types of formats as a template.
Assist-ant supports all file types, from standalone images to rich text documents and even PDFs and PowerPoints.
You can manage all your templates, deliverables, and other files in one place with ease, and securely share them with your team. It's the ultimate solution for centralized and scalable template management.
Expand your productivity beyond just text by allowing you to insert entire files directly into your work, quickly and easily.
PDFs
Word documents
Images
Excel Tables
… All file types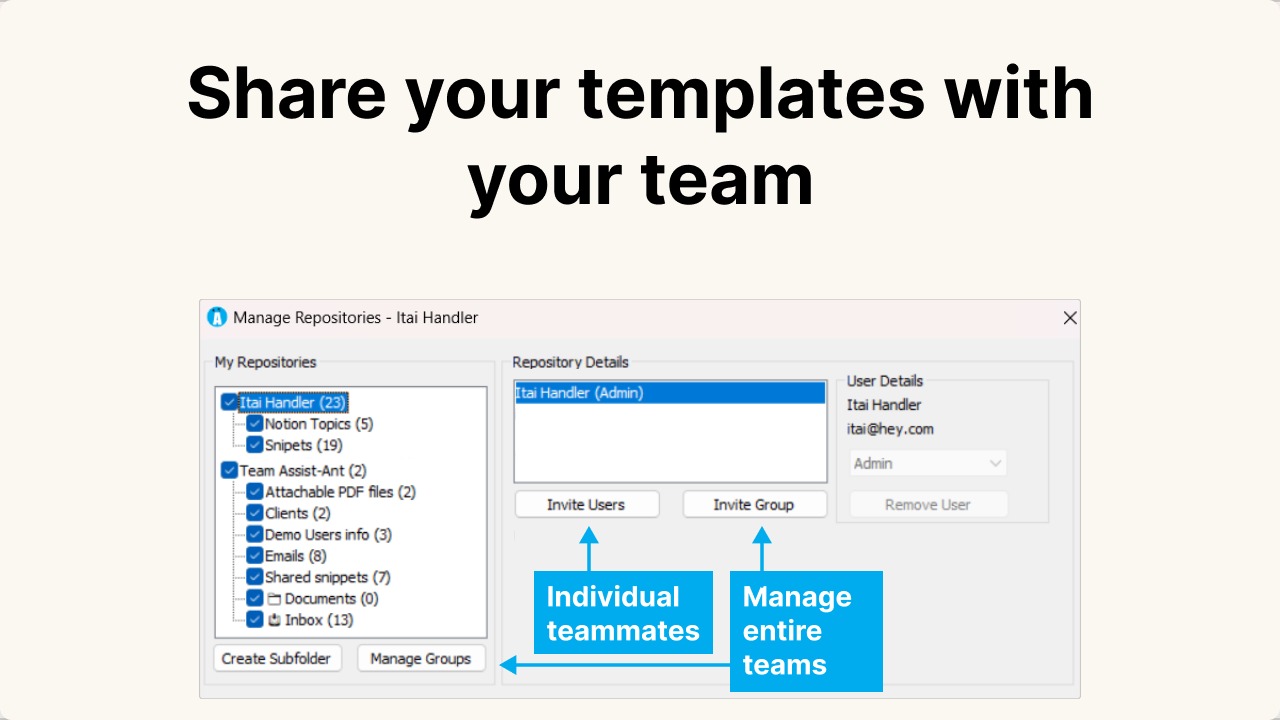 With Assist-Ant, you can share and collaborate on templates with ease.
Our centralized repository management and search panel allow you to quickly find and share templates with your team. Plus, our private and shared repository options ensure your templates are secure and only accessible to those who need them.
Experience the power of next-gen template management and elevate your workflow to new heights. Take control of your templates and get your keyboard superpowers today with Assist-Ant.
Get access today!
*This product is exclusively available for Windows operating system.
Plans & features
Deal terms & conditions
Lifetime access to Assist-Ant

You must redeem your code(s) within 60 days of purchase

All future Pro Plan updates

Stack up to 20 codes

Each code stacked adds an additional user
Specification:
Assist-Ant for Windows
Plan 1

All features above included
1 user
Unlimited templates
Up to 5 repositories
Up to 2 workstations
Up to 15 MBs per template
Sharing permissions management
All templates are synced with Assist-Ant cloud
Windows application

Plan 2

All features above included
2 users
Unlimited templates
Up to 5 repositories
Up to 2 workstations
Up to 15 MBs per template
Sharing permissions management
All templates are synced with Assist-Ant cloud
Collaborate with your team
Windows application

Plan 3

All features above included
3 users
Unlimited templates
Up to 5 repositories
Up to 2 workstations
Up to 15 MBs per template
Sharing permissions management
All templates are synced with Assist-Ant cloud
Collaborate with your team
Windows application

Plan 4

All features above included
4 users
Unlimited templates
Up to 5 repositories
Up to 2 workstations
Up to 15 MBs per template
Sharing permissions management
All templates are synced with Assist-Ant cloud
Collaborate with your team
Windows application

Plan 5

All features above included
5 users
Unlimited templates
Up to 5 repositories
Up to 2 workstations
Up to 15 MBs per template
Sharing permissions management
All templates are synced with Assist-Ant cloud
Collaborate with your team
Windows application

Plan 6

All features above included
6 users
Unlimited templates
Up to 5 repositories
Up to 2 workstations
Up to 15 MBs per template
Sharing permissions management
All templates are synced with Assist-Ant cloud
Collaborate with your team
Windows application

Plan 7

All features above included
7 users
Unlimited templates
Up to 5 repositories
Up to 2 workstations
Up to 15 MBs per template
Sharing permissions management
All templates are synced with Assist-Ant cloud
Collaborate with your team
Windows application

Plan 8

All features above included
8 users
Unlimited templates
Up to 5 repositories
Up to 2 workstations
Up to 15 MBs per template
Sharing permissions management
All templates are synced with Assist-Ant cloud
Collaborate with your team
Windows application

Plan 9

All features above included
9 users
Unlimited templates
Up to 5 repositories
Up to 2 workstations
Up to 15 MBs per template
Sharing permissions management
All templates are synced with Assist-Ant cloud
Collaborate with your team
Windows application

Plan 10

All features above included
10 users
Unlimited templates
Up to 5 repositories
Up to 2 workstations
Up to 15 MBs per template
Sharing permissions management
All templates are synced with Assist-Ant cloud
Collaborate with your team
Windows application