Autodraft
No matter what industry you're in, being on the customer-facing side of things can start to feel like Groundhog Day.
When you're answering the same questions repeatedly, it's easy to slip and send an embarrassing email or twenty. ("I did it again. I wrote 'Thanks for reaching out, [INSERT CUSTOMER HERE]' instead of their name.")
If only you could say all the right things, while also saving time and energy on repetitive typing.
Overview
Do check our guide of How to use Autodraft efficiently, you can do much much more than you think with these tools!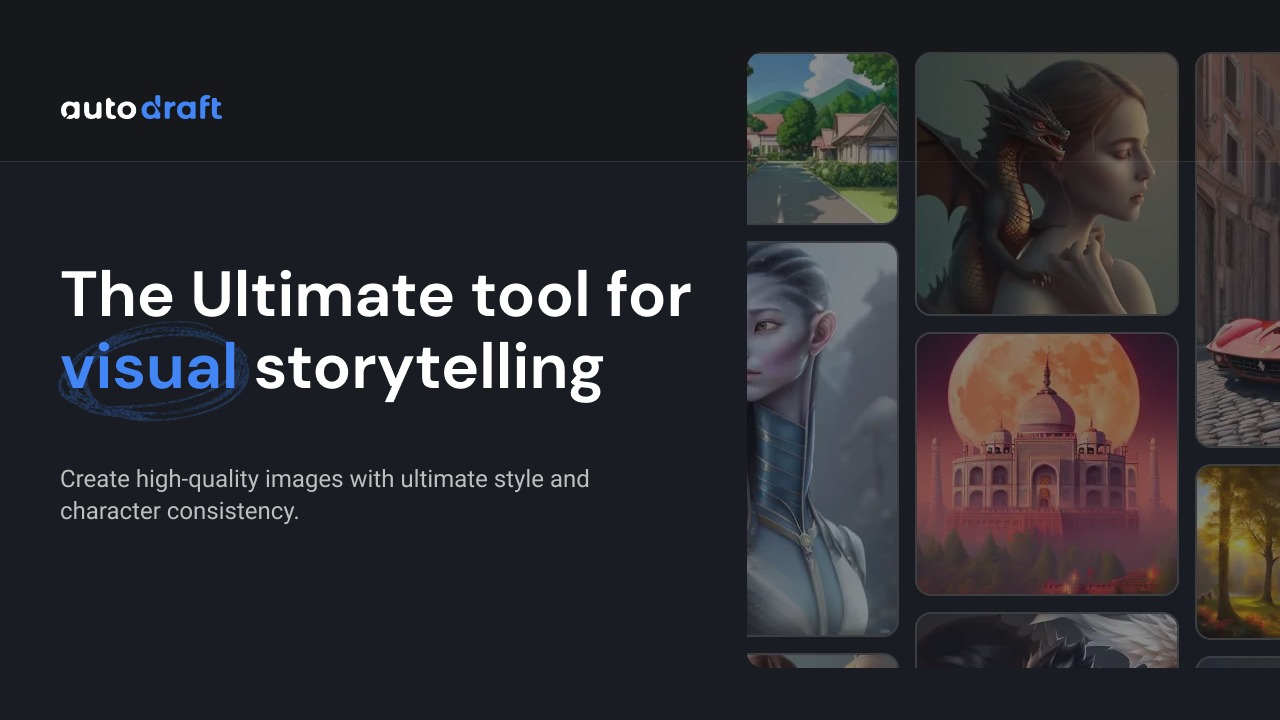 We say character and style consistency meaning, upload your own images and train the model with it to achieve this.
Explore one of the finest creations by the artist community in Autodraft's Showcase Gallery.
Discover some of the finest creations from our vibrant artist community in Autodraft. Draw inspiration from input prompts, customize, and unleash your creativity to craft your own masterpieces.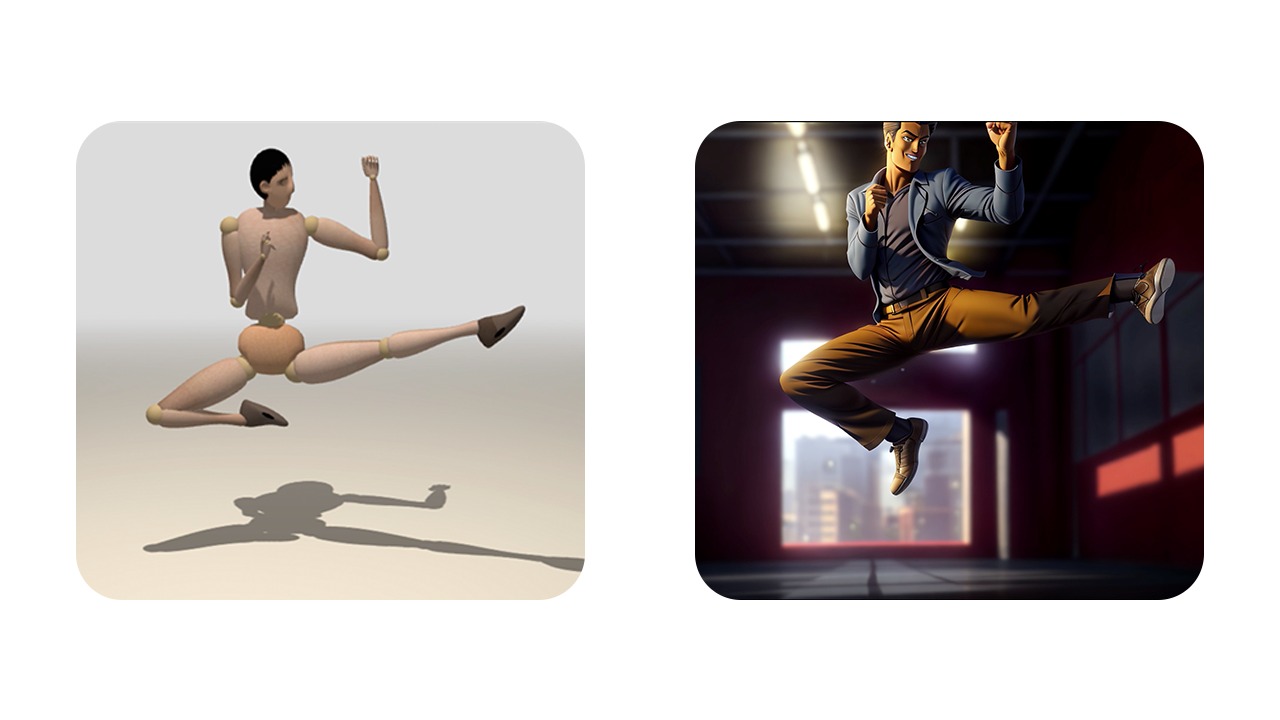 Introducing our Pose Maker feature.
Easily design custom comic and animation poses without any uncertainty.
Take full control and generate images in just 3 simple steps:
Create or choose from existing poses.
Copy the pose and add your prompt.
Generate and export your unique image.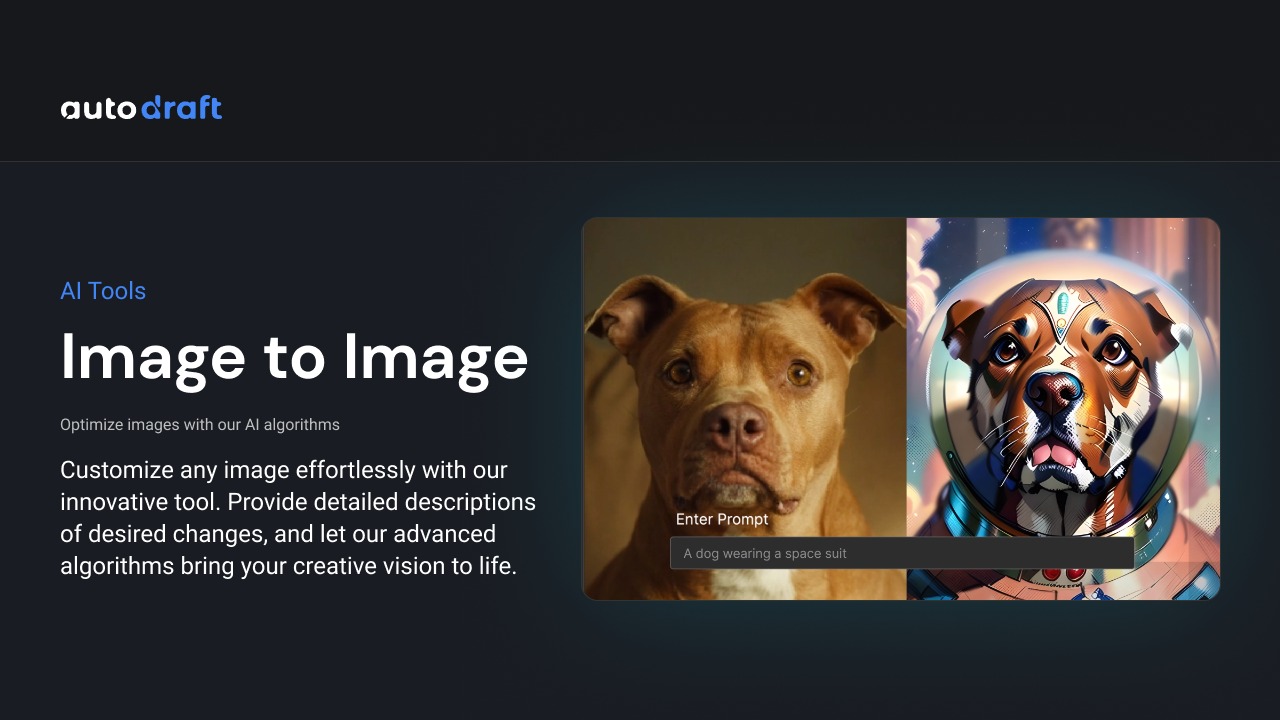 Four modes in Img2Img – Default, Copy Pose, Shallow Copy and Sketch copy(Rough sketch to final Scene in your art-style)
Looking for a similar pose or image output? Utilize an image as input and choose between two options:
Shallow Copy: Create a similar replica by copying the edges of the input image.
Copy Pose: Only copies the poses of the humans.
Sketch Copy: Rough sketch to final colored Scene in your own art-style
+ Perform Deep Copy on your image
Also, if you want to upload an image of a person and wants to make him/her dance then we have BG replacer feature, do check it out.
Autodraft takes care of the rest, surprising you with an output image that can be an exact replica of the input (using sketch copy) or with a similar pose (using copy pose).
Customize any image effortlessly with our innovative tool. Provide detailed descriptions of desired changes, and let our advanced algorithms bring your creative vision to life.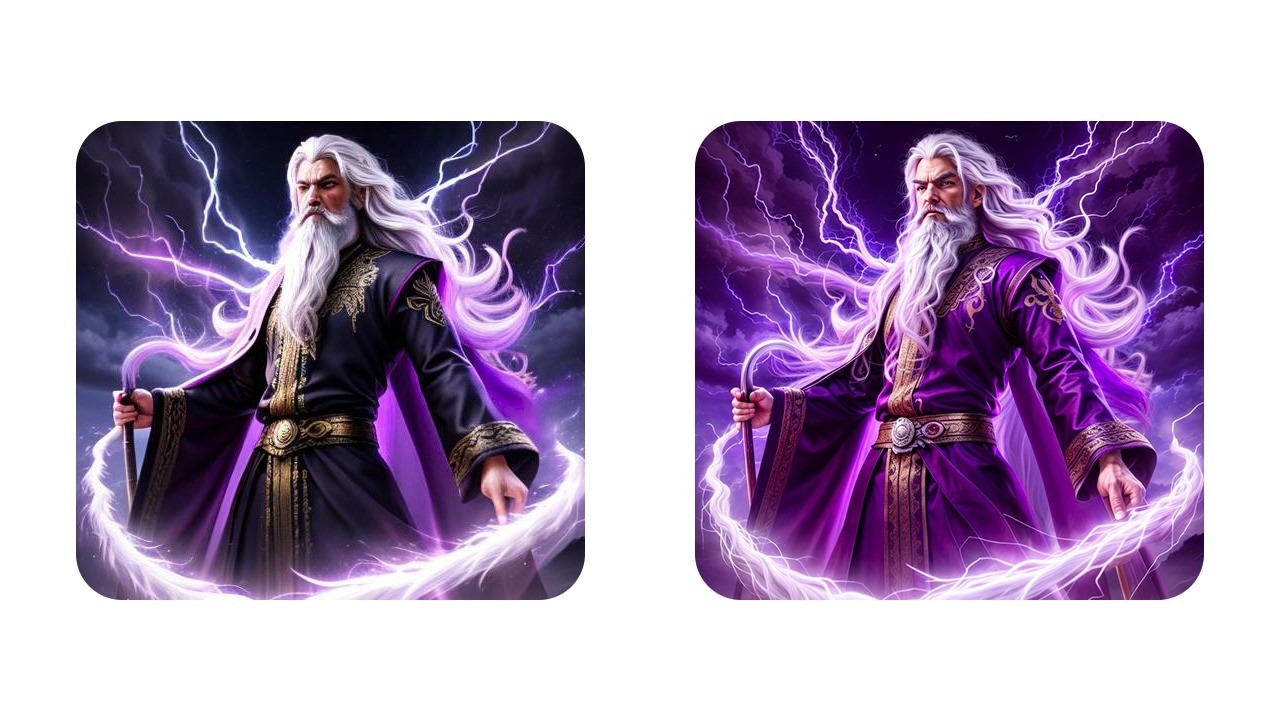 Creative upscale with ease.
With Autodraft, you have access to 2 upscalers:
Creative Upscale: A game-changer in image enhancement. Say goodbye to distorted or blurry images. This detailed feature effectively enhances lost details by upscaling individual pixels, using the prompt as a reference.
Normal Upscale: Take your image to a higher resolution, further enhancing its quality. Enjoy the benefits of improved image clarity and sharpness.
Normal Upscale with FACE ENHANCE Mode: We've recently added this to improve facial features of a generated image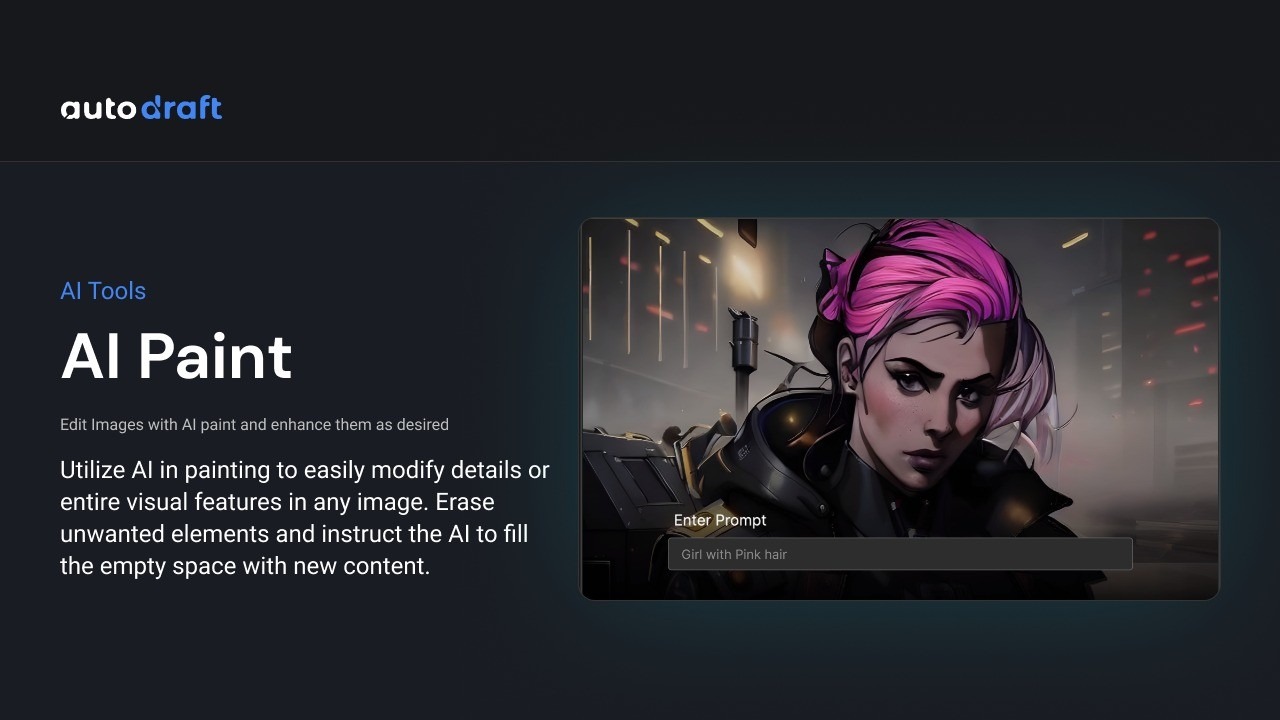 With Autodraft's Image Inpainter, you can easily:
Edit Images in Seconds: Use the brush tool to mark the area and provide a simple prompt, such as "Girl wearing a red dress," and watch the magic happen.
Change Photo Background: Whether it's a selfie, a random image, or your brand's product photography, effortlessly change and enhance the image background with Autodraft's Image Inpainter.
Photo Filler with AI Inpainting: Add elements like butterflies or petals next to your flower vase, provide the prompt, and witness the magic. Utilize AI inpainting to modify details or entire visual features in any image. Erase unwanted elements and instruct the AI to fill the empty space with new content.
Elevate your creative journey and join Autodraft now to experience the magic of AI art generation firsthand — get access today!
Plans & features
Deal terms & conditions
Lifetime access to Autodraft

You must redeem your code(s) within 60 days of purchase

All future Pro Plan updates

Stack up to 3 codes
Plan 1

All features above included
800 credits per month
Image-to-image generator
AI paint (inpainting)
Pose maker
Object remover
Background remover
Creative upscaler
Text to image generator
Users can enter the prompts in English & Japanese to generate images

Plan 2

All features above included
1,700 credits per month
Image-to-image generator
AI paint (inpainting)
Pose maker
Object remover
Background remover
Creative upscaler
Text to image generator
Users can enter the prompts in English & Japanese to generate images

Plan 3

All features above included
2,700 credits per month
Image-to-image generator
AI paint (inpainting)
Pose maker
Object remover
Background remover
Creative upscaler
Text to image generator
Users can enter the prompts in English & Japanese to generate images
1 custom model which can be retrained up to 5 times