Botimize – SEO Content Optimization
Overview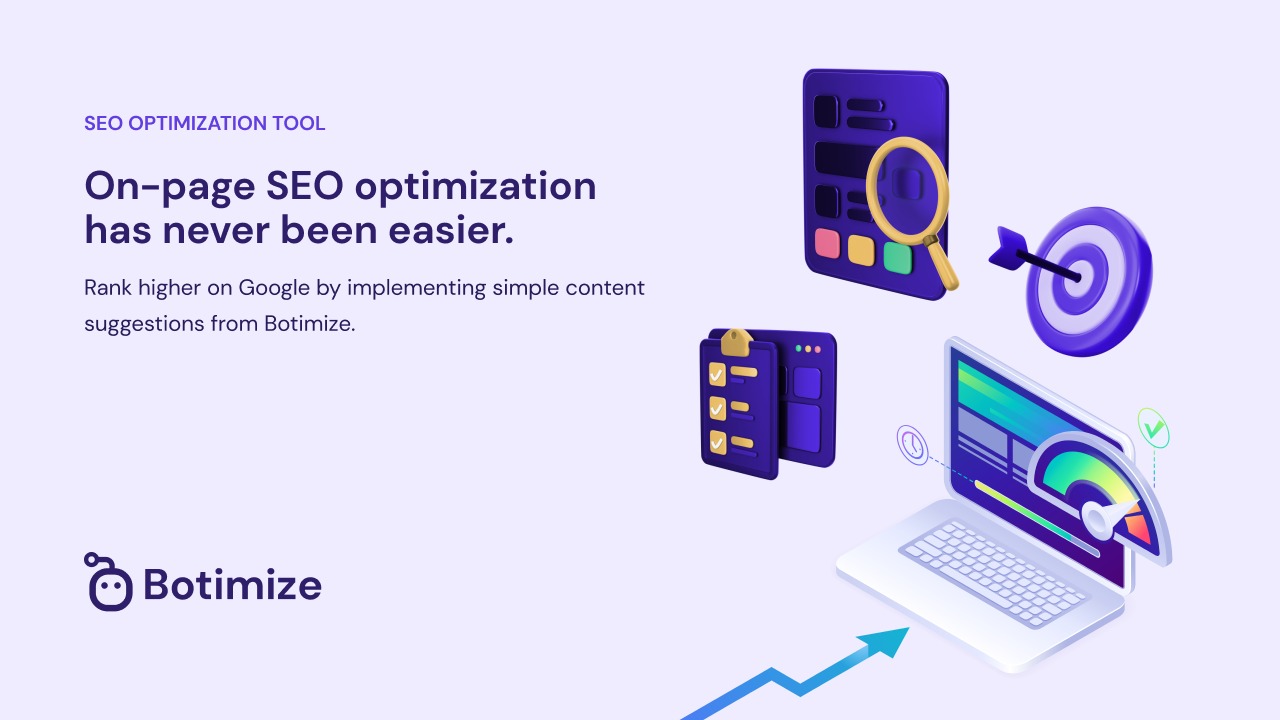 Botimize gives you keyword and content suggestions based on live data from Google.
How does it work?
Botimize helps you optimize your content for search engines in four easy steps:
You enter the keyword(s) you are trying to rank for.
Botimize will analyze the top 10 results for those keywords and give you suggestions to optimize your content.
You use the content editor in Botimize to add keywords you need to include, get word count goals, and get an overall SEO score of your content while you are writing.
Once you reach a score over 70, you can consider yourself properly optimized!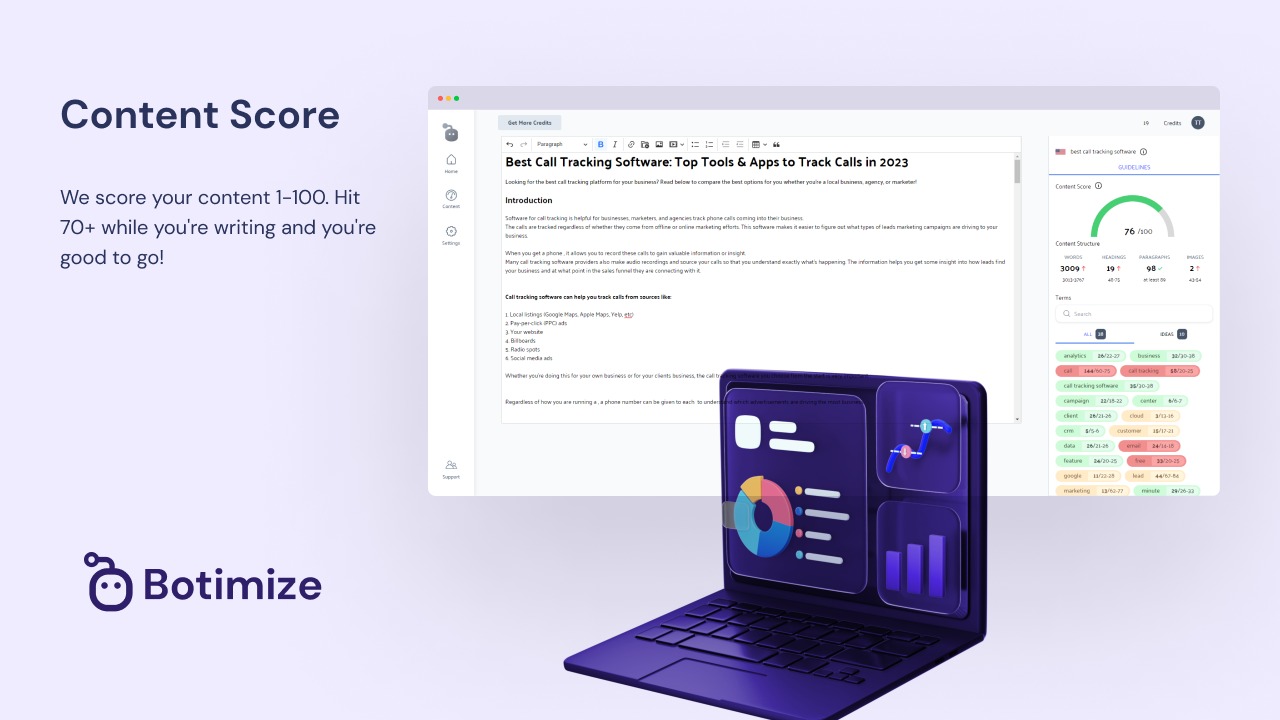 Let us score your content.
If you're looking for the perfect score when it comes to your content, look no further!
With our scoring system, all of your writing will be marked from 1-100 and you can easily see how well (or not so well) it is doing.
Plus, if you hit 70 or higher while writing – then congratulations! You've made a great piece of content that will surely impress readers everywhere.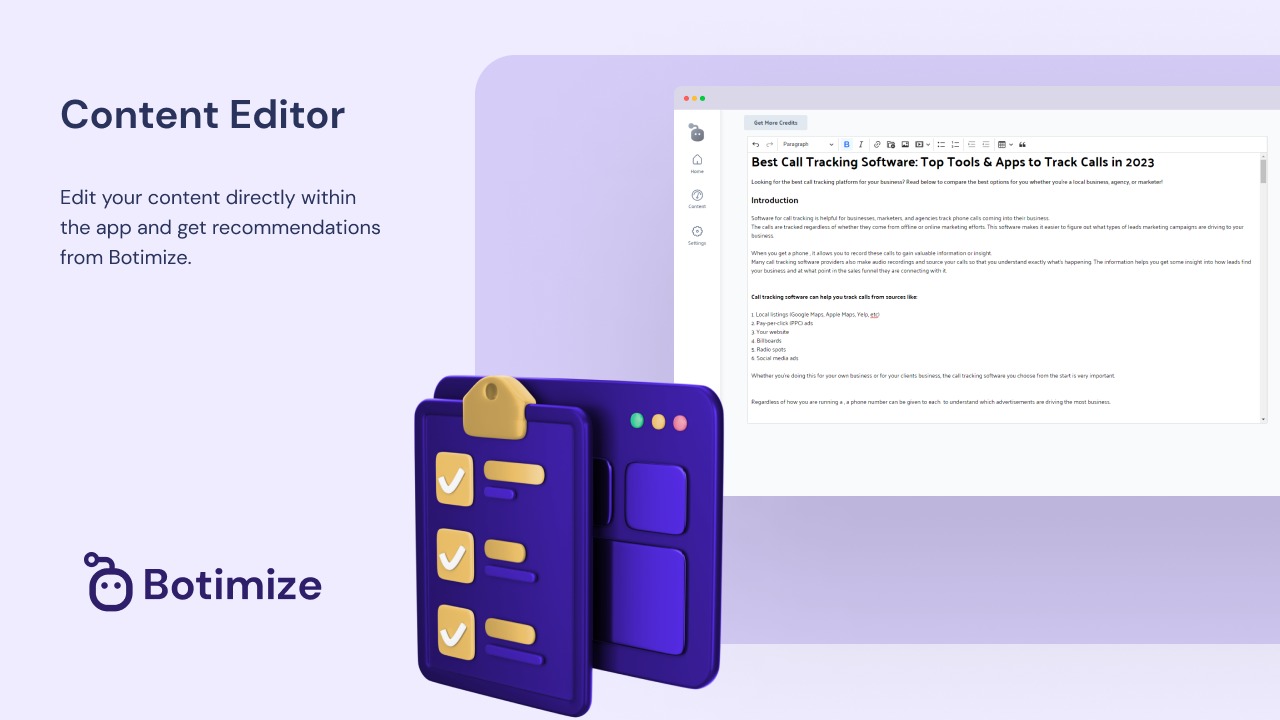 Let Botimize do all of that hard work for you!
Do you ever feel like your content could use a little something extra? Are you looking for an easy way to make sure it's up to par with the latest trends and standards? Well, look no further than Botimize!
With our innovative technology, you can now easily edit your content directly and get recommendations from Botimize. No more switching back and forth between different programs or trying to figure out how best to optimize your writing.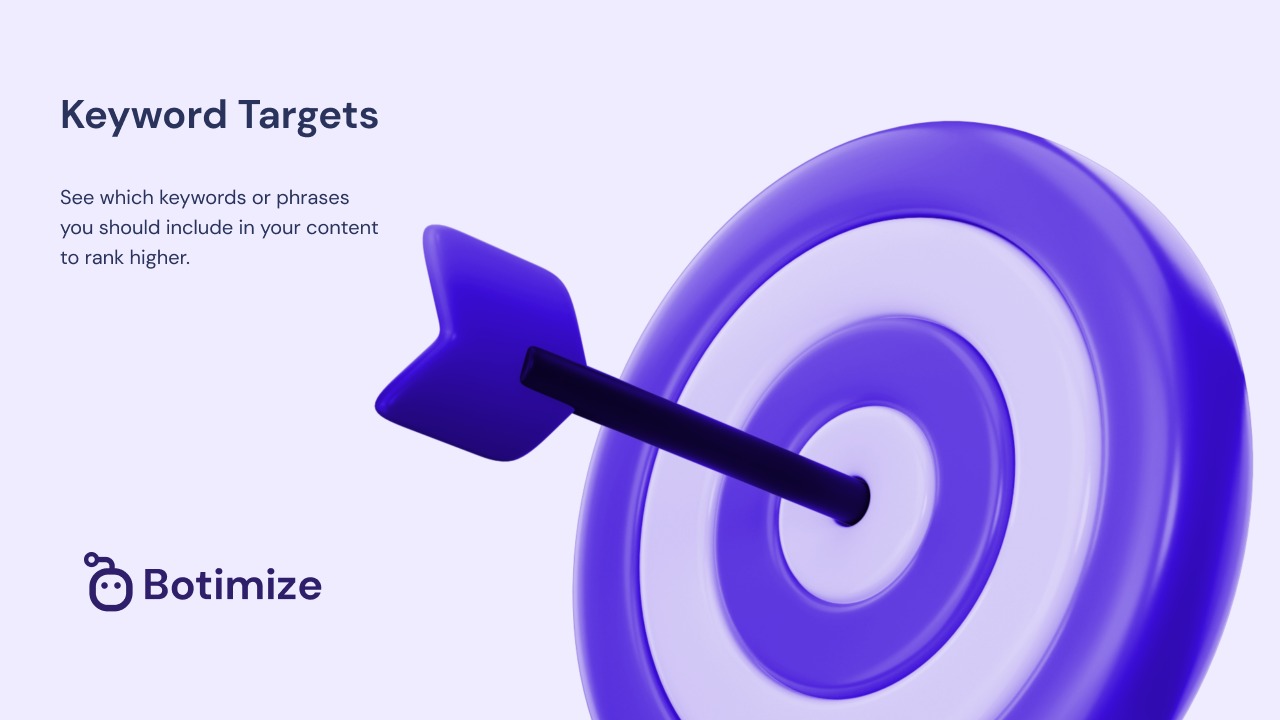 Let us help with keywords and watch your content soar.
If you're looking to rank higher in the search engine results, it's important to know which keywords or phrases should be included in your content.
Botimize's technology understands keyword optimization can help give your site a boost. From choosing relevant words that accurately describe what you offer, to including those terms naturally within your text – it will give you tips for taking advantage of keyword research and incorporating them into your content!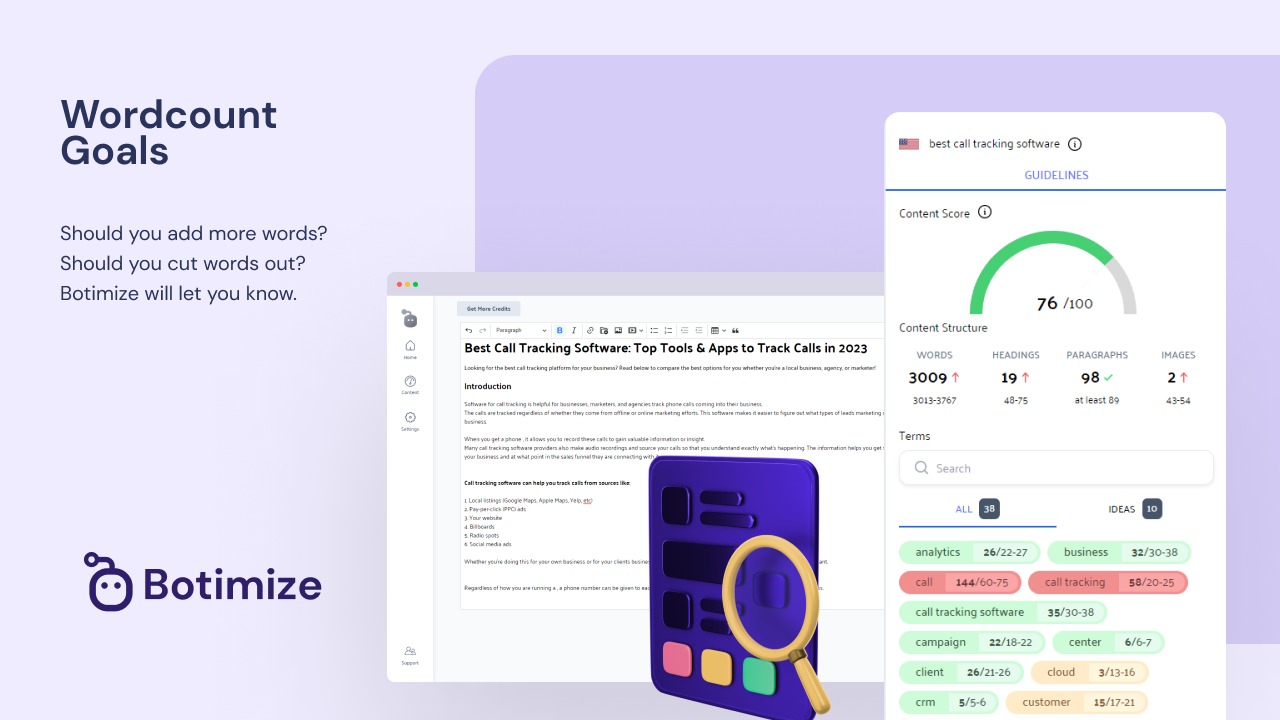 On-page SEO optimization has never been easier.
When it comes to writing, there's no such thing as too few or too many words. However, having the right amount of words in your content can make a world of difference.
That's why Botimize is here to help you optimize your text for maximum impact.
With our powerful algorithms and AI technology, we'll let you know if you should add more words or cut some out so that readers will be engaged with what you have to say. In short – don't worry about length when crafting your message; let Botimize do the work for you!
Skyrocket to the top of Google today with Botimize
Plans & features
Deal terms & conditions
Lifetime access to Botimize

You must redeem your code(s) within 60 days of purchase

All future plan updates
Specification:
Botimize – SEO Content Optimization
Botimize

10 optimization credits per month (1 keyword analyzed = 1 credit)
Available in 184 languages and 243 countries
On-page seo content optimization suite
Content scoring
Keyword targets
Content editor
Wordcount goals
On-Page SEO Content Optimization Suite
Stack 1 additional code:
25 optimization credits per month
Stack 2 additional codes:
50 optimization credits per month
Stack 3 additional codes:
75 optimization credits per month
Stack 4 additional codes:
100 optimization credits per month
Stack 5 additional codes:
150 optimization credits per month