Overview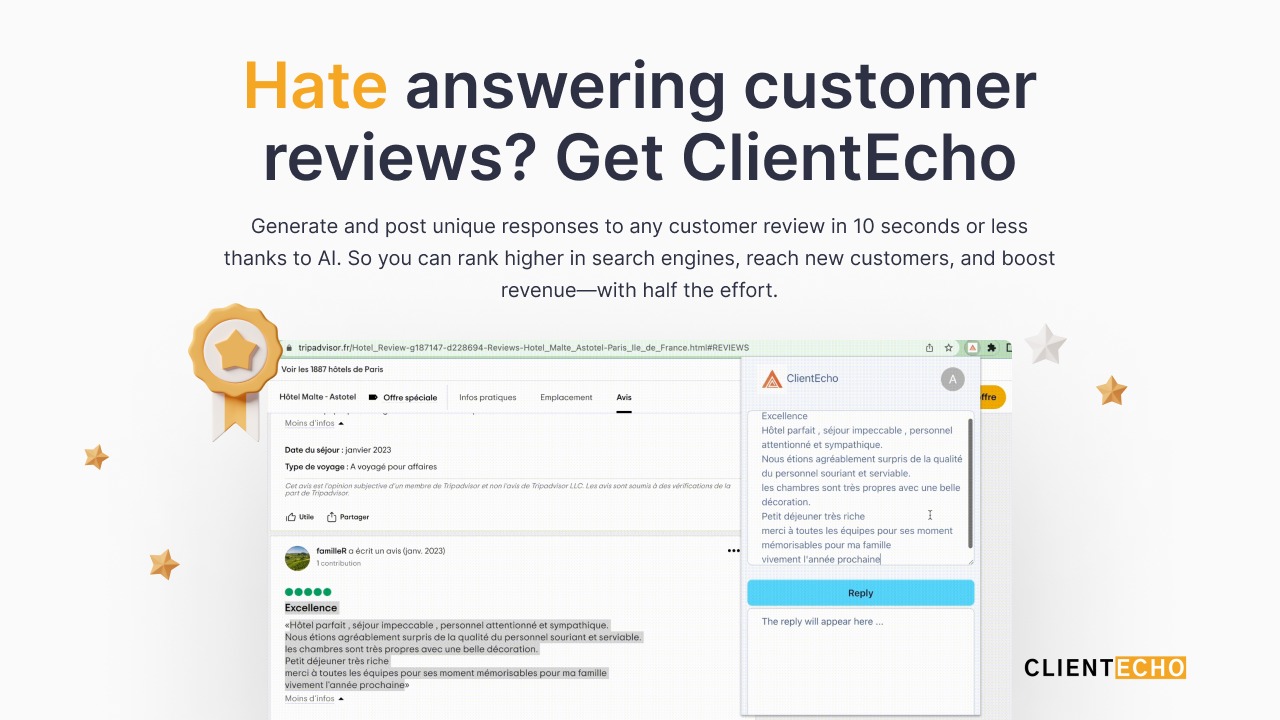 Boost search ranking, reach new customers, and save time with half the effort.
ClientEcho was created by a team that noticed a common issue among businesses – they often lack the time, money, or manpower to respond to every customer review, which can lead to lost customers and a damaged brand reputation.
To solve this problem, the team developed an AI tool that generates unique responses to any customer review in 10 seconds or less.
With ClientEcho, you can add your personal touch to the response before posting it on any platform, allowing you to rank higher in search engines, reach new customers, and boost revenue – all with half the effort.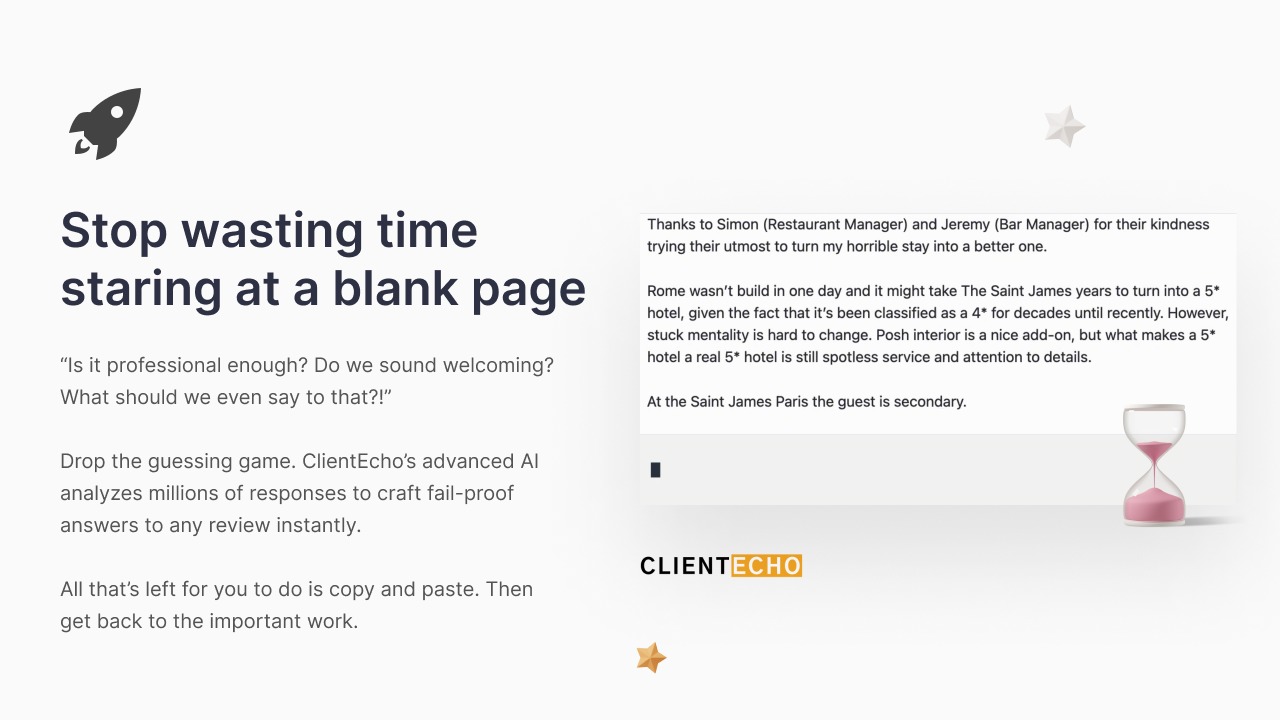 Say goodbye to the guessing game and save time by simply copy-pasting personalized responses.
ClientEcho's advanced AI analyzes millions of responses to craft fail-proof answers to any review instantly.
All you have to do is copy and paste the generated response and you're done! This AI-powered review response assistant is your solution to saving time, money and ensuring customer satisfaction.
Not answering reviews can lead to being outranked by competitors that are answering them. Search algorithms rank businesses based on review response time and length. With ClientEcho, you'll become the first business that prospects consider, and the one they choose.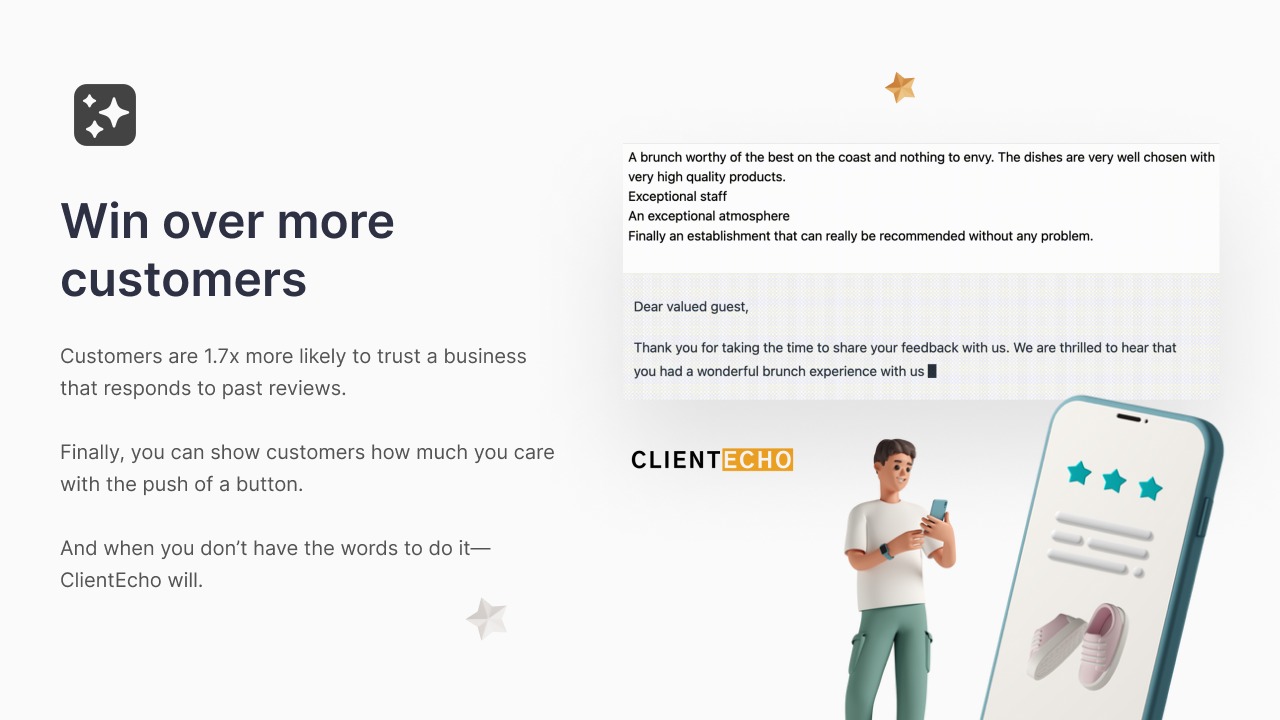 Stop guessing and start responding — ClientEcho's AI generates fail-proof answers to reviews in seconds.
Customers are 1.7 times more likely to trust a business that responds to past reviews. ClientEcho makes it easy for you to show customers how much you care with the push of a button. And when you don't have the words to do it, ClientEcho will.
But that's not all! With ClientEcho, you can turn reviews into a stronger business. Easy-to-read reports show you what customers love and where you can improve. Filter by department to share actionable insights with the right team members, so they can deliver exceptional service and earn even more 5-star reviews.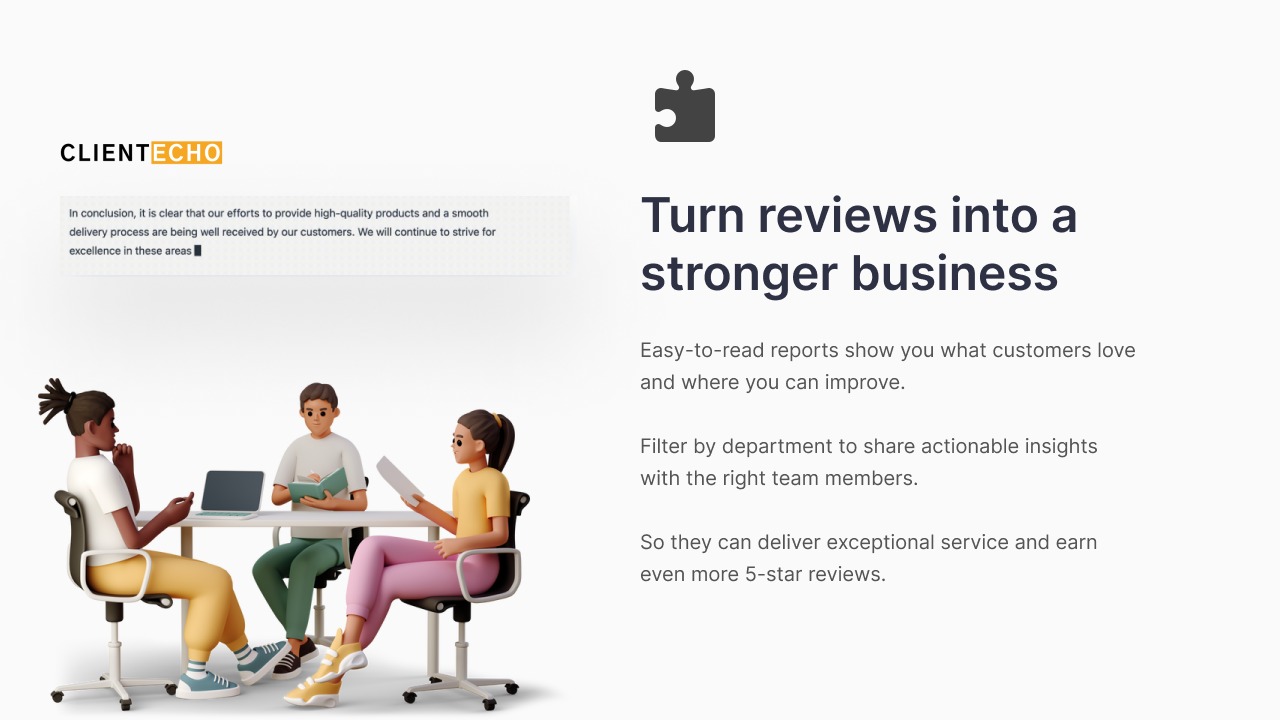 Transform reviews into a thriving business.
Import reviews from any platform, whether it's Google, Booking.com, Amazon, or your own website. ClientEcho generates responses in any language and translates reviews into your language, so you and your customers can speak the same language.
If you're already using a review management system, ClientEcho's Chrome plugin easily integrates into your existing workflow.
With the push of a button, you can post personalized review responses in seconds and turn reviews into a powerful tool for growing your business.
Get access today!
Plans & features
Deal terms & conditions
Lifetime access to ClientEcho

You must redeem your code(s) within 60 days of purchase

All future Starter Plan updates

Stack up to 3 codes
Specification:
ClientEcho
Plan 1

All features above included
Generate AI content in 9+ languages
Priority support
1 analysis per month
100 reviews per month

Plan 2

All features above included
Generate AI content in 9+ languages
Priority support
2 analysis per month
200 reviews per month

Plan 3

All features above included
Generate AI content in 9+ languages
Priority support
3 analysis per month
300 reviews per month