Overview
AI-Powered Sales Prospecting Platform With Data + Intent + Outreach by Clodura.AI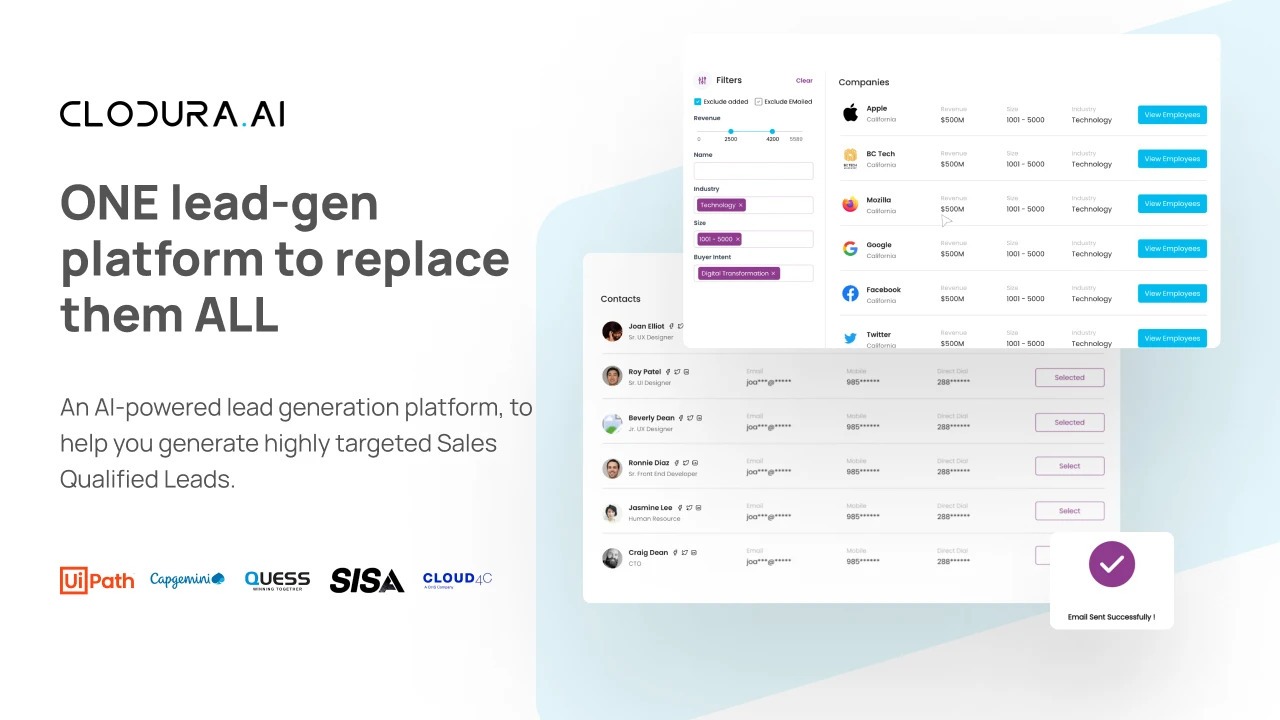 Clodura.AI streamlines your lead generation instantly.
With Clodura.AI, you can search from a B2B database of 18M companies with various filter options. You can search companies on the basis of different parameters.
Search companies based on:
Revenue
Company name
Industry
Company size
Buyer intent
Company Type
Company HQ location
Search ISVs
Search cross industries like Healthtech, Edtech, Fintech, Retailtech, etc.
Advanced filters that are uniquely designed to help you search companies better
Get an exhaustive company report that includes:
Company Industry
Company size
Latest funding
Technologies used
Products used
Jobs and patterns
Buyer intent
Sales triggers
Org charts
Buyer Intent
Find which companies and contacts are looking to buy your services. Take advantage of the most powerful sales intent to help you identify your next customer.
Contacts Data
Search through 18M companies and 600M contacts using advanced search filters.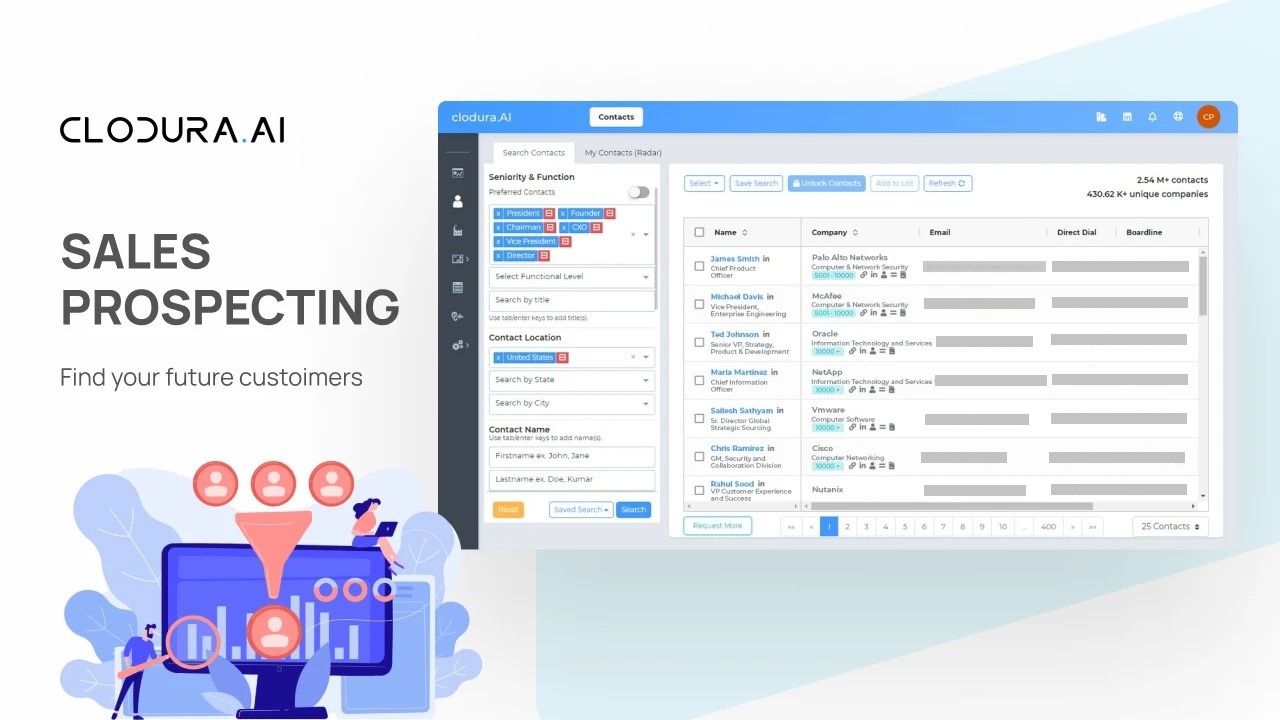 Find your future customers easily and quickly.
Clodura.AI has the world's largest B2B database of 600M contacts and 12M direct dials.
Clodura.AI's reliable business data is verified to deliver 95% accuracy so that sales teams hit their target with ultra-precision.
Enjoy advanced filters that will blow your mind. There is almost nothing that you cannot search with these filters.
Search Filters
Contact name
Seniority and function
Contact location
Company parameters
Technology parameters
Intent & hiring areas
Tags & website keywords
Funding
Cadence
Automate your sales outreach to reach out to more prospects. Clodura.AI lets you track and analyze the views and responses to all of your emails.
Technographic Data
Find various products used by various companies. Technographic segmentation comes standard with Clodura.AI and features over 15,000 technologies.
Org Charts
Understand who exactly the decision-maker is and shorten your sales cycle.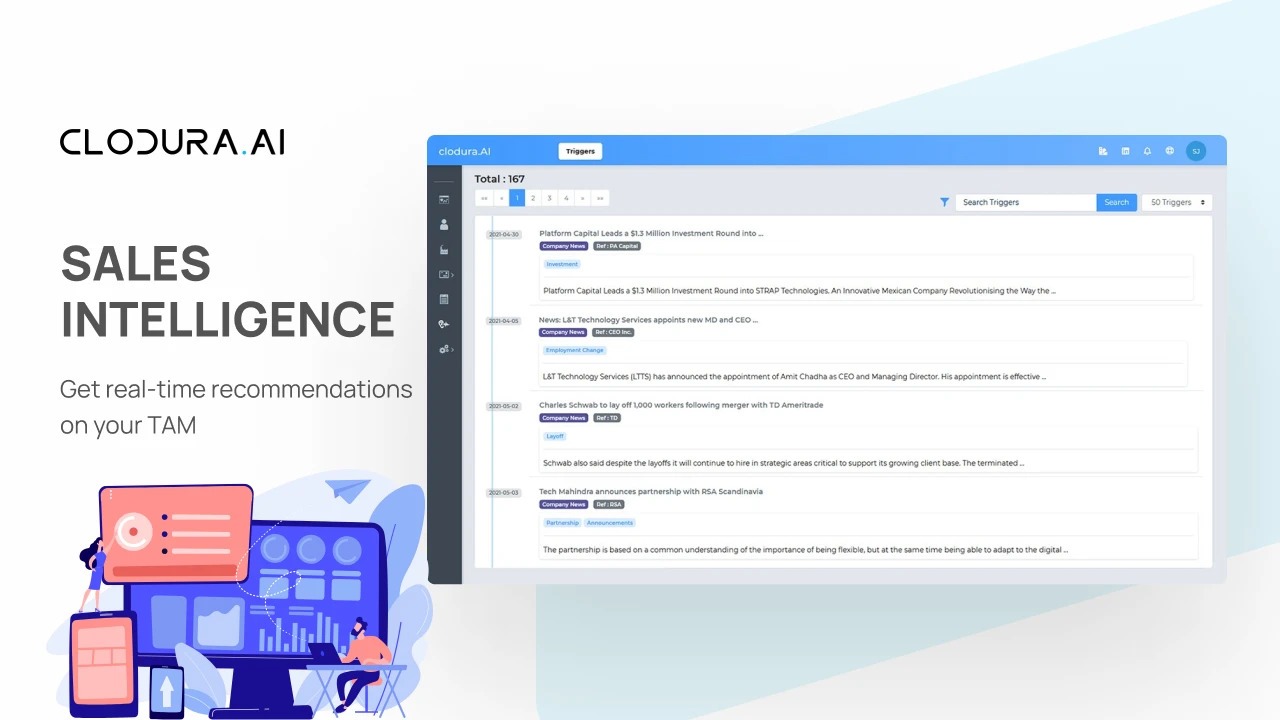 Our sales intelligence is second to none.
Build a sales pipeline to turn your leads into customers.
Clodura.AI maintains and tracks install-base data of over 15,000 technology products in various categories like CRM, Marketing Automation Platform, ERP, analytics, advertising, hosting, CMS, design, etc.
Get access to 60M direct dials today. Do not lose your precious selling time dealing with gatekeepers and switchboards. Give your sales the chance to reach and connect with the decision-makers directly. Give yourself the power of direct dial phone numbers.
Understand who exactly is the decision-maker with the help of Clodura's org chart feature. Knowing your prospect better inevitably results in closing the deals faster and better.
Hyper-target your prospects with business signals like RFPs, hiring areas, layoffs, job changes of decision-makers, IPO, product launch, conference participation, partnerships, and more.
Enjoy a fully functional outreach engine to automate your email sequences.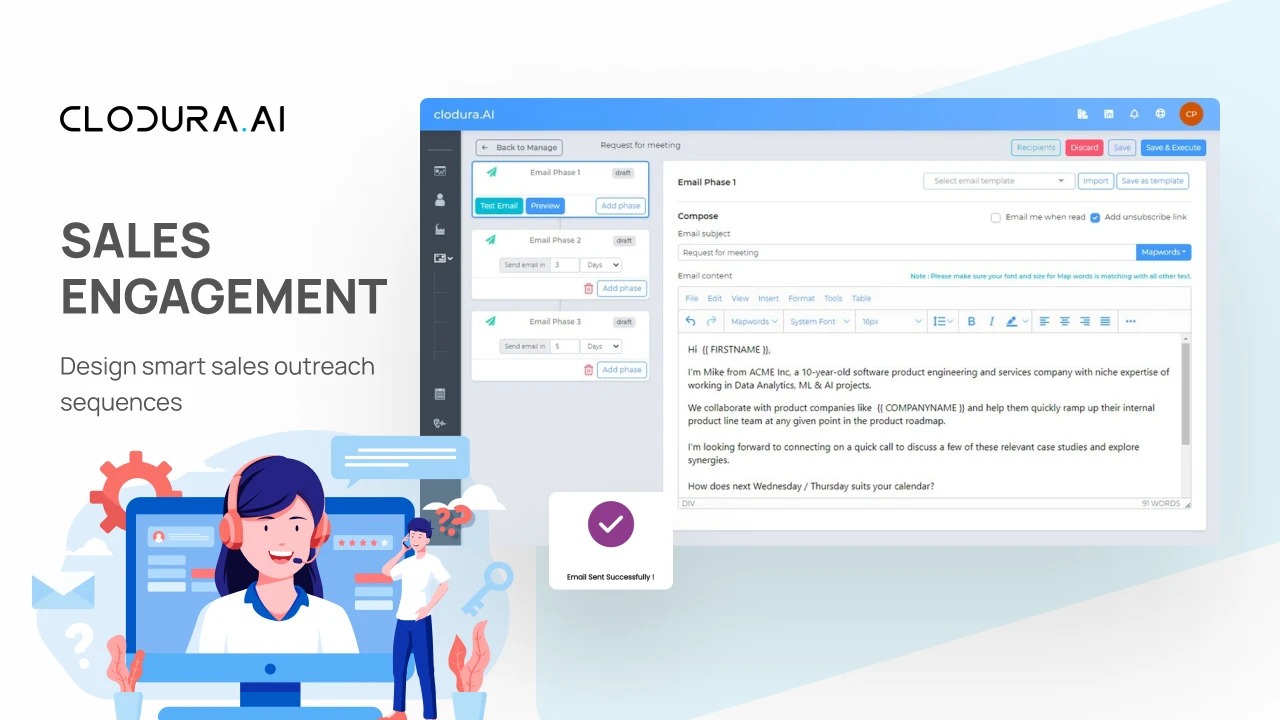 Take your sales engagement tools and strategies to the next level.
Killer Sales Cadence to Book More Meetings
Increase your sales velocity with the right message at the right time for sales prospecting. Clodura.AI's killer email Cadence features help to generate more interactions and book more meetings.
Book More Meetings
Eliminate hours of manual effort spent every day on creating & sending sales outreach emails and follow-ups. Automate your sales outreach by setting timed email cadence and connecting with maximum prospects.
Analyze Your Performance
Track & analyze email opens, clicks & replies for all your sent emails. Find out the messages & campaigns that have yielded the best results. Re-use your most effective and favorite sales emails as templates.
Connect Your Mailbox
Clodura.AI seamlessly integrates with the email apps you love. Connect your mailbox and other email-sending apps to keep in sync with every email sent & received.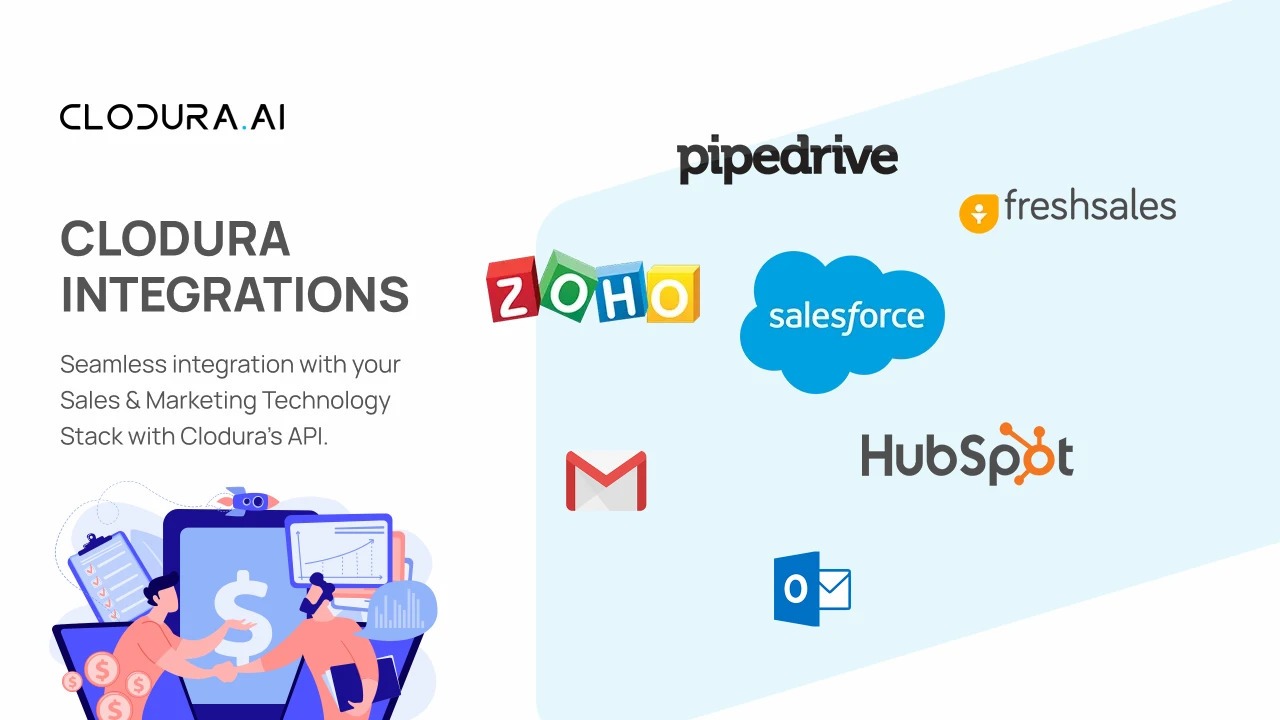 We're proud of our extensive list of integrations.
The pain of working with many apps leads to lowering productivity and reduced efficiency.
Clodura.AI has designed its platform to integrate with as many CRMs that most sales and marketing departments engage within their organization. We empathize with the need to work from a single platform that can keep a track of the targeted list of your most viable prospects to create a strong sales pipeline. Integration with the extensive CRMs helps make your task easier and creates an adaptable and integrated workflow with crucial data to boost your team's efficiency.
Whether you are an SMB or a huge organization, integrating with the CRMs on our platform can streamline business operations and increase the value of every customer interaction.
With a CRM of your choice from our exhaustive list, you can:
Deliver a personalized and delightful experience to close deals faster.
Scale your sales when you leverage Clodura's integrated CRM apps.
Automatically enhance the various contacts with up-to-date and fresh data.
CRM Integration-High-quality deals and opportunities. Your sales funnel is aligned with your company's strategic goals.
Plans & features
Deal terms & conditions
Lifetime access to Clodura.AI

You must redeem your code(s) within 60 days of purchase

All future plan updates

Stack up to 5 codes
Specification:
Clodura.AI
Plan 1

All features above included
Unlock 1,000 contacts per month for your sales sequence to download or sync with CRM
CSV – upload your own data for Cadence
Company reports with Technographics, Org Charts, Sales Intent and much more
Chrome extension to mine data from LinkedIn and company websites
12/5 email and chat support

Plan 2

All features above included
Unlock 2,000 contacts per month for your sales sequence to download or sync with CRM
CSV – upload your own data for Cadence
Company reports with Technographics, Org Charts, Sales Intent and much more
Chrome extension to mine data from LinkedIn and company websites
12/5 email and chat support

Plan 3

All features above included
Unlock 3,000 contacts per month for your sales sequence to download or sync with CRM
CSV – upload your own data for Cadence
Company reports with Technographics, Org Charts, Sales Intent and much more
Chrome extension to mine data from LinkedIn and company websites
12/5 email and chat support

Plan 4

All features above included
Unlock 4,000 contacts per month for your sales sequence to download or sync with CRM
CSV – upload your own data for Cadence
Company reports with Technographics, Org Charts, Sales Intent and much more
Chrome extension to mine data from LinkedIn and company websites
12/5 email and chat support

Plan 5

All features above included
Unlock 5,000 contacts per month for your sales sequence to download or sync with CRM
CSV – upload your own data for Cadence
Company reports with Technographics, Org Charts, Sales Intent and much more
Chrome extension to mine data from LinkedIn and company websites
12/5 email and chat support