ConversAI
No matter what industry you're in, being on the customer-facing side of things can start to feel like Groundhog Day.
When you're answering the same questions repeatedly, it's easy to slip and send an embarrassing email or twenty. ("I did it again. I wrote 'Thanks for reaching out, [INSERT CUSTOMER HERE]' instead of their name.")
If only you could say all the right things, while also saving time and energy on repetitive typing.
Overview
ConversAI is an AI-powered chat assistant that integrates with messaging platforms, so you can respond to any message with just one click.
Thanks to the power of AI, this smart assistant lets you respond to every message with just one click.
Say goodbye to stressing over the perfect reply! ConversAI generates articulate, relevant responses for you.
That means you'll be able to keep folks engaged around the clock without burdening your support team.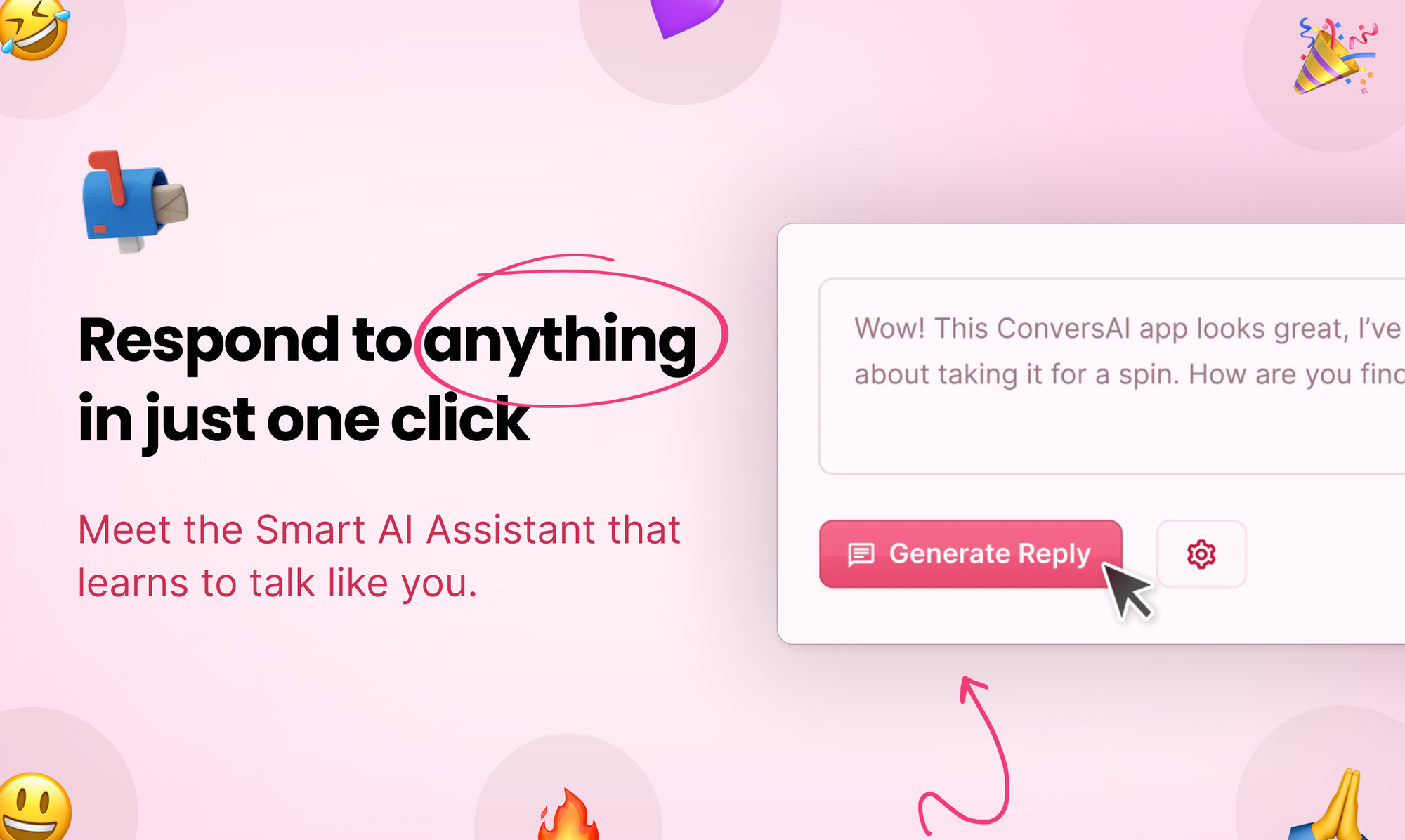 Respond to any message, on any messaging platform, with just one click!
ConversAI can automatically detect the tone of your conversation, creating responses that feel like a real person wrote them.
This tool can whip up engaging responses that match your communication style, so folks feel understood and supported.
And because sometimes words aren't enough, you'll even be able to add emojis and gifs to your responses.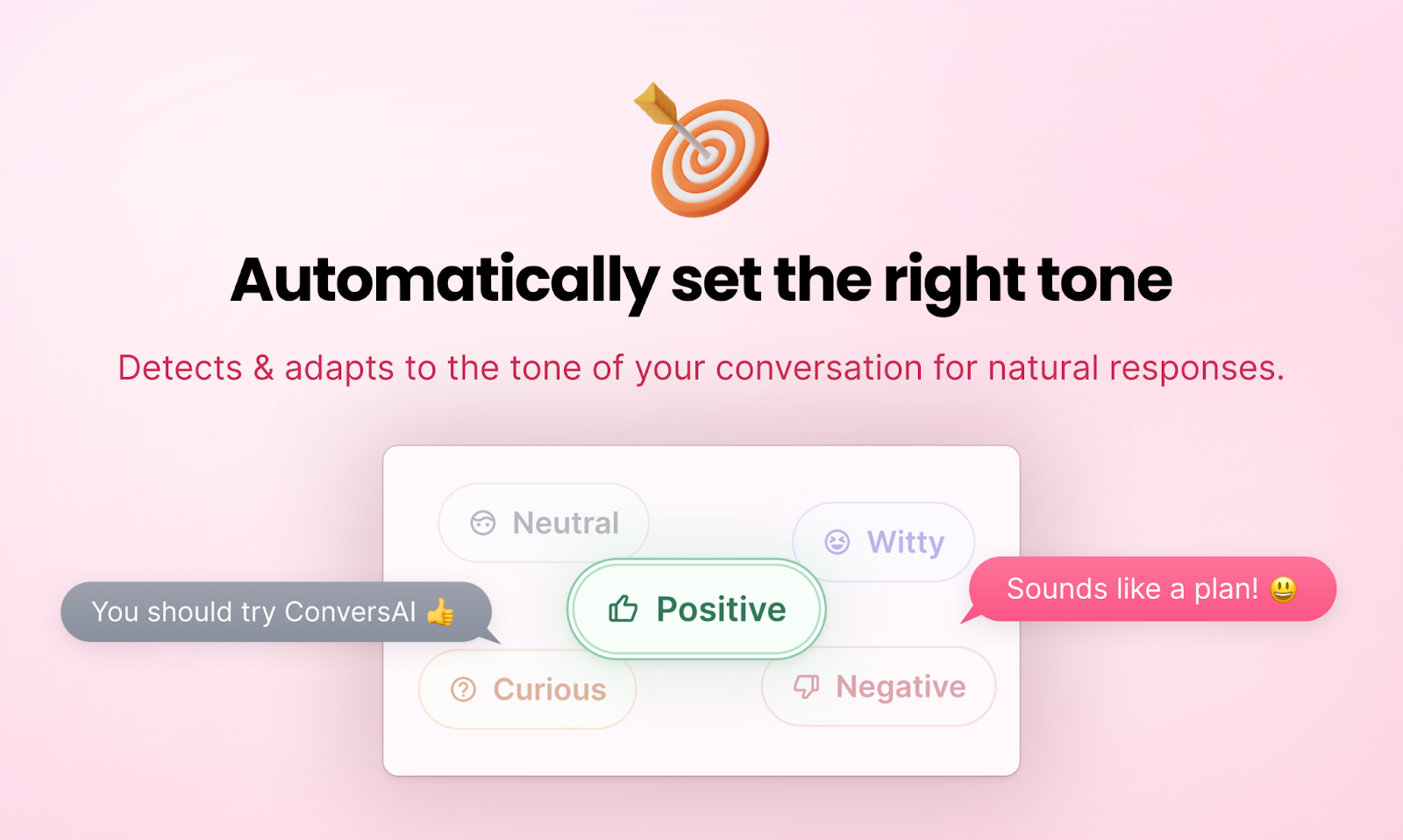 The AI automatically matches the tone of the conversation to sound more natural.
In addition to cutting down your response time, ConversAI also helps you read those dreaded long walls of text.
With just a click of a button, this assistant can summarize lengthy messages, giving you only the most important information.
Think of it like your ultimate chat cheat code! You can still stay connected without reading all those looooong messages in your inbox.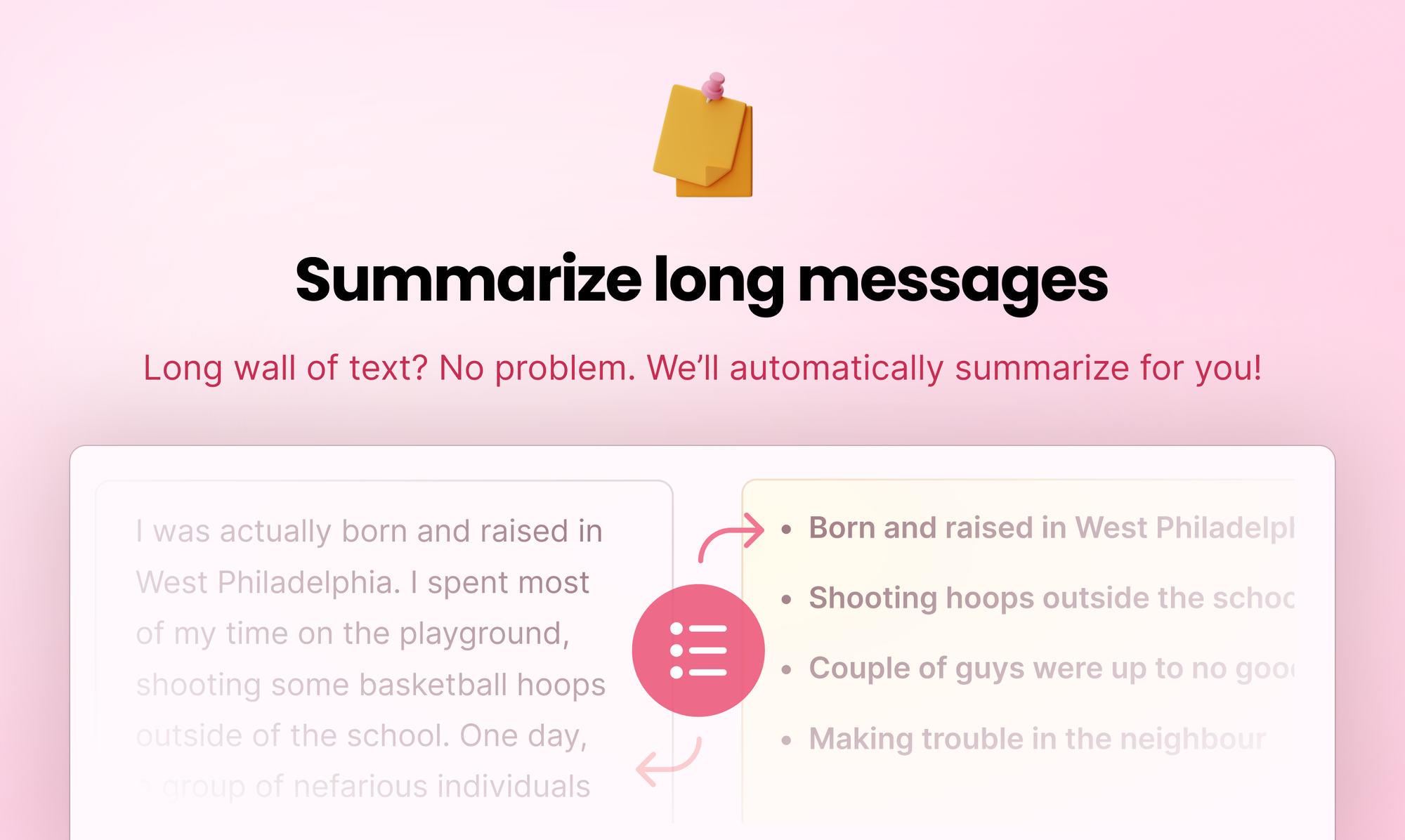 Summarize long messages automatically and never read a wall of text again.
Best of all, ConversAI integrates with tons of messaging platforms, including one-click integration with Twitter and Gmail.
You'll be able to access the tool from its web app via Chrome extension to tap into more conversations than ever.
And because this platform is multilingual, you can communicate in multiple languages and build connections all over the world.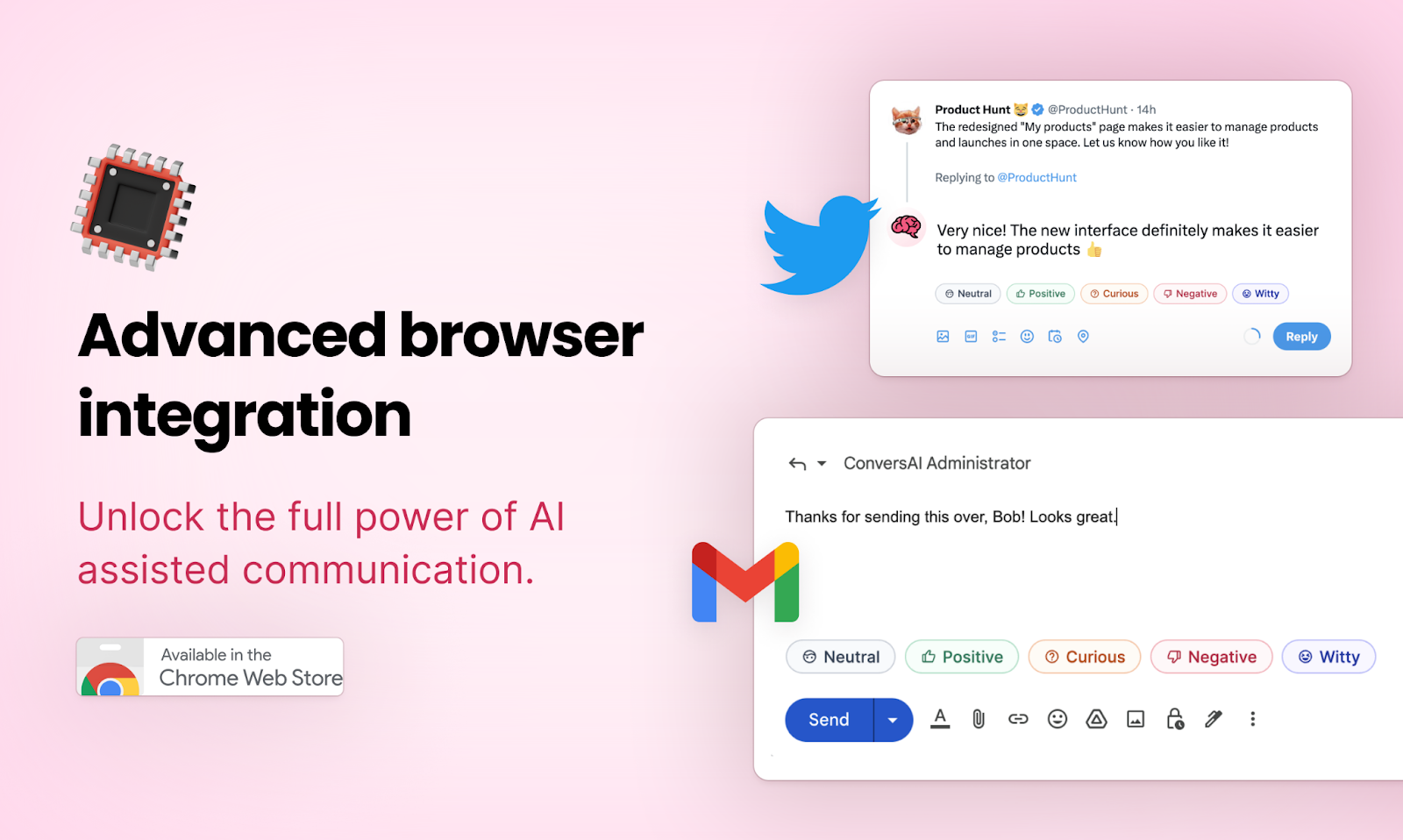 Integrate ConversAI with your favorite browsers, messengers, and social platforms.
It doesn't matter who you're talking to, chatting all day is exhausting. ("Sorry I forgot to text you back, I was sleeping.")
Good thing ConversAI is there to help you optimize your digital communication and reply to messages on any platform in a snap.
Chat smarter, not harder.
Get lifetime access to ConversAI today!
Plans & features
Deal terms & conditions
Lifetime access to ConversAI

All future Credits (Tier 1) or Unlimited (Tier 2) Plan updates

If Plan name changes, deal will be mapped to the new Plan name with all accompanying updates

No codes, no stacking—just choose the plan that's right for you

You must activate your license within 60 days of purchase

Ability to upgrade or downgrade between 2 license tiers

GDPR compliant

Only for new ConversAI users who do not have existing accounts
60 day money-back guarantee. Try it out for 2 months to make sure it's right for you!
Features included in all plans
Summarize long messages

Automatically detect tone

Works with any messaging app: Twitter, Email, Facebook, Instagram, Linkedin, Web, Slack, and Messenger

Any language support

Respond with animated GIFs

Google Chrome (and future extensions)
License Tier 1

All features above included
1,000 credits

License Tier 2

All features above included
Unlimited credits