CrowdParty
Teamwork makes the dream work, but awkward team-building exercises and icebreakers can feel more like a nightmare. ("I don't know if Bob talking about his divorce was really a fun fact.")
Building team synergy is more important than ever in the hybrid workplace, but finding a fun activity that everyone can enjoy, even if they're not in the office, is a tall order.
Your company culture needs a breath of fresh air, like easy and engaging social games that can be played in-person or remotely.
Overview
CrowdParty is an online games platform designed for the workplace that lets you customize interactive icebreakers to play remotely or in-person.
Break the ice with your team and keep them engaged with a variety of games to choose from.
You can play classic party games like Trivia and Charades, plus original games like Friendly Fire and With-Draw.
Whether you're spicing up your Zoom meetings or putting on an event, CrowdParty lets you play fun, interactive games together in-person or remotely.
Start playing right away in Quick Play mode, use one of CrowdParty's Featured Rooms, or create your own room.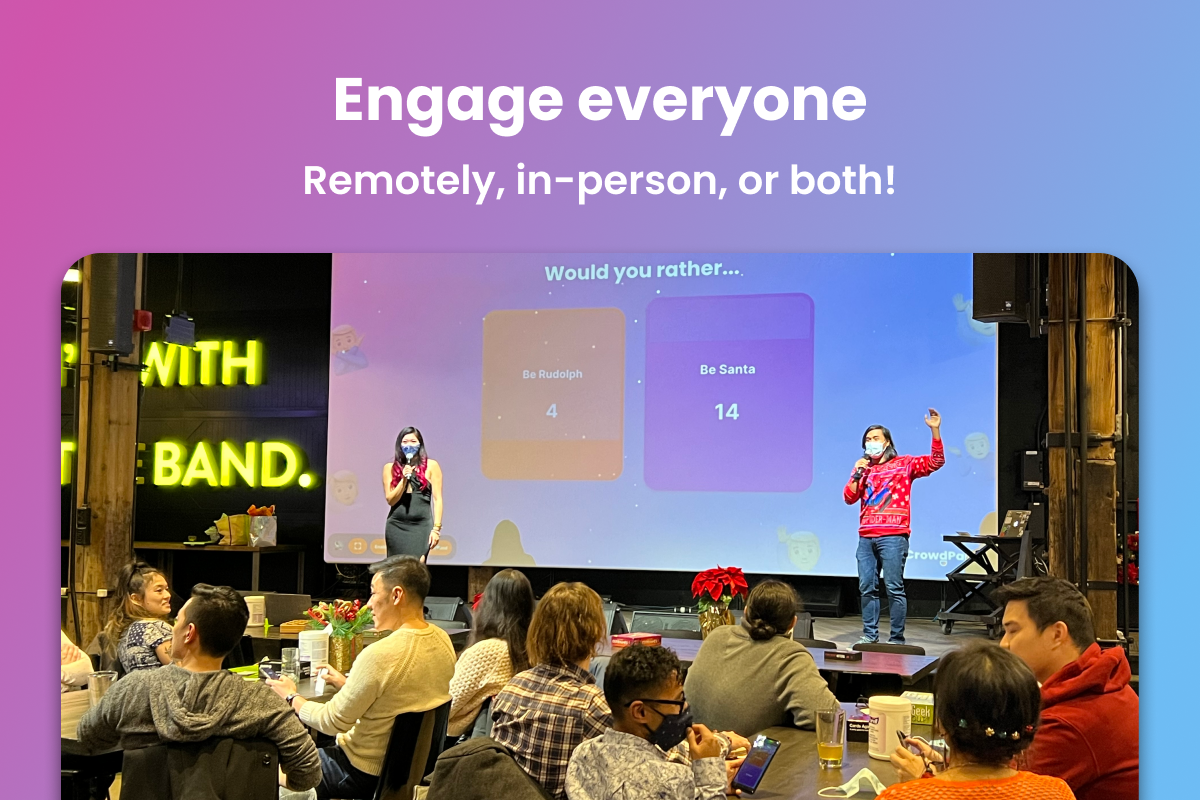 Keep teams engaged with interactive group games that can be accessed remotely, in-person, or both!
CrowdParty's games are fully customizable, so you can keep things fresh and boost morale.
You can personalize games with custom branding and content, like adding your team's inside jokes or fun facts about your company.
Planning a recurring game night? You'll save time setting up personalized games with CrowdParty's Room Maker.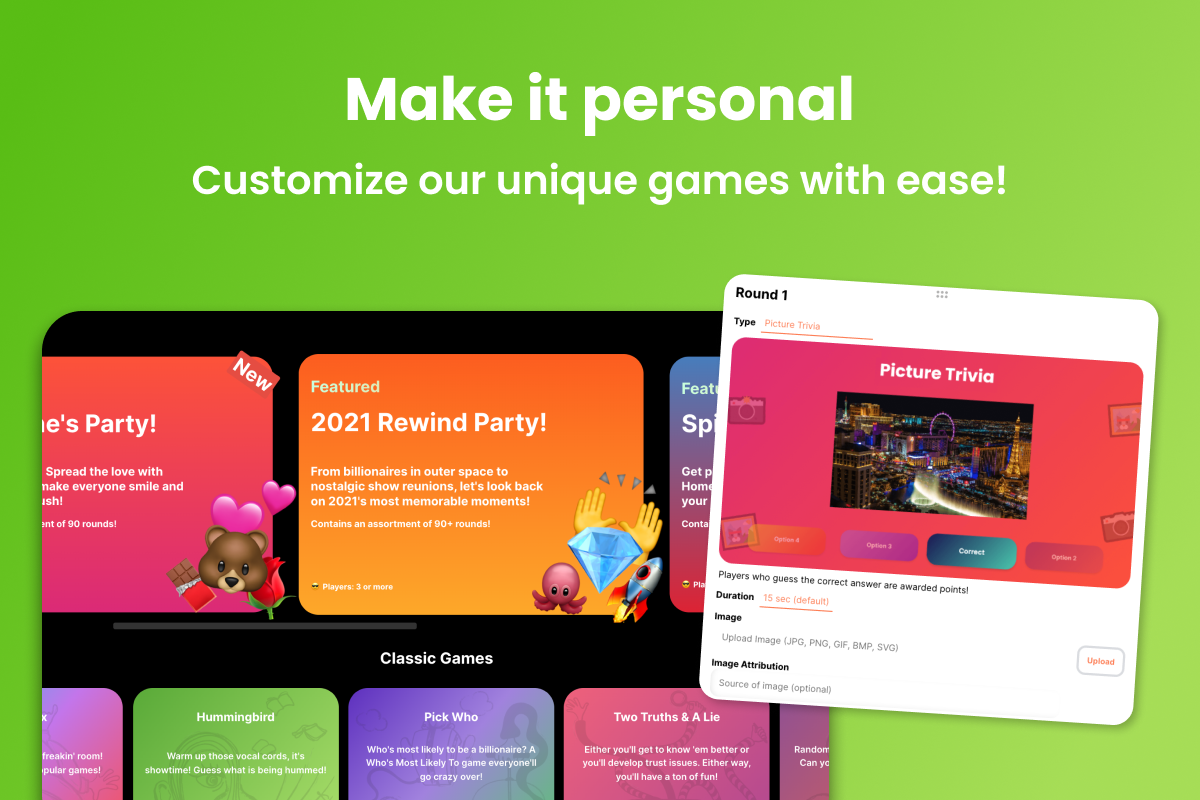 Games are fully customizable, so you can personalize the experience for your team and keep things fresh.
Get ready to enjoy unique, interactive games while also keeping the technical pressure off of everyone involved, including your IT department.
CrowdParty is a web app, meaning there are no downloads or installations required.
Players can easily join the game online by scanning the QR code on their phone, using the game's PIN, or opening the link on their browser.
CrowdParty also works seamlessly with video conferencing like Zoom and Google Meet. All you have to do is share your screen, and you're ready to play!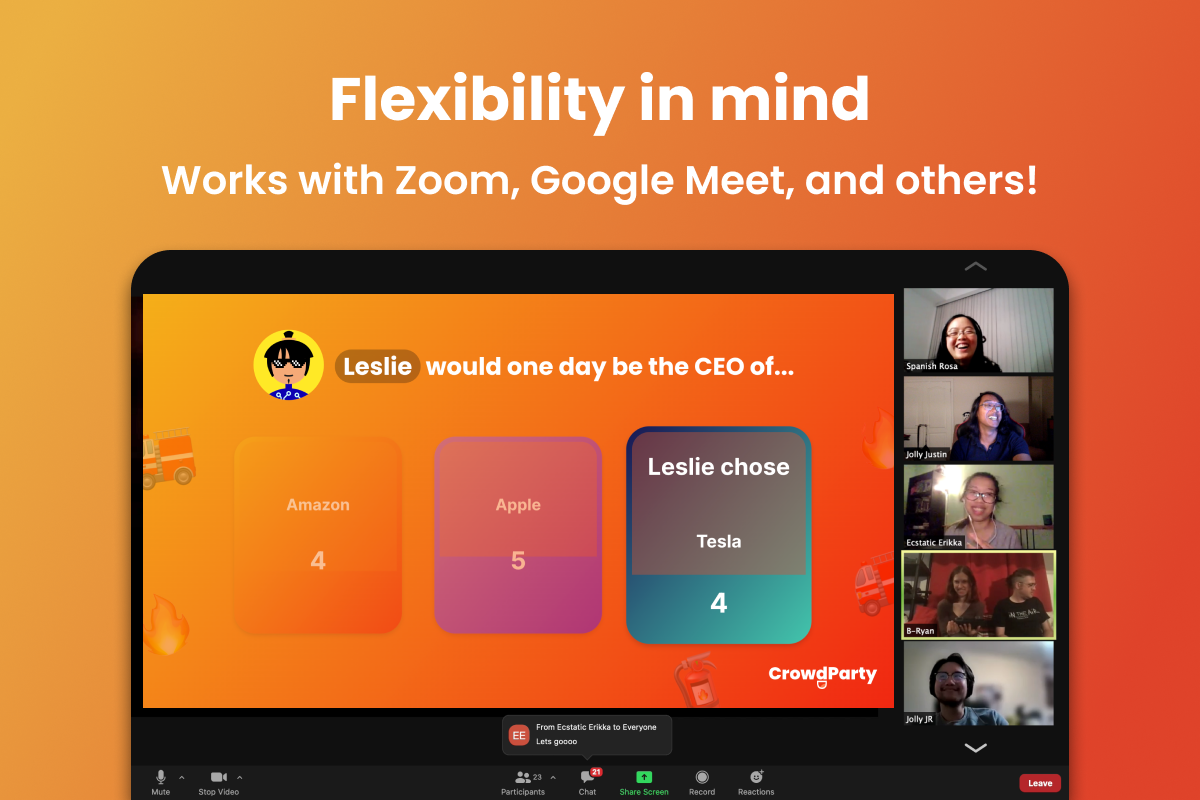 CrowdParty's games can easily be played on group video calls over Zoom and Google Meet.
CrowdParty makes it easy to host memorable, interactive events with crowds big or small, remote or in-person.
With this intuitive web app, you can quickly fire up a game for a mid-meeting break, or put a fun spin on pop quizzes in the classroom.
Whether you're playing with friends or colleagues, CrowdParty helps you break the social barrier of working from home.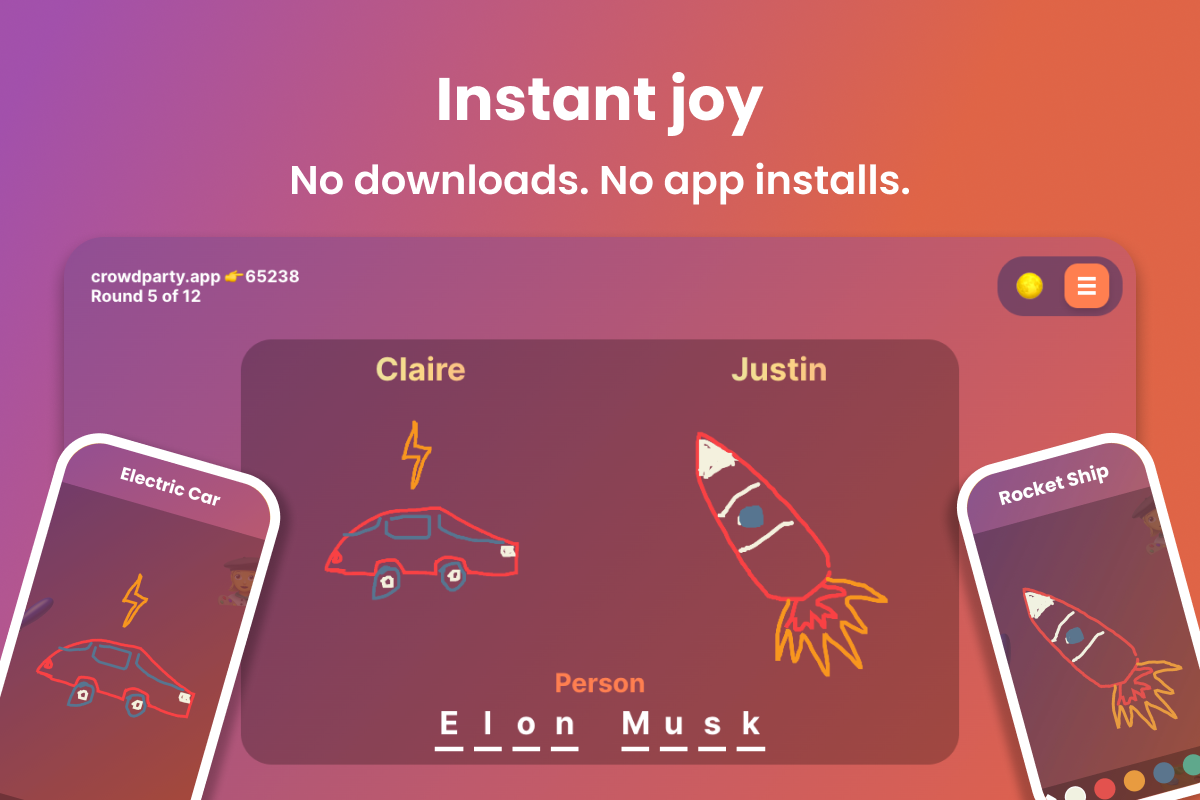 CrowdParty is a web app, so there are no extra downloads or installs required to play.
The better the rapport you build with your team, the better you'll work together—even over the internet. ("We will be settling this budget debate with a heated game of charades.")
CrowdParty brings the party wherever you are with fun and customizable games everyone can enjoy—no downloads or installations required.
Turns out work can be fun and games.
Get lifetime access to CrowdParty today!
Plans & features
Deal terms & conditions
Lifetime access to CrowdParty

All future Team Pass (Tier 1) or Crowd Pass (Tiers 2 or 3) Plan updates

No codes, no stacking—just choose the plan that's right for you

You must activate your license within 60 days of purchase

Ability to upgrade or downgrade between 3 license tiers

GDPR compliant

Previous AppSumo customers who purchased CrowdParty can upgrade their license to increase their feature limits.
60 day money-back guarantee. Try it out for 2 months to make sure it's right for you!
Features included in all plans
Custom rooms

All game modes

200 rounds per game
Specification:
CrowdParty
License Tier 1

All features above included
50 players
1 host(s)
200 rounds per game
Unlimited custom rooms
All game modes

License Tier 2

All features above included
200 players
Multiple host(s)
200 rounds per game
Unlimited custom rooms
All game modes

License Tier 3

All features above included
500 players
Multiple host(s)
200 rounds per game
Unlimited custom rooms
All game modes
Custom branding