DeskSense – Your AI Assistant
No matter what industry you're in, being on the customer-facing side of things can start to feel like Groundhog Day.
When you're answering the same questions repeatedly, it's easy to slip and send an embarrassing email or twenty. ("I did it again. I wrote 'Thanks for reaching out, [INSERT CUSTOMER HERE]' instead of their name.")
If only you could say all the right things, while also saving time and energy on repetitive typing.
Overview
Introducing Desksense – Your Ultimate AI Assistant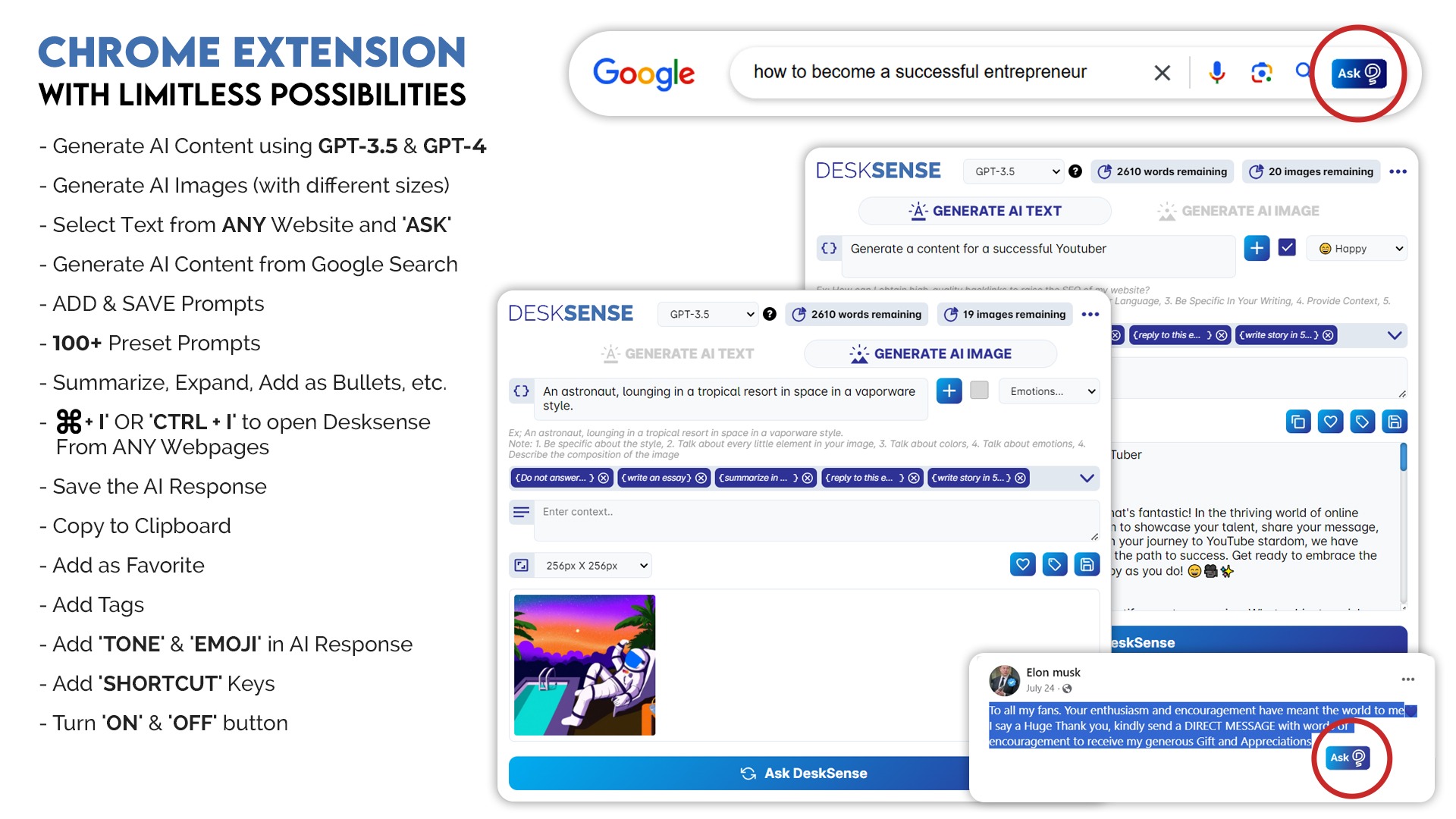 Google Chrome / Edge Extension with limitless possibilities. Now supports Brave.
Just Hit "CMD + I" OR "CTRL + I" from your Chrome browser to open DeskSense instantly on ANY website, or just select text from any website, click on the "ASK" Icon, and instantly get relevant answers to your questions related to the selected text.
Now enjoy human-like 'TONE' & 'EMOJI' in your response as well.
Save your results as cards, edit them, and add tags and notes. You can even share the saved cards through our web and mobile app.
DeskSense even tackles complex Excel formulas, crafts eloquent emails, and concocts social media posts that could make Hemingway jealous.
Plus, with word count, auto-complete, and an "add your own prompts" feature, you'll feel like a genius wordsmith.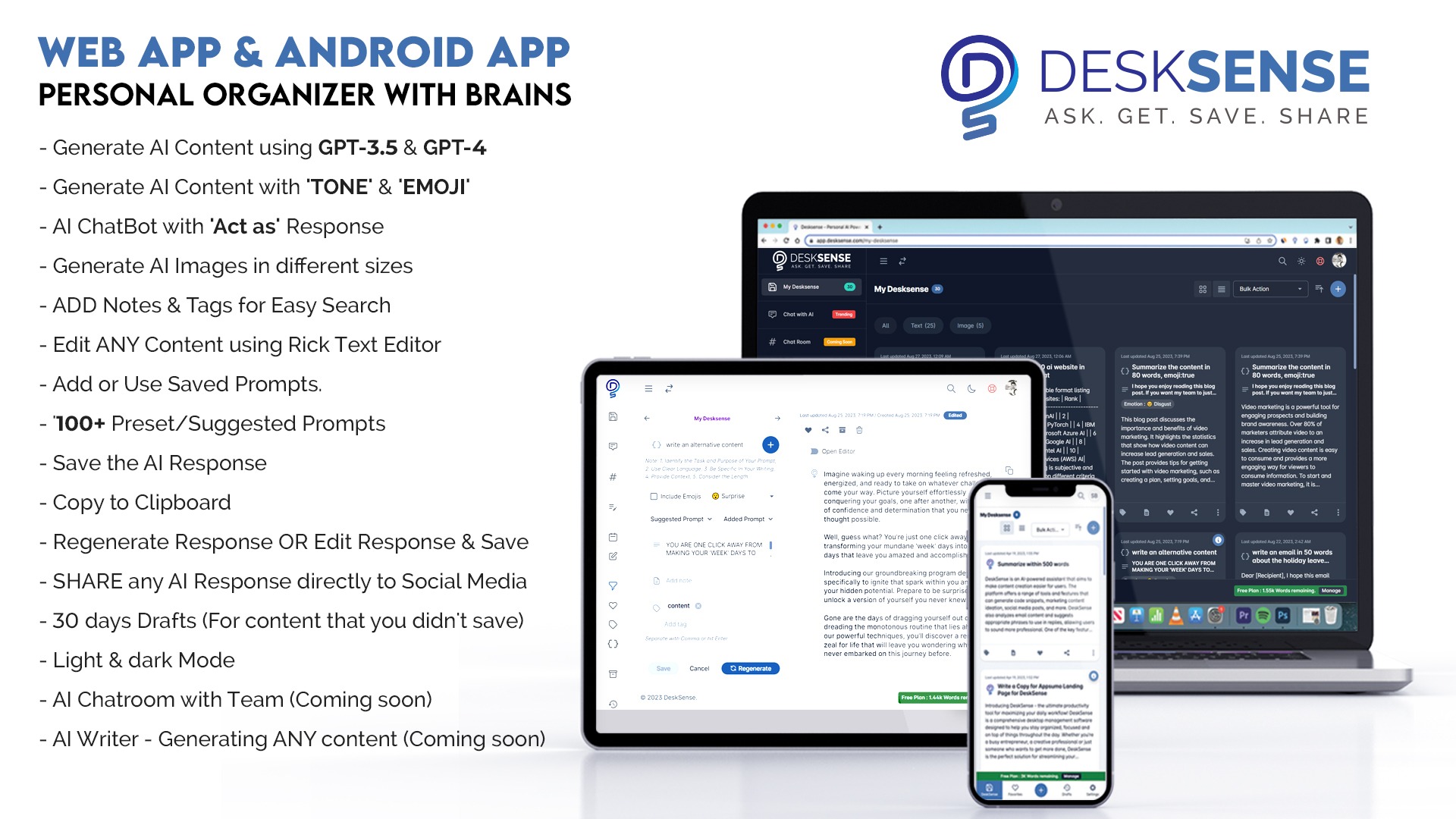 The web app offers all the features of the extension & more — it integrates seamlessly with the extension & mobile app.
With the DeskSense Web interface, you'll get all the bells and whistles of the Chrome extension and more, making it the ultimate sidekick for your browsing adventures.
Edit, Add prompts, Context, Tags, and Notes – It's like a mini content creation studio.
Users can "Favorite" any of their AI-generated content and "Share" the same on Social platforms – because sharing is caring.
"Archive", "Save" or "Delete" any AI content – We're not clingy, you can delete us if you want.
Users can Search any saved item by selecting any of the "Filter" options, "Favorites", "Tags" and "Prompts" – search like a pro.
Promptly get back to their saved items by simply going to the "My DeskSense" option – your personal content archive.
Change the look and feel of the profile according to preferences, "Dark" and "Light" mode – because we know you have different moods.
Never lose unsaved content again! 30-day "Draft" retention ensures peace of mind.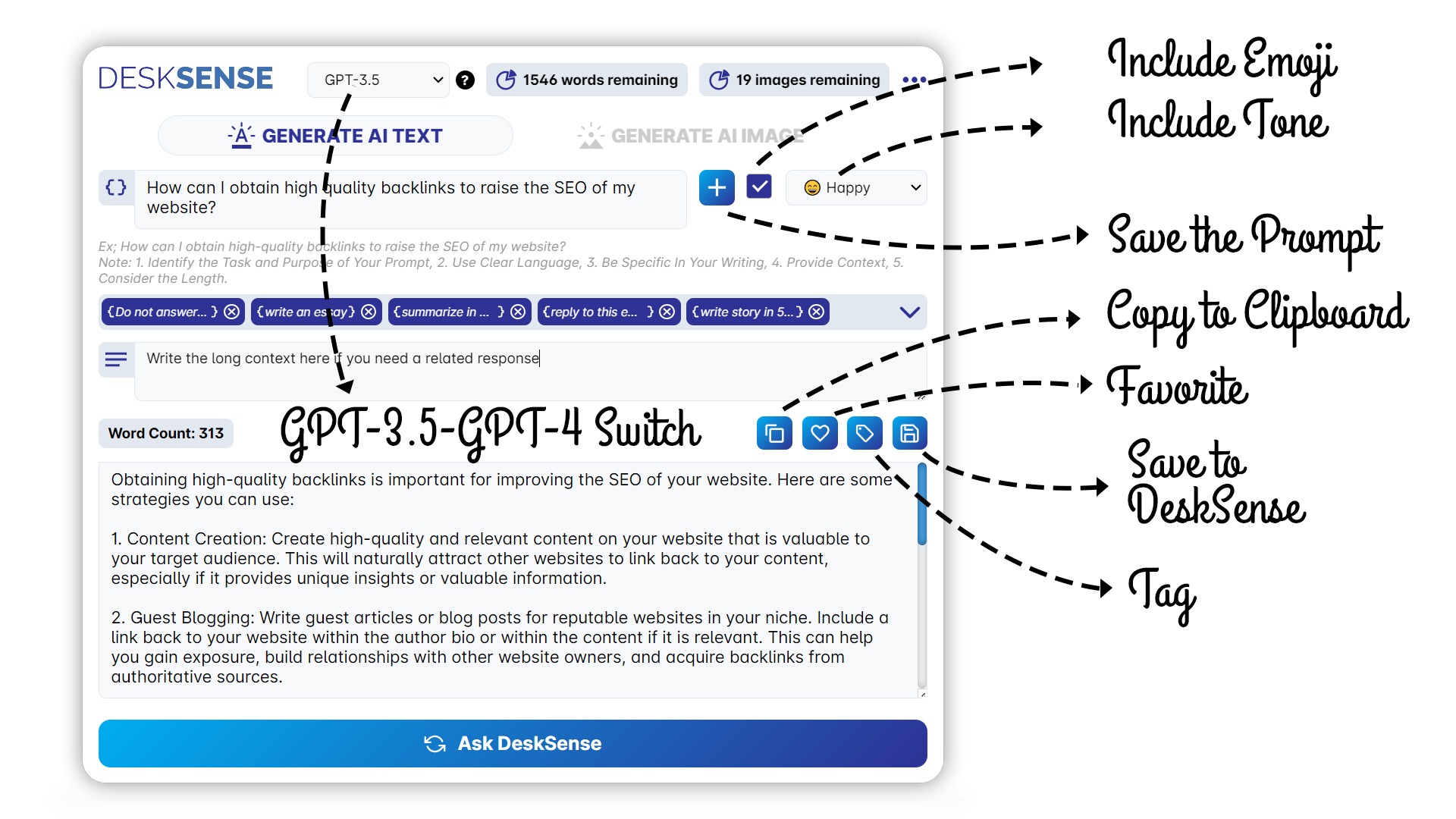 Generate AI-based text responses including "Tone" & "Emoji" simply by using prompts and context.
Using "prompts" and "context" inputs will be your go-to for questions, suggestions, and even delightful chit-chat.
Now you can input "TONE" & "EMOJI" for better & human-like responses.
Need content summarized, regenerated, alternated, or suggested? Done! It saves the generated response as cards.
With features like favorites, tags, and easy searching, DeskSense keeps your digital life organized and efficient.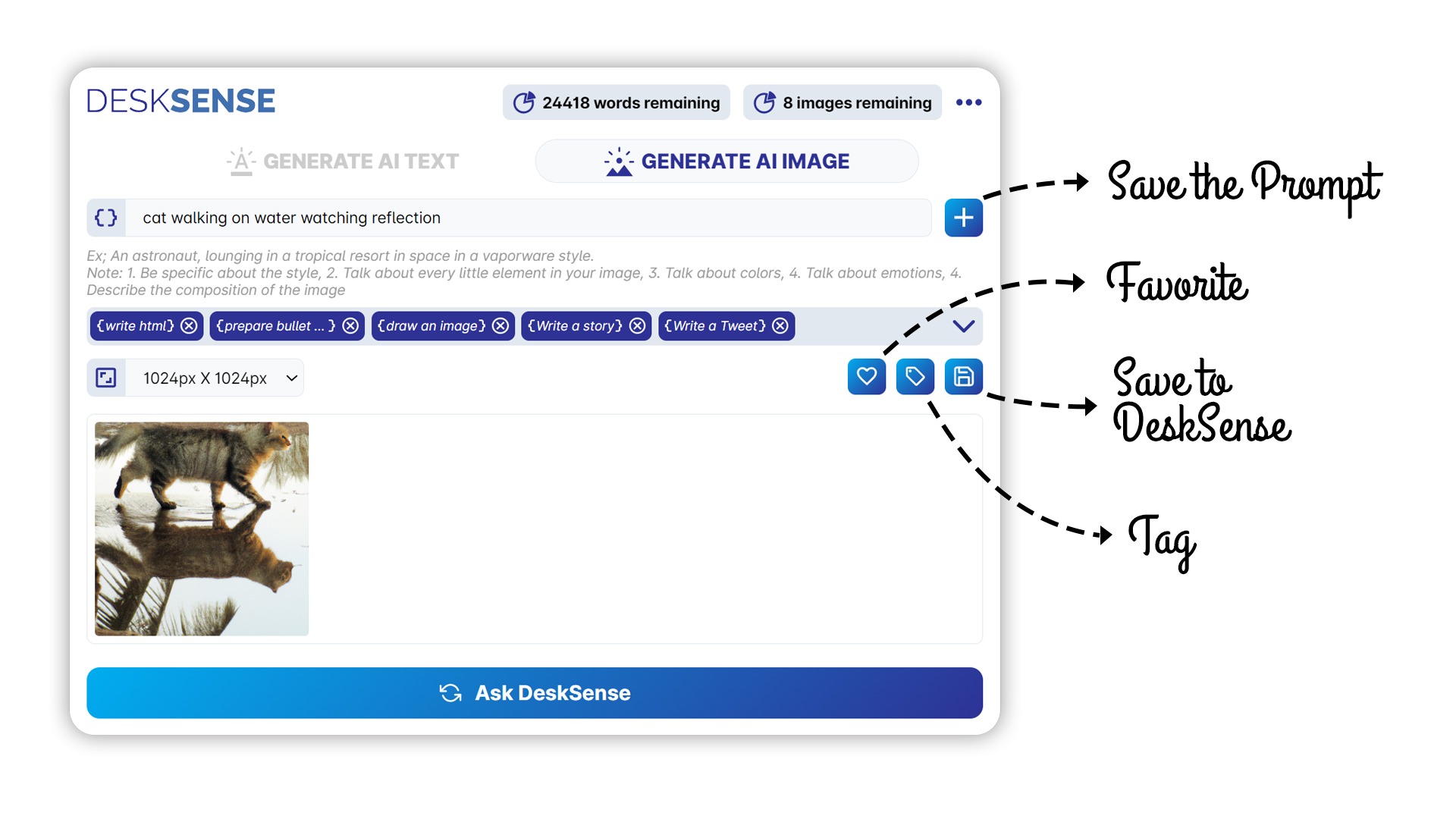 Generate AI-based Images of different sizes simply by using a prompt.
Generate AI-based Images directly from our web app & mobile app. Further, it would have the ability to save & share directly on socials.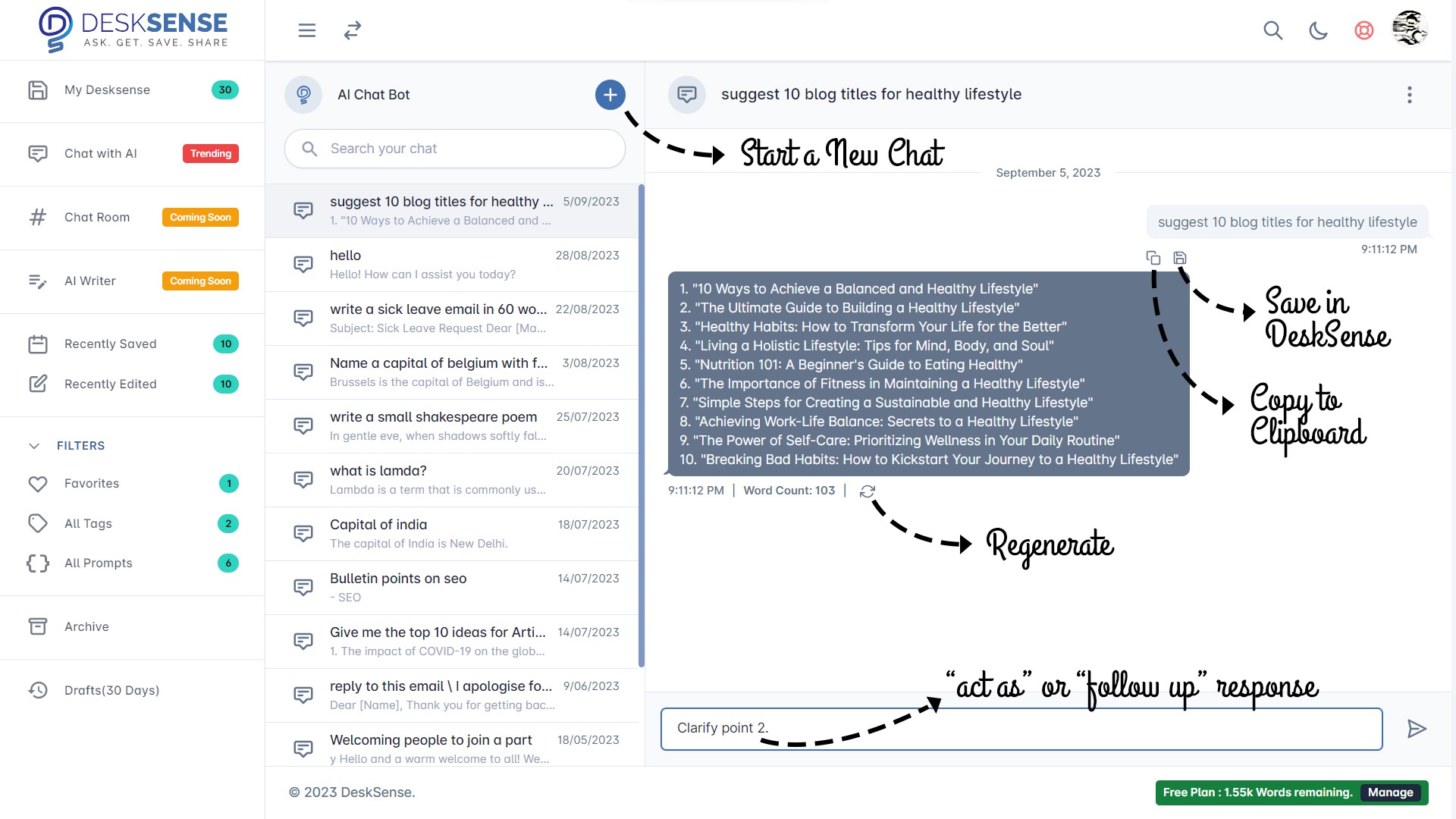 Chat with AI with an 'Act as' response in real-time. Further, Save as Card, Copy & Regenerate.
It provides accurate information, solves problems, and offers personalized assistance in real time.
Further, you can Copy the response, Save the response in "My Desksense" as a card, and Regenerate the chat response if you want an alternative.
Remember: Our Chatbot can detect previous responses and be able to give 'Act as' or 'Follow up' Answers.
Experience the power of AI Chat with ChatGPT.
Spoiler Alert – Coming soon:
GPT-4 Integration in Extension and Web App
AI Writer (Generate ANY content in 3-steps)
AI Team Chatroom/Workspace & Collaboration
Chat Window in Extension
and more.
Get access today!
Plans & features
Deal terms & conditions
Lifetime access to DeskSense

You must redeem your code(s) within 60 days of purchase

All future plan updates

Stack up to 3 codes
60 day money-back guarantee. Try it out for 2 months to make sure it's right for you!
Features included in all plans
AI Chatbot

Ability to increase word limit

3x faster, sharper & clear responses

99.99% uptime

Google Chrome / Edge Extension, web app & mobile app

Single login access to any devices

No Restrictions on country or language
Specification:
DeskSense – Your AI Assistant
Plan 1

All features above included
60,000 words per month
25 AI-generated images per month
Color Filter for Saved Cards
Unlimited storage
Unlimited saves, tags, favorites, notes
24/7 email support

Plan 2

All features above included
120,000 words per month
50 AI-generated images per month
Color Filter for Saved Cards
Unlimited storage
Unlimited saves, tags, favorites, notes
24/7 email support

Plan 3

All features above included
200,000 words per month
80 AI-generated images per month
Color Filter for Saved Cards
Unlimited storage
Unlimited saves, tags, favorites, notes
24/7 email and video support