Overview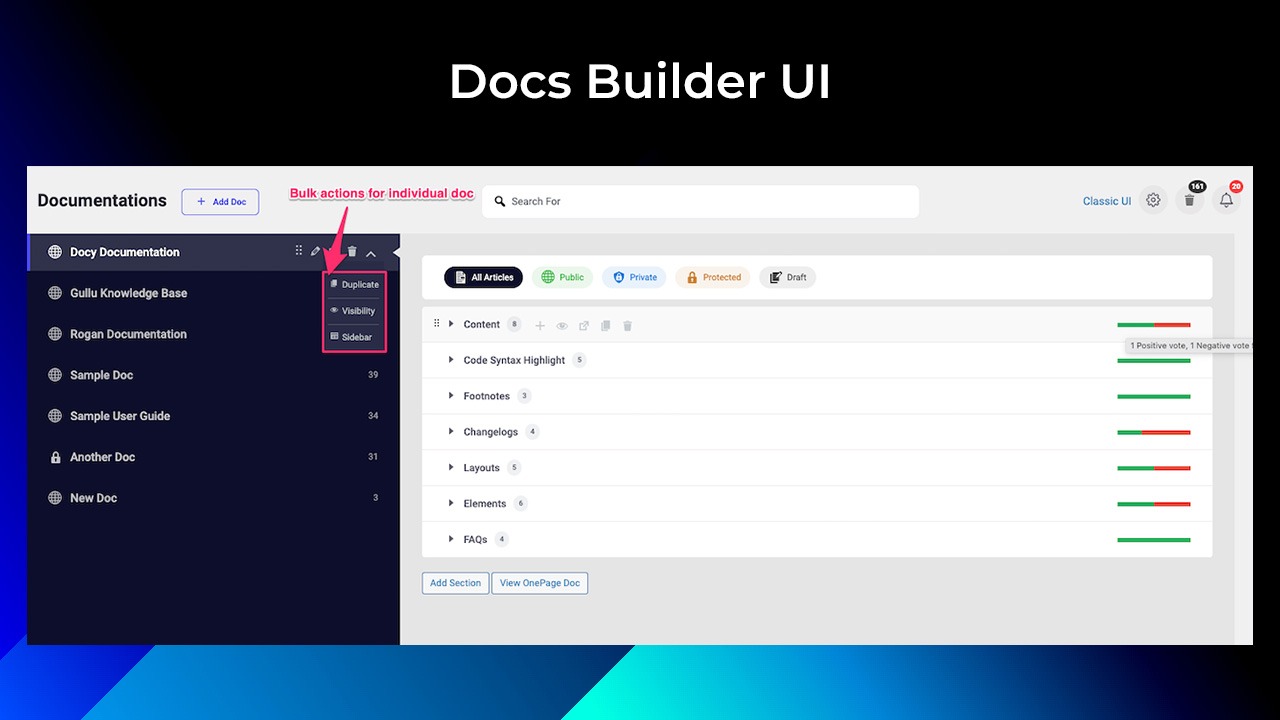 Our docs builder UI for the WordPress dashboard is top-notch.
Bulk Options Docs:
The plugin includes several advanced features to help users streamline their documentation process — such as bulk visibility, which allows users to quickly and easily set the visibility status for multiple pages at once.
Additionally, it also has a duplicate docs feature which allows users to quickly create a copy of an existing doc, and a custom sidebar content feature, which allows users to add custom content to the sidebar of their documentation pages.
Notifications:
By clicking on the Notification icon on the EazyDocs dashboard, you can see how people are reacting and responding to your docs in one place.
It also includes a search function, which allows users to quickly find specific information within their documentation.
Conditional Dropdown:
Parts of the document can be changed conditionally so users can see their desired contents easily.
Dark Mode:
Fully Dark Mode supported for Doc Single page and OnePage Docs.
Extended Doc Layout:
This displays large amounts of information, making navigation easier (ideal for longer documentation projects).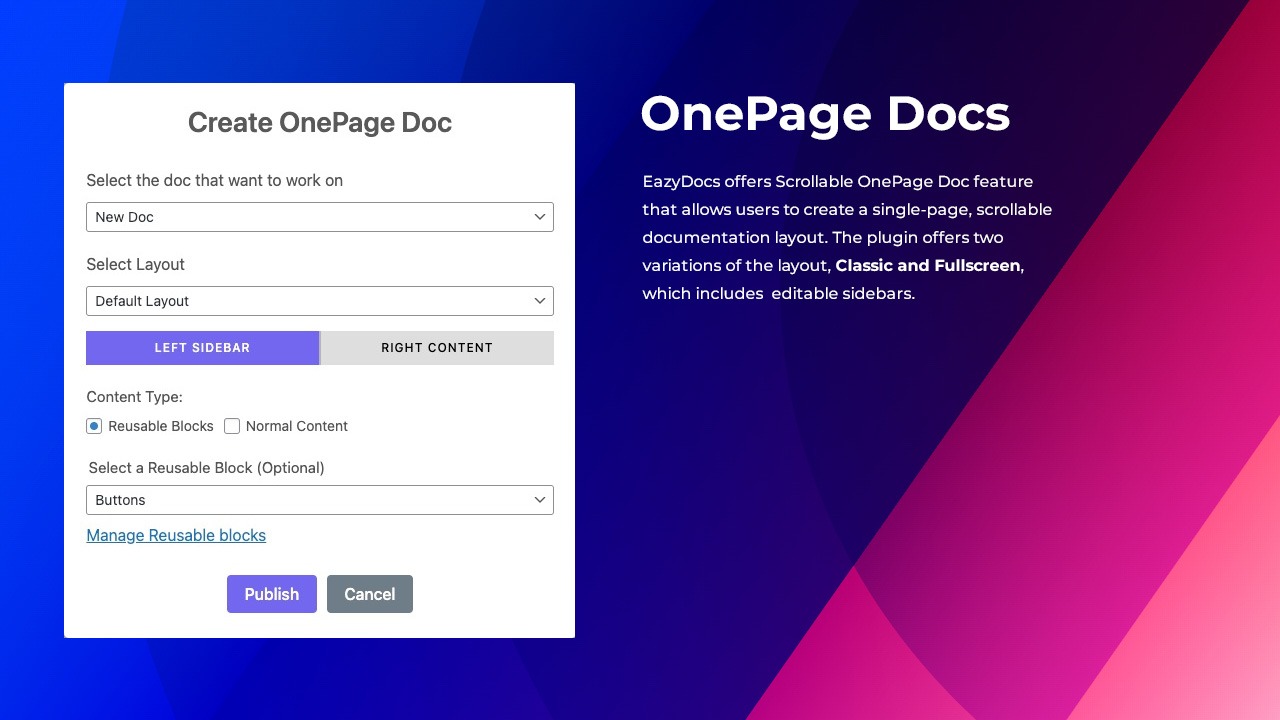 EazyDocs OnePage documentation creating prompt helps you get started easily.
OnePage Doc:
The scrollable OnePage Doc feature allows users to create a single-page, scrollable documentation layout.
It offers two variations of the layout, Classic and Fullscreen, which includes editable sidebars.
This feature allows users to create a more immersive and interactive documentation experience with the ability to customize the layout accordingly.
Additionally, the scrollable functionality makes it easy to navigate through the document.
Doc Badge:
Doc Badge highlights specific sections or documents in documentation, making it easier to locate important information.
Docs Masonry Layout:
Docs Masonry Layout arranges documentation in a visually appealing grid-based style, showcasing multiple items and letting you find information easily.
Duplicate / Copy Documentation:
You can duplicate a group of docs at once or duplicate multiple docs at once and save time.
Helper Assistant:
You will get an integrated helper assistant feature with EazyDocs Pro. This shows a clickable button at the right bottom corner of the website.
Get access to EazyDocs now!
Plans & features
Deal terms & conditions
Lifetime access to EazyDocs

You must redeem your code(s) within 60 days of purchase

All future Pro Plan updates

Stack up to 2 codes
Plan 1

All features above included
10 sites license
Voting & comments notifications
Doc helper assistant with contact form
Conditional content dropdown
Ajax doc loading
Doc dark mode
OnePage documentation
User role management
Duplicate bulk/individual documentation
Bulk doc visibility (private/internal, password protected, public)
Docs archive masonry layout
Private doc with login page
Extended doc layout
Doc badge
Suggested search keywords
Bulk duplicate documentation
Editable single doc sidebar area
Priority email & chat support

Plan 2

All features above included
25 site license
Voting & comments notifications
Doc helper assistant with contact form
Conditional content dropdown
Ajax doc loading
Doc dark mode
OnePage documentation
User role management
Duplicate bulk/individual documentation
Bulk doc visibility (private/internal, password protected, public)
Docs archive masonry layout
Private doc with login page
Extended doc layout
Doc badge
Suggested search keywords
Bulk duplicate documentation
Editable single doc sidebar area
Priority email & chat support

Plan 3

All features above included
100 site license
Voting & comments notifications
Doc helper assistant with contact form
Conditional content dropdown
Ajax doc loading
Doc dark mode
OnePage documentation
User role management
Duplicate bulk/individual documentation
Bulk doc visibility (private/internal, password protected, public)
Docs archive masonry layout
Private doc with login page
Extended doc layout
Doc badge
Suggested search keywords
Bulk duplicate documentation
Editable single doc sidebar area
Priority email & chat support

Plan 4

All features above included
400 site license
Voting & comments notifications
Doc helper assistant with contact form
Conditional content dropdown
Ajax doc loading
Doc dark mode
OnePage documentation
User role management
Duplicate bulk/individual documentation
Bulk doc visibility (private/internal, password protected, public)
Docs archive masonry layout
Private doc with login page
Extended doc layout
Doc badge
Suggested search keywords
Bulk duplicate documentation
Editable single doc sidebar area
Priority email & chat support

Plan 5

All features above included
1,000 site license
Upgraded to Promax plan
Voting & comments notifications
Doc helper assistant with contact form
Conditional content dropdown
Ajax doc loading
Doc dark mode
OnePage documentation
User role management
Duplicate bulk/individual documentation
Bulk doc visibility (private/internal, password protected, public)
Docs archive masonry layout
Private doc with login page
Extended doc layout
Doc badge
Suggested search keywords
Bulk duplicate documentation
Editable single doc sidebar area
Priority email & chat support

Plan 6

All features above included
Unlimited site license
Upgraded to Promax plan
Voting & comments notifications
Doc helper assistant with contact form
Conditional content dropdown
Ajax doc loading
Doc dark mode
OnePage documentation
User role management
Duplicate bulk/individual documentation
Bulk doc visibility (private/internal, password protected, public)
Docs archive masonry layout
Private doc with login page
Extended doc layout
Doc badge
Suggested search keywords
Bulk duplicate documentation
Editable single doc sidebar area
Priority email & chat support