Formsly
No matter what industry you're in, being on the customer-facing side of things can start to feel like Groundhog Day.
When you're answering the same questions repeatedly, it's easy to slip and send an embarrassing email or twenty. ("I did it again. I wrote 'Thanks for reaching out, [INSERT CUSTOMER HERE]' instead of their name.")
If only you could say all the right things, while also saving time and energy on repetitive typing.
Overview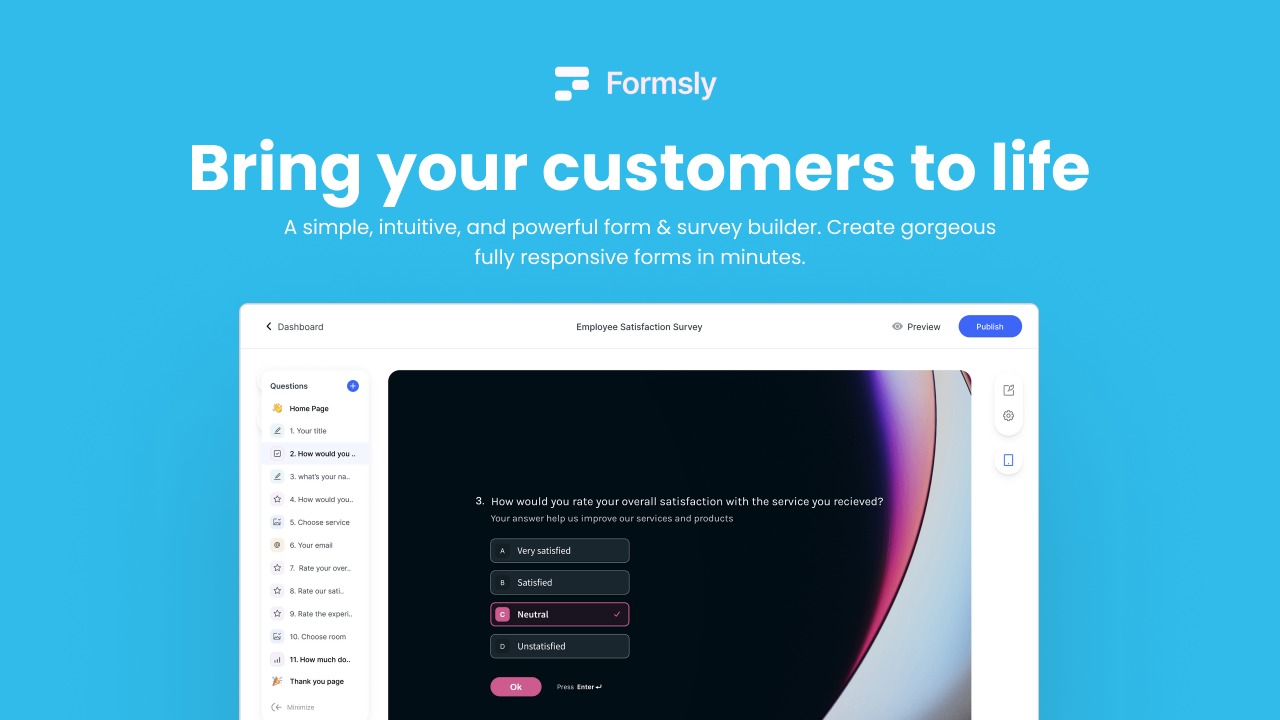 Discover Formsly: simplifying form and survey creation.
Ditch the complexity and embrace simplicity with Formsly – your key to hassle-free form and survey creation.
No more tangled tools; we've designed Formsly to streamline the process, ensuring you effortlessly gather insights that matter most from your audience. Whether you're after customer feedback, market research, or data collection, Formsly has your back.
Crafting forms and surveys that mirror your brand identity is a breeze. With customizable templates and an intuitive drag-and-drop interface, say farewell to generic designs and welcome captivating creations that engage your audience like never before.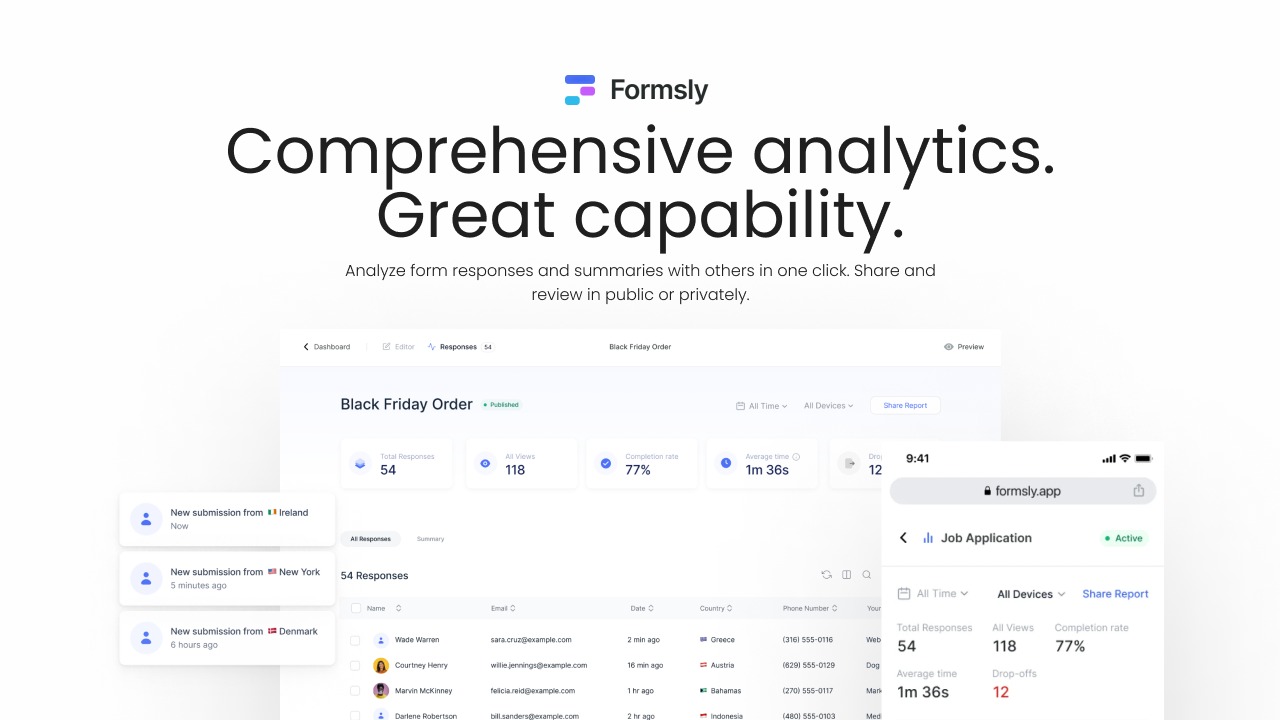 Unlock real-time insights with Formsly's comprehensive analytics dashboard.
On top of that, Formsly comes with an all-inclusive analytics dashboard, granting you real-time access to form submissions and survey responses.
Effortlessly monitor and scrutinize data, extracting invaluable insights to steer your decision-making in the right direction.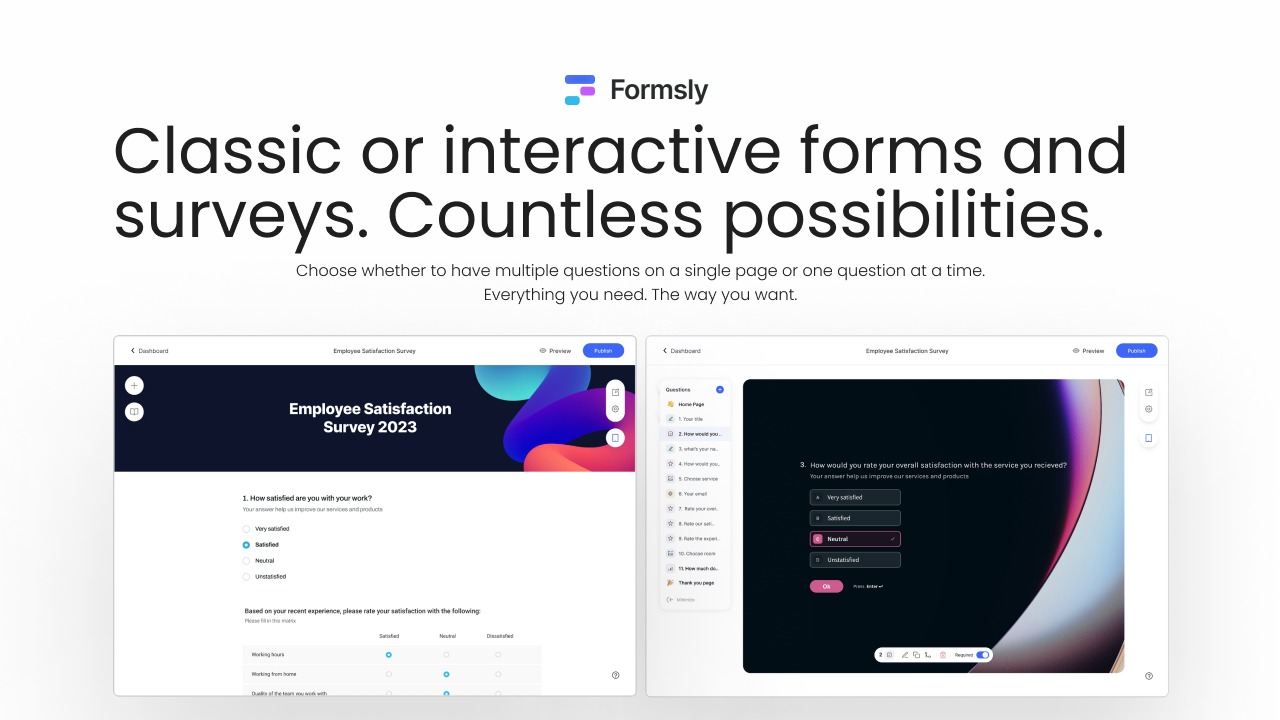 Unleash your data collection potential with Formsly's versatility and ease of use.
Ready to craft breathtaking forms and surveys effortlessly? Take the plunge, sign up, and embark on a journey of gathering invaluable insights and steering data-driven decisions.
With Formsly, your data collection prowess reaches new heights.
Formsly grants you versatility – from classic to interactive forms and surveys, the choices are boundless.
Opt for multiple questions on a single page or the one-question-at-a-time approach. Everything you seek, tailored to your preference.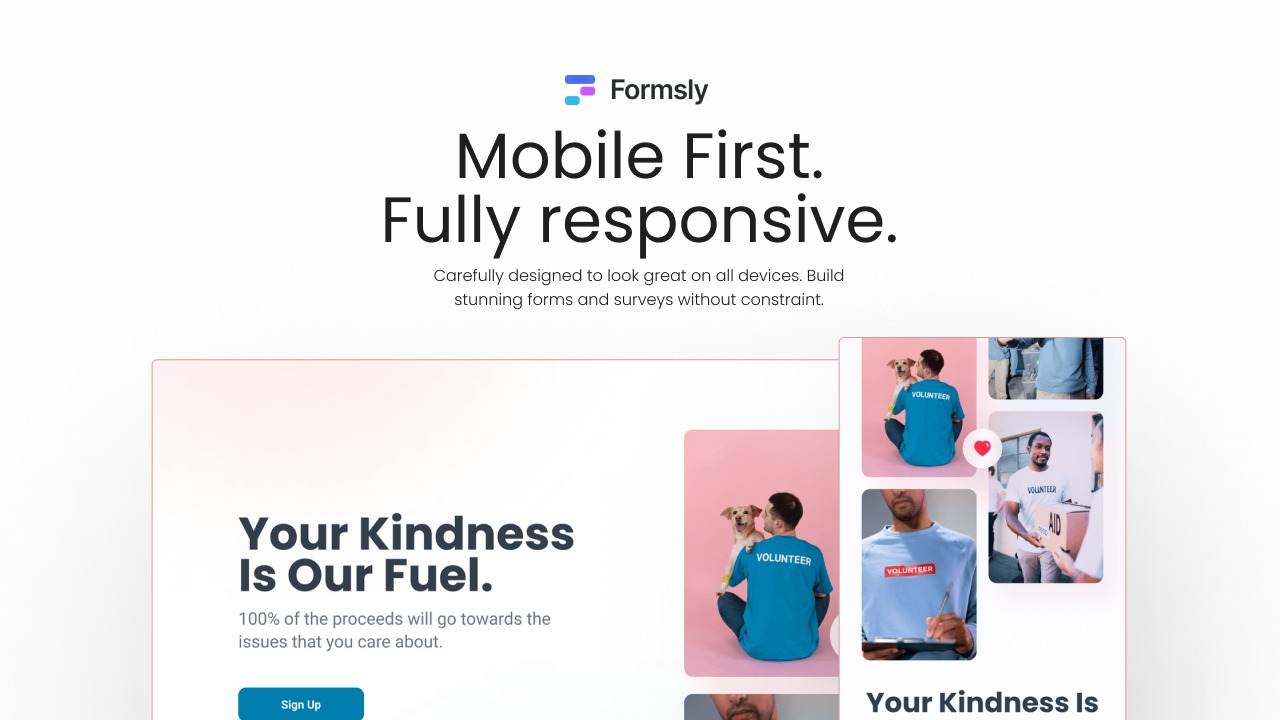 Designed for mobile excellence.
Experience full responsiveness, ensuring your forms and surveys shine on all devices. Craft stunning creations without limitations.
Ready to revolutionize your form and survey game? Formsly brings simplicity and sophistication together, making data collection a joy.
Get access now and unleash the power of effortless creation. Elevate your insights, elevate your decisions, elevate with Formsly today.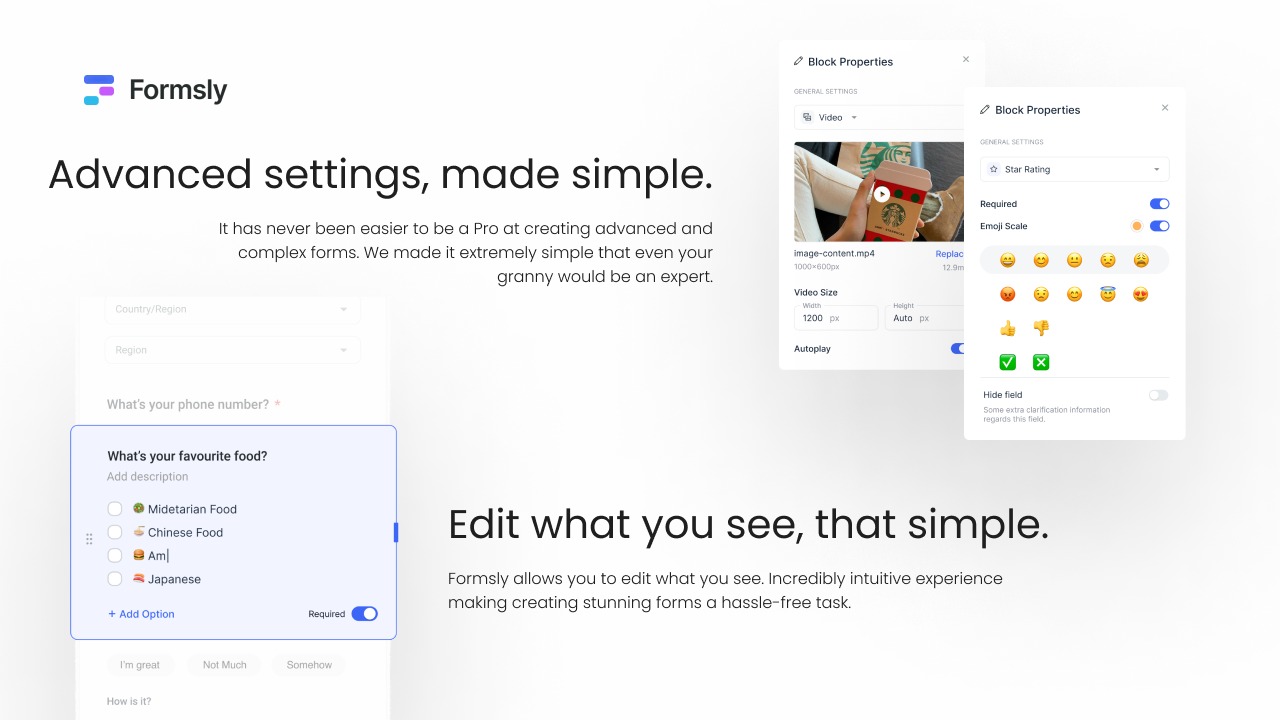 Unleash your inner pro with Formsly's user-friendly advanced settings.
Advanced settings, simplified.
Becoming a pro at crafting intricate forms has never been this straightforward. We've designed it so intuitively that even your grandma could master it.
Plans & features
Deal terms & conditions
Lifetime access to Formsly

You must redeem your code(s) within 60 days of purchase

All future Pro Plan updates

Please note: This deal is not stackable
Formsly Lifetime Plan

Unlimited questions
Conditional logic
Custom themes
Interactive and static forms
Hidden fields
Your logo in static forms
Video and image blocks
Analytics and metrics
Custom start and end screens
Redirect on completion
Receive file uploads up to 1 GB
Advanced analytics summary
Advanced email notifications
Remove Formsly branding
Auto-close forms
Full access to all features
Smart parargraphs
e-Signature
Limit responses number