- 83% Getscreen.me
Getscreen.me is one of the freshest and simplest solutions for remote access.
Whether you're a system admin, a support specialist, or just a common user, you can quickly connect to another desktop with Getscreen.me.
Getscreen.me provides a solution for all these tasks.
To attain web access with a common URL, just download an agent, run it on a desktop you want to access, and go to a link generated by this agent.
Get a one-click connection to desktops (of yours or your clients) from anywhere with a user-friendly personal account.
Let your clients forget about all the trouble with connection passwords. Just send an invitation and the connection will start automatically when your client accepts it.
Integrate Getscreen.me into your infrastructure using ready-made proprietary plugins or by creating your own with public HTTP API.
Get access to Getscreen.me now!
Overview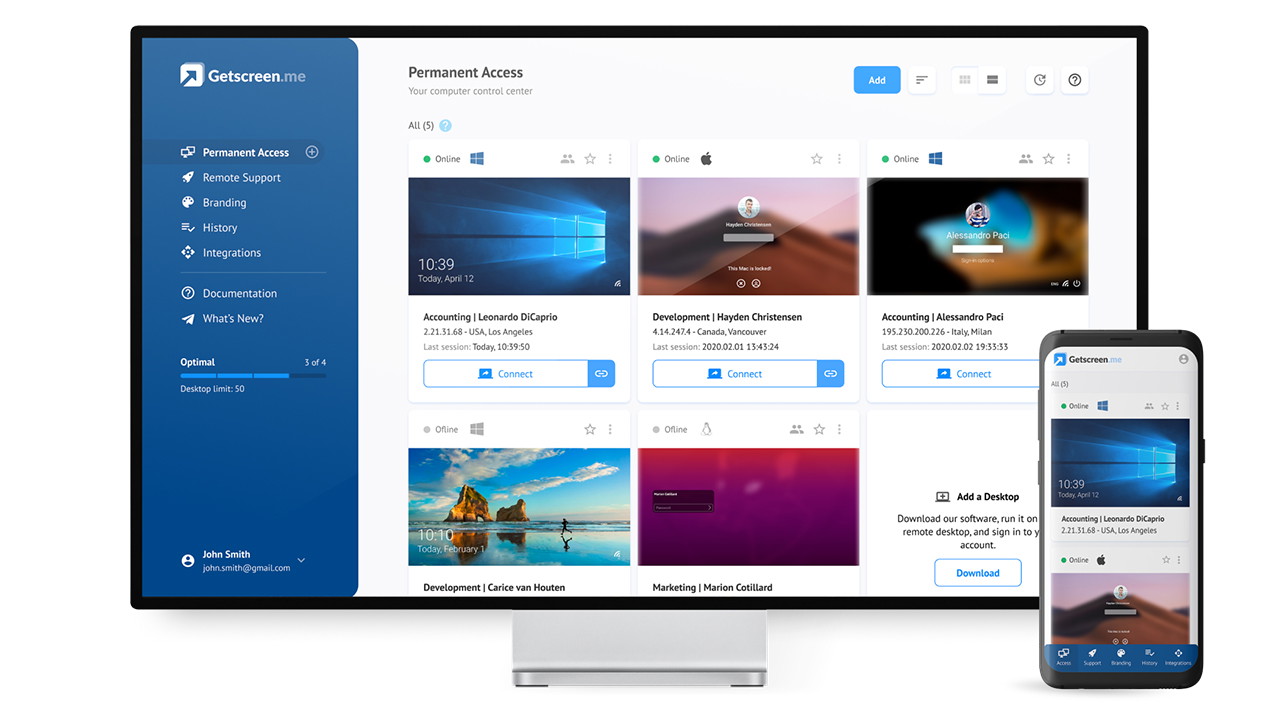 Add your own or your client's devices to your personal cabinet to be able to instantly connect to any of them
Plans & features
Deal terms & conditions
Lifetime access to Getscreen.me

You must redeem your code within 60 days of purchase

All future plan updates

GDPR Compliant (Partner Verified)

Only for new Getscreen.me users who do not have existing accounts
Specification:
Getscreen.me
Getscreen.me

Simultaneous connections
Joint connections
Quick connection by invitation
Integration with your platform
Connection history and recordings
Commercial use
Stack 1 code to receive:
Permanent access – 10 devices
Quick support – 5 clients per day
Video recording – 20 GB
Size limitations for one transferred file – 4 GB
Black Screen
Stack 2 codes to receive:
Permanent access – 50 devices
Quick support – 50 clients per day
Video recording – 40 GB
Size limitations for one transferred file – 40 GB
Team – 2 additional accounts
Black Screen
Stack 3 codes to receive:
Permanent access – 100 devices
Quick support – 100 clients per day
Video recording – 60 GB, Black Screen
Size limitations for one transferred file – 100 GB
Team – 7 additional accounts
Branding (title, icon and subdomain for links)
Black Screen
Wake-on-LAN
Stack 4 codes to receive:
Permanent access – 150 devices
Quick support – 150 clients per day
Video recording – 80 GB
Size limitations for one transferred file – 120 GB
Team – 15 additional accounts
Branding (title, icon and subdomain for links)
Black Screen
Wake-on-LAN
Stack 5 codes to receive:
Permanent access – 200 devices
Quick support – 200 clients per day
Video recording – 100 GB
Size limitations for one transferred file – 140 GB
Team – 25 additional accounts
Branding (title, icon and subdomain for links)
Personal domain for links (CNAME)
Black Screen
Wake-on-LAN