Overview
Linguix is an AI-powered writing assistant that checks your writing for errors and gives you grammar, style, and vocab recommendations.
Powered by AI, Linguix allows you to instantly find and eliminate grammar errors, punctuation mistakes, and typos as you write.
While you're typing, you'll get context-appropriate recommendations to make your content clearer and more compelling.
You can easily accept suggestions—just click on the pop-up that appears as you hover over the word or phrase underlined in red.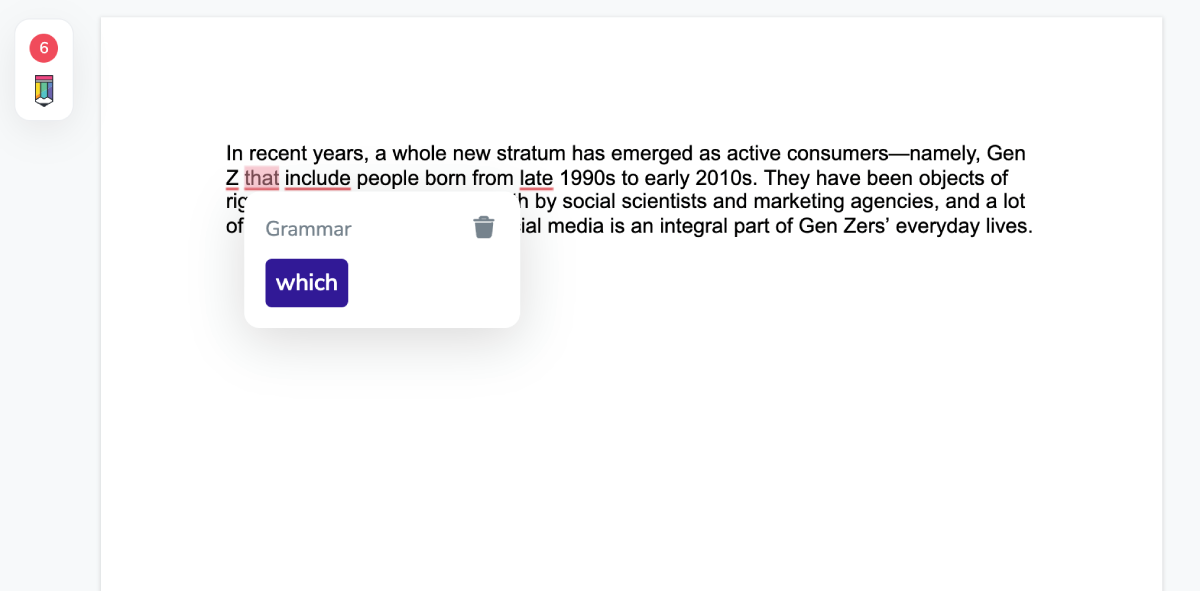 Linguix fixes grammatical errors automatically, so you can improve your content in seconds.
Linguix also features a rewriter tool that helps you rephrase complex or unclear sentences for better readability and comprehension.
Highlight your sentence to view how you can rephrase and rewrite it, ensuring that your writing is up to snuff even if you're not a native English speaker.
You'll be able to choose from multiple rewrite options and fix the entire sentence in seconds!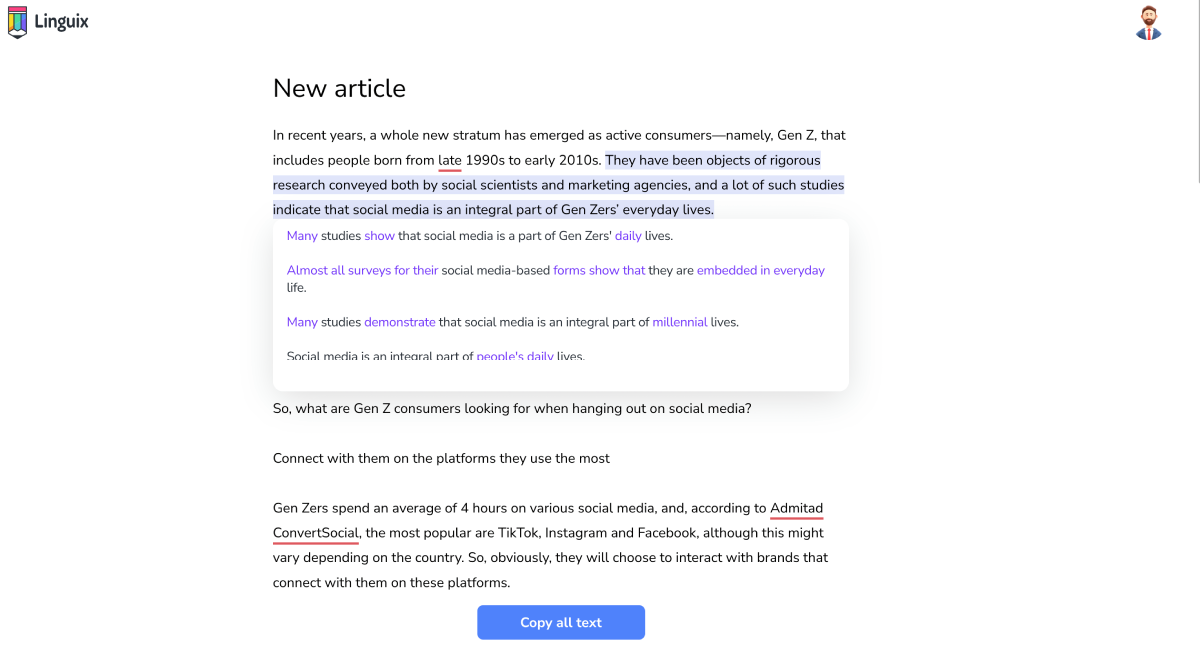 Instantly rephrase any highlighted section to improve readability and clarity for your audience.
Thanks to the Linguix web browser extension, you can use pre-drafted shortcuts to write emails and social posts fast.
Create your shortcut in the web app, give it a name, and type in the shortcut to instantly expand the text.
Plus, Linguix integrates with Google Docs, Slack, Asana, Frase.io, and hundreds of other business tools, so you can do your best writing on multiple platforms.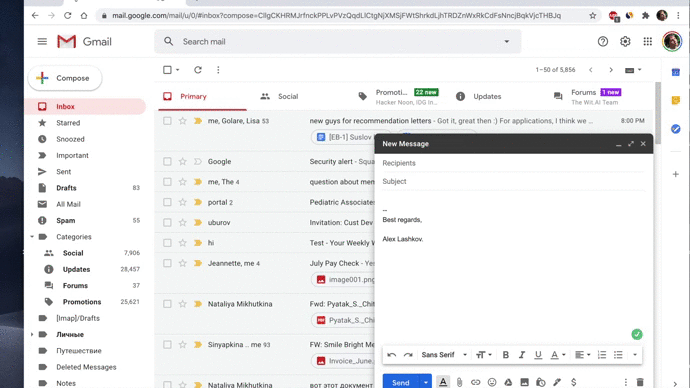 Speed up the writing process by using shortcuts for emails and sales pitches.
You'll be able to access Linguix's web editor without downloading a browser extension, so you can get comprehensive writing insights and readability scores on any device!
Speed up publishing with the option to copy all text in one button click. You can even use secret mode, so your content disappears from Linguix servers as soon as you delete it.
Plus, you'll be able to to maintain brand standards across your team. Just create your own stylistic rules for Linguix to enforce—which is perfect for product or feature names with special spelling.
Best of all, it's a cinch to track team statistics and improve your team's overall productivity stats.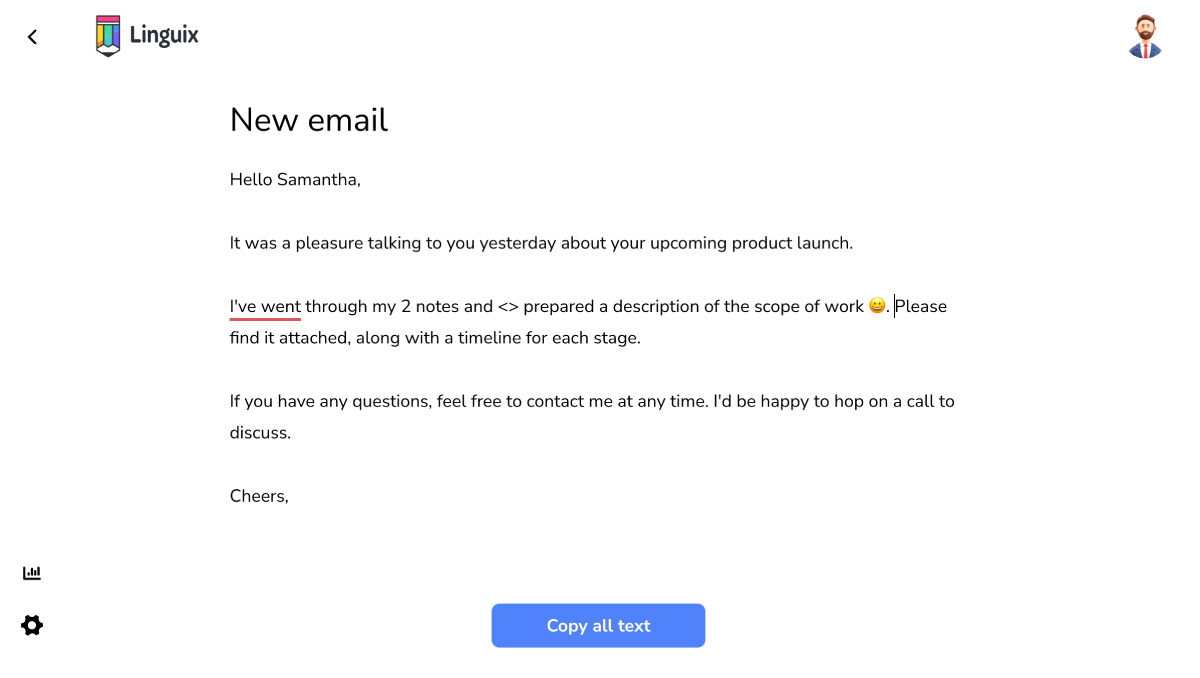 Prep your content using Linguix's web editor, and then copy it all in one click to use anywhere.
Bad spelling is cute when you're four—not so much when you're trying to land the biggest sale in company history.
Lucky for you, Linguix can help you automatically fix typos, grammatical errors, and other writing issues, so you can put your best words forward.
Grow your business with polished content.
Get lifetime access to Linguix today!
Plans & features
Deal terms & conditions
Lifetime access to Linguix – Plus exclusive

All future Business Plan updates. If Plan name changes, deal will be mapped to the new Plan name with all accompanying updates.

You must redeem your code(s) within 60 days of purchase

Stack unlimited codes

GDPR compliant

Previous AppSumo customers will be grandfathered into the new feature limits

Previous AppSumo customers who purchased Linguix can buy more codes to increase their feature limits

Each additional code stacked beyond code 10 unlocks an additional 5 team members per code
60 day money-back guarantee. Try it out for 2 months to make sure it's right for you!
Features included in all plans
Basic grammar and spelling checks

Unlimited grammar checker

Checks for punctuation, grammar, context, and sentence structure

Vocabulary enhancement suggestions

Personalized language learning

Essay templates

Synonyms suggestions

Dictionary

Grammar handbook

Personalized learning

English level interactive tests

Content templates

Team management

Writing insights on a team level

Mobile app (Android and iOS)
Specification:
Linguix – Plus exclusive
Single

All features above included
3 team members

Double

All features above included
7 team members

Multiple

All features above included
15 team members

Code 4

All features above included
20 team members

Code 5

All features above included
25 team members

Code 6

All features above included
30 team members

Code 7

All features above included
35 team members

Code 8

All features above included
40 team members

Code 9

All features above included
45 team members

Code 10

All features above included
50 team members