MetaSurvey «Tinder-like surveys» — Plus exclusive
Overview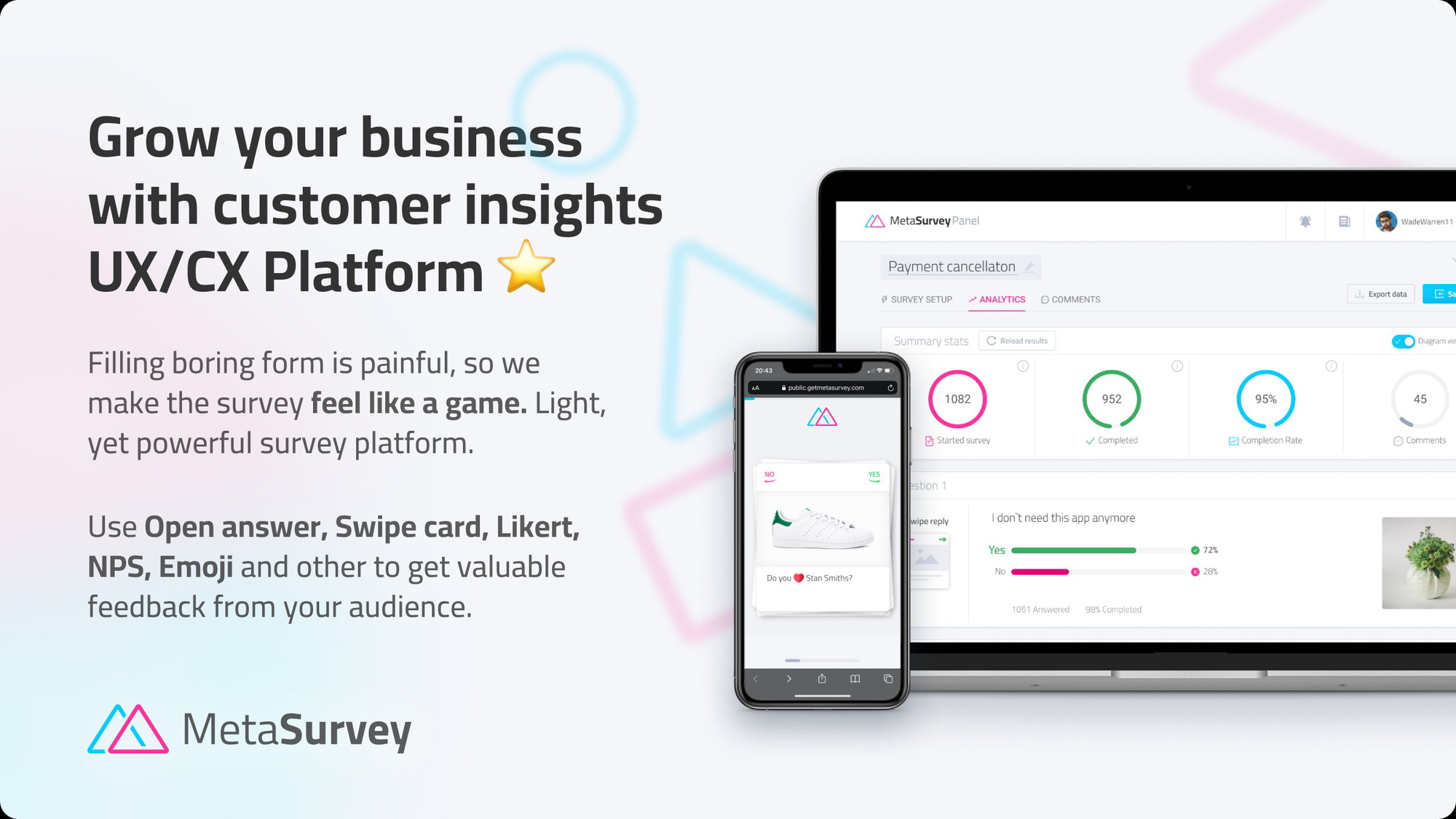 A macbook with dashboard and iphone10 with survey opened
MetaSurvey provides user-friendly question types (NPS, Ratings, Multiple, Comment).
All surveys are well adapted for all devices.
Get a high completion rate up to 80%+!
Give rewards on a Welcome screen:
share a secret Promo code
redirect customers to a Special offer page
redirect customers to a Secret landing page
get hot sales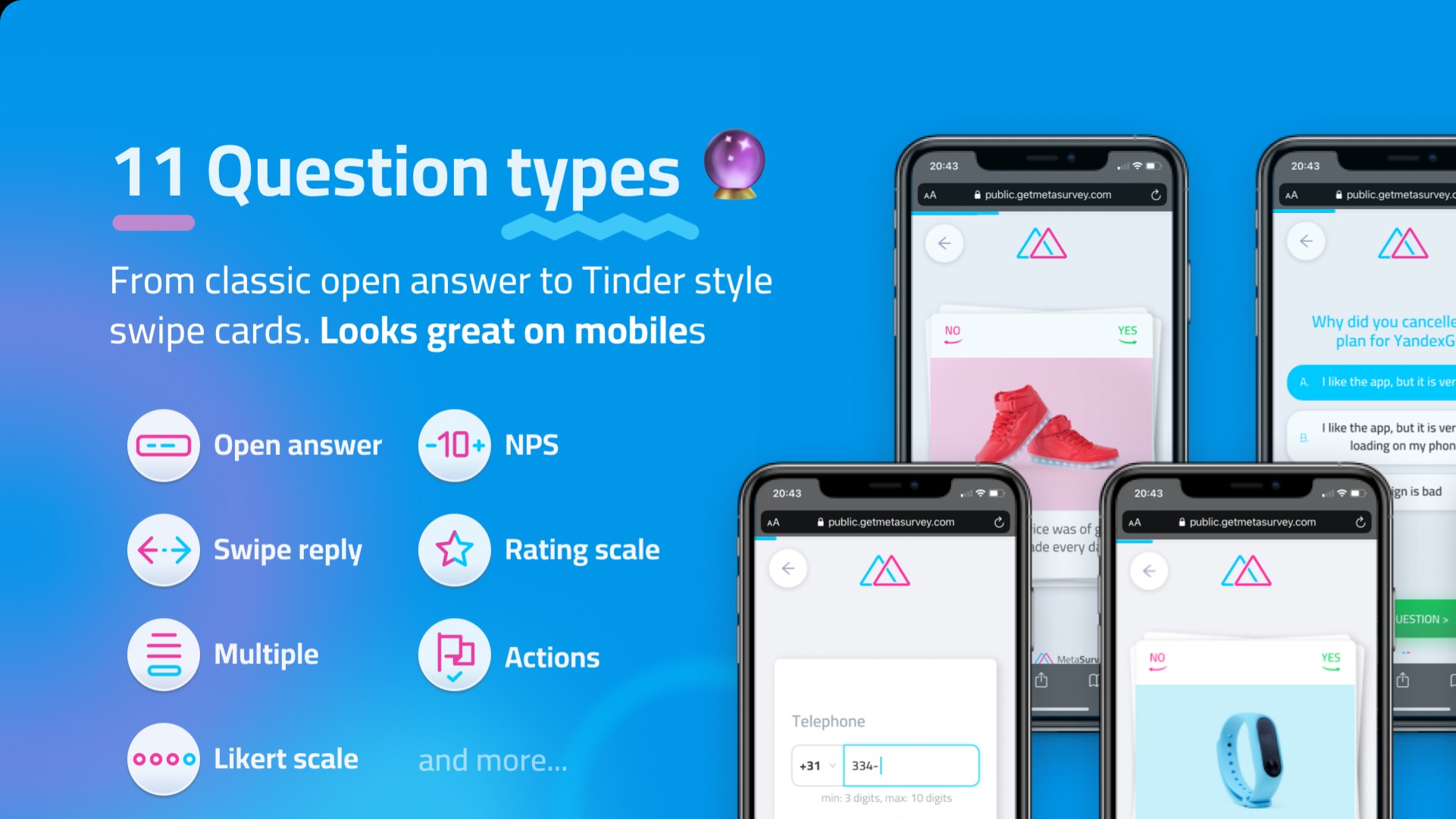 6 iphones with main types of survey: swipe cards, multiple questions, likert, input field, nps
Collect feedback and make your customers feel heard using 11 different question/survey types:
Swipe Card
Swipe questions left(👎) or right(👍) to answer. This question type usually results in the highest conversions!
NPS
Discover your customers' satisfaction with NPS survey questions.
Multiple Choice
Know your audience's measurements (height, clothing, shoe size, etc.) with multiple choice type questions and answers.
Likert Scale
Discover your customers' opinions about checkout and shipment using the Likert scale.
Open Answer
Capture user email, phone, or any other information you want to collect by having them fill in the blank.
…and more!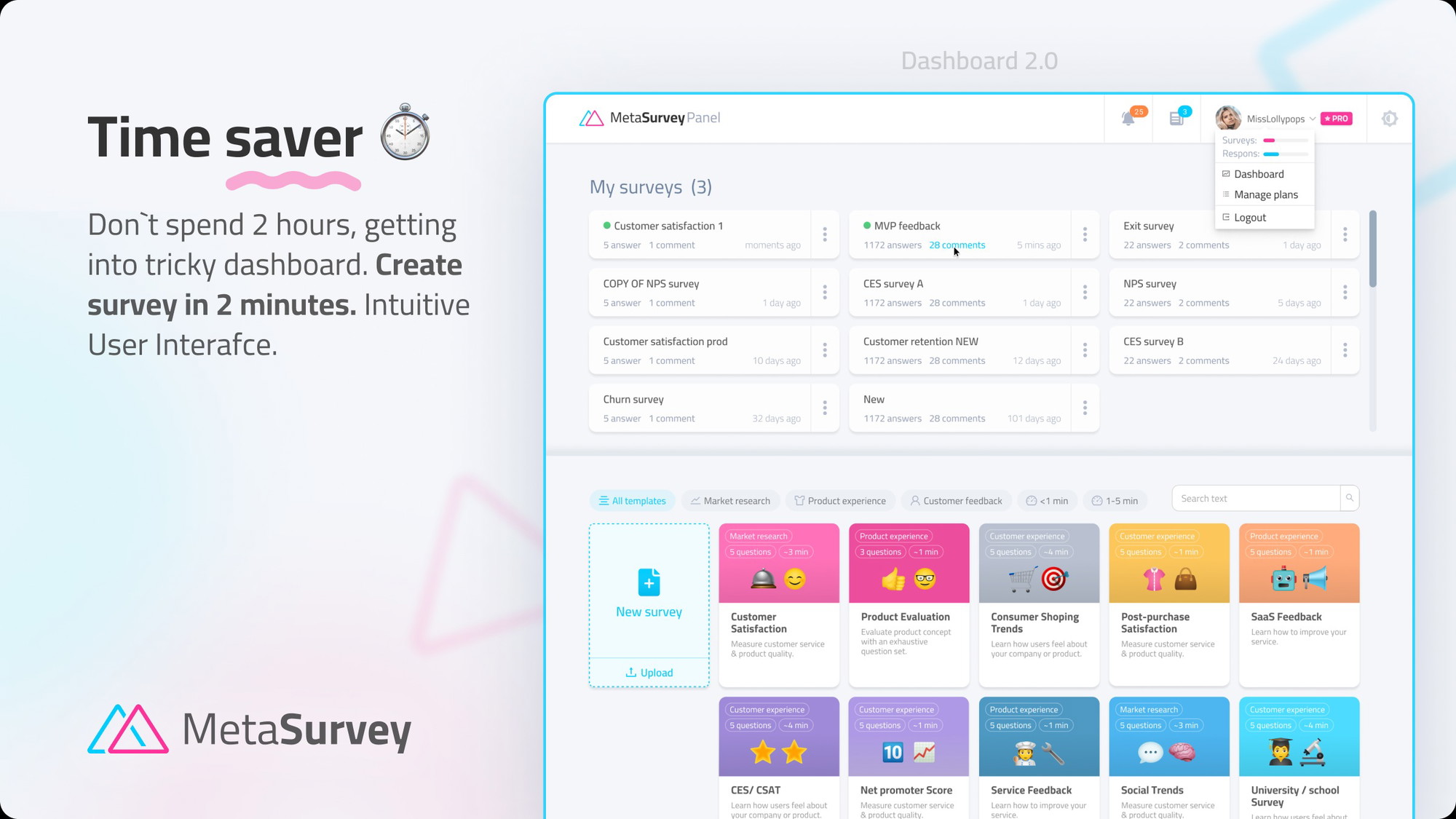 A screenshot of dashboard with list of surveys, colourful template cards
The process to get started is extremely easy and quick.
Create an engaging survey in 5 minutes or less
Embed that survey on your site or send it out to your desired participants
Get customer insights
Improve your business!
It's as easy as 1-2-3-4.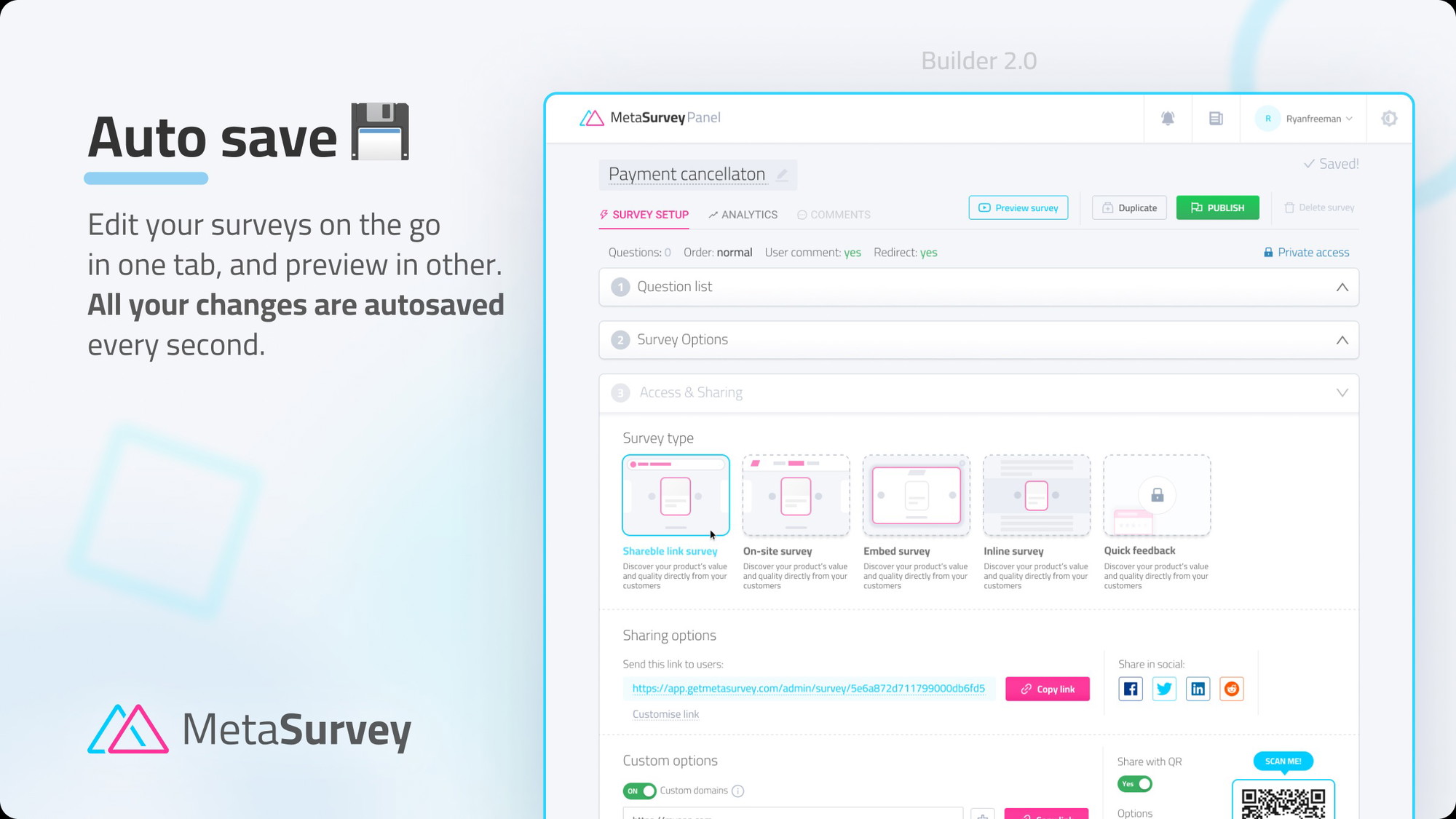 A screenshot with survey builder, showing steps. the types of embed are showed with icons
Take advantage of an easy-to-use, light, functional admin panel with templates to help you get started with your survey creation.
With 11 different question types, you'll have a variety of options to work with and choose from.
Our survey creation wizard makes the whole process super simple and fun from start to finish, coming with easy steps and changes that autosave along the way.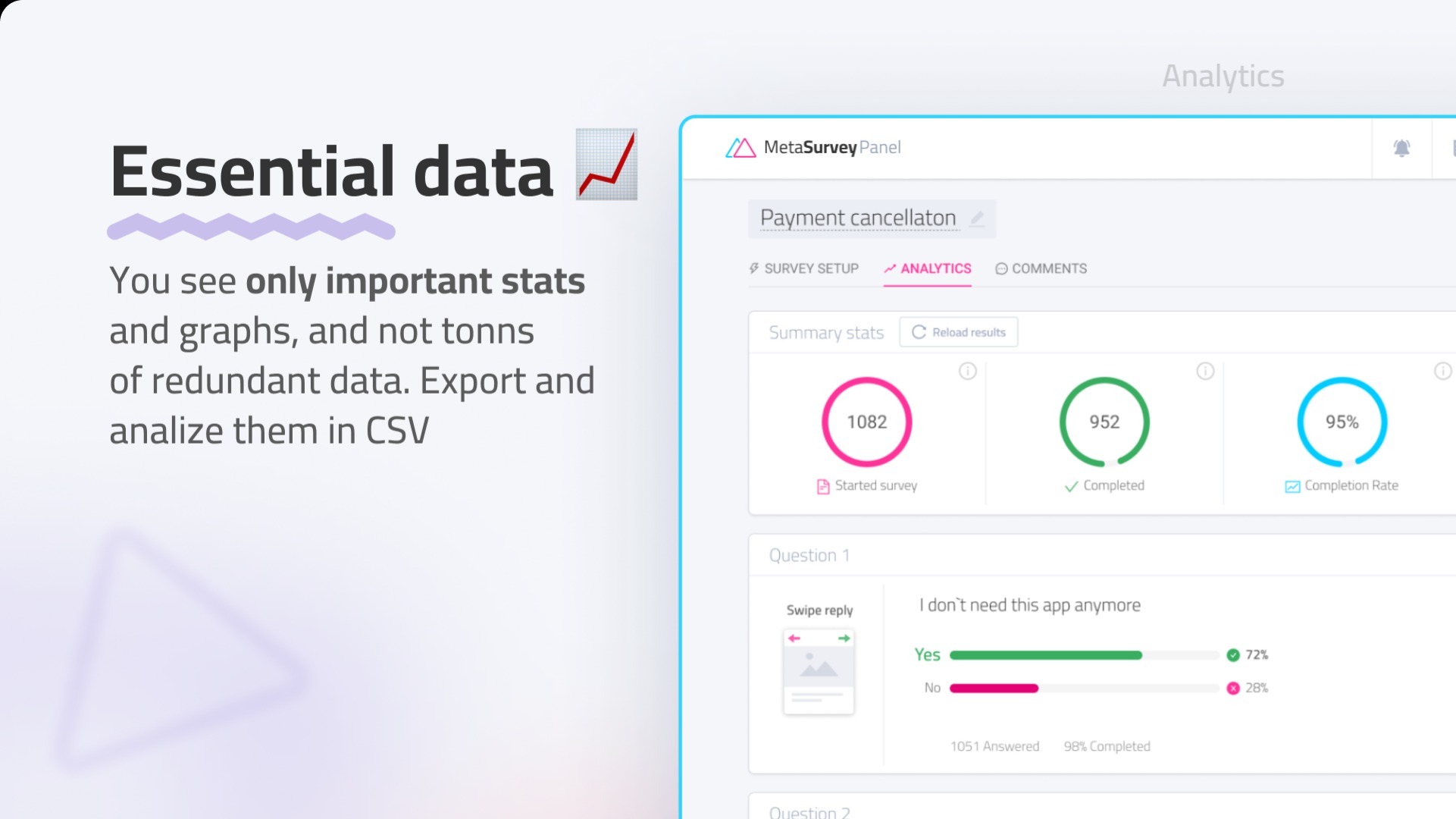 A screenshot with analytics interface, showing colourful graphs, bars digits and other data
Also included in this offer is an informative and clean analytics panel that comes with an export data function.
This is critical to helping you see only the most pertinent data that you want to track at any given time.
A picture is worth a thousand words, and so we give you all your analytics and information in clear, visual graphs, charts, and pictorial representations.
What more are you waiting for?
Get access to this MetaSurvey – Plus exclusive today!
Plans & features
Deal terms & conditions
Lifetime access to MetaSurvey – Plus exclusive

You must redeem your code(s) within 60 days of purchase

All future Pro Plan updates

Stack up to 3 codes
Specification:
MetaSurvey «Tinder-like surveys» — Plus exclusive
Plan 1

All features above included
Unlimited "Tinder-like" surveys
Unlimited questions
3,000 responses and comments collected every month
Remove branding

Plan 2

All features above included
Unlimited "Tinder-like" surveys
Unlimited questions
10,000 responses and comments collected every month
Remove branding

Plan 3

All features above included
Unlimited "Tinder-like" surveys
Unlimited questions
20,000 responses and comments collected every month
Remove branding
Custom subdomains & SSL

Plan 4

All features above included
Unlimited "Tinder-like" surveys
Unlimited questions
30,000 responses and comments collected every month
Remove branding
Custom subdomains & SSL