MyLifeOrganized: To-Do List for Windows
No matter what industry you're in, being on the customer-facing side of things can start to feel like Groundhog Day.
When you're answering the same questions repeatedly, it's easy to slip and send an embarrassing email or twenty. ("I did it again. I wrote 'Thanks for reaching out, [INSERT CUSTOMER HERE]' instead of their name.")
If only you could say all the right things, while also saving time and energy on repetitive typing.
Overview
See how to organize tasks in Outline and pick up specific to-do lists from it in just one click.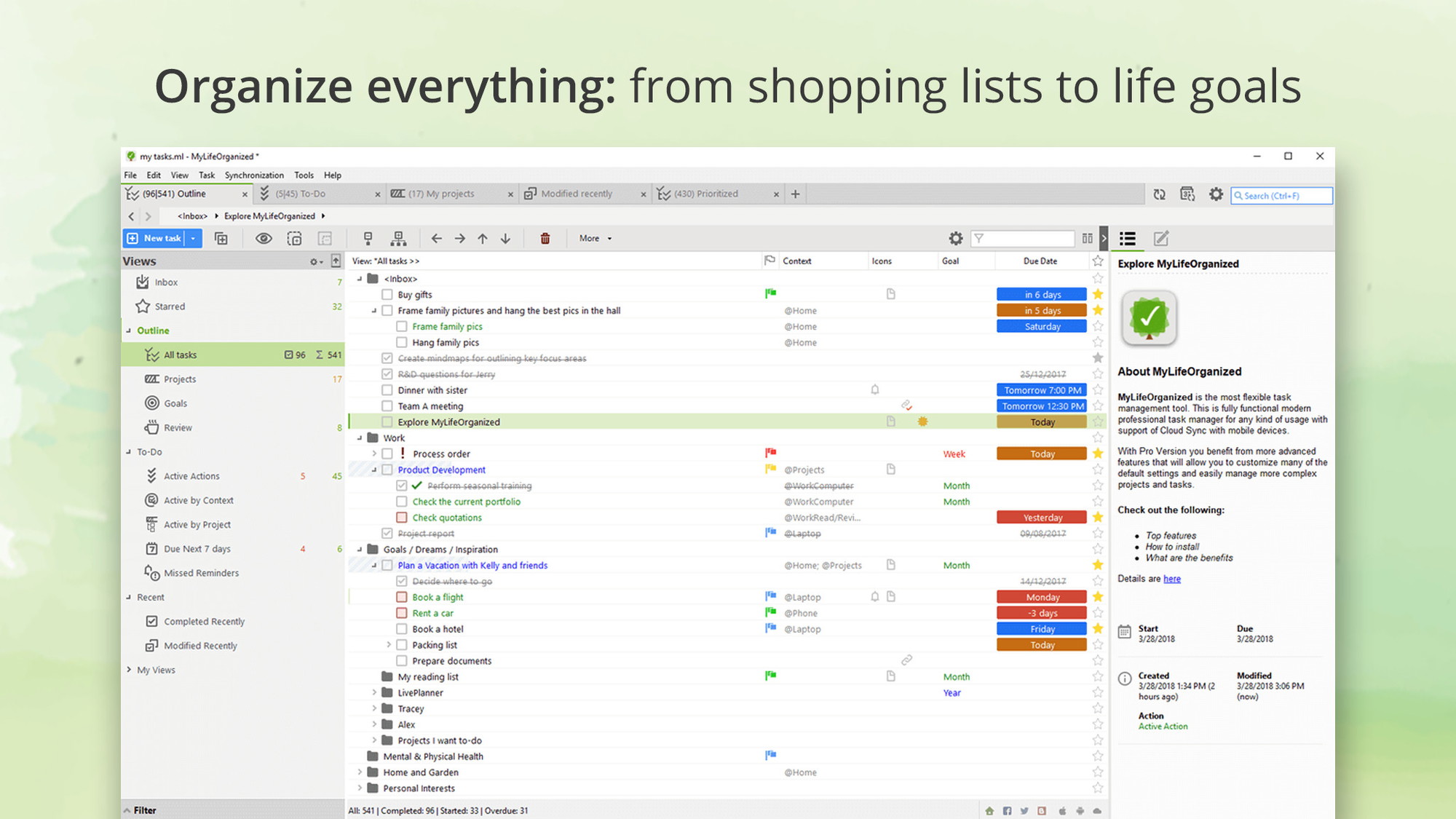 It's time to get organized… and we can help.
Create new tasks and checklists easily.
Our clean and simple drag-and-drop interface allows you to rearrange tasks within a plain list or organize them into a tree.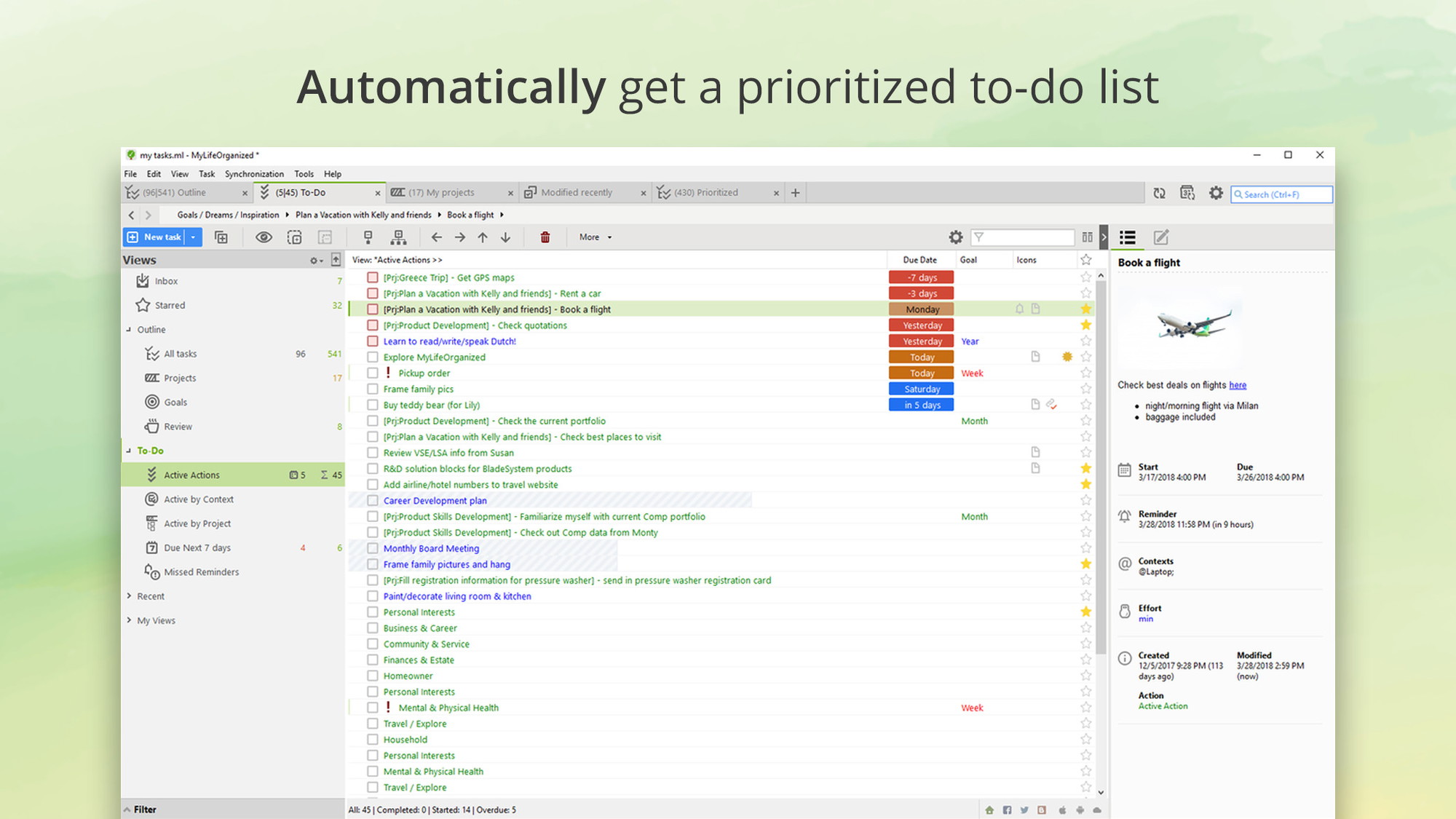 Get a prioritized to-do list automatically and in mere seconds.
Once loaded with your information, MLO goes to work and generates a simple list containing only the next actions that require your immediate attention.
An elegant To-Do list view will help you to focus on the most important items and act immediately.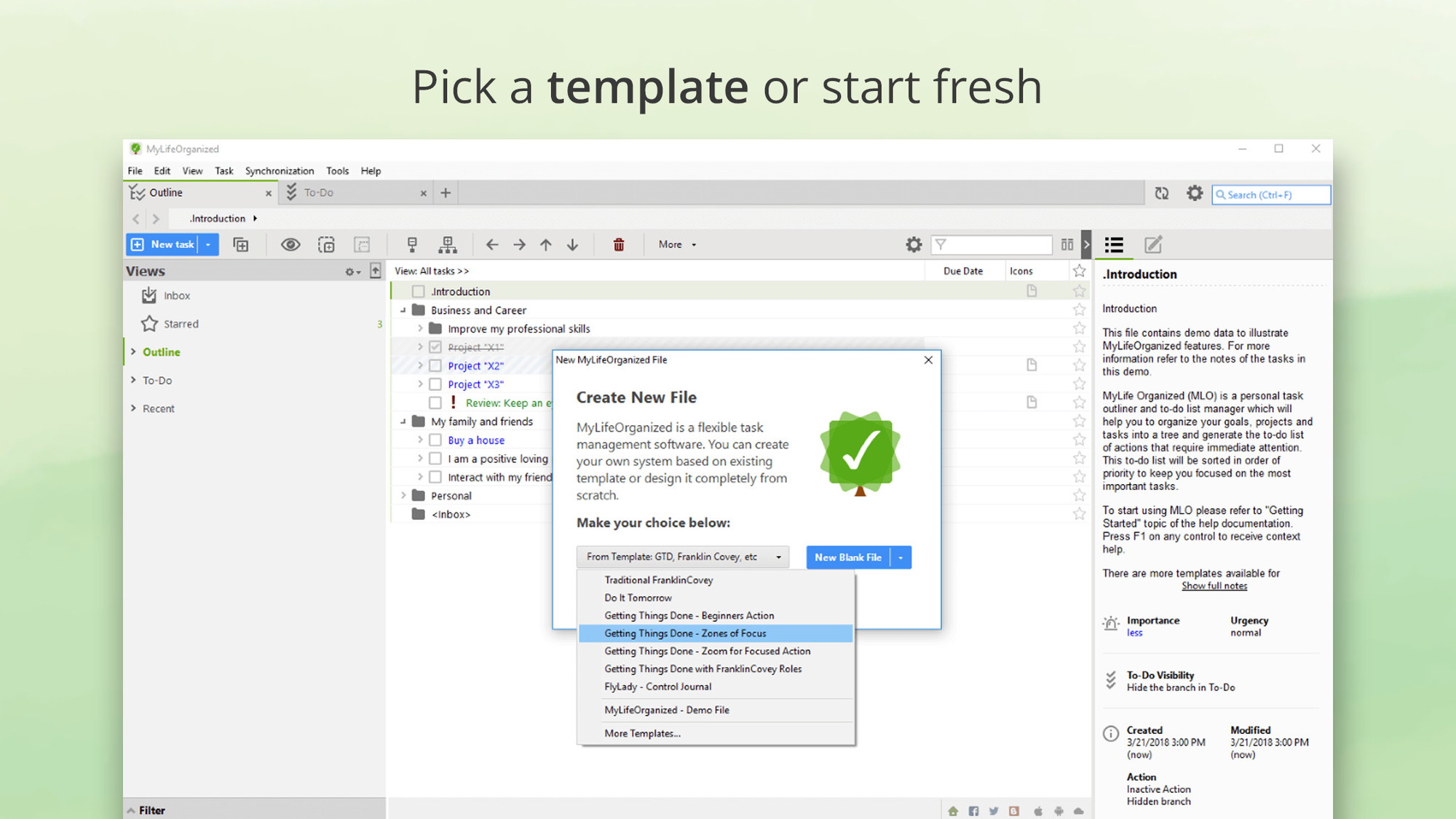 It's your choice whether you want to use a template or create from scratch.
MLO comes with several templates for different task management systems from GTD® to Franklin-Covey and Do-It-Tomorrow. Start quickly with a template and then tweak it to your own task management system.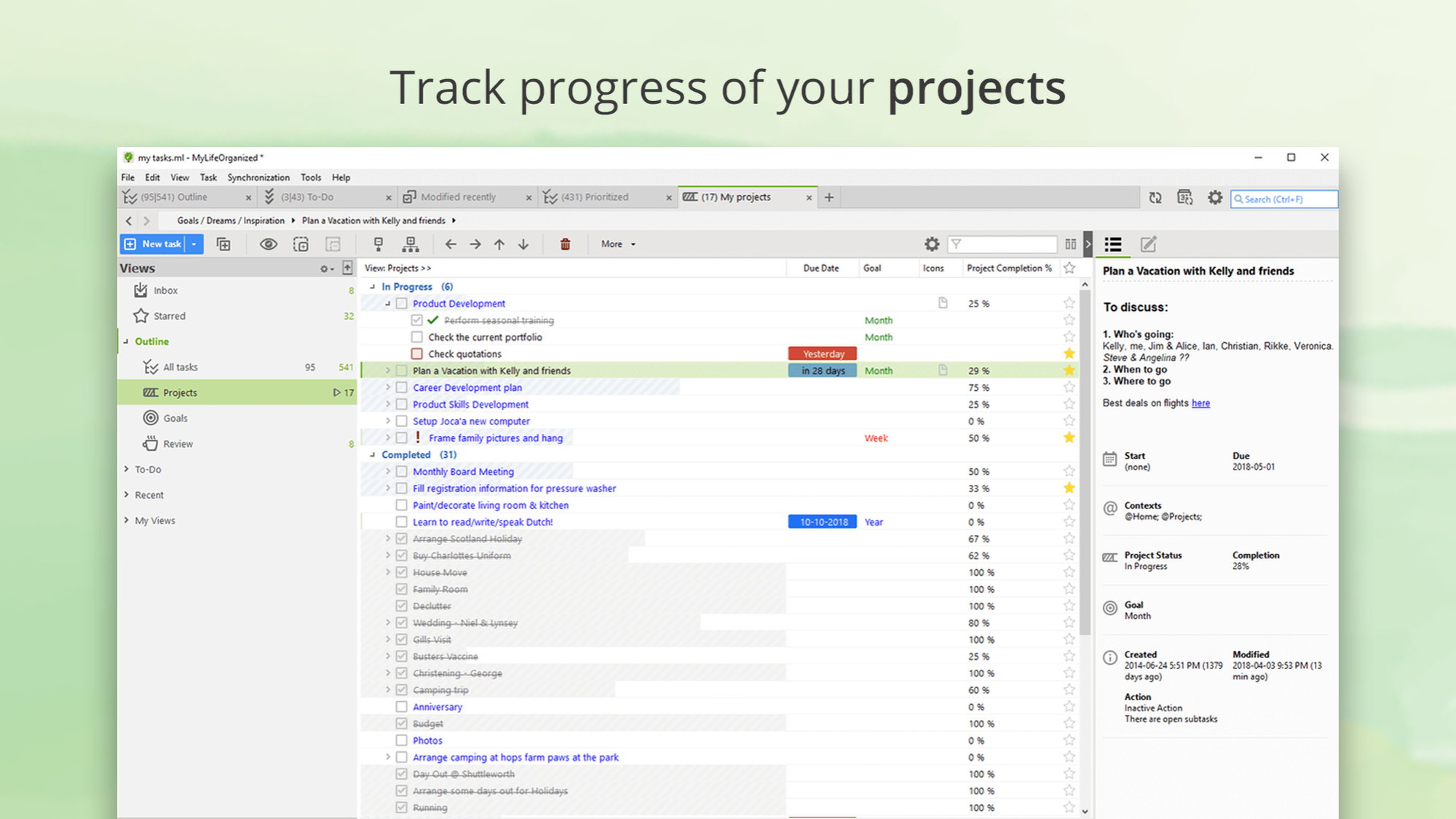 Staying on top of your tasks and projects has never been easier.
You can indicate that a certain task is a Project. All projects with their statuses are included to a special Projects view where you can review them. The completion percentage is automatically calculated for each project.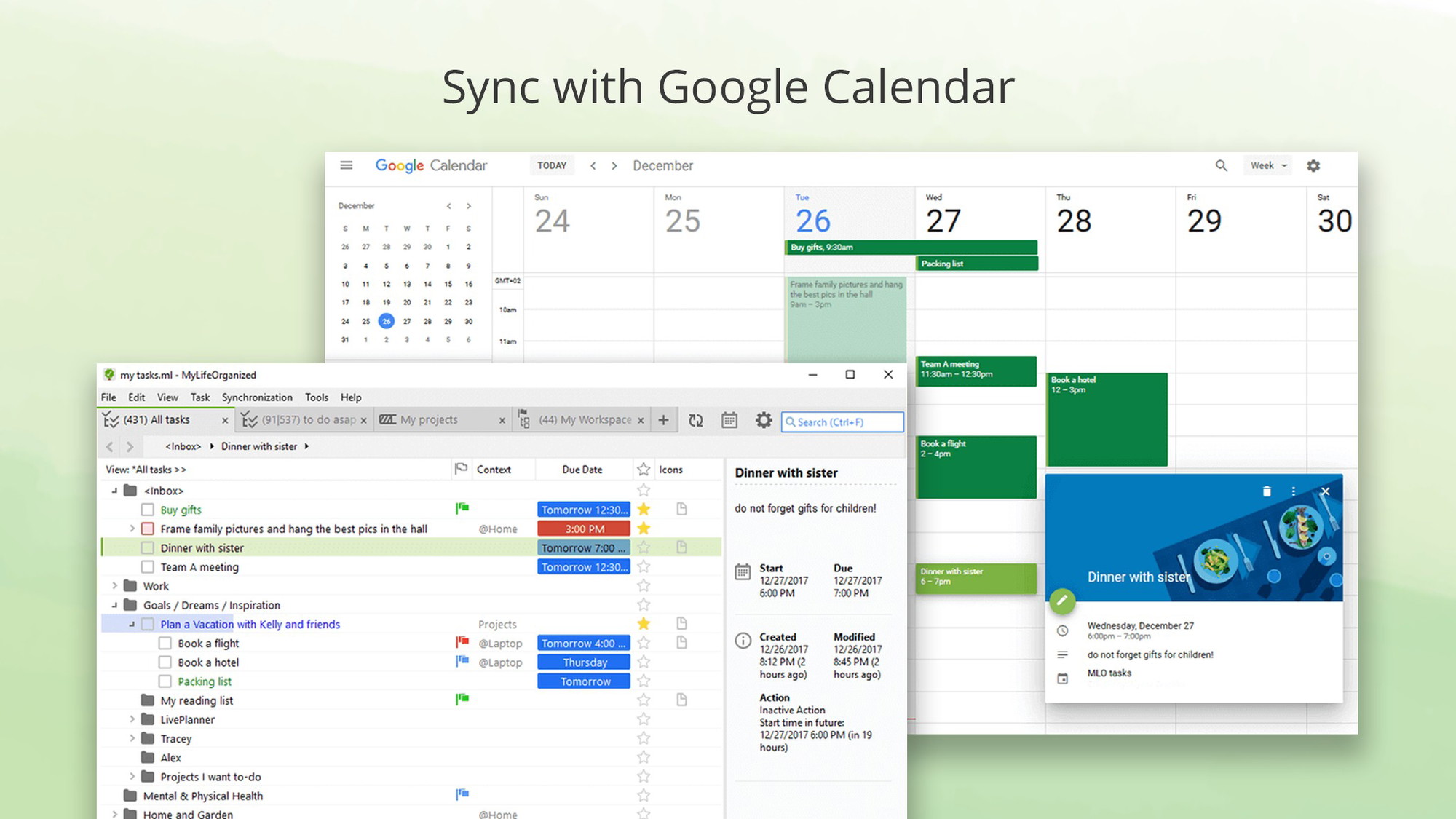 Sync events and meetings with your Google Calendar.
MLO and Google Calendar can mirror each other. You can see all your scheduled MLO tasks in your calendar and visually assess the whole load of yours. At the same time, creating events there you automatically add subtasks to your MLO file.
Get access to MyLifeOrganized: To-Do List now!
Plans & features
Deal terms & conditions
Lifetime access to MyLifeOrganized: To-Do List

You must redeem your code(s) within 60 days of purchase

All future plan updates

Please note: This deal is not stackable
60 day money-back guarantee. Try it out for 2 months to make sure it's right for you!
Specification:
MyLifeOrganized: To-Do List for Windows
Single

Create unlimited number of projects, tasks, and subtasks
All further minor updates are free
Use at home and at work – on up to 5 computers in total
Task outliner
Generating ordered To-Do list
Different predefined views
Add new tasks quickly to "Inbox"
Schedule tasks for a specific date and time, plus recurring & regenerating tasks
Reminders, goal planning, and contexts
Filter by context
Open/closed hours for contexts
Search-as-you-type
Cloud Sync with mobile/desktop editions
(additional subscription is required) plus WiFi Sync mobile to desktop
Password protection
Projects tracking
Dependencies
Set colors and formatting to your tasks
Custom views with filtering, grouping, and sorting
Review
Bookmarks
This is the Windows version