PodNotes
No matter what industry you're in, being on the customer-facing side of things can start to feel like Groundhog Day.
When you're answering the same questions repeatedly, it's easy to slip and send an embarrassing email or twenty. ("I did it again. I wrote 'Thanks for reaching out, [INSERT CUSTOMER HERE]' instead of their name.")
If only you could say all the right things, while also saving time and energy on repetitive typing.
Overview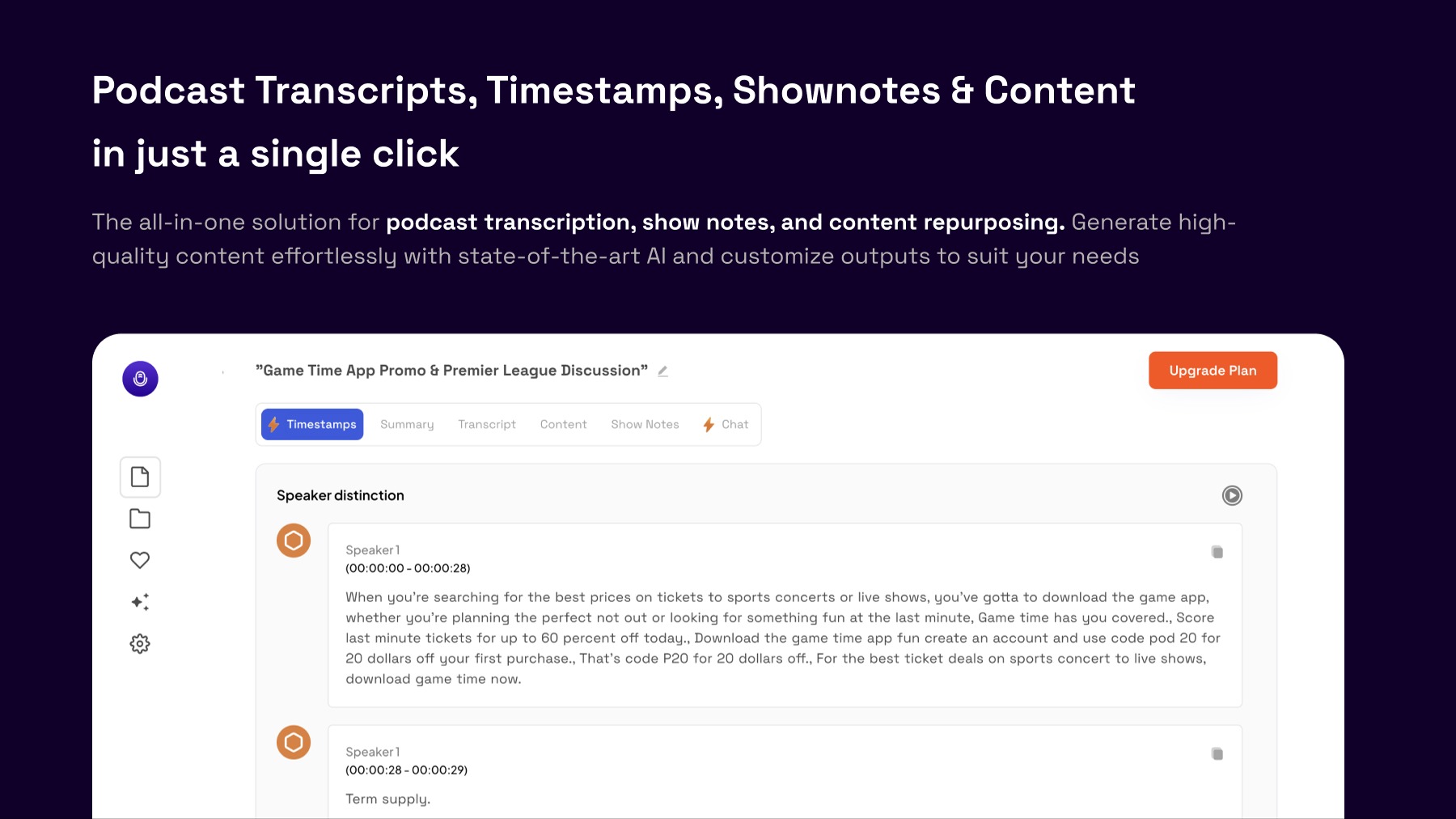 Generate Transcripts, Show Notes, Summary, Timestamps & Content in 19 languages in different styles using Podnotes
Transcribing your podcast has never been easier. PodNotes provides full podcast transcriptions in the language of your choice.
And that's not all! We go beyond transcriptions by automatically generating show notes, summaries and timestamps, saving you hours of tedious work. Podnotes also lets you select summary style, length and language – You can also regenerate the summary in a different style or language if you change your mind!
You can even enjoy the benefits of Timestamps, where the podcast transcript is neatly segregated by speakers with timestamps.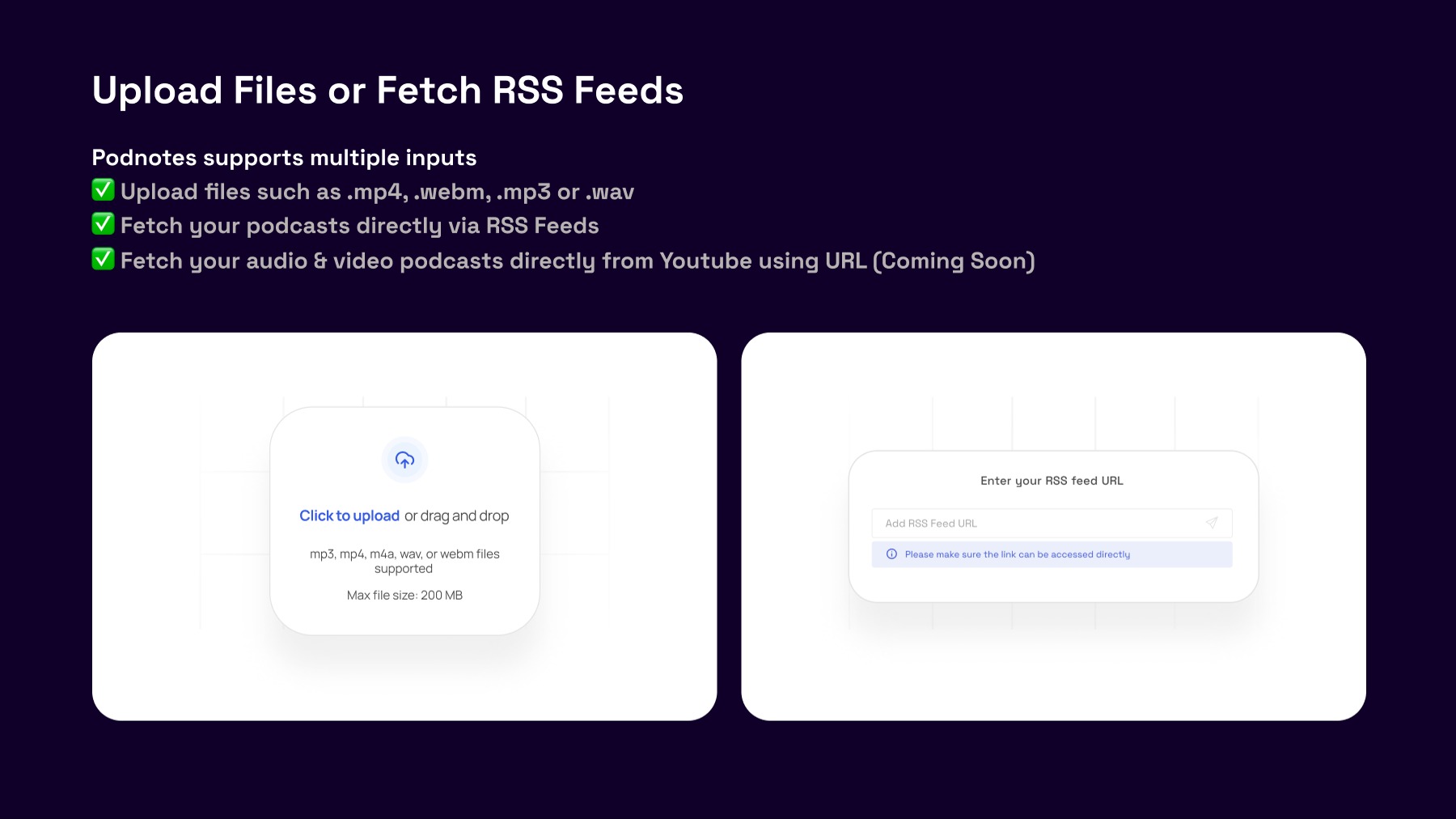 Upload Files (.mp4, .webm, .wav, .mp3) or Fetch your podcasts directly from RSS Feeds (beta feature)
Podnotes support multiple input types – You can upload a file or directly fetch your podcast from RSS Feed (beta feature).
Podnotes supports both audio and video files in .mp3, .wav, .mp4 and .webm formats upto 200 Mb in size.
You can upload as many files as you want as long as you have minutes on your plan.
Generate high quality content for social media, blogs, emails and much more or use custom prompts
Podnotes makes content creation super easy for your podcasts.
You can use our default presets to generate:
Social Media Posts
Blogs
Emails
Action Items
Key Topics
and various other presets, or even use your own Custom prompts. You can also select styles and prompts from our library. And the best part, you can generate unlimited content – as many times as you want, in 19 different languages.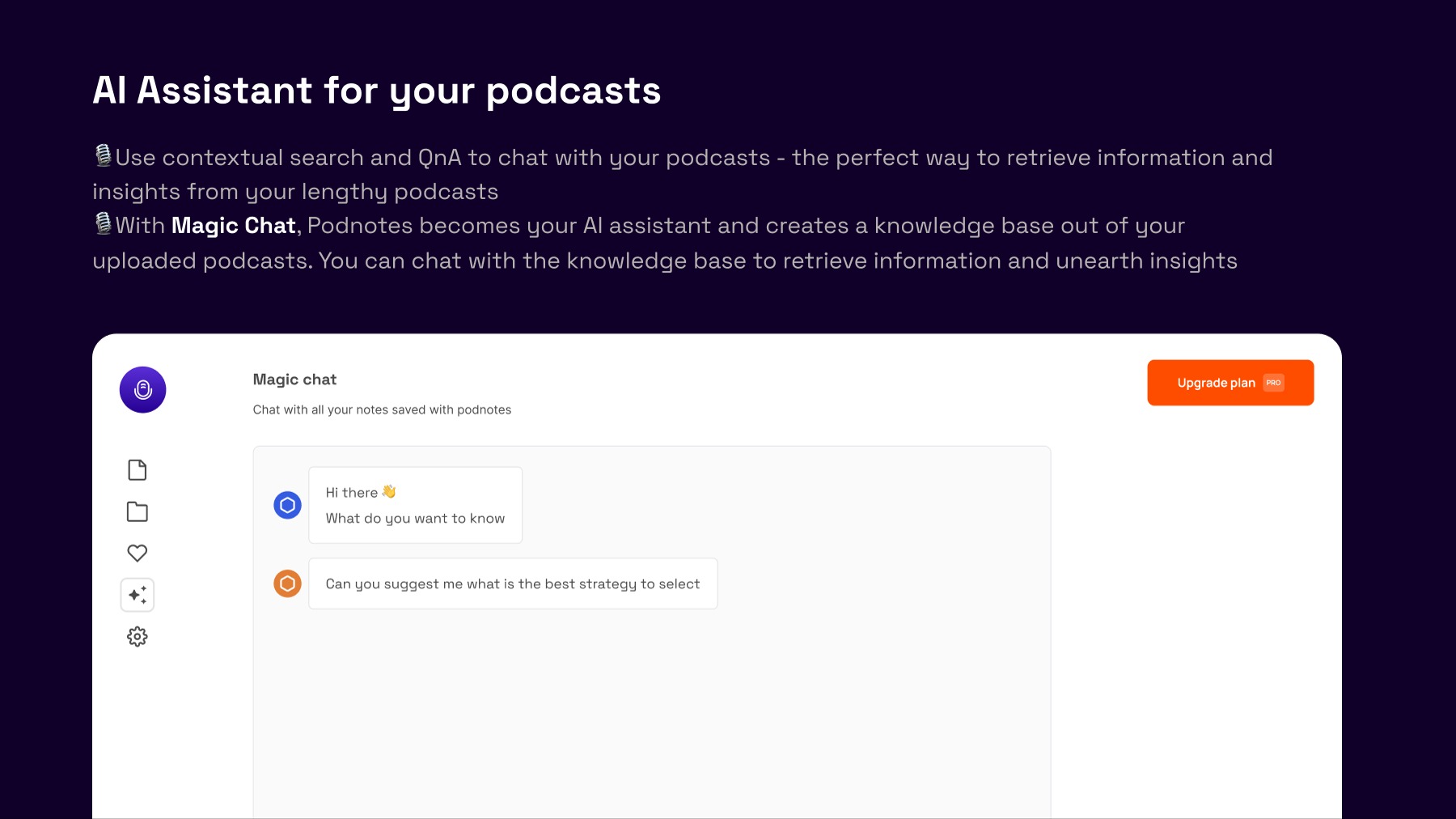 Chat with an individual podcast or chat with all your all your podcasts to retrieve information using Magic Chat
Referencing through long podcasts can be tough, with Podnotes – you can use contextual search and chat with your podcasts. A must have for information retrieval in a conversational interface.
Podnotes also helps you create a knowledge base out of your uploaded podcasts, Perfect way to reference information across podcasts and chat with all your podcasts!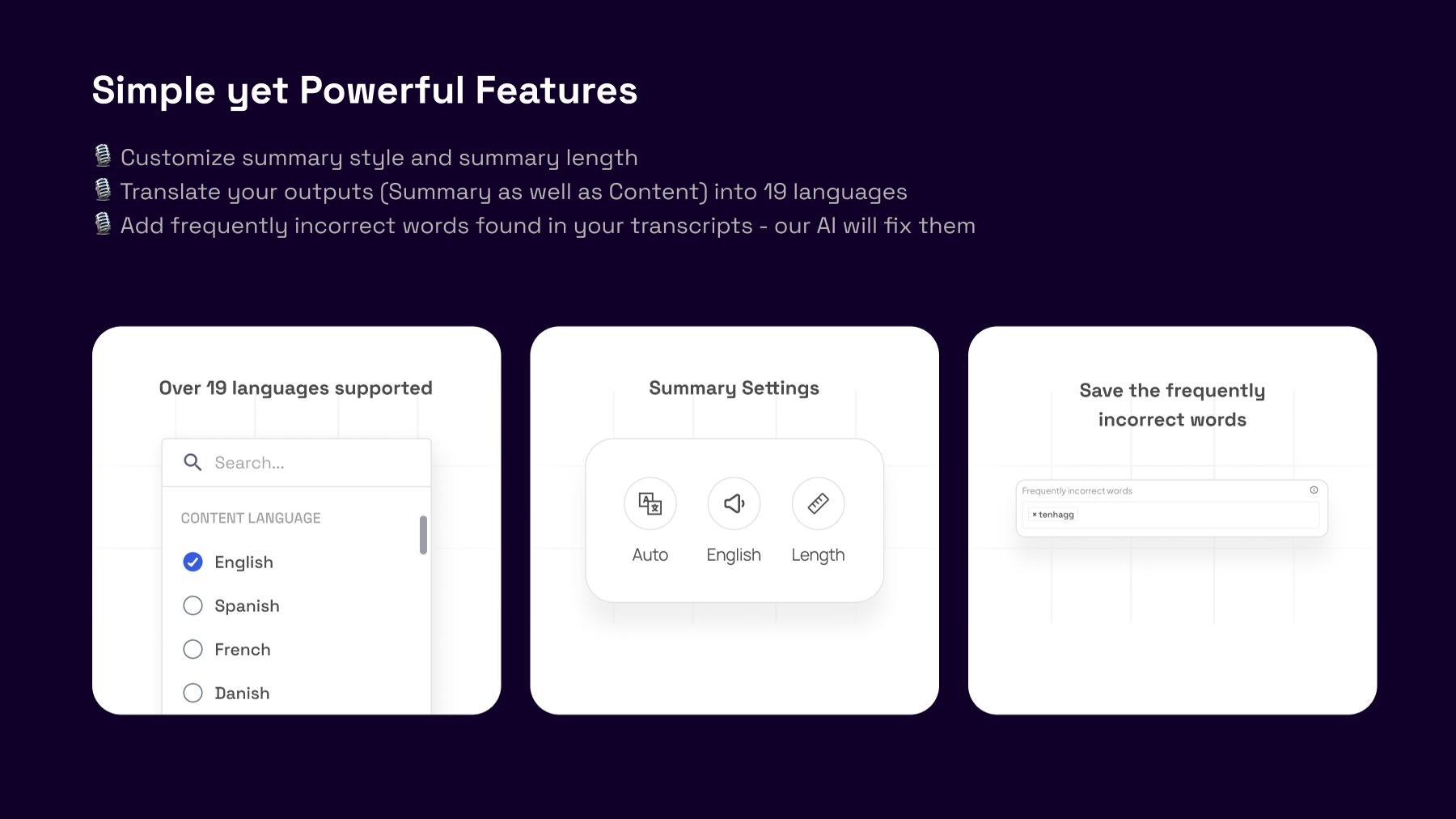 Select Summary Style, Summary Length, Summary Language from 19 languages, and also set default preferences.
Finally, Podnotes comes with some super simple yet cool features that will make your life easier. You can set summary length, style and language. You can also switch between languages for outputs and even set defaults for all of these settings.
Finally, you can also add frequently incorrect words when AI gets you wrong.
Plans & features
Deal terms & conditions
Lifetime access to PodNotes

You must redeem your code(s) within 60 days of purchase

All future Starter Plan updates

Stack up to 3 codes
Starter Plan

All features above included
Ready to use social content: blog, tweets, LinkedIn post, insights
Language selection for summary & other outputs
All notes, summaries & content is saved forever
200 minutes per month (ideal for 4 podcasts)

Pro Plan

All features above included
Ready to use social content: blog, tweets, LinkedIn post, insights
Language selection for summary & other outputs
All notes, summaries & content is saved forever
600 minutes per month (ideal for 8 podcasts)

Agency Plan

All features above included
Ready to use social content: blog, tweets, LinkedIn post, insights
Language selection for summary & other outputs
All notes, summaries & content is saved forever
1200 minutes per month (ideal for 12 podcasts)