Rainex
No matter what industry you're in, being on the customer-facing side of things can start to feel like Groundhog Day.
When you're answering the same questions repeatedly, it's easy to slip and send an embarrassing email or twenty. ("I did it again. I wrote 'Thanks for reaching out, [INSERT CUSTOMER HERE]' instead of their name.")
If only you could say all the right things, while also saving time and energy on repetitive typing.
Overview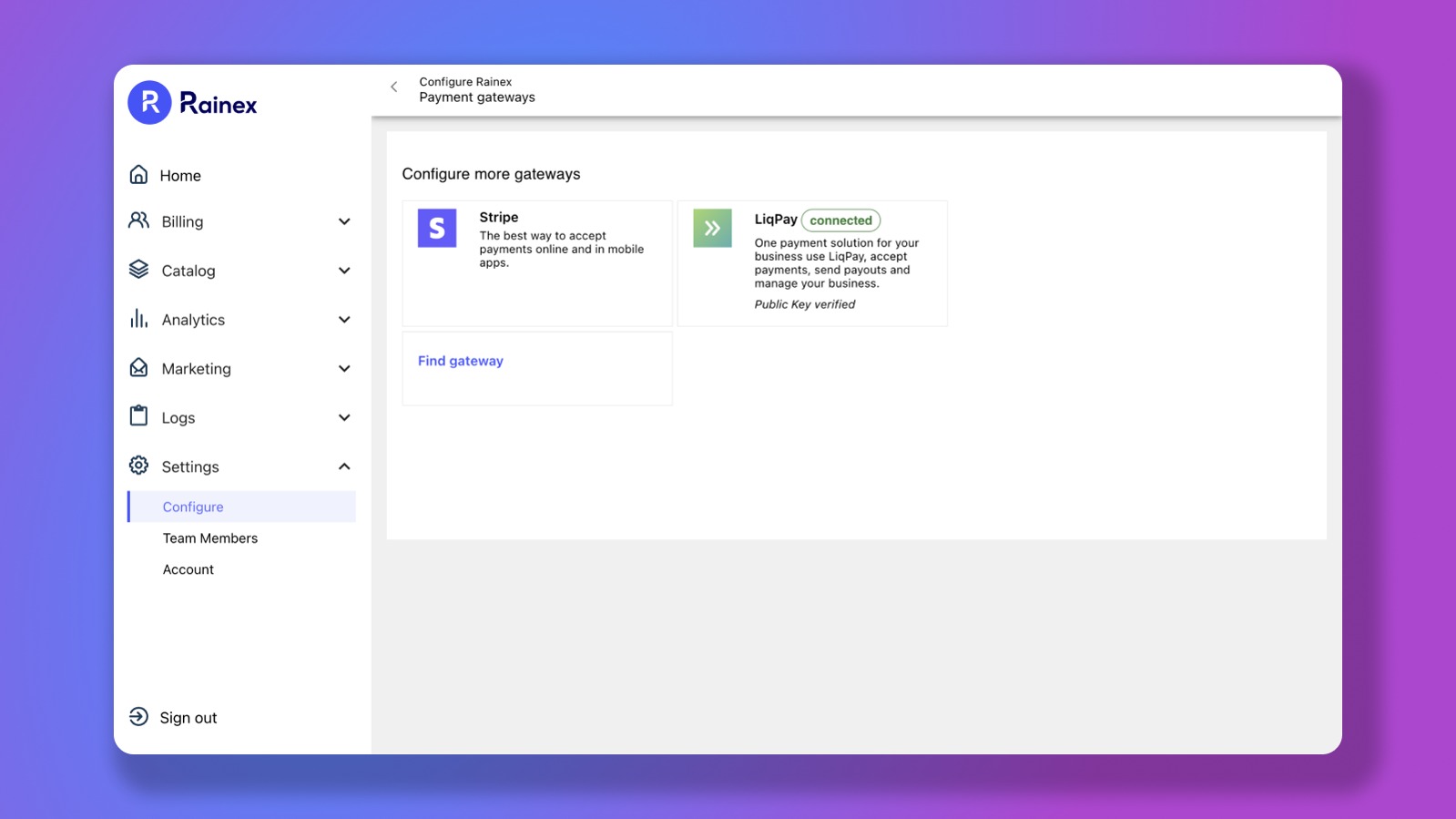 Easily set up any payment gateways.
Rainex takes the hassle out of payment integration by offering seamless connections to various payment gateways. Whether you prefer Stripe or a local gateway, Rainex has got you covered.
Need a new integration? Simply request it with just a few clicks and expand your payment options effortlessly. With Rainex, providing your customers with a convenient and secure payment experience has never been easier.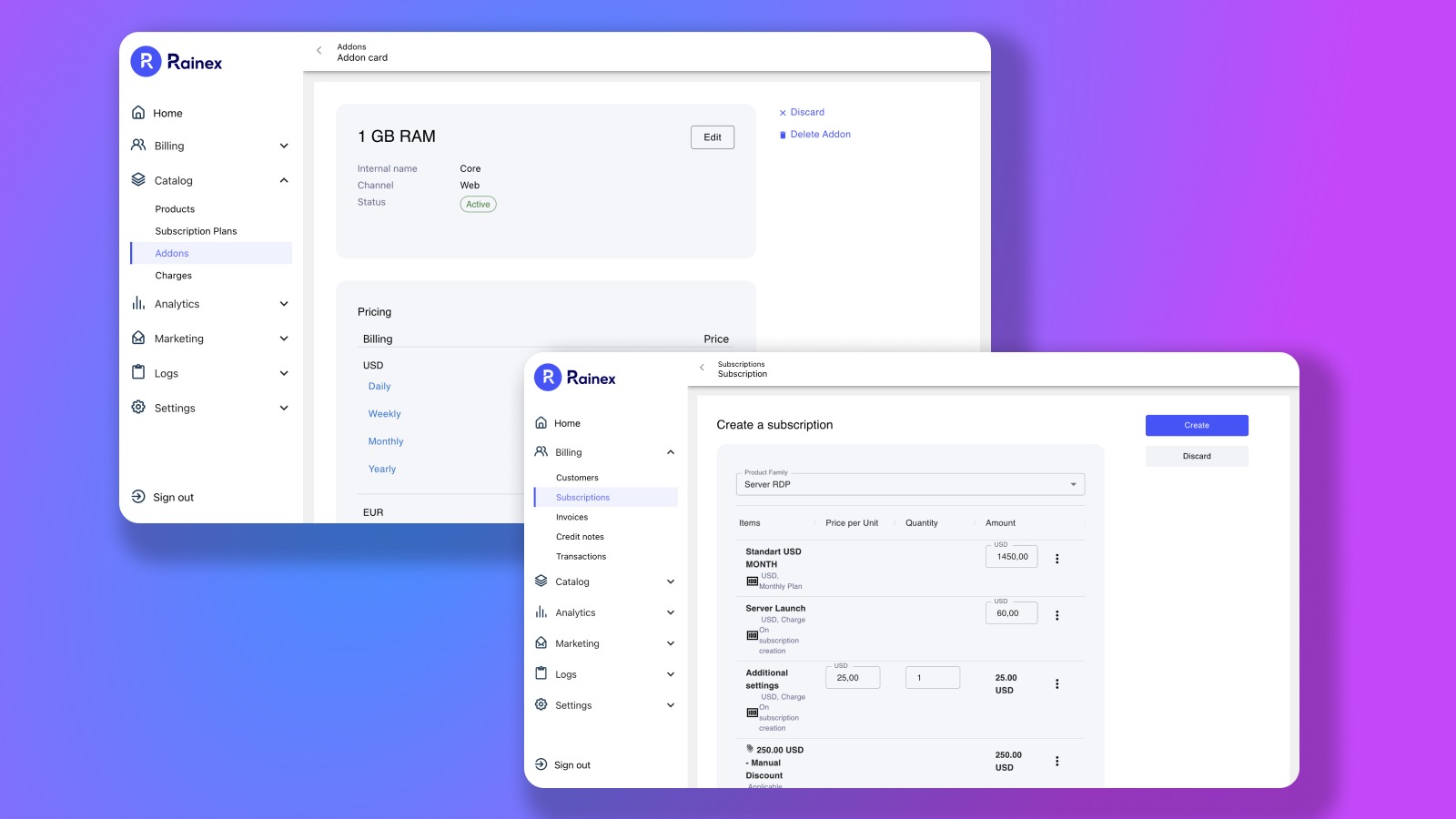 Diversify the range of plans and supplement subscription plans with add-ons and charges.
Rainex transforms your pricing strategies by allowing you to set up customized price plans for each product, ensuring flexibility and scalability.
Boost your average sales check by offering add-ons and additional services that complement general plans, driving more revenue from each customer.
With Rainex, you get a comprehensive billing and subscription management platform that streamlines operations, simplifies billing processes, and improves customer service.
Manage subscriptions and pricing plans efficiently and flexibly, automate routine operations, and scale your business smoothly. Experience growth and exceptional customer satisfaction with Rainex.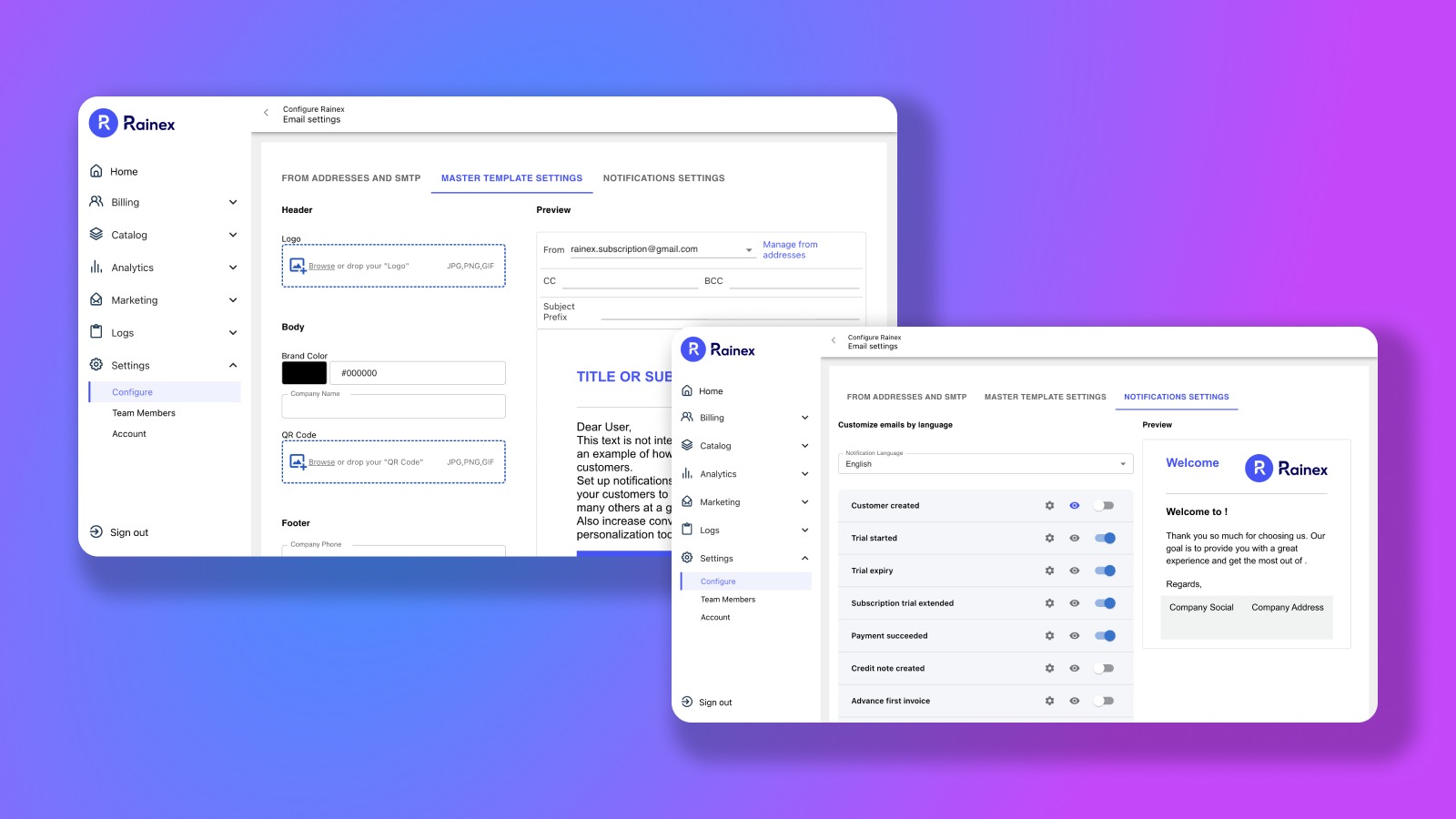 Create messages and notify customers with ease.
Say goodbye to manual data management and let Rainex streamline your invoicing process effortlessly.
By automating data management, Rainex ensures that your customers receive timely notifications, reducing delays and increasing the chances of prompt payments.
With Rainex, you can bid farewell to tedious administrative tasks and focus on what really matters: growing your business.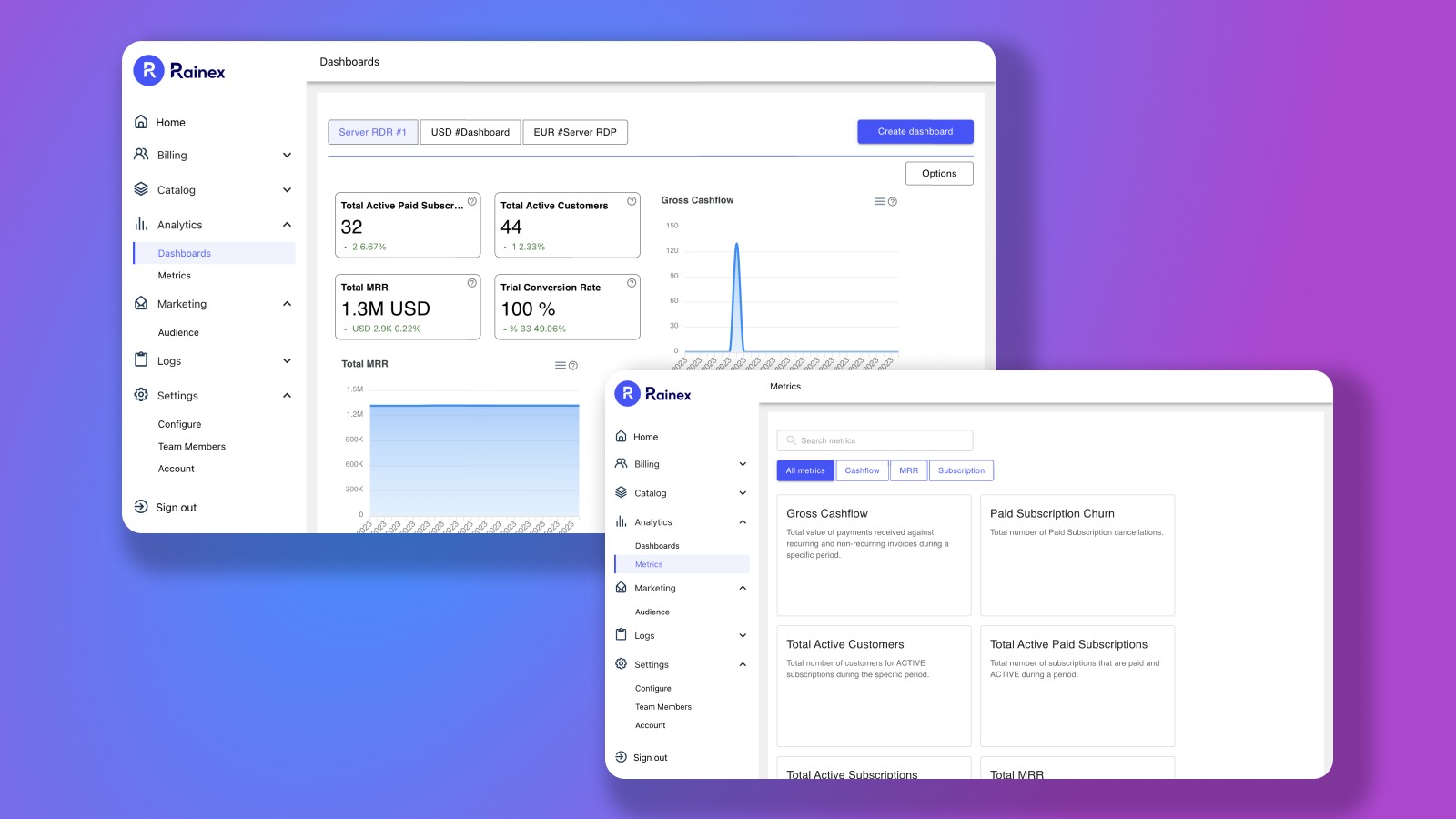 Analytic tools offered.
Leverage Rainex's flexible subscription management, seamless billing and payment operations, and comprehensive analytics to optimize your business performance, enhance customer management, and maximize revenue potential.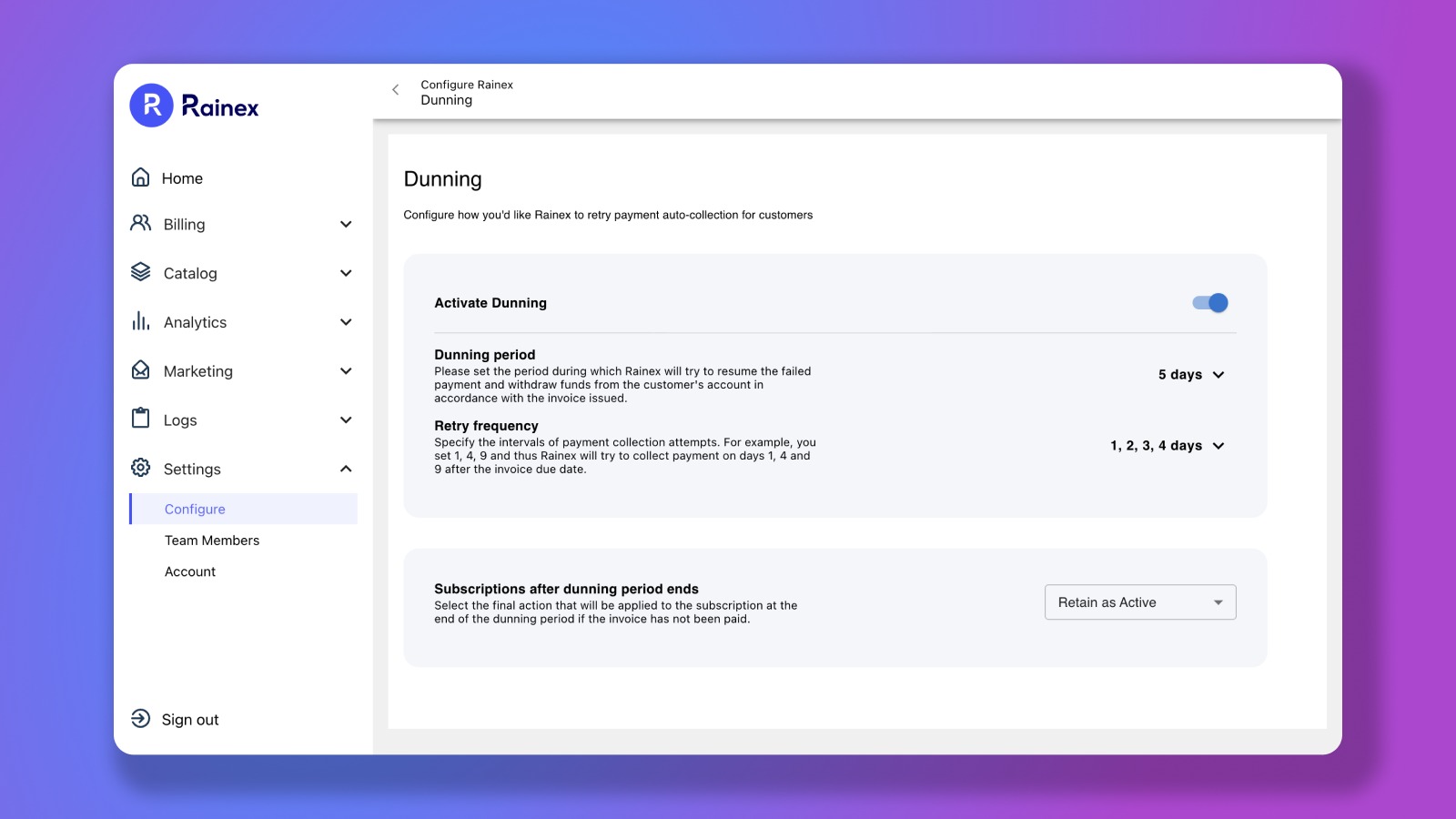 Configure dunning management.
Ensure high customer retention and minimize churn rates with Rainex's automated payment systems and tailored dunning strategies.
By streamlining payment processes and implementing effective dunning procedures, you can proactively address overdue payments, recover outstanding balances, and maintain strong customer relationships, all while optimizing your business's financial stability.
Revolutionize your subscription payment management system today!
Plans & features
Deal terms & conditions
Lifetime access to Rainex

You must redeem your code(s) within 60 days of purchase

All future Core Plan updates

Please note: This deal is not stackable
Core+ Plan

All features above included
APIs and webhooks
Subscription management
Add-ons and charges
Credit notes issuing
Notification management
Automatic payment retries
Dunning management system
Payment gateway integrations
Analytic tools
Customer Portal
Marketing Retention System
Referal Program
Multiple Gateways