SheetMagic: ChatGPT + Google Sheets Integration
No matter what industry you're in, being on the customer-facing side of things can start to feel like Groundhog Day.
When you're answering the same questions repeatedly, it's easy to slip and send an embarrassing email or twenty. ("I did it again. I wrote 'Thanks for reaching out, [INSERT CUSTOMER HERE]' instead of their name.")
If only you could say all the right things, while also saving time and energy on repetitive typing.
Overview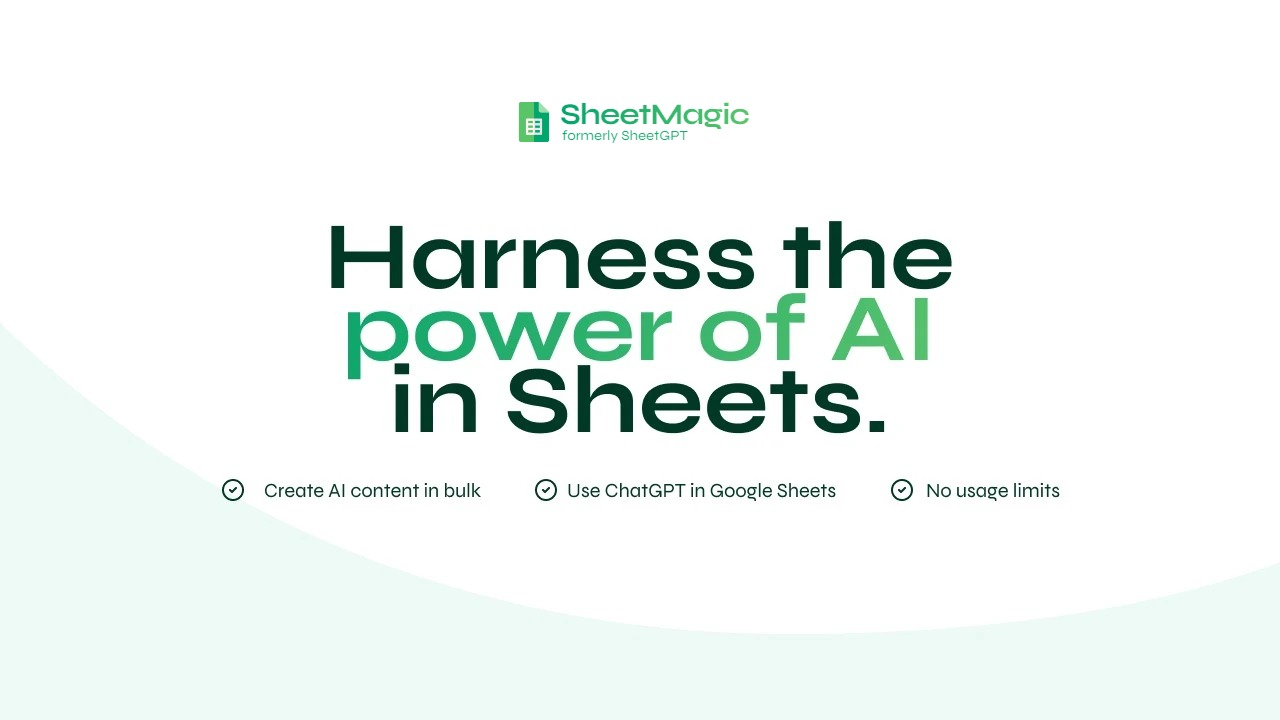 Create AI content in bulk using ChatGPT & Google Sheets.
🛠️ Create content in bulk
If you've ever used ChatGPT to help you create content, SheetMagic is going to be a godsend to you.
With SheetMagic, you can automate the work you're already doing in ChatGPT in a simple Google Sheets file.
For example, if you have a list of keywords you want to create articles for, you can create one simple prompt and copy & paste that down your Excel sheet to create articles for each keyword, directly in Google Sheets.
Along with that, once you're done creating, it is already in an easy-to-upload CSV format for getting it into your website or blog.
It's like ChatGPT on steroids.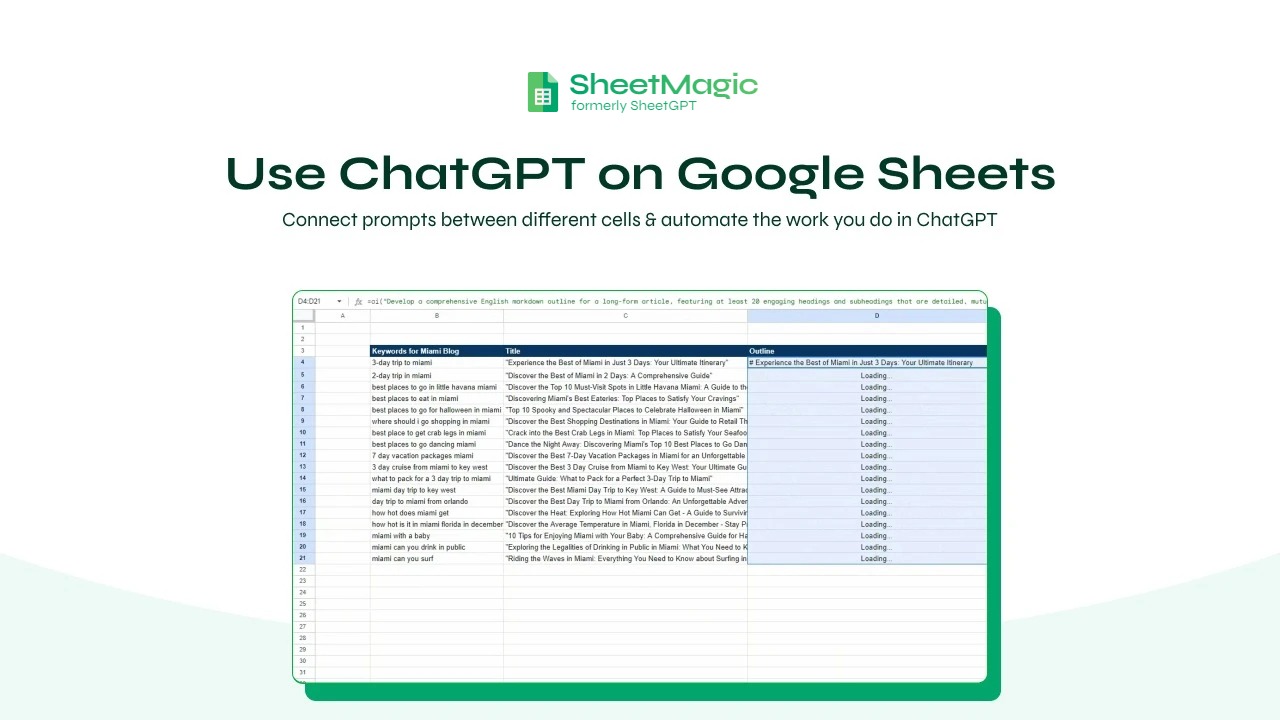 Connect prompts between different cells and automate the work you do in ChatGPT to save time like never before.
📊 Summarize & analyze large data sets
Ever have a large data set of customer reviews, customer inquiries, or just general information you want analyzed?
Luckily for you, almost every platform out there lets you export data into a CSV.
You can use that CSV with SheetMagic to analyze & gather vital information from the data you already have without ever needing to leave Google Sheets.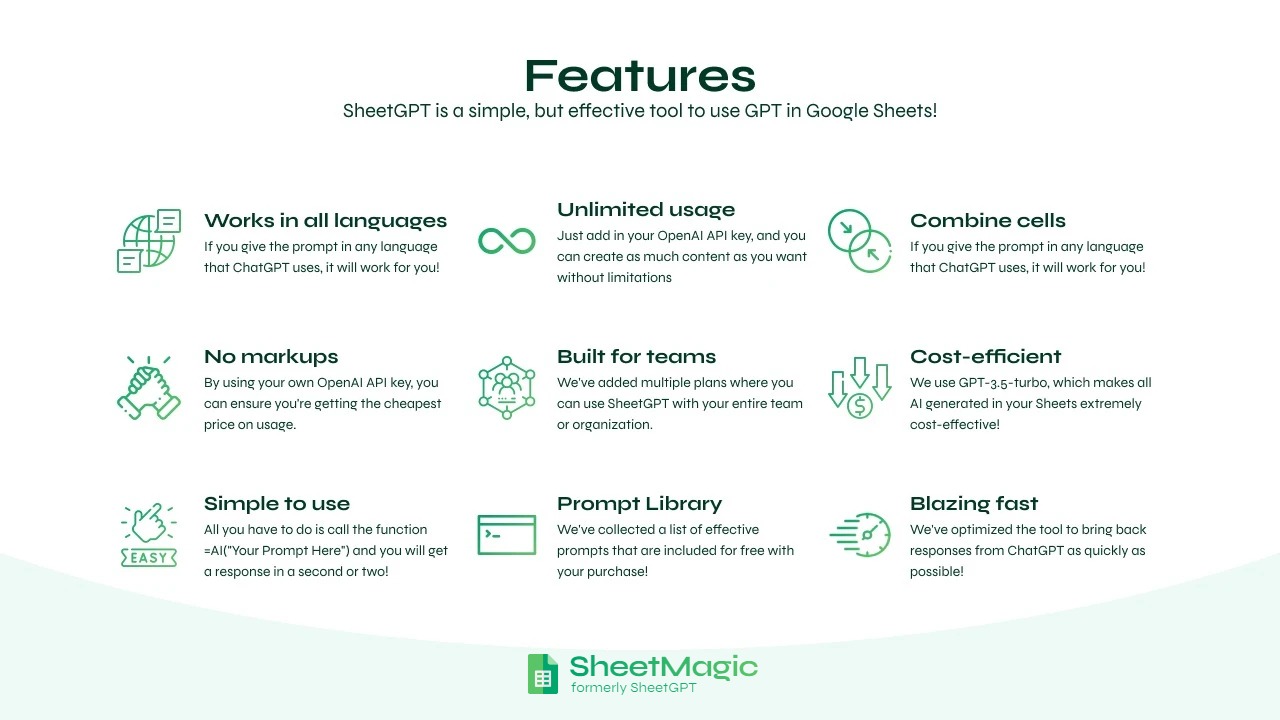 Check out the wealth of features you'll get with this deal.
SheetMagic solves all of your problems by bringing the power of AI right into Google Sheets.
Ready to try?
Give SheetMagic a go & you'll save loads of time, improve your productivity, and produce better content, faster.
Get access now!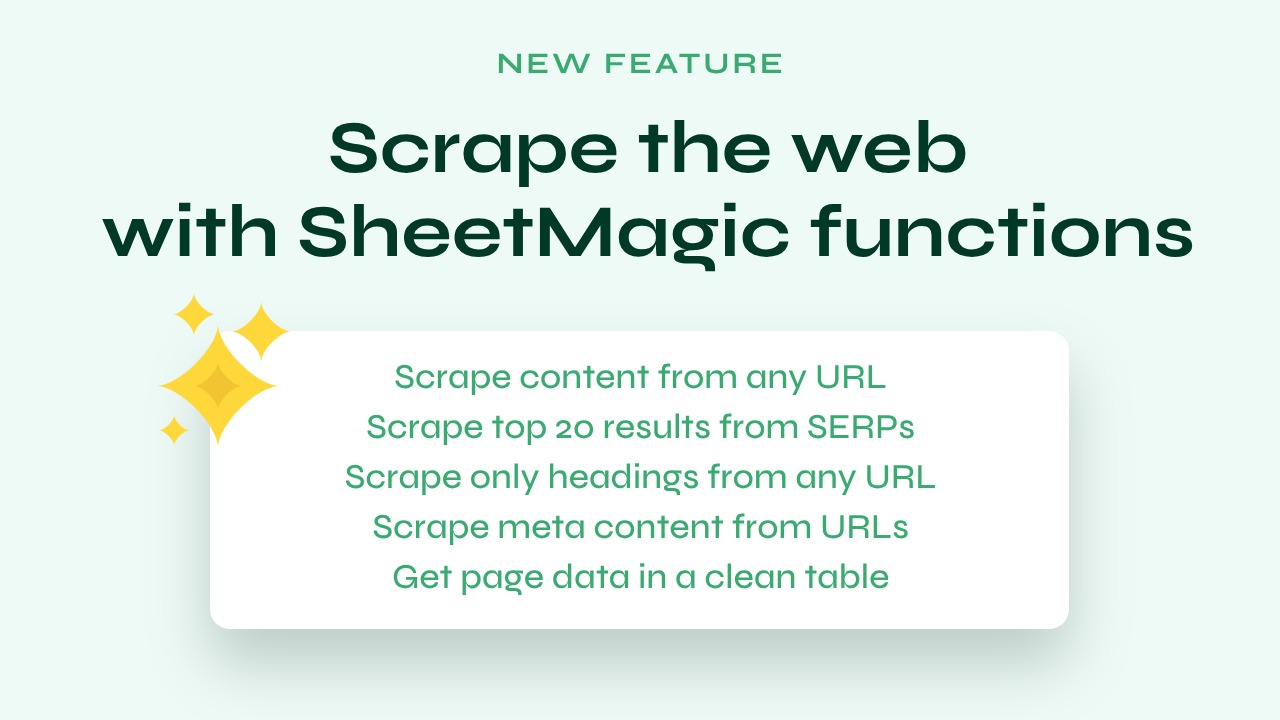 Scrape web pages & search engines to get information from live URLs!
OpenAI is limited to data from 2021. SheetMagic gives you the power to get around that with web scraping.
Efficiency & Convenience: Say goodbye to tedious manual data extraction. Gather vast amounts of data in seconds, letting you focus on making insightful decisions.
Informed Decision Making: With real-time access to web content, SERP results, and meta content, you can get live data into your sheets.
No-code Scraping: No technical skills? No problem! SheetMagic's user-friendly interface ensures that anyone can use these powerful tools to scrape information, regardless of their background.
Cost-Saving: By consolidating various scraping needs into one tool, SheetMagic eliminates the need for multiple subscriptions and tools, saving both time and money.
Data Organization: Extracting data is one thing, but making sense of it is another. SheetMagic provides well-structured tables, making analysis and reporting a breeze.
Versatility & Customization: Whether it's scraping only the headings for a quick overview or diving deep into meta content for SEO analysis, SheetMagic offers the flexibility to tailor the data to your specific needs.
Plans & features
Deal terms & conditions
Lifetime access to SheetGPT: ChatGPT + Google Sheets Integration

You must redeem your code(s) within 60 days of purchase

All future Single User License Plan updates

Stack up to 4 codes
Specification:
SheetMagic: ChatGPT + Google Sheets Integration
Plan 1

All features above included
Use ChatGPT in Google Sheets easily
Use ChatGPT in Google Sheets easily
Create unlimited AI content in bulk from Google Sheets
Attach your own OpenAI API key for unlimited usage
Connect prompts together from different Google Sheets cells
Prompt library with popular prompts & ideas on how to use the tool
1 user license

Plan 2

All features above included
Use ChatGPT in Google Sheets easily
Create unlimited AI content in bulk from Google Sheets
Attach your own OpenAI API key for unlimited usage
Connect prompts together from different Google Sheets cells
Prompt library with popular prompts & ideas on how to use the tool
5 user licenses

Plan 3

All features above included
Create unlimited AI content in bulk from Google Sheets
Attach your own OpenAI API key for unlimited usage
Connect prompts together from different Google Sheets cells
Prompt library with popular prompts & ideas on how to use the tool
15 user licenses
GPT-4 access

Plan 4

All features above included
Use ChatGPT in Google Sheets easily
Create unlimited AI content in bulk from Google Sheets
Attach your own OpenAI API key for unlimited usage
Connect prompts together from different Google Sheets cells
Prompt library with popular prompts & ideas on how to use the tool
Unlimited user licenses
GPT-4 access