Overview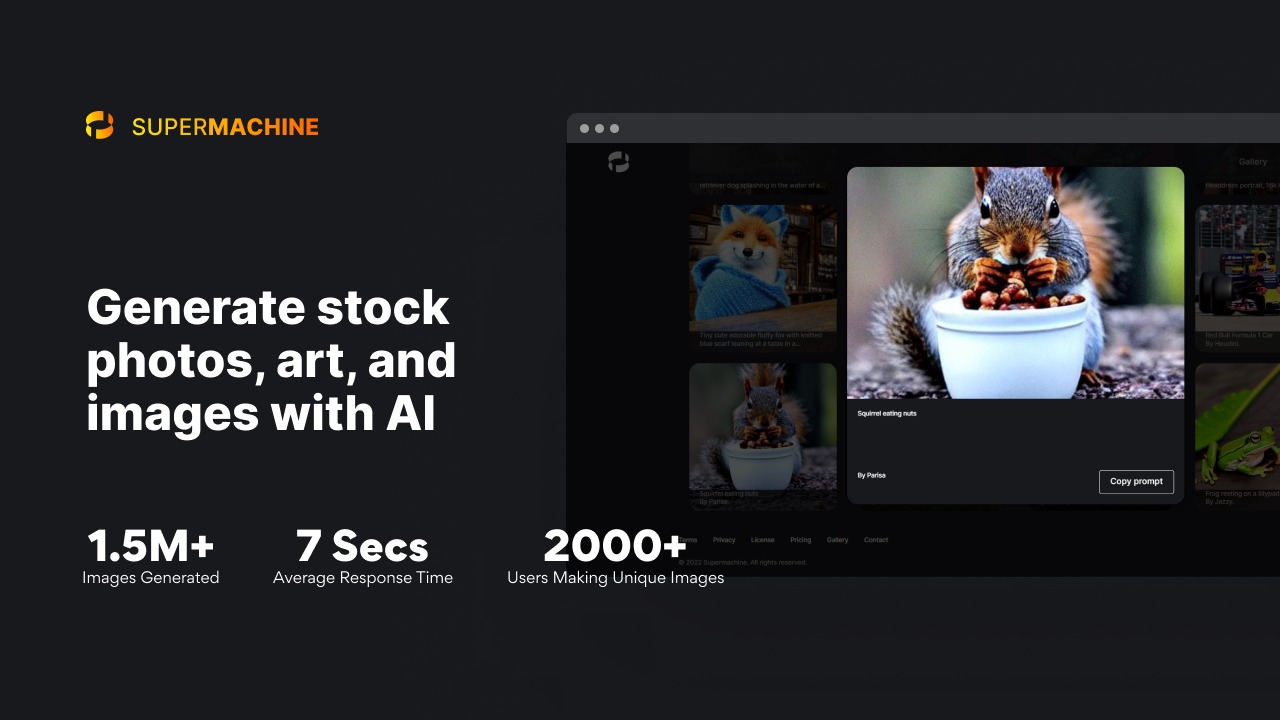 It is so easy to create images with just a few words.
Providing a super clean dashboard for you to generate images both on mobile or desktop in seconds.
Turn a description into a fully detailed image ready for your content marketing needs and truly unique.
These images will not have appeared anywhere else and you have full commercial rights to use them for anything you need!
Let AI do the work for you.
Here at SUPERMACHINE, we're about trying to make this technology as accessible as possible so that it runs fast, is reliable, and provides the best quality outputs.
We can't wait to see how you deploy the images you create in SUPERMACHINE.
Get access today!
Plans & features
Deal terms & conditions
Lifetime access to SUPERMACHINE

You must redeem your code(s) within 60 days of purchase

All future SUPERMACHINE Plan updates

Stack up to 5 codes

This deal is non-refundable
Specification:
SUPERMACHINE
Plan 1

All features above included
Search tool to help with prompts to generate images
Fast generations (under 15 seconds on average)
Native upscaling & face enhancer
Private generations and folder system
Desktop & mobile responsive
10+ aspect ratios (including higher resolution)
Free access to 2 high-quality image databases
(Millions of prompt ideas and creative commons images)
Generate up to 1,000 image credits per month

Plan 2

All features above included
Search tool to help with prompts to generate images
Fast generations (under 15 seconds on average)
Native upscaling & face enhancer
Private generations and folder system
Desktop & mobile responsive
10+ aspect ratios (including higher resolution)
Free access to 2 high-quality image databases
(Millions of prompt ideas and creative commons images)
Generate up to 2,000 image credits per month

Plan 3

All features above included
Search tool to help with prompts to generate images
Fast generations (under 15 seconds on average)
Native upscaling & face enhancer
Private generations and folder system
Desktop & mobile responsive
10+ aspect ratios (including higher resolution)
Free access to 2 high-quality image databases
(Millions of prompt ideas and creative commons images)
Generate up to 3,000 image credits per month

Plan 4

All features above included
Search tool to help with prompts to generate images
Fast generations (under 15 seconds on average)
Native upscaling & face enhancer
Private generations and folder system
Desktop & mobile responsive
10+ aspect ratios (including higher resolution)
Free access to 2 high-quality image databases
(Millions of prompt ideas and creative commons images)
Generate up to 4,000 image credits per month

Plan 5

All features above included
Search tool to help with prompts to generate images
Fast generations (under 15 seconds on average)
Native upscaling & face enhancer
Private generations and folder system
Desktop & mobile responsive
10+ aspect ratios (including higher resolution)
Free access to 2 high-quality image databases
(Millions of prompt ideas and creative commons images)
Generate up to 5,000 image credits per month