Overview
Automate Web Tagging with 100% Accuracy | Tagmate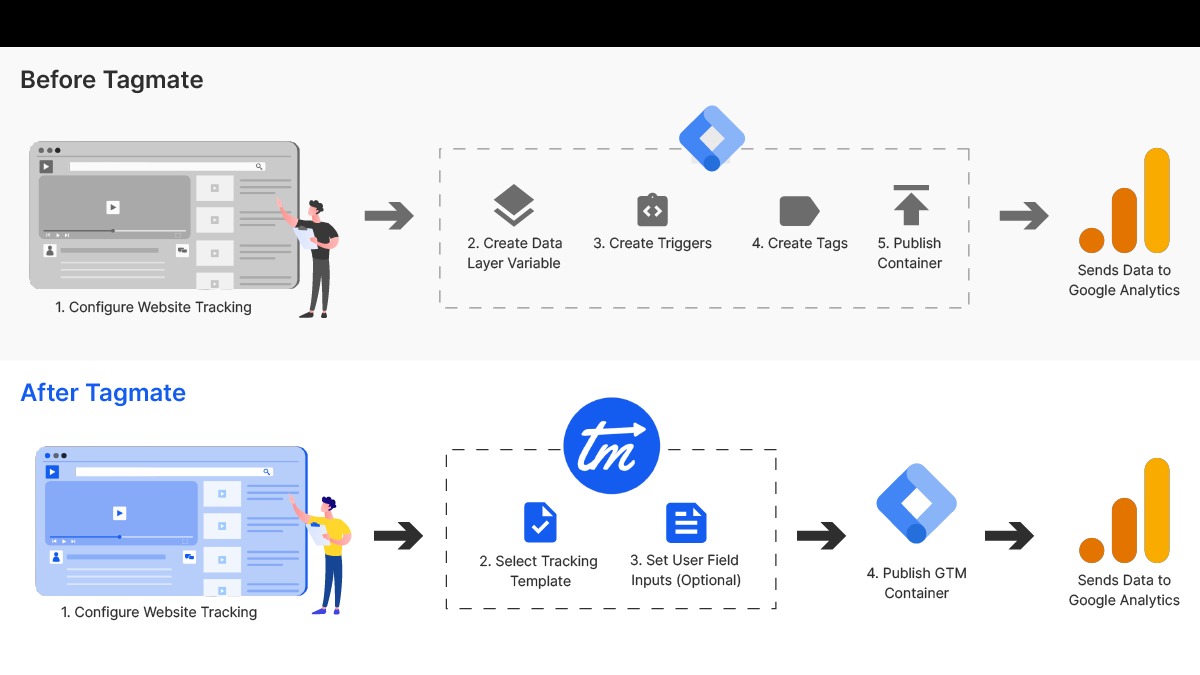 Traditional way V/s the Tagmate way to set up website tracking in GA4 via Google Tag Manager.
Tagmate takes less than 5 min to set up website tracking and doesn't require a manual process to configure variables, triggers and tags in GTM.
It auto-configures custom dimensions for data collection in Google Analytics 4.
This helps in negating human errors, standardising the tag implementation process and saving huge costs of manpower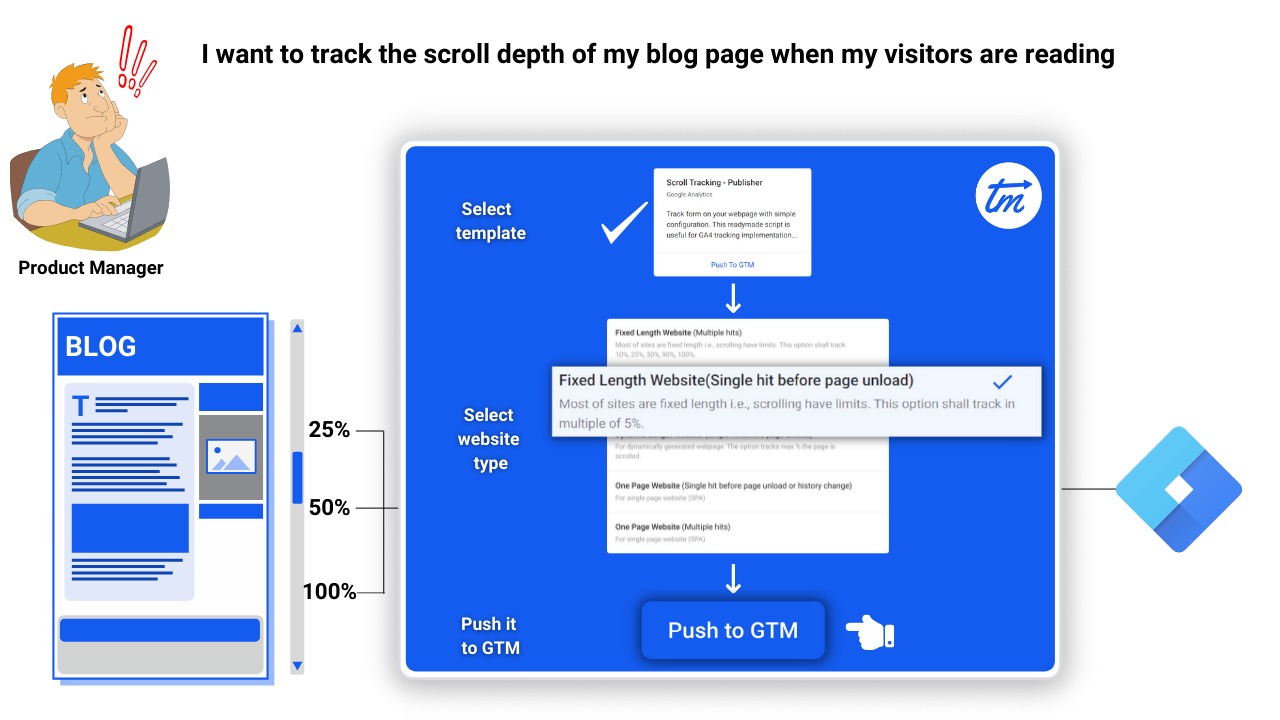 Standardized templates that push tags and triggers on your GTM in just 3-clicks. No coding is required.
With over 20+ prebuilt standardised templates, Tagmate helps marketers, bloggers, website owners, and product managers in implementing tags on websites without any developer's help.
The simple and quick 3-click process helps you in creating required tags and triggers in a snap of fingers.
Forget all the laborious efforts required in making all those triggers and variables manually.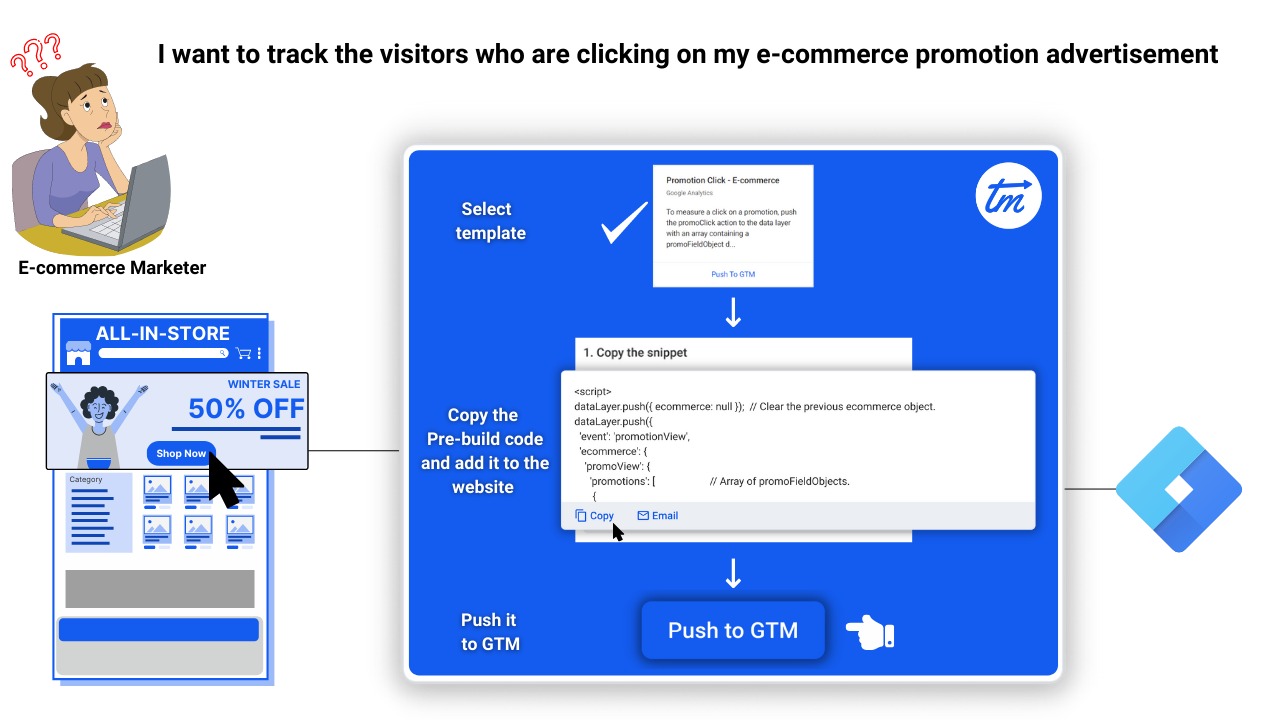 Prebuilt data layers snippets for your eCommerce setup.
Tagmate has 14+ prebuilt exclusive eCommerce templates that work seamlessly across all platforms including Shopify, WordPress, Custom JS and more.
All the templates provide sample data layer snippets for events live Add-to Cart, Checkout etc.
After adding the details of your products in the data layer snippets, you are ready to set up the eCommerce tracking and see your data in Google Analytics.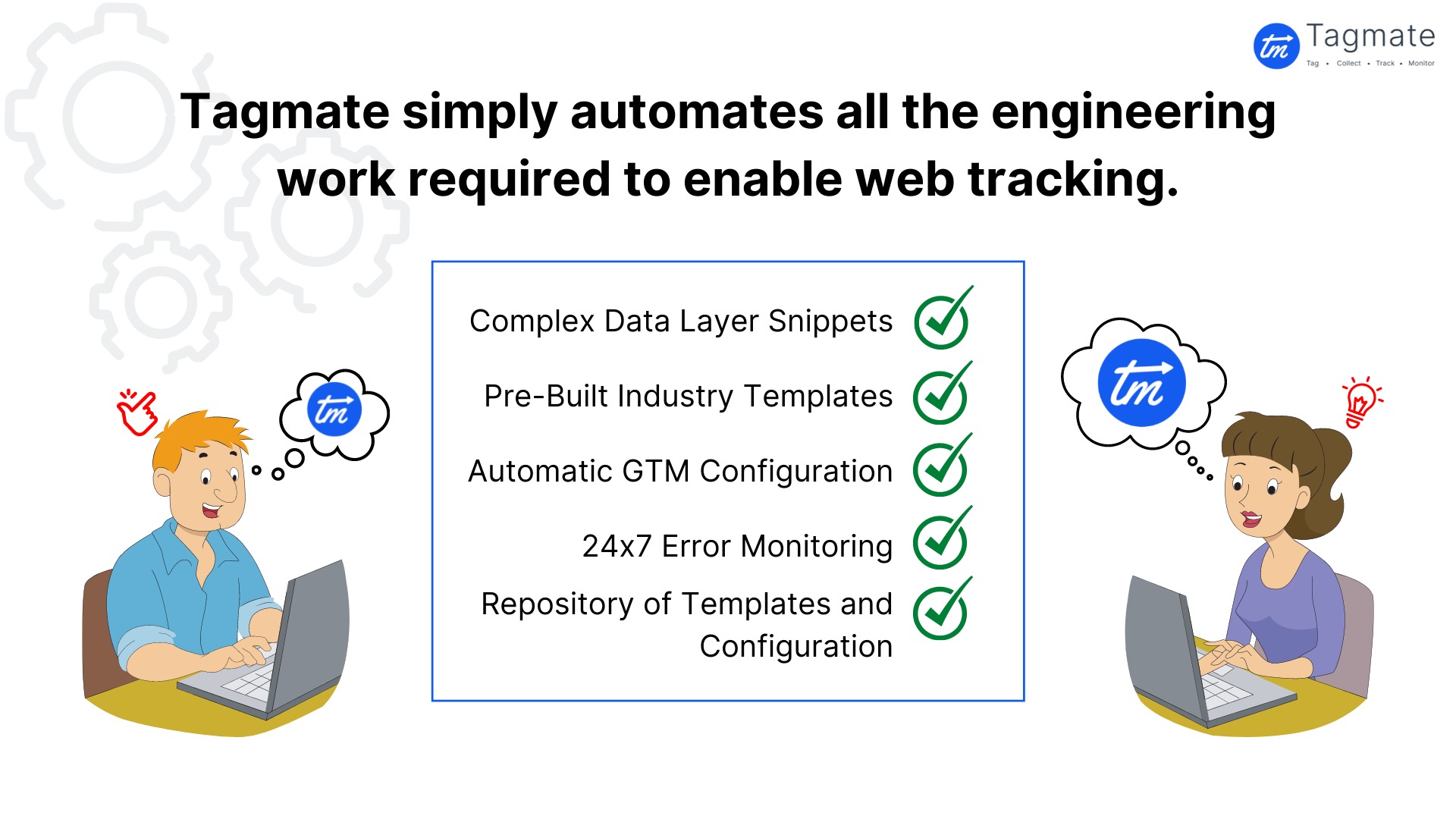 Get all the engineering work automated to enable website tracking.
Tagmate is loaded with all the engineering stuff you require for any website tracking.
All the templates and pixel setups follow the industry best practices and regularly go through a QA to ensure zero errors while implementation.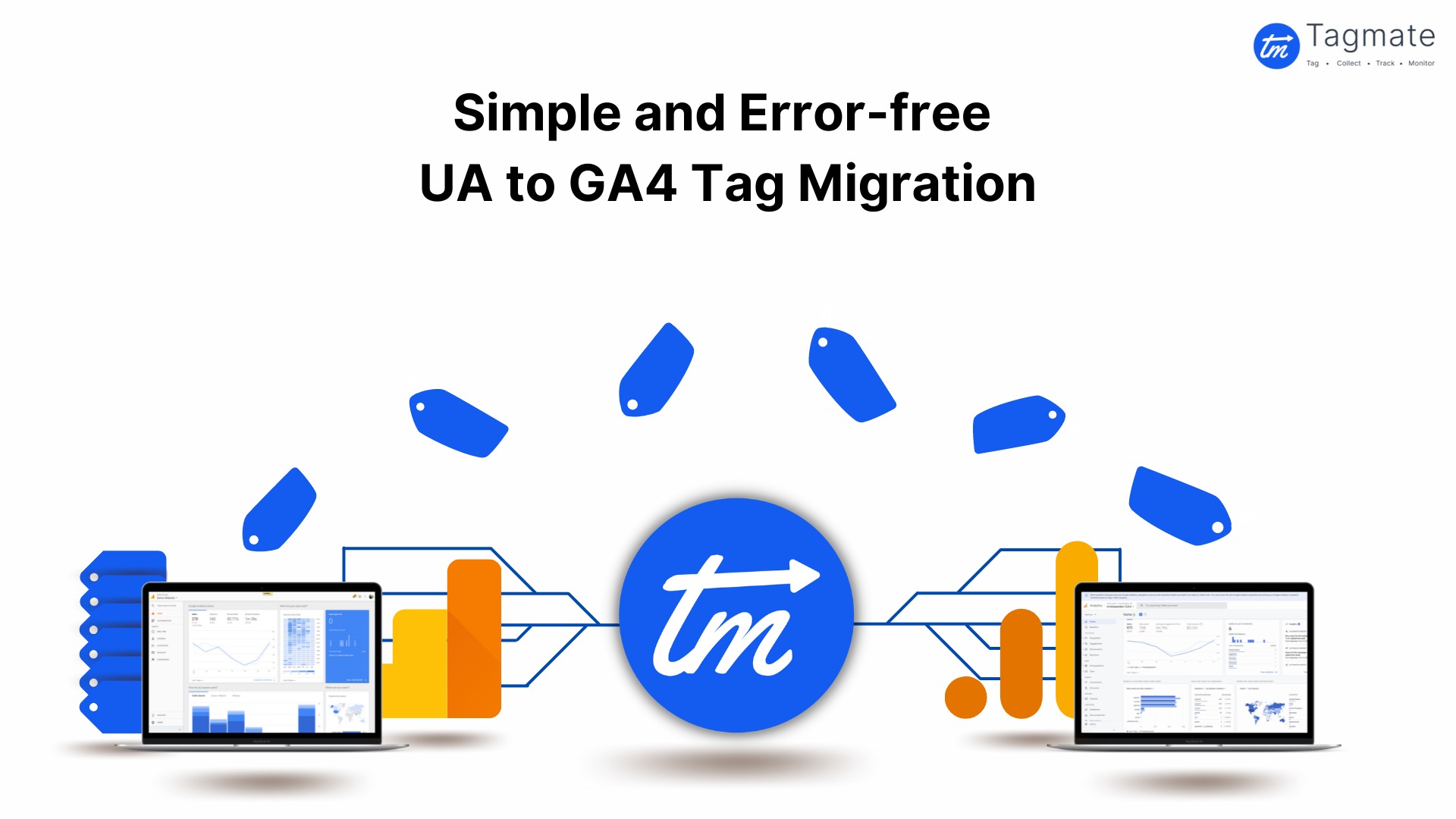 Migrate your Google Analytics Setup from UA to GA4
Within less than a year, Universal Analytics will be obsolete and Google Analytics 4 will be widely used to see Website Analytics.
Tagmate provides a complete module to enable UA to GA4 migration without any coding.
With a simple and easy interface, Tagmate lets you migrate and set up Google Analytics 4 tags in a matter of few clicks.
Plans & features
Deal terms & conditions
Lifetime access to Tagmate Plan

You must redeem your code(s) within 60 days of purchase

Lifetime updates to Tagmate Plan

Stack up to 6 codes
Plan 1

All features above included
Unlimited UA to GA4 Tag Migration
20 Templates for GA4 & UA per Website
20 Pixels for 2 Marketing Platforms per Website
50 Custom Events for GA4 & UA per Website via Tagmate Tracker
5 User Login
5 Website/Domain

Plan 2

All features above included
Unlimited UA to GA4 Tag Migration
20 Templates for GA4 & UA per Website
20 Pixels for 2 Marketing Platforms per Website
50 Custom Events for GA4 & UA per Website via Tagmate Tracker
10 User Logins
10 Websites/Domains

Plan 3

All features above included
Unlimited UA to GA4 Tag Migration
20 Templates for GA4 & UA per Website
20 Pixels for 2 Marketing Platforms per Website
50 Custom Events for GA4 & UA per Website via Tagmate Tracker
15 User Logins
15 Websites/Domains

Plan 4

All features above included
Unlimited UA to GA4 Tag Migration
20 Templates for GA4 & UA per Website
20 Pixels for 2 Marketing Platforms per Website
50 Custom Events for GA4 & UA per Website via Tagmate Tracker
20 User Logins
20 Websites/Domains
Implementation Support up to 10 hours
Server-Side Tagging for FCAPI (Meta)

Plan 5

All features above included
Unlimited UA to GA4 Tag Migration
20 Templates for GA4 & UA per Website
20 Pixels for 2 Marketing Platforms per Website
50 Custom Events for GA4 & UA per Website via Tagmate Tracker
25 User Logins
25 Websites/Domains
Server-Side Tagging for FCAPI (Meta)
Implementation Support up to 10 hours

Plan 6

All features above included
Unlimited UA to GA4 Tag Migration
20 Templates for GA4 & UA per Website
20 Pixels for 2 Marketing Platforms per Website
50 Custom Events for GA4 & UA per Website via Tagmate Tracker
25 User Logins
50 Websites/Domains
Server-Side Tagging for FCAPI (Meta)
Implementation Support up to 10 hours