Tevent
It's hard to hype up guests for virtual events when you're substituting dinner and dancing for emojis and engagement metrics. ("And Thursday is Themed Background Day! Woo!")
Unfortunately, most conferencing platforms seem boring because all the fun interactive features are locked behind a paywall.
If only there was a platform packed with engaging, real-time features, so you could host virtual experiences people actually want to attend.
Jump into Tevent.
Overview
Tevent lets you host virtual events that encourage peer-to-peer networking with interactive features available at all tier levels.
With Tevent, you can host interactive online events in virtual conference rooms, with as many parallel sessions as you need.
You have the power to teleport audience members anywhere within your virtual space, broadcast important messages, and pin chat messages.
Participants will be able to interact and collaborate in real time using chat, emojis, polls, and Miro whiteboards.
You can even record your virtual events and share the links, so anyone who missed the live conference can stream it on-demand.
And thanks to Tevent's custom pricing model, you'll have access to every engagement feature across all tier levels.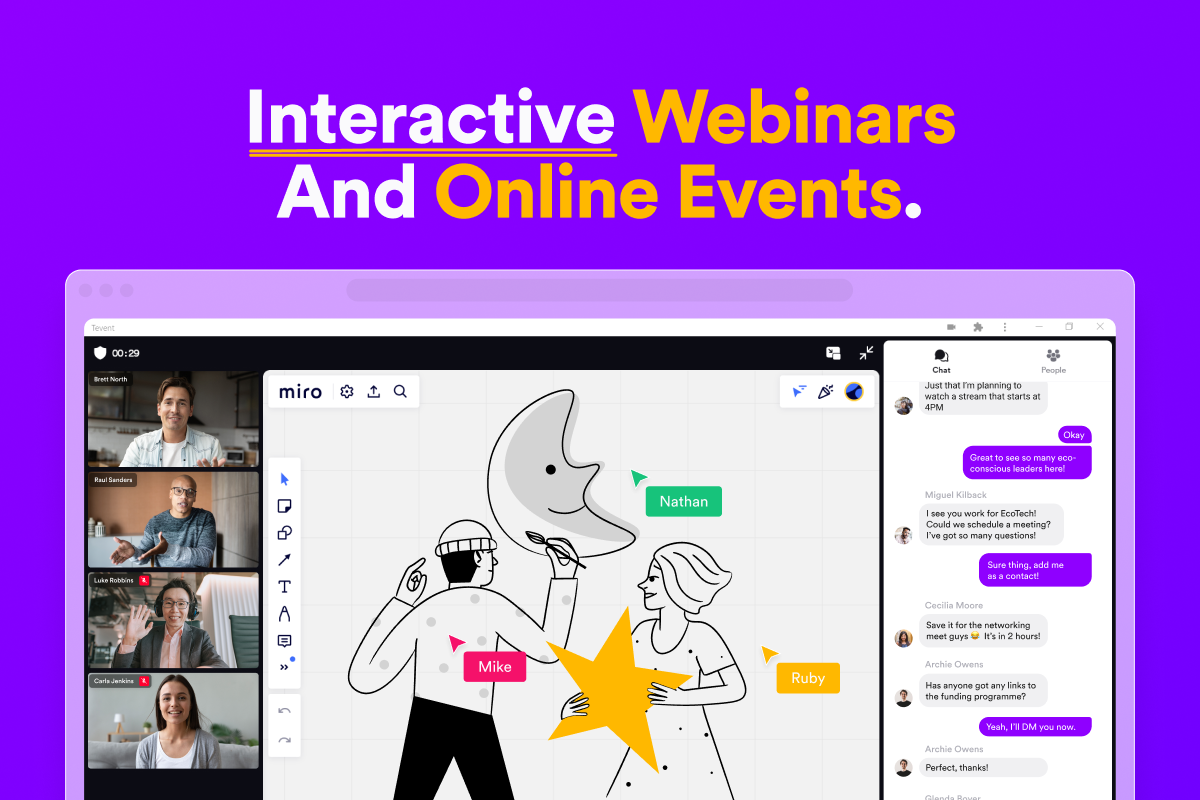 Host virtual events where participants can interact and collaborate in real time.
Launch webinars, conferences, workshops, and social events with one-click templates that set the stage for you.
You'll be able to automatically generate custom registration pages and set your events to public or private.
Anyone can join your event as a guest, which means attendees don't have to create an account with Tevent!
Plus, you can download a list of registered attendees and track engagement insights to figure out which parts of your event need to be optimized.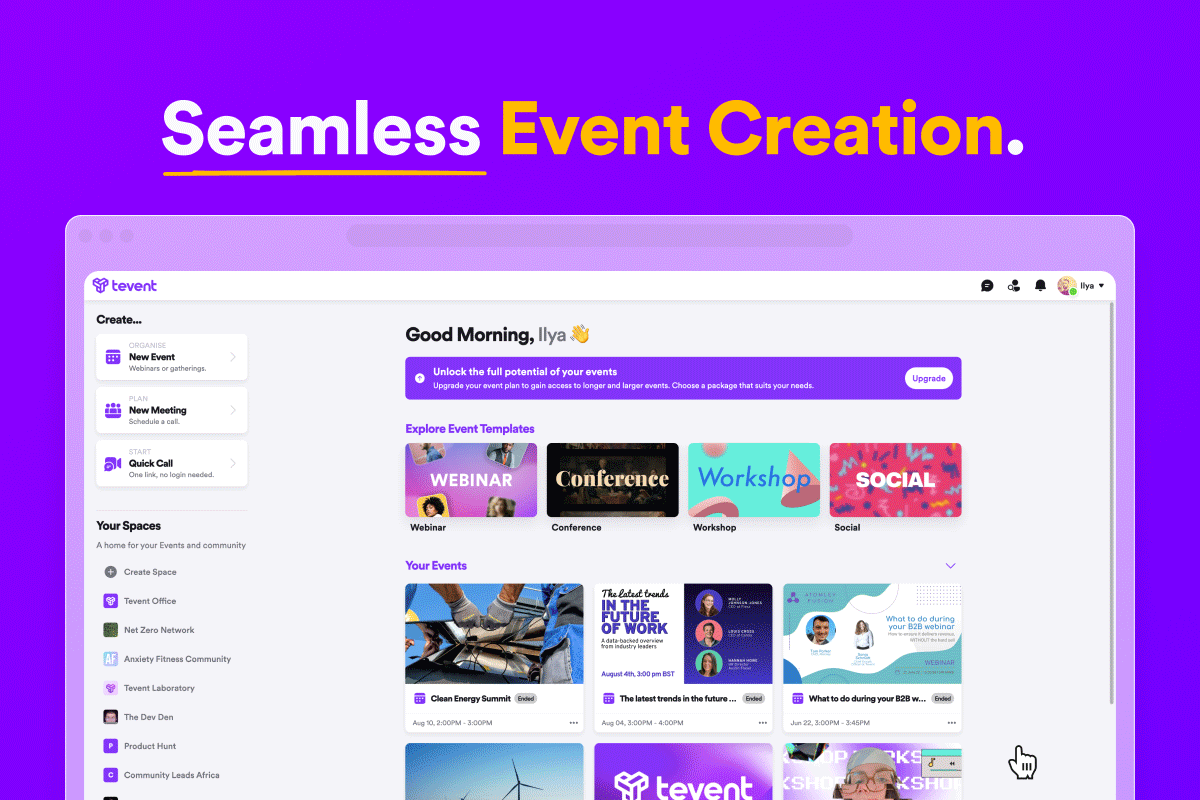 Launch events in a snap using premade templates and auto-generated registration pages.
Tevent also lets you set up permanent event spaces with evergreen rooms for members to meet and collaborate.
Move participants anywhere in the space and let members interact via Space Chat outside of specific rooms and calls.
That way you'll be able to host all your events under one roof and create a shared space designed for your brand or community.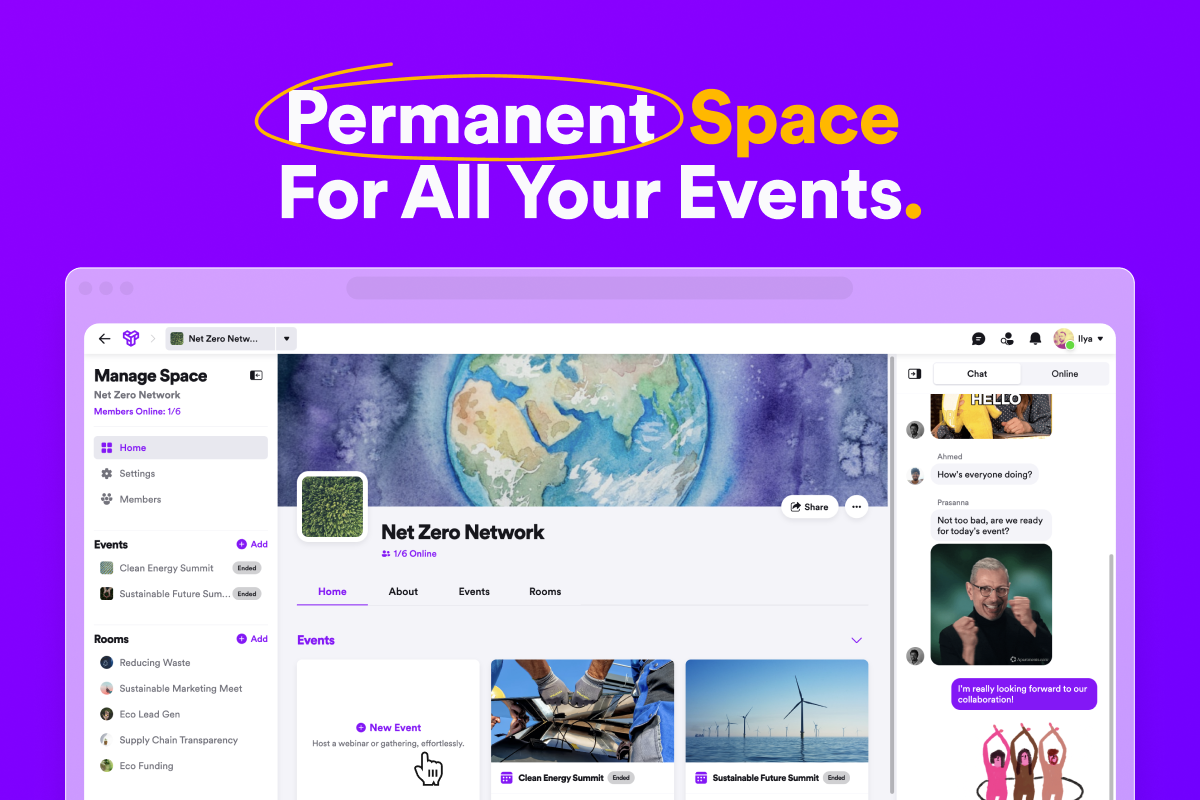 Create a permanent space to house your community and every event under one roof.
Best of all, Tevent is packed with interactive features that bring people together and encourage peer-to-peer networking.
Participants can easily connect with each other by setting up custom profile cards and sending direct invitations.
You'll also be able to keep in touch with connections via personal or group chats outside of events and public spaces.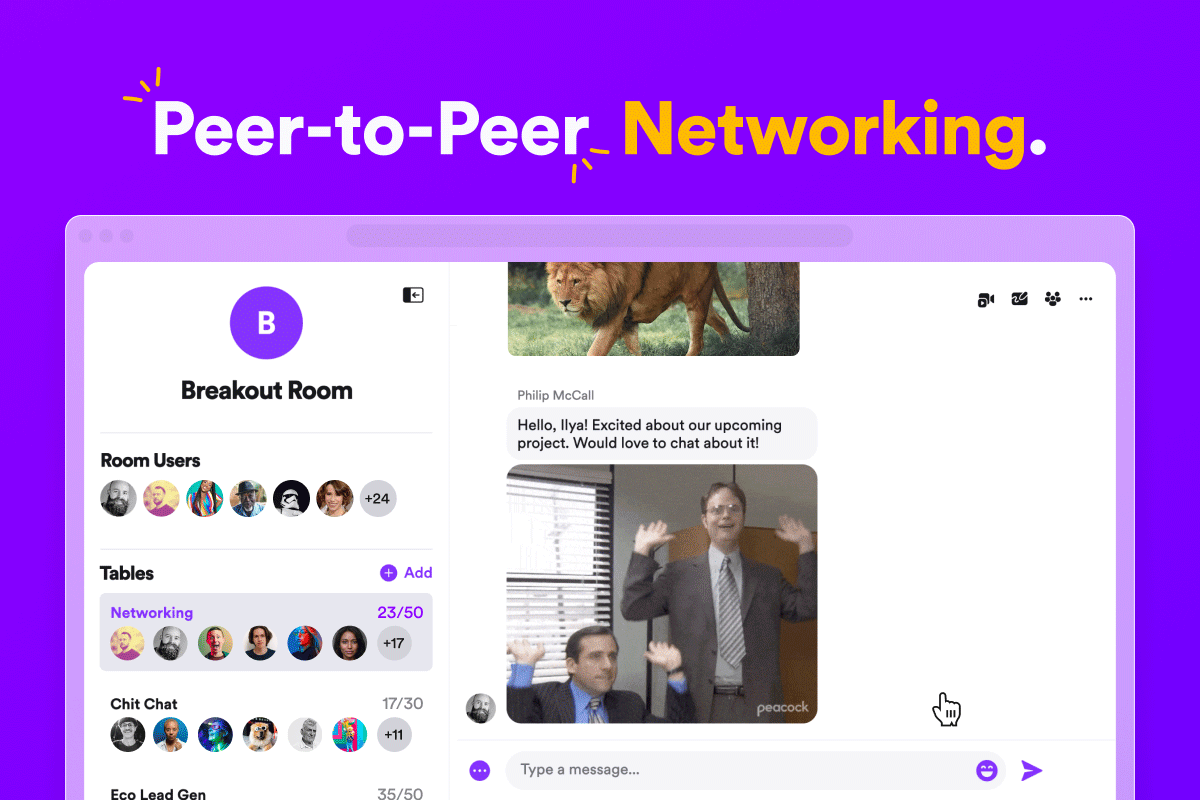 Create a custom profile to network with people and keep in touch using private or group chats.
When you can't splurge on interactive event components, you're going to feel pretty disconnected from your audience. ("Heart emojis are my lifeblood now.")
Thankfully, Tevent gives you access to awesome interactive features, so you can host virtual events without breaking the bank.
Make an event to remember.
Get lifetime access to Tevent today!
Plans & features
Deal terms & conditions
Lifetime access to Tevent

All future Summit Plan updates

You must redeem your code(s) within 60 days of purchase

Stack up to 9 codes

GDPR compliant

Unused tickets do not roll-over month over month
60 day money-back guarantee. Try it out for 2 months to make sure it's right for you!
Features included in all plans
No-login, no-download entry

Customizable registration page

Customizable event URL

Unlimited concurrent events, stages, and rooms

Unlimited organizers, presenters, and hosts

Customizable contact cards and user profiles

Upload and send images or files in all chats

Permanent member list

Custom access—public or private

Customizable URL

One-click HD recording

Cloud storage and download for all participants

Multi-streaming via RTMP

Live video background blur
Single

All features above included
400 ticket credits per month
1 hour maximum length per event
Unlimited events

Double

All features above included
600 ticket credits per month
2 hours maximum length per event
Unlimited events

Multiple

All features above included
800 ticket credits per month
2 hours maximum length per event
Unlimited events

Code 4

All features above included
1,000 ticket credits per month
3 hours maximum length per event
Unlimited events

Code 5

All features above included
1,200 ticket credits per month
3 hours maximum length per event
Unlimited events

Code 6

All features above included
1,400 ticket credits per month
1 day maximum length per event
Unlimited events

Code 7

All features above included
1,600 ticket credits per month
1 day maximum length per event
Unlimited events

Code 8

All features above included
1,800 ticket credits per month
14 days maximum length per event
Unlimited events

Code 9

All features above included
2,000 ticket credits per month
14 days maximum length per event
Unlimited events