Upbase: All-In-One PM Tool
No matter what industry you're in, being on the customer-facing side of things can start to feel like Groundhog Day.
When you're answering the same questions repeatedly, it's easy to slip and send an embarrassing email or twenty. ("I did it again. I wrote 'Thanks for reaching out, [INSERT CUSTOMER HERE]' instead of their name.")
If only you could say all the right things, while also saving time and energy on repetitive typing.
Overview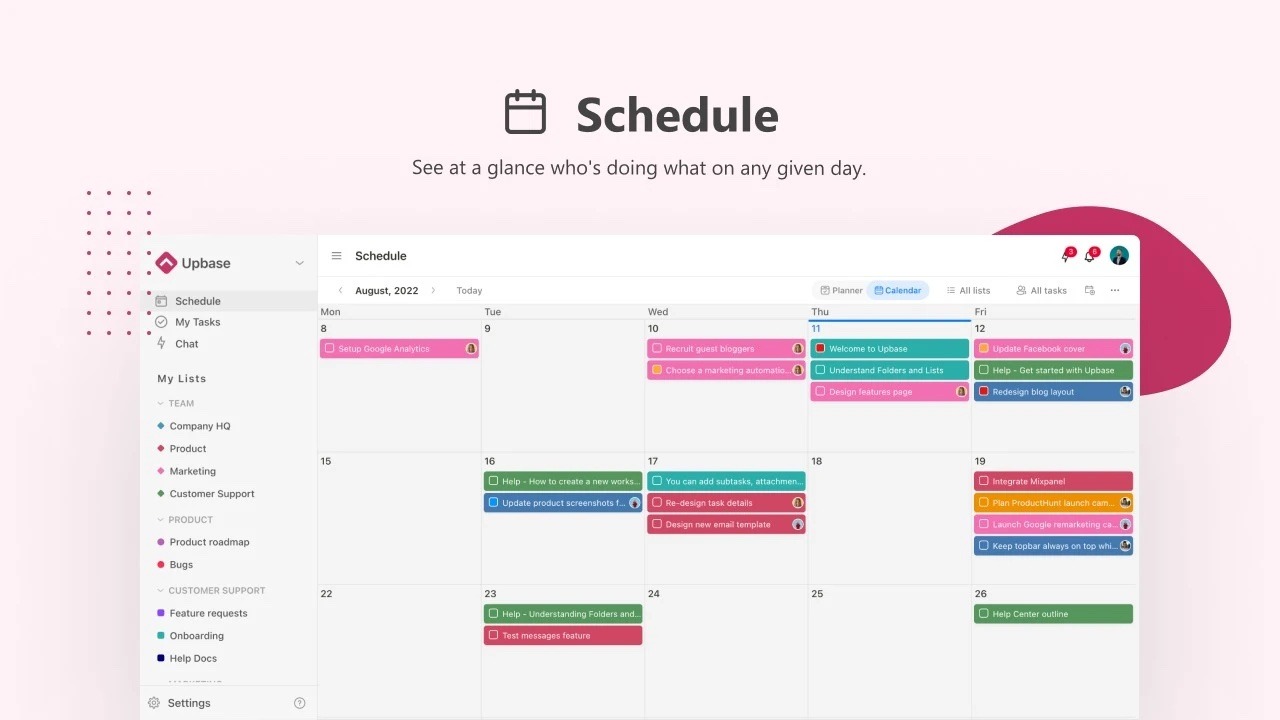 Stay organized and stay focused.
Upbase lets you break every project down into sections, tasks, and subtasks for easy management. And you can group your projects into folders to get a bird's-eye view of all your work.
You can also use tags to add context to each task—urgent, in progress, waiting, approved, and more.
Thanks to the clean, minimal interface, you'll have instant clarity on which team member is doing what and by when.
With the Members page, you'll be able to view tasks across different projects assigned to you or any team member.
Every project is different and Upbase lets you turn project features on and off as you need them to make sure you've got the tools you need, without the clutter of unnecessary features. For instance, you can turn off the Messages and Chat modules for your personal projects.
You'll be able to store your files and documents right in Upbase to keep everything organized in one place. You can also embed Google Drive folders for quick access.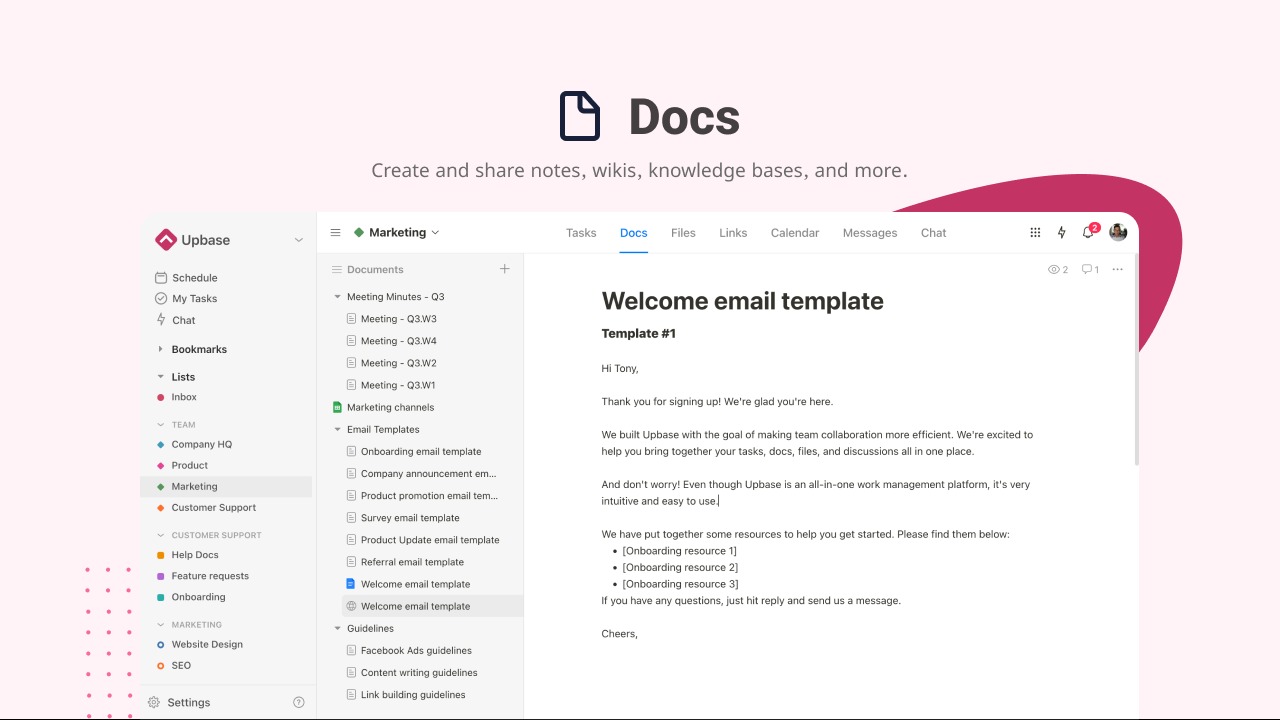 Easily collaborate on work.
Using Google Docs and Google Sheets every day? Embed them into the Docs section for quick access right inside your projects without leaving Upbase.
The Links feature allows you to store and share important links related to your projects such as articles, reports, documents, and tools. Better yet, you can add comments to collaborate with your team on each shared link.
The Messages feature in Upbase offers a centralized space for posting messages, updates, and long-form discussions, ensuring that teams are well-informed, organized, and on track.
Instead of using a separate chat tool, you can use the built-in chat tool to collaborate with your team in real-time. Upbase offers a pre-made chat room within each project, custom chat channels, and one-on-one chats.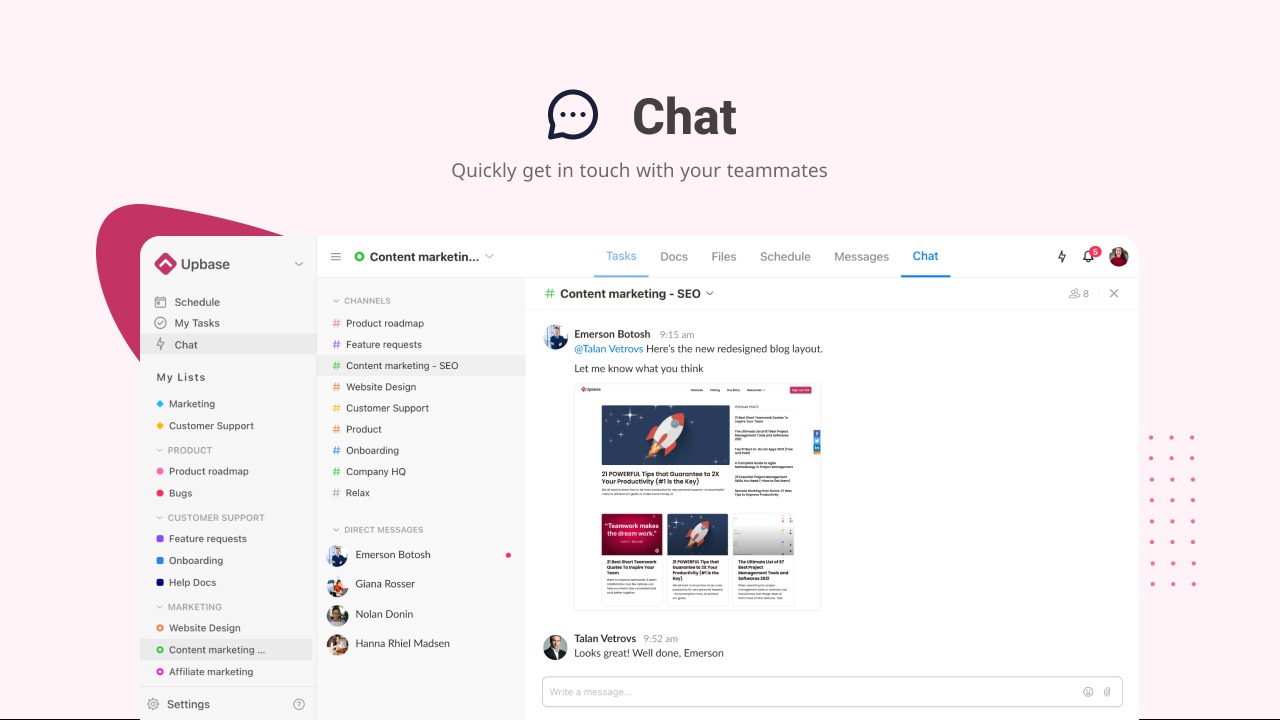 Chat with your team in real time.
Got clients? We've got you covered.
We understand the challenges of convincing clients to try a new tool. That's why Upbase is designed to be incredibly user-friendly and streamlined, ensuring that your clients will love it from the start. Say goodbye to time-consuming client onboarding.
With the private-by-default approach, you can customize what your clients can access and see within the tool. This ensures you can maintain confidentiality and only share what's necessary.
Upbase provides you with all the essential tools to efficiently organize your work and collaborate with your team, without unnecessary complexities or distractions.
Let's take your productivity, and ultimately, your work life, to the next level with Upbase.
Get lifetime access to Upbase today!
Plans & features
Deal terms & conditions
Lifetime access to Upbase

You must redeem your code(s) within 60 days of purchase

All future Premium Plan updates

If Plan name changes, deal will be mapped to the new Plan name with all accompanying updates

Stack unlimited codes

Each code can create new workspaces or can unlock premium features for up to 5 members in existing workspaces

Code 11 and beyond will scale by 1 workspace and 5 team members.

Previous AppSumo customers will be grandfathered into the new feature limits

Previous AppSumo customers who purchased Upbase can buy more codes to increase their feature limits
60 day money-back guarantee. Try it out for 2 months to make sure it's right for you!
Features included in all plans
Team chat: list chat, custom channels, and direct messages

Embed Google Drive folders, Docs, Sheets, Slides

List, board, and calendar view

Access full history of chat messages

Recurring tasks

Chrome extension

Invite guests and clients

Customize list modules

Lock pages

Add the daily planner view to mobile app

Links – bookmarks in lists
Specification:
Upbase: All-In-One PM Tool
Plan 1

All features above included
Unlimited lists
Unlimited guests
Unlimited storage (250MB/file)
Up to 1 premium workspace
5 total team members

Plan 2

All features above included
Unlimited lists
Unlimited guests
Unlimited storage (250MB/file)
Up to 2 premium workspaces
10 total team members

Plan 3

All features above included
Unlimited lists
Unlimited guests
Unlimited storage (250MB/file)
Up to 3 premium workspaces
15 total team members

Plan 4

All features above included
Unlimited lists
Unlimited guests
Unlimited storage (250MB/file)
Up to 4 premium workspaces
20 total team members

Plan 5

All features above included
Unlimited lists
Unlimited guests
Unlimited storage (250MB/file)
Up to 5 premium workspaces
25 total team members

Plan 6

All features above included
Unlimited lists
Unlimited guests
Unlimited storage (250MB/file)
Up to 6 premium workspaces
30 total team members

Plan 7

All features above included
Unlimited lists
Unlimited guests
Unlimited storage (250MB/file)
Up to 7 premium workspaces
35 total team members

Plan 8

All features above included
Unlimited lists
Unlimited guests
Unlimited storage (250MB/file)
Up to 8 premium workspaces
40 total team members

Plan 9

All features above included
Unlimited lists
Unlimited guests
Unlimited storage (250MB/file)
Up to 9 premium workspaces
45 total team members

Plan 10

All features above included
Unlimited lists
Unlimited guests
Unlimited storage (250MB/file)
Up to 10 premium workspaces
50 total team members