BLAZE Transfer
No matter what industry you're in, being on the customer-facing side of things can start to feel like Groundhog Day.
When you're answering the same questions repeatedly, it's easy to slip and send an embarrassing email or twenty. ("I did it again. I wrote 'Thanks for reaching out, [INSERT CUSTOMER HERE]' instead of their name.")
If only you could say all the right things, while also saving time and energy on repetitive typing.
Overview
BLAZE Transfer's Collaborative Workspace offers the following benefits:
Security: It uses advanced technology to keep your files safe. Only the people you choose can see them. Even the Blaze Transfers team cannot decrypt your data.
Organization: You can make different workspaces for different projects. This helps you stay organized and ensures people see only the files they need.
Control: You decide who gets to see what files. This keeps data private and stops information overload.
Transparency: You can track who did what and when. This keeps everyone accountable and helps identify any slowdowns.
Scalability: You can share as many files as you want. The system can handle growth as your business needs change.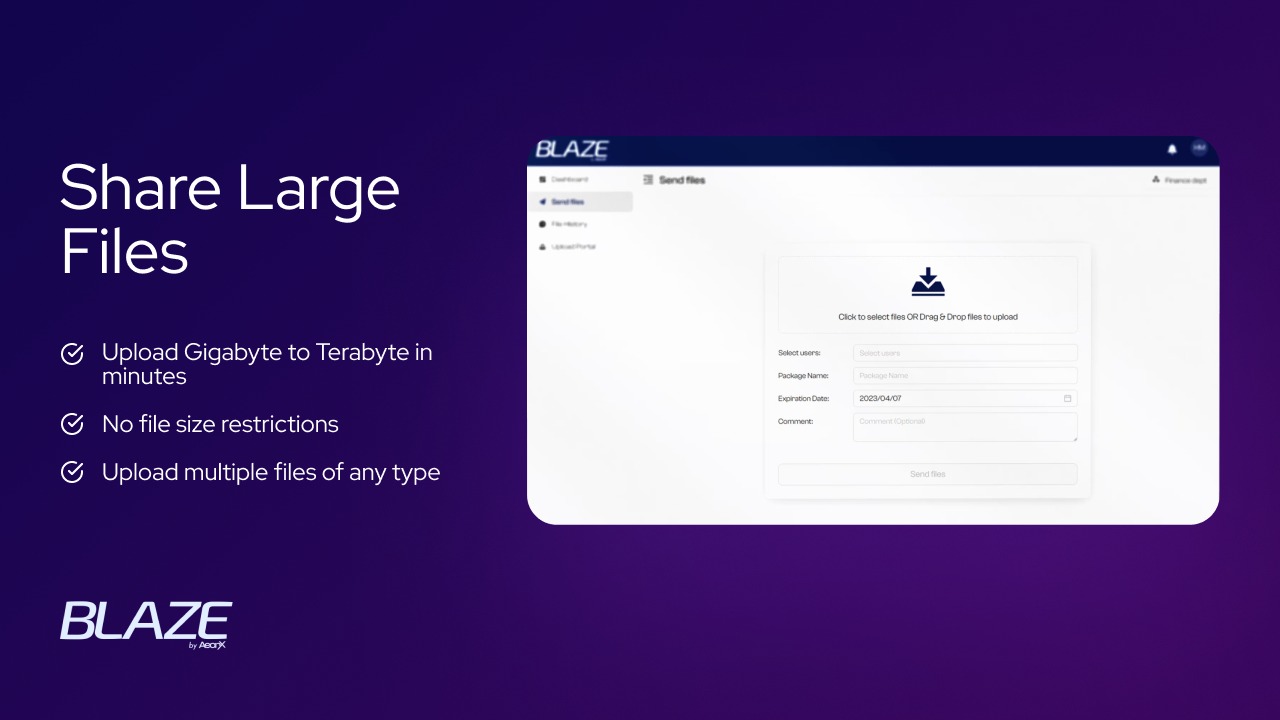 The "Share Large Files" feature on BLAZE Transfer has several benefits:
Fast Uploads: You can send gigabytes of data super quickly. No more waiting around!
No Size Limits: You can send really big files without having to make them smaller. This is great for sharing large videos, images, or databases.
Any File Type: You can send any type of file. You don't need to switch to a different tool for different files, making things easier.
Multiple Ways to Share: You can share files with your team, email them to non-BLAZE users, or share via a secure anonymous link. This makes sharing with anyone simple and secure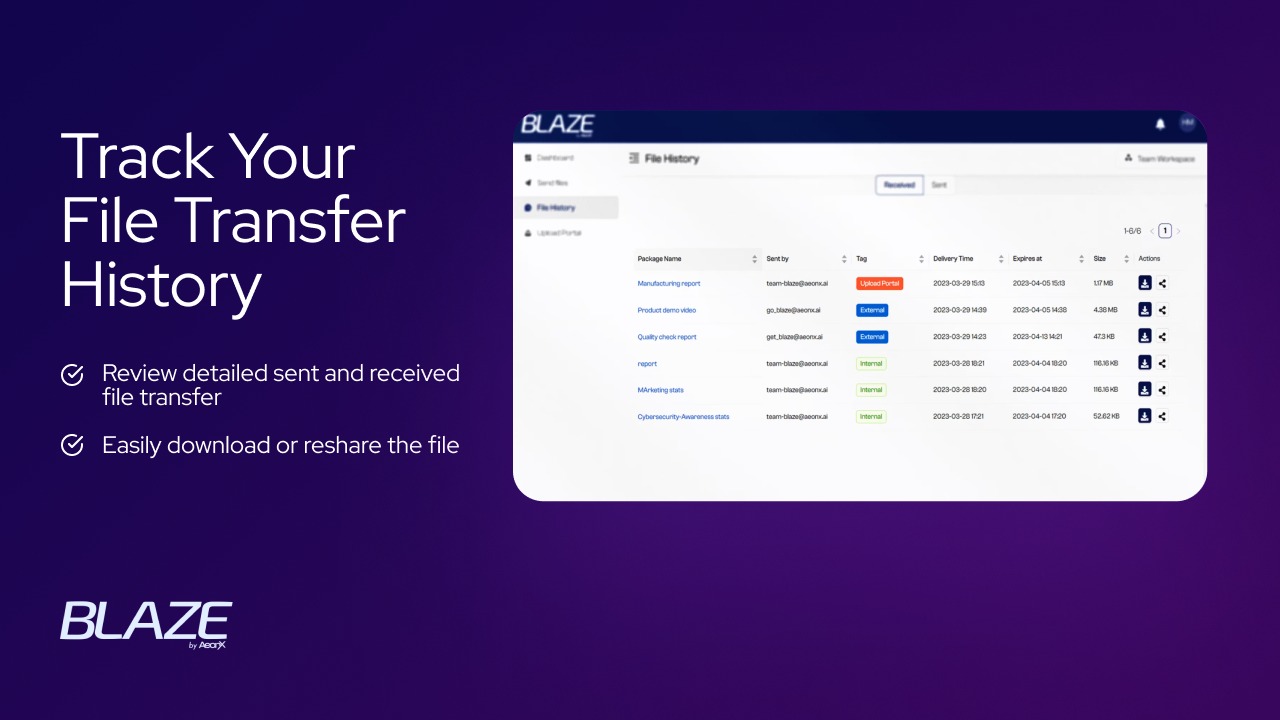 This feature lets you look back at all the files you've sent and received. This can be really handy when you need to find a particular file. Plus, it gives you all the details of each file transfer, which can be useful for keeping track of who has received what.
Also, you can easily download or reshare the files from your history. This saves time as you don't need to upload or search for the same file again when you need to reshare it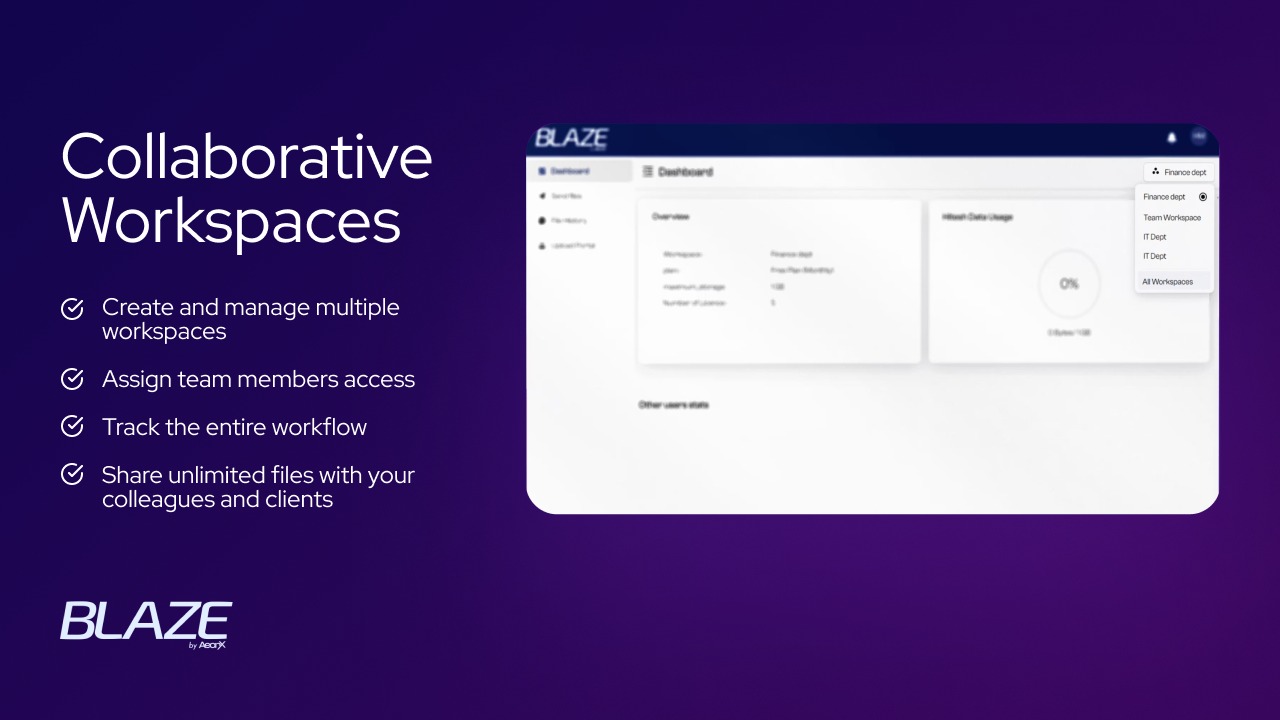 The OneDrive Integration feature of BLAZE Transfer means you can move files directly from BLAZE to OneDrive. This makes it easy to organize and manage your files in one place.
So, if you're already using OneDrive for storing files, you can now send files securely with BLAZE and then save them straight to OneDrive. This saves time and keeps your files organized.
Get access to BLAZE Transfer today!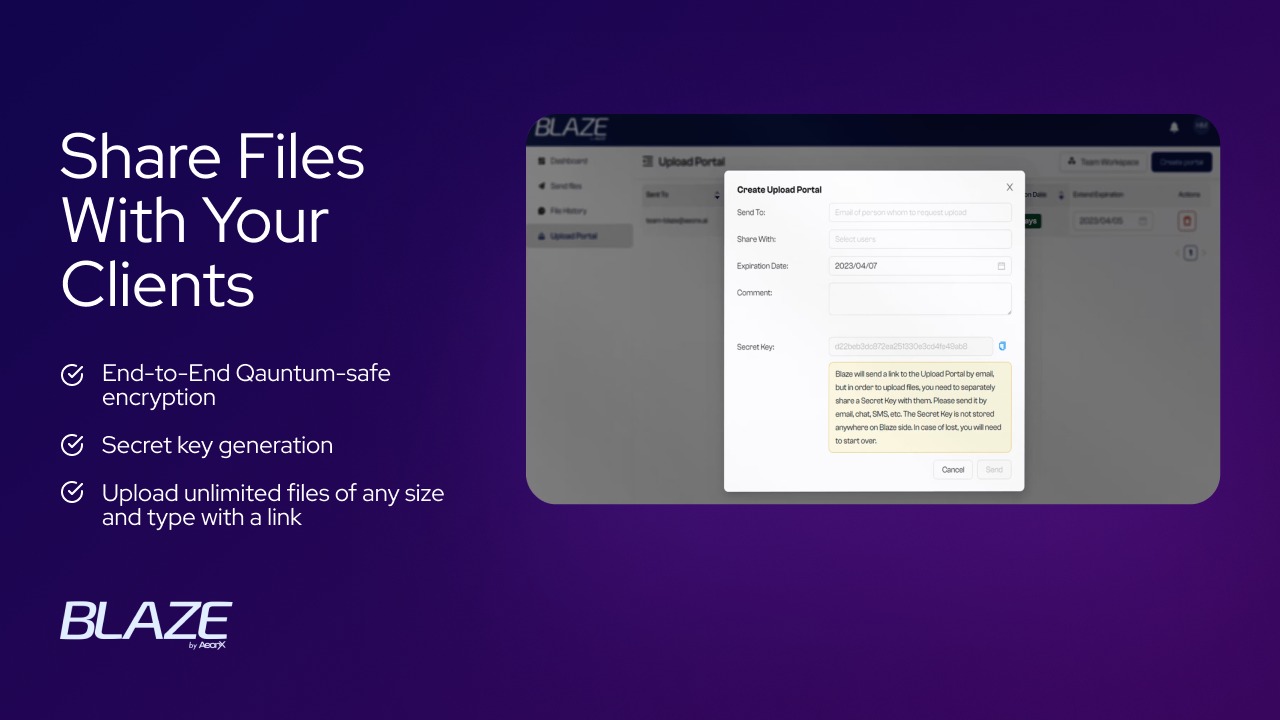 Receive files from your clients" feature in BLAZE Transfer is really useful.
Just like when you send files, receiving files is also protected by "E2EE quantum-safe encryption". This means only you can access the files your clients send to you.
BLAZE generates a secret key for added security. And the best part is, your clients can send you as many files as they want, of any size and type, just by using a link and the secret key.
Plans & features
Deal terms & conditions
Lifetime access to BLAZE Transfer

You must redeem your code(s) within 60 days of purchase

All future Standard Plan updates

Stack up to 5 codes
60 day money-back guarantee. Try it out for 2 months to make sure it's right for you!
Features included in all plans
Post- quantum End-to-End Encryption (E2EE)

Multiple factor authentication (MFA)

30 days data retention

Multi-user workspace

Team workspace activity monitoring

File exchange history log

Instant file exchange status update

Secured anonymous file sharing via links

Securely share files with Blaze and non-Blaze users

Securely receive files from Blaze and non-Blaze users
Specification:
BLAZE Transfer
Plan 1

All features above included
2 users
Unlimited file storage (max 30 days retention)
Unlimited file size

Plan 2

All features above included
4 users
Unlimited file storage (max 30 days retention)
Unlimited file size

Plan 3

All features above included
6 users
Unlimited file storage (max 30 days retention)
Unlimited file size

Plan 4

All features above included
8 users
Unlimited file storage (max 30 days retention)
Unlimited file size

Plan 5

All features above included
10 users
Unlimited file storage (max 30 days retention)
Unlimited file size